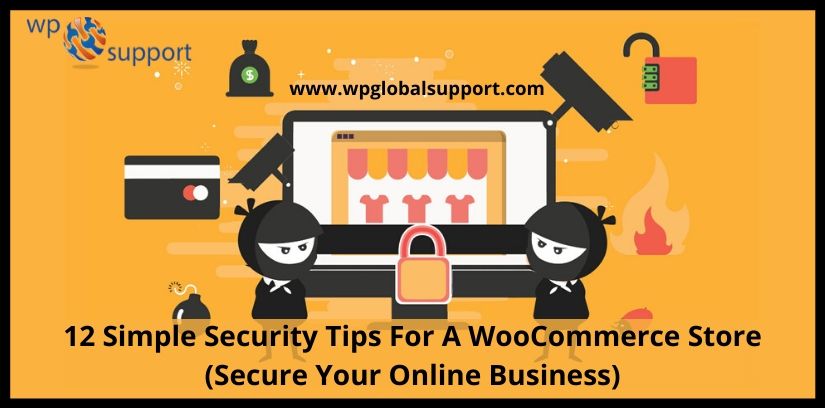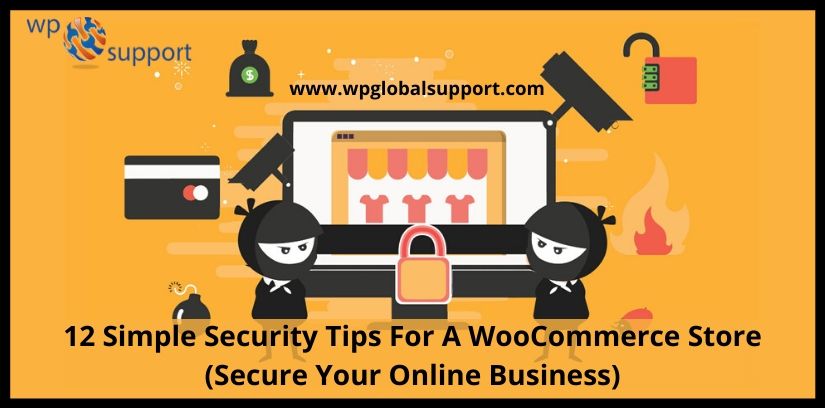 If you run a WooCommerce store, then security should be a top priority. Your E-commerce store will have your customers, transaction details, and much more information. You should be active about this data, your site and curiously find ways to secure your WooCommerce store.
As WooCommerce lets you create an e-commerce business (store), manage inventory, accept payments, and much more. It comes with almost all the functionalities that you require to open an online store. It helps you sell products or services online from your WordPress site at a very affordable and accessible manner.
WooCommerce is a team of experts who fully focus on security, ensuring that the WooCommerce plugin has been kept up to date so that any vulnerability cannot harm their business. However, if you want to keep your WooCommerce site safe and secure, you also have to implement your own security measures.
Where plugin is defined as a type of software that contains a group of functions that can be added to a WordPress website. They are used to provide additional functionality to your application.
In this post, we will share some easy steps that you can implement to improve your WooCommerce Store security. These include WordPress security plugin, SSL certificate, hosting, PayPal usage, and many more tips and tricks.
SSL stands for Secure Sockets Layer, is a standard technology for establishing security by created an encrypted link between a web browser and a server. Also, web server is a software which receives your request for accessing a web page. It runs only a couple of security checks on your HTTP request and takes you to the web page.
Here, PayPal is the best payment option for your online business. And it offers a simple way to send & request money online. However, with the help of this, you can transfer the money from one account to another such as family account, friends, online shops as well as auction sites like eBay.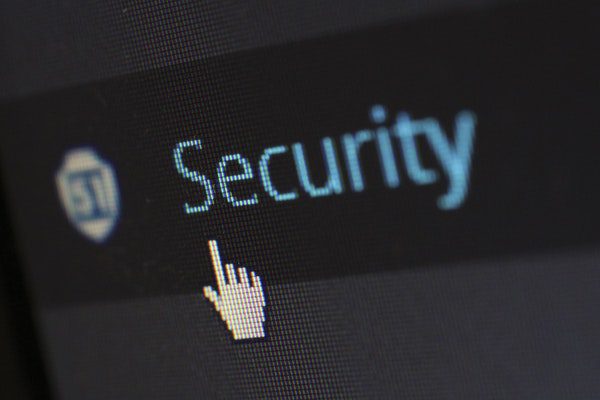 12 tips to secure Woocommerce store
Make sure to remain updated
One of the best practices to secure your online store is to use the updated version of your website platform. Say if you are using WordPress version then you should note that it is updated in a timely manner, which is every 4 months.
Apart from the WordPress core, you should also make sure to use the updated themes and plugins that can also avoid some possible online threats or any malware vulnerabilities. Most of the time a newly released WordPress version comes with some advanced and updated themes and plugins to provide you with built-in security to your WooCommerce store.
Here, theme is a group of stylesheets and templates that are used to describe the appearance and display of a WordPress site. And templates are those files which control how your WordPress site will be displayed on the web.
Updating everything on a regular basis is the most initial and primary practice to keep your site running smoothly without bothering about the potential hackers.
Select a Secure Hosting Provider
Hosting can range in price, but generally, the rule here is the more you pay the better the service. Hosted quality, which includes top-notch safety protection, can help to keep your site safe, you can save a serious headache down the line.
When selecting a hosting provider, always select one that offers comprehensive security features, including automatic updates, frequent backups, multiple firewalls, and malware scans. E-commerce or WordPress specific hosting service is also worth considering.
Read Also: 10 Best WooCommerce Hosting Provider
Use a Security Plugin
Using a WordPress Security plugin is an easy but extremely effective way to improve your WooCommerce security. A quality security plugin will protect your site from malware threats and attacks. WordFence is a WordPress specific security plugin that provides up to Minute Security Defense. Also, It imposes strong passwords and prevents brute force attacks. As, Brute force attacks refer to an effective method of simply assuming combinations for passwords or security keys unless one occurs on the correct series of characters.
Here are some of its security features :-
The Firewall works to prevent malicious attacks.

A Malware Scanner checks your site's security hasn't been breached.

Brute force attacks are monitored and blocked, helping limit login attempts and secure your login process.

The real-time Threat Defence Feed is constantly updated, helping to identify known and new threats.
This active approach to minimizing security threats means that your WordPress WooCommerce store will reduce the chances of hunting victims of security attacks.
Secure Your Login and Passwords
It is important that you take the necessary steps to secure your administrator and other user accounts, as this can be an area of high risk. As where, admin has full power over the site and can do everything related to the administration of the site.
Admin can create more administrators, invite new users, remove users and change user roles. They have complete control over posts, pages, uploaded files, comments, settings, themes, imports, exports, other users of any site.
Where, The articles posted by the admin of a WordPress site are called posts. And pages are like posts. Pages can be managed in a hierarchical structure in WordPress.
a) Use 1Password to Keep Usernames and Passwords Safe
If you are running an online store, always change your username to something other than 'administrator' and use a complex password. This will help prevent your username and password from being easily searchable and your site will be compromised.
However, remembering a detailed login sequence can be difficult for many of us. 1password is a great solution to the difficulty of creating, remembering and changing passwords. 1password can make a strong and unique password for your WooCommerce site, so you can easily log in, and keep hackers out.
b) Set Two-Step Authorization
Using a two-level authorization to log in to your WordPress WooCommerce site is another way to improve security. Adding an additional dimension to verifying your login on another device, usually, your smartphone provides additional prevention.
If you upgrade to Wordfence Pro then two-stage authorization is available. However, if you are looking for a free option then the Clough Two-Factor Authentication can be what you want. Instead of using a password, Cleef uses cryptography, so you can enter your WooCommerce site through your smartphone. This is an effective way to keep your site safe from hackers.
Here, the two-factor authentication is to improve security. This authentication process ensures maximum security for your WordPress site.
c) Limit Login Attempts
Brute force attacks are becoming more and more frequent. Therefore, it is important to protect your site against them. As mentioned earlier, WordFence includes brutal force protection as one of its many features. However, if you do not run WordFunction on your site, you can use many other plugins.
JetPack's module defense enables your site to automatically block any unwanted login attempts. It is one of Jetpack's many independent and efficient modules that will help you secure your WooCommerce site quickly and easily.
Tips for WordPress Themes and Plugins
To keep your WordPress site vulnerabilities at its peak, it is important that you apply any theme and plugins updates also, themes, plugins, latest versions of WooCommerce core, and WordPress itself is the safest, so sooner Update as soon as possible.
Equally, you can download themes and plugins only from reputable sources. Also, remove whatever you are not using your WordPress website anymore. Keeping the updates and plugins at the top, your site will be less likely to compromise.
Obtain an SSL Certificate
Secure Sockets Layers (SSL) allows transferring sensitive information securely between the web server and the browser through an encrypted connection.
WooCommerce Store deal with the most valuable personal customer and payment information, it is important that it is kept safe, using SSL, your site will be loaded on HTTPS, will help keep your customer data secure. HTTPS websites are difficult to attack due to various security constraints. Https have better security levels than HTTPS websites.
The hosting company WP Engine has recently started providing free SSL certificates if you sign up for your hosting service. This means that the connections of your site are more secure while helping SEO keep your visitors safe, there are additional benefits of improving SEO in SEO, while assuring customers that they are buying from a reputed company.
Here, WP Engine is also another managed WordPress hosting provider. This provider takes care of everything such as installation, WordPress site updates, performance optimization, and more.
Take Payments via PayPal
If your WooCommerce store is still starting or even has a small operation, it might be worth running all the payments through PayPal. PayPal is one of the most widely and easily accepted forms of payment that is used for the e-commerce store.
Although it is not necessary that your site is secure, it is your customers who will help to secure the payment process. It offers a simple way to send & request money online.
If you don't know how Take Payments via PayPal then have a look at our article How to setup Paypal in WooCommerce
Using PayPal to make payment means that all the visitor data will be managed and stored by PayPal. So keeping customer data safe, therefore, is PayPal's responsibility, and there is one thing to worry about. Seeing PayPal logs can also provide some assurance to your customers because it is a famous payment system.
Invest in a Good Backup Plugin
Along with improving your WooCommerce security, another important task is to backup your site and its data. If you are the worst then you get a chance to lose everything and your site is cut off. This is as long as you have not backed up your site.
What If Your Site Gets Hacked?
What if your WooCommerce site is hacked and fixing it is beyond your skillset? Do not worry, Sucuri Security offers a clean up and repairs service, removing malware, infection, and much more. This service is not cheap. Though, a clean WooCommerce store that can provide safe and secure customer service is more than worth it.
Don't Select a Default Administrator Name
If you select it is simple to guess usernames such as "Admin" you're removing one step from the login process, which makes it very easier for a hacker to access your data and harm your site.
Constantly hide Author URL
It is very important to hide the author's URL from the Author's archives each time you create a new username. This will help to frustrate the possible hackers to identify so that he have to rely on Password.
As in the URL absolute path is a location of a directory or file in a computer, which is also commonly referred to as file path. Here, Paths are used largely in operating systems for representing the file and directory relationships. They are also crucial to the operation of the internet and basis formation of URLs.
You can easily change the author's archives URL from the username. Just customize user_nicename under the wp_users table is all you need to do.
Use Nonces
These are used to verify that a request is original and not duplicated. Nonces are tokens and made up of a combination of numbers and letters. They're generally used to check the identity of the user performing a general operation, helping to secure sites against CSRF attacks. If the nonce expires, it cannot be used again.
---
Final Recap
A successful and secure WooCommerce website is able to make more customers. By creating a secure WordPress site, users will feel confident to buy from your online shop, which will eventually increase your revenue.
To keep your WooCommerce security up to date and strong, you need to be active. Just apply the above-mentioned strategies to effectively secure your Woocommerce store and Sit back & wait for any malware that can hardly come to you.

For instant service regarding WooCommerce Setup or if you have a WordPress site and want some support just contact to our Toll-Free number +1-855-945-3219(Toll-Free) We will be pleased to help you.

Thanks!