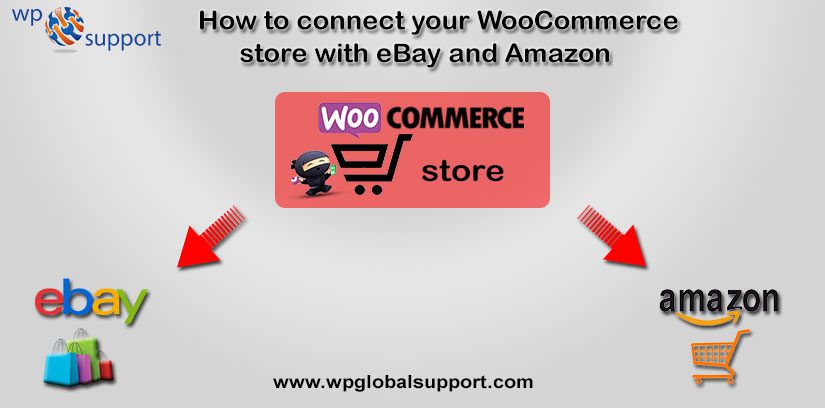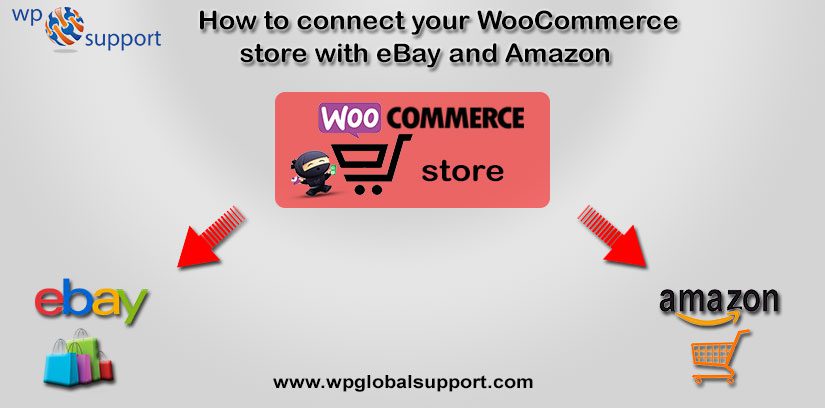 Connect with the smart market to extend the reach of your WooCommerce store. We all are aware that Amazon and eBay are the most leading online stores. We can imagine the benefits of connecting with these two online brands.
As WooCommerce lets you create an e-commerce business (store), manage inventory, accept payments, and much more. It comes with almost all the functionalities that you require to open an online store.
Here, we will teach you how to connect the WooCommerce store with eBay and Amazon. If you are going to Setup WooCommerce store. And you want to sell your products in other marketplaces like eBay and Amazon, you might have wondered if it is possible to integrate all three into a single platform. Doing this will reduce your workload and let you manage all the orders from one place.
There are some solutions available to connect your online store with other marketplaces. In this blog, we will introduce you to the top 3 ways for connecting the WooCommerce store with Amazon and eBay.
Read Also: How to Connect Woocommerce store with ShipStation?
Ways to connect your WooCommerce store with eBay and Amazon
For easy and successful integration of WooCommerce with eBay and Amazon follow the below-written tools.
1. WP Lab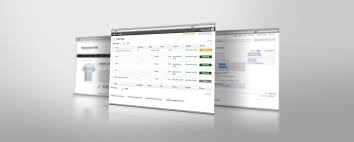 WP Lab is a solution to connect your online store to eBay and Amazon. It offers two different solutions for integrating your Woocommerce site with Amazon and eBay.
Both solutions are available as lite versions in the WordPress plugin directory. Also, you can purchase the paid version from the website.
Where a plugin is defined as a type of software that contains a group of functions that can be added to a WordPress website. They are used to provide additional functionality to your application.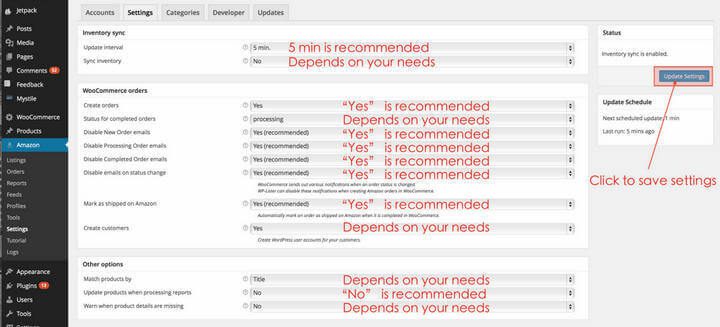 The WP-Lister for Amazon lets you connect your website's products to your Amazon list. Except importing the present products, you can match and link your online store's products with Amazon. It is possible to import images, product title, and other data from Amazon.
Wp-Lister for Amazon is the premium version. From this, you will get priority updates and instant support. When you synchronize sales and create orders from Amazon account.
The price of this plugin is $149.
The WP-Lister Lite for eBay offers an easy and simple solution for integrating your online store with your eBay account. Along with creating items, you can add many variations of the products. This plugin is also available in many languages.
WP-Lister Pro for eBay enables you to sync the product list between your store and the eBay account. Also, you can create an order when an item is sold on eBay.
Other features of this plugin are, importing product from eBay, uploading product images to eBay, split variations, and advanced eBay options etc. The price of this plugin is $149.
2. Veeqo

Veeqo offers an easy solution for connecting your online store to eBay and Amazon. By using this, you can easily keep track and sync the products in your business store and the eBay and Amazon accounts.
In this, the order will be automatically synced in every 10 minutes. When an order is processed, your Amazon and eBay accounts will be updated with the tracking number. Also, you can print your lists, labels in bulk accounts and invoice packaging slips.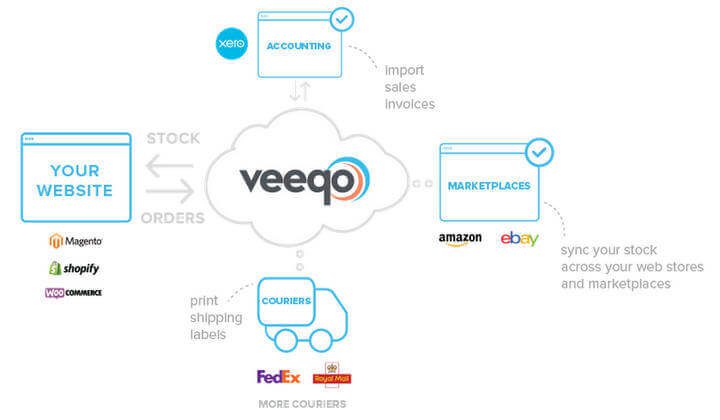 Veeqo supports all eBay and Amazon channel in the whole world. You can easily handle the local and international order from your e-commerce site. It is also a completely cloud-based system. Thus, you can use the solution from anywhere too in the world.
The Real-time inventory syncing feature will keep the way of all marketplaces and sites. As a result, your stock lists will always be updated. You will be ready to control all of your order from one location. Every product will be accompanied by detailed information about the marketplace and site they belong to.
Veeqo comes with some charts and reports about the profit and sales of your account and sites. By using these, you can simply get an overall idea about the condition of your store. There is a 14-days free trial and the plans start at $130/month.
3. Selro

Here, we are at Selro which is a popular cross-channel selling platform. Along with dedicated WooCommerce support. It offers smart inventory management options and shipping options for both the customer and the store owner. Selro integrates your WooCommerce store with your Amazon and eBay accounts.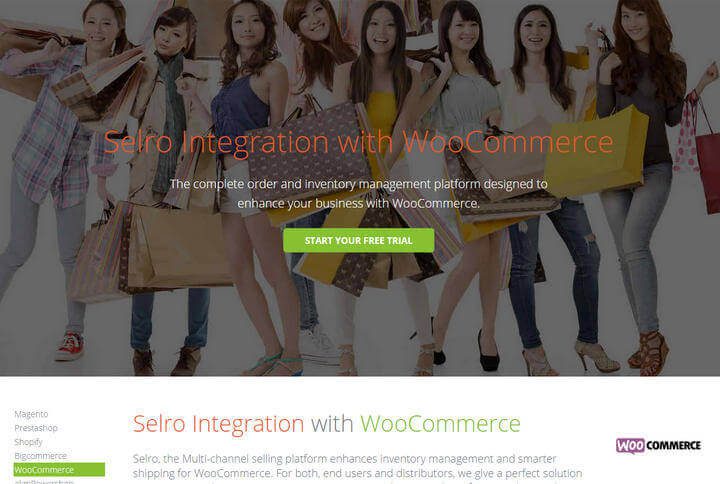 Whereas, the inventory of your accounts and store will be automatically synced. Thus, the single dashboard view will make sure that you can view your product lists from all marketplaces and website's often in one place. However, it will also streamline various backend operations such as managing stock activities, product labels, handling sales orders etc.
Often, the simple order management system of Selro will allow you to handle all the orders from the dashboard of your Website. Just order from the marketplaces and your online store will be processed automatically. However, the centralized inventory management options will make sure that you are always on top of your current inventory status.
Consequently, as the Selro is a flexible technology and is capable of connecting to any API and work seamlessly. In case of necessity, you will get premium support 12 hours a day throughout the business days of the week. If you are still not convinced, you can try the 30-day free trial. You won't need any credit card for the trial. After that, the pricing plans of this start from $99 per month.
Bonus to get more reviews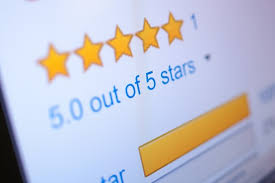 Bonus 1: Automatically increase customer satisfaction and get more reviews on Amazon and eBay with this trick:
Now, you have successfully connected eBay or Amazon with your online store, you can take it to the next level and automate post-purchase follow up on Amazon and eBay customer.
No matter, what connection method you have used, once you have the customer information in our online store. We can use them to send follow up emails. For this, we will be using SIP Advanced Emails Rules for WooCommerce.
When you purchased once SIP Advanced Email Rules for WooCommerce, you can easily target eBay and Amazon customers and send them specific emails, such as asking for feedback or reviews on your items. This is a better way to get more product reviews on eBay and Amazon with their terms of services.
From the left menu, click on "SIP Plugin>> Advanced Email Rules" then "Add new". Under this, set rules that will target only eBay and Amazon customers. For e.g, If you are using WP Lab (First solution of this blog) to import orders from Amazon. You can either set "Payment Method" equals Amazon or Emails contains marketplace.amazon.com. Similarly, rules can be set to target customers.
I target the emails after 30 days after the order has been shipped from Amazon. However, you can send email much sooner or even you can send more than one email to the customer.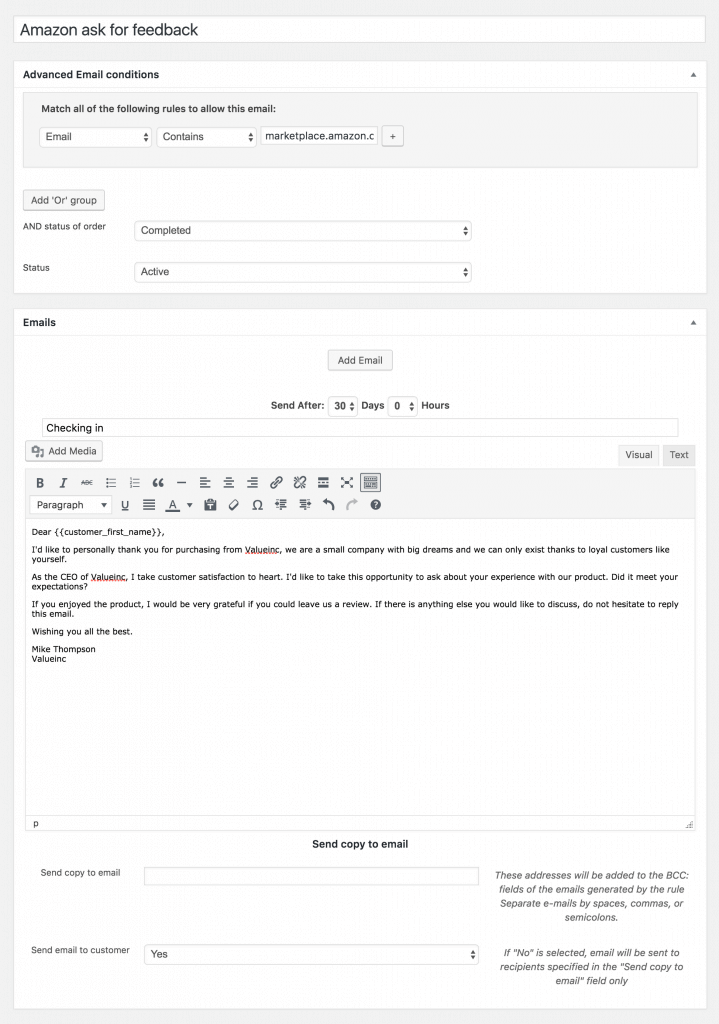 Bonus 2: Split test your Amazon listings for more revenue:
Have you heard about split testing on Amazon? Do you know how it can help you as an Amazon seller to optimize your listing and make more money? If you are selling on Amazon you might be leaving money on the table by not split testing your listings.
WRAPPING UP
Wrapping this all in end! We discussed the top 3 ways to connect your WooCommerce store with eBay and Amazon. These three solutions are:-
1. WP Lab
2. Veeqo
3. Selro
If you found the blog useful, do not forget to use the comment section provided below. Also, share the blog with your peers. You are on your way to getting more exposure.
For quick WooCommerce Setup  Services contact to our Toll-Free number +1-855-945-3219. Our support services are available for you 24/7. So feel fee to contact us as we will help you instantly.