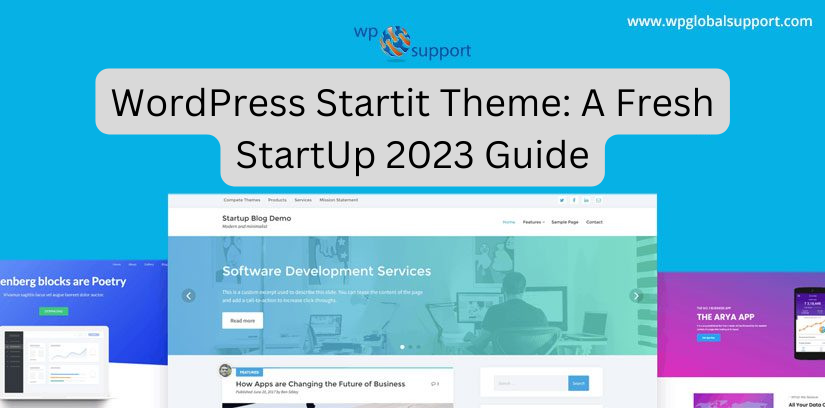 If you are looking for an easier way to represent your business online without any major problems, then WordPress StartIt Theme is the right choice for you. StartIt is a fresh business startup theme that allows you to build a unique and smoothly designed website with all important functionalities present in it. Furthermore, this startup theme lets you build all types of business sites such as Real Estate, Banking, Portfolio, Corporate, and many more.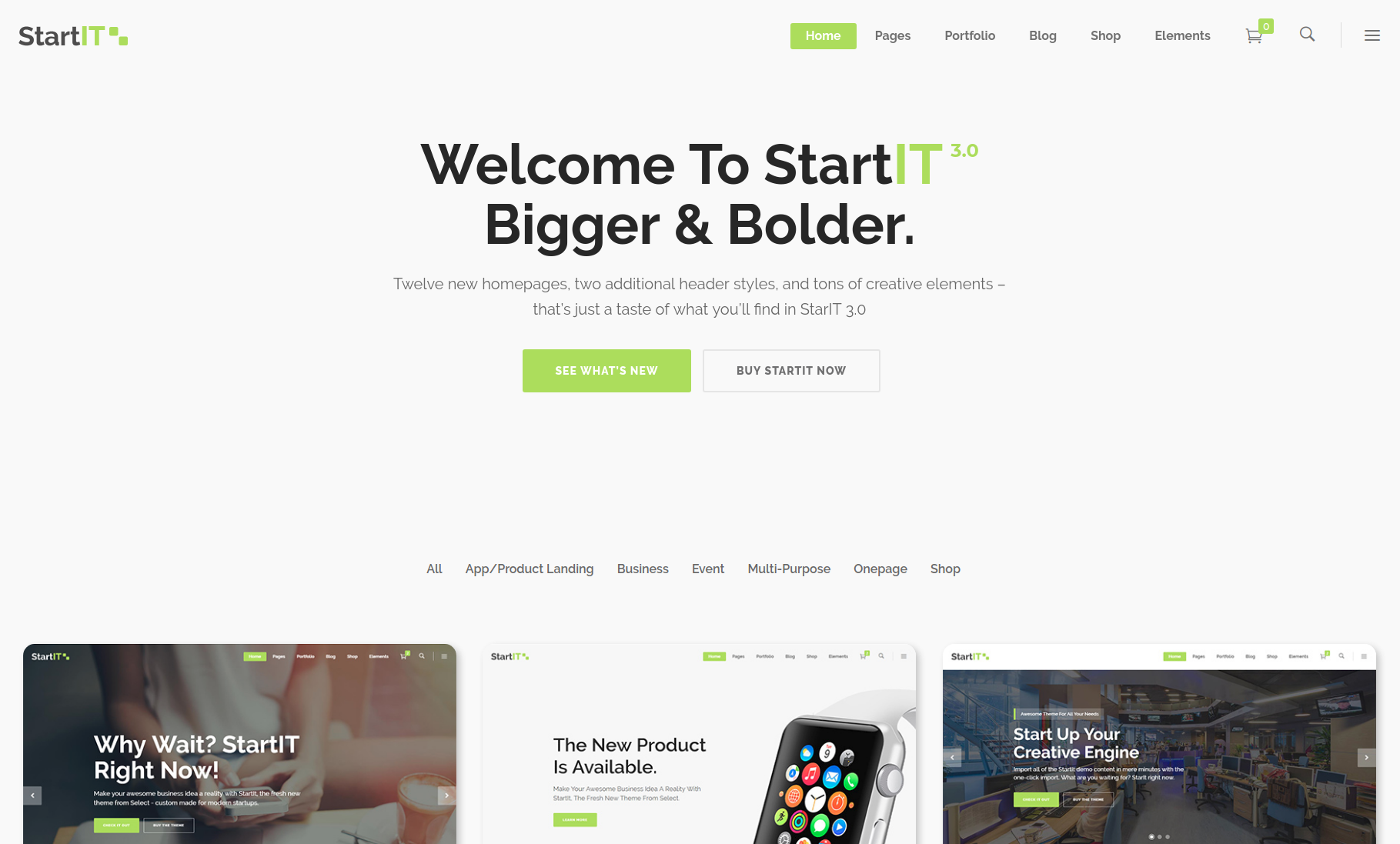 But to fully utilize a theme, it is important for you to know about its functionalities, benefits, lacking aspects, software updates, and compatibilities with important plugins and browsers. This article will help you with the exact same issue.
We will here discuss the functionalities, installation, upgradation, pricing, benefits, and all other aspects of this beautiful theme. So let's cut to the chase.
Why choose the WordPress Startit Theme?
The answer to this question can be quite lengthy yet simple. If you opt for a simple answer then it is safe to say that you can choose this particular theme to create a fully functional multipurpose website to grow your business. And if you need a detailed answer, then we are providing a list of features and functionalities that will help you decide whether you want to choose the WordPress StartIt theme as your go-to theme buddy or not.
The main Key Features of the WP StartIt Theme
Effective design: The design of this WordPress theme is very simple and effective.
Highly secure theme: All the data and files saved on this theme are highly secure so there is no need to worry about the piracy issue.
Featured WPBakery page builder: You can give a beautiful look to your website by using the WPBakery page builder.
Multiple header layouts are available: It offers multiple header layout options, which will help you create unique header styles of your choice.
Free layer slider: This enables you to create a powerful slide presentation with the Layer slider.
Drag and drop feature is available: You can easily use the drag & drop feature on your website using WPBakery Page Builder.
One-click demo Importer: The theme can be imported within a single click. You can also see the StartIt theme's Main Demo.
Easy to customize: It is very easy to customize your homepage, sliders, blogs, and portfolio by using this theme.
Fully responsive: The theme is fully compatible with all devices.
Translation-ready theme: You can easily create a WordPress multilingual website with just one click.
Outstanding support: 24/7 customer support is available.
Retina-ready theme: It looks stunning on all devices.
Highly SEO optimized: It helps in ranking your site in SERP which will automatically lead to more traffic and conversion.
Easy documentation: It provides easy WordPress theme documentation support for all users, especially beginners who are using this theme for the first time, so they won't face any problems during the installation or configurations. Also, the theme provides a very easy understanding of all its features so that they can be used to their full potential.
24/7 customer support available: If you have any doubts regarding the theme then you can easily get help from the support forum.
Functionalities of the StartIt Fresh Business Startup Theme
It provides thousands of customizable options some of which are 3 types of home screen layouts, 8-page layouts, 4 editable portfolios, 4 blog layouts, 50+ elements, and 8 shops with slider variants.
Home page layouts contain –
Multipurpose pages with blog gallery, animated whiteboard, and landing page.
Presentational layouts with app presentation, product landing page, and video slider.
Business Pages come with an online shop, web agency home page, creative startup,
and support center.
Page layouts contain –
About Us page
Parallax pages
Process and services pages
Pricing page
Client Page
Portfolio pages come with various customizable widgets such as –
Gallery Style(3-6 column grid)
Gallery with space (2-6 column grid)
Standard style portfolio up to 6 columns wide
Single Portfolio with customizable sliders, images, and gallery.
Customizable blog layouts contain –
Standard Blog
Masonry Blog
Masonry Full Width
Single Blog with Gallery Post, Quote Post, Link Post, Audio, and Video Post.
Interactive Elements
Fullwidth Image Slider
Animated Info Box
Testimonials
Underline Icon Box
Video Presentation
Portfolio Slider
Flex Slider
Image Gallery
Carousel
Pricing Slider
Info BoxNew
3D Mobile ShowcaseNew
Blockquotes
Headings
Columns
Standard Elements
Call To Action
Button
Tabs
Accordions
Blog Posts
Contact Form 7
Google Maps
Clients
Service Table
Team
Pricing
Pricing Info
Message Boxes
Custom Fonts
Separators
Infographics and icons
Pie Charts
Doughnut Pie Charts
Full Pie Charts
Progress Bars
Process
Icon Checked
Image with Icon
Icon with Text
Custom Icon with Text
Counters
Countdown
Dropcaps
Lists with Icon
Highlights
Separators
Provides WordPress help – The theme provides a separate help team available 24/7 to serve all the queries related to your site.
Easy downloads are available – StartIt Theme comes with one click-import feature meaning that the theme can be easily downloaded with a single click option and lets the user import its demo content in one single click.
Most trusted WordPress Business Theme – The Theme has been one of the most trusted Startup Business Themes that has already been used by thousands of people across the world and is still counting.
Affordable price – The prices of the theme are pretty affordable(starting at $69 at the usual plan) and could be the first big step towards a successful business in the long run if used properly.
Theme Installation and Updation Processes
Before installing the theme, make sure you are in the admin panel of your WordPress. A theme can be installed in 2 ways in WordPress –
Installing via Admin Panel
On the Dashboard of the site, move to the Appearance option on the extreme left. Hovering upon it, go to the Themes option.
On the Themes Page, in the top corner appears the Add New button. Clicking on it, you can search for the theme of your choice. You can also search for the theme through the feature filter if you don't know the name of the theme.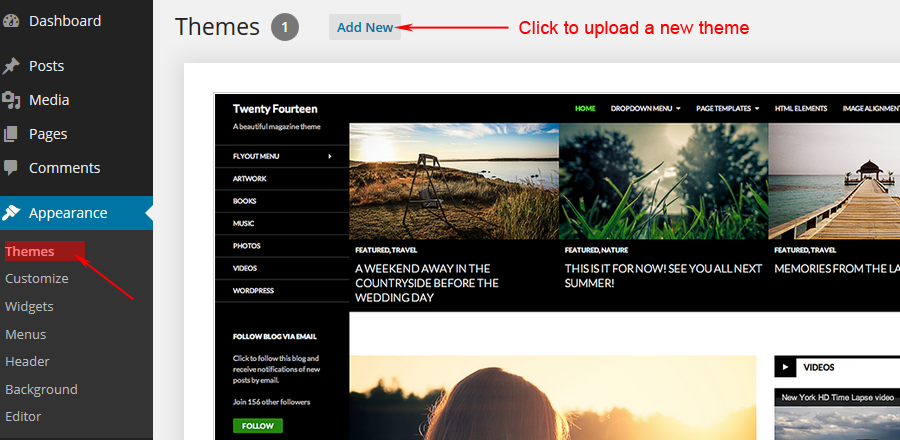 Click on the Download Option. Once the download is completed, WordPress will send you the notification. Now the theme is downloaded, but not live yet. To live the theme on your website, click the Activate button.
Installing via FTP
To start with this, ensure you have a File Transfer Protocol (FTP) client on your system, and an FTP user account within your hosting dashboard. This software will let you access and modify files on your website server.
Download the WordPress Startit theme( .zip file) on your system and unzip the file. To do so, right-click the zip file and click the Extract option. Now you can see a folder by the name of the theme.
Login into the hosting server where your WordPress website is being hosted.
Using an FTP client, go to the /wp-content/themes/ directory under your WordPress website's root directory.
Upload the extracted folder directly to the remote server.
Now your installation process will start and once it gets completed you will be able to use this theme for your website. After installation, you will see a popup notification on the top of your screen which will basically ask you to install some plugins for the themes. You will have to install those WordPress plugins so the theme can work properly without any obstruction.
Steps to update the theme
First of all download the latest theme.zip file.
Extract the new file from the startit.zip folder.
Locate the Startit folder.
Replace the new content file from the old directory with the /wp-content/themes/Startit folder of your website.
Benefits of using the WordPress Startit Theme –
This theme is a flexible Business WordPress theme perfect for creating websites for business entrepreneurs and startups. Further on, by using this WordPress theme you can create a unique and responsive site for your business too.
Different homepage Pixel perfect design options
It offers 21 different homepage options for creating a stunning website for startups which will help to attract more and more people to your Website. Every homepage differs from the other in graphics and provides a variety of functions. The customizable pages available by the theme are the main home, product landing page, startup, app presentation, web agency homepage, blog gallery, online shop, animated whiteboard, creative startup, and conference home page. The designs are pixel-perfect and attractive to make your website looks more enthusiastic and fun. The theme's each and every element is just taken into consideration for World-Class blog creation.
Edge Cutting Design
The design of the theme is very simple, unique, and quite attractive which helps to create a Website that can look just awesome with its effortless design and can match your specifications. Not only the design, but the functionalities of the site are also easy to use as they are provided with the simplest documentation.
No coding required
You can easily create a multipurpose website with the help of this theme. You don't need to be an expert in programming to create a classy site. You will just need to understand how the theme works, which can be done easily with the help of documentation provided by the team.
Easy-to-use templates
With this multipurpose business WordPress theme, you can come up with easy-to-use smart templates that can be utilized by anyone who wants to start publishing posts for his/her business(The articles posted by the admin of a WordPress site are called posts. These are also called blogs. Posts are arranged in reverse sequential order in WordPress).
These templates are ready-to-use and predesigned which lets you create not only creative blogs but also visually perfect online shops and portfolio presentations.
Easy and attractive sliders and animations
This theme truly follows the notion of the saying "First impression is the last impression"; it helps in creating a site that is a visual paradise for the viewers with the help of sliders and various animations. The bonus point is that they are very easy to implement with a little understanding. These widgets are also customizable so that you can add your personalized touch to them.
Different payment options
With the Startit theme, you can opt for different payment options like Digiseller, Unitpay, Robokassa, and Payeer. All these payment options require a PCI DSS certificate.
Compatible with WooCommerce
WooCommerce has become a kind of boon for businessmen. With the online increase in buying products, many vendors have started transforming their business online too and the fun fact is that they don't even need any professional to do so by simply using woocommerce themes offered by WordPress. You can easily create your online store with the help of WooCommerce WordPress Themes or other themes that are compatible with WooCommerce.
StartIt is integrated with the WooCommerce platform so that you can easily create an online store of your own and start selling the products online effortlessly and gain profit.
Global Business adaptability
By using this WordPress Business Theme, you can easily raise your business demands online all over the world hence making your own brand compatible with the latest trends across the globe.
Automatic updates
The WordPress theme supports an automatic update feature, so you can easily get a notification whenever any new updates are available, keeping your theme clear and updated. These updates contain various coder upgrades that help in increasing your site's safety leading to an increase in customer trust in your business.
Pricing and Theme Revenue
The regular pricing of the theme starts from $69/year with 6 months of support and quality check by Envato and Theme Forest, and lifetime updates. It also provides 1-year extended support at $21.38. With this theme, you can get the hosting offers as well.
As we have already mentioned that each sale of the theme costs about $69. Till March 2023 ThemeForest has done 12,316 sales of this WordPress theme. So the total revenue earned by this theme on Theme Forest is ($69 ✖ 12,316) = $849804
3rd party integration of the StartIt WordPress theme
You can easily add a newsletter-sending service with the theme. All you have to do is download an additional plugin called Forms: 3rd-Party Integration. After installing the plugin, just activate it. After that, to offer the newsletter services to the customer you will have to follow the given procedure;
Open the 'admin panel' of your website.
Navigate your cursor to the Contact>>3rd-Party services.
Summary
We have already discussed the main features of the Startit WordPress theme. We all know that it is a multipurpose theme that fits for creating any business-related website.
The main motto of this theme is to ensure customer support and to give them satisfactory results without any difficulty. The theme will help you to create a beautiful and stunning presentation so that more and more customers are attracted to your website. You can also say that "This sleek and beautiful theme can lead your startup business to a whole new height".
We hope that this article helped you clear all your doubts regarding this theme. If you have any queries and suggestions related to this theme then you can use the comment box mentioned below. To get WordPress help, feel free to call us at our toll-free number +1-855-945-3219.
WordPress StartIt Business Theme Review
Summary
WordPress StartIt Theme is one of the best business startup themes with the easiest documentation available and very easy-to-understand functionalities. The theme is totally worth the cost.