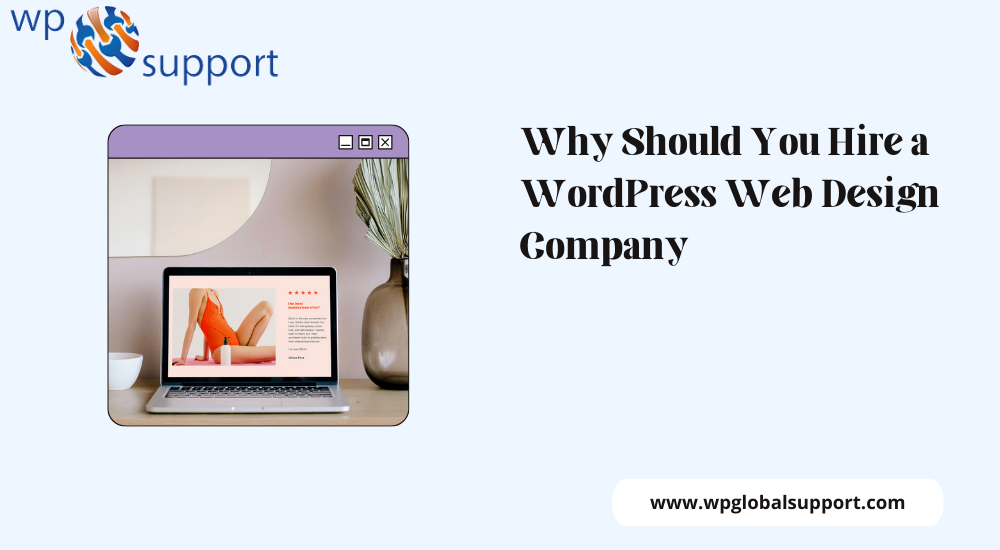 WordPress is one of the most popular content management systems used today. It is powerful, customizable, and secure, making it the perfect platform for businesses to host their websites. Many companies choose to build their own WordPress site, but this can be time-consuming and tricky if you don't have experience in web development or design.
Hiring a WordPress web design company can be extremely beneficial for your business to get the most out of your website. A WordPress design company provides expert advice and services to create a fully functional website tailored to your business needs. This article will explain why you should hire one such company for your business and how it can help you stay ahead of your competitors.
Top Reasons for Hiring a WordPress Web Design Company
Here are some reasons to hire a WordPress web design company for your business.
Experience and Expertise
As a business owner, you want your website to stand out in the crowded online space. A WordPress web design company can help you achieve that goal by leveraging their experience and expertise. Their knowledge of website design, development, and optimization will ensure that your website is visually appealing, fully functional, and user-friendly.
Hiring a WordPress website design company means that you have access to a team of experts who specialize in creating websites on this platform. They are familiar with the latest trends in web design and know how to incorporate them into your site while ensuring it's unique to your brand. With their skills, they can ensure that your website looks great on any device, loads quickly, and is optimized for search engines.
Security and Speed
One of the top reasons why you should hire a WordPress web design company is security. With cyber-attacks becoming increasingly common, ensuring your website is as secure as possible is crucial. A professional web design company will use the latest security protocols and tools to protect your site from hackers or other online threats. They will also stay on top of any new security updates released by WordPress or third-party plugins, ensuring your site remains safe from potential vulnerabilities.
Responsive Design
Another advantage of working with a WP web design company is their expertise in responsive design. A responsive website adapts seamlessly to different screen sizes, such as mobile devices and tablets, making it user-friendly and easy to navigate. This means that no matter what device a customer uses to access your website, they will have an optimal viewing experience, leading to higher engagement rates and conversions. With more people accessing websites on their smartphones and tablets than ever before, it's essential that your site looks great and functions seamlessly across all devices. A professional web designer will ensure that your site is optimized for every screen size by using techniques like fluid layouts, scalable images, and flexible grids.
Customization and Integrations
With WordPress, the possibilities for customization are practically endless. A skilled designer can create a unique layout that matches your brand identity and meets your specific needs. Whether you're building an online store or a blog, a WordPress site can be tailored to fit your requirements perfectly. Plus, with thousands of plugins available for integrations, such as social media sharing buttons, contact forms, and SEO optimization tools, it's easy to add advanced features without coding knowledge.
Professional Look & Feel
One of the main reasons for hiring a WordPress web design company is to achieve a professional look and feel for your website. With their knowledge of design principles and access to premium themes, they can create a custom website that reflects your brand identity while providing an engaging user experience. A professionally designed website can help build trust with potential customers by conveying that you are serious about your business.
Cost Efficient Solutions
One major advantage of working with a WordPress website design company is that they can help you achieve cost efficiency. With their experience and knowledge, these professionals can develop sites that meet your needs without breaking the bank. They can guide you through various options and alternatives to reduce costs while delivering high-quality results. They can help you save money by creating a website to attract visitors and convert them into paying customers.
Conclusion
Hiring a WordPress web design company can be a great decision for any business. It allows you to create an effective online presence that will bring in more customers, increase your brand visibility, and develop a lasting relationship with your target audience. In addition, professional web designers are experienced in creating custom solutions that reflect your company's unique needs. Furthermore, they can help you optimize your website for higher search engine rankings and ensure a better user experience.
To Get 24*7 Professional Service of WordPress Website Design with the Best Deals. Here have a great option to all over solutions to your queries.