How To Install WordPress Using Different Installers: A Practical Guide
Last Updated:

Mar 7th, 2019

Posted by:

admin

Category:

WordPress Support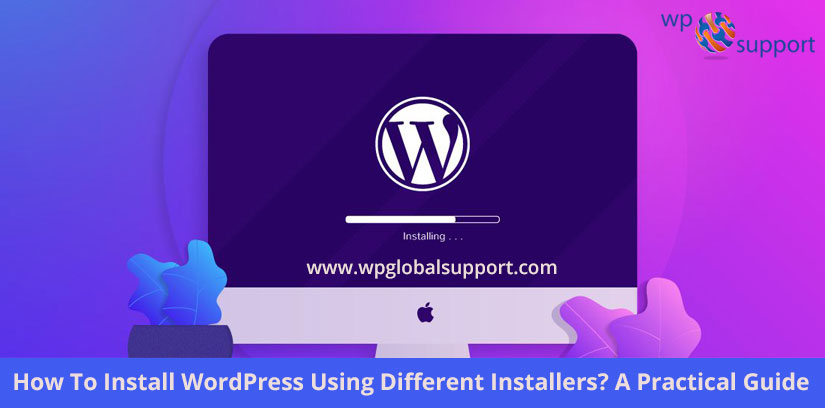 WordPress is famous for its ease of installation. All good WordPress web hosting companies allow you to install WordPress in just a few clicks. In most of the cases installing WordPress is an easy process that takes less than five minutes to complete. In this article, we will be briefing you on how to install a WordPress using different installers by following the below-given steps.
Just go through the table of contents given below to reach out your preferred matter instantly.
Things to do before installing WordPress
WordPress is a well known powerful free blogging and a widely used tool that creates beautiful blogs and websites. There are certain things you must keep in mind before you install WordPress to create your one such profile. Given here is the list of things you should consider:
1. Register a domain name
A domain name, or web address, shows where your website belong to and often ends in extensions like .com, .net, .org, .info, .us, .biz, .tv and more. Register a domain name first, numerous extensions are available where .com is the most popular among them. Most of the registrars require need either a credit card or a PayPal account to pay for the domain. By this, you can claim and get the domain name immediately on application. Finally, you can go to the big domain name companies to register a name.
2. Choose a Web host
Once you have registered your domain name find a web host for it as well.
A web host can install any scripts (WordPress, forum, shopping cart, etc.) and the place you get your email address in. You can't launch your site until you sign up with a hosting account. Most of the hosting companies offer at least a monthly and yearly fee structure, go through the terms for the obvious items like termination and other what-if scenarios. Usually, all the entry level hosting accounts use shared hosting. This refers to sharing one web server among a number of different accounts or websites. More likely you will be buying Virtual Private Server (VPS) or virtual machine.
3. Clean out the default email box
By default, the email server associated with your domain will have at least one email box setup already. This is likely to be the same username you signed up with or one which the host made up for you. Even if you don't use this, you'll have to check it and clean it out otherwise this account will collect spam and other junk emails. If not done, it will fill up and eat up some of your limited disk space.
System Requirements for WordPress
WordPress 3.6 or greater version.
WordPress Memory Limit of 64MB or more.
PHP version 5.3 or greater where (PHP 5.6 or greater recommended).
PHP Safe Mode should be Disabled.
Need PHP Max Execution Time 30 seconds or more.
PHP Memory Limit should be 128MB or more
cURL Library Enabled
cURL Timeout 300 seconds or more
MySQL version 5.0 or greater
Check your hosting
Check the Hosting Compatibility doc for any known issues before you choose a hosting provider for your WordPress dashboard.
Always keep in mind that as you increase the number of managed sites on your dashboard server resources will also need to increase. Managing more sites means that your server will be up for more memory and other resources to complete the requested tasks. Given below are the suggestions that will help to ensure you have the best experience managing your sites.
Any shared hosting plan suffice 30 sites or less than that.
We suggest a re-seller hosting account with additional server memory for 31-100 sites. You should also set the optimization for large networks to ON in your MainWP Settings.
For 100+ sites you should consider a VPS for managing these many sites, where the VPS should have at least 512MB of memory. You should also set the optimization for large networks to ON in your MainWP Settings.
Bending towards the point, we introduce you how to install WordPress. Keep reading!
How to install WordPress using various installers
Install WordPress using MOJO Marketplace
Go to Mojo Marketplace, and click on general settings.
Click on how to install WordPress within your Bluehost account
Follow the further steps –
Log in to your Bluehost cPanel account.
Find the website section and select install WordPress.
Click the Install button.
Choose the domain name to install it. In the field next to the domain, you can enter a subfolder such as 'blog' or leave it blank if you want the site's main page to be the blog.
If required, edit the email address, username, and password for the new WordPress installation. Click "advanced options" to change those settings.
Read through the license and the service agreements provided and check the boxes.
Select the Install Now button.
Install WordPress using Softaculous
1.Log into your cPanel.

2. First, go to the Software section, and then click on the Softaculous icon.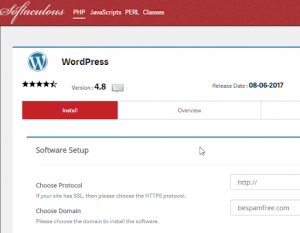 3. Click on the WordPress logo. A screen with getting open where several options will be displayed. You will see a screen with Install, overview, features, and import options. Click on the Install link.
4. Fill in the WordPress installation details as required.
Install WordPress using QuickInstall
You can go to your account with HostGator WordPress hosting and try installing quickInstall from there. This auto-installer makes the installing scripts and CMS extremely easy. To take advantage of this powerful WordPress tool, you can sign up an account with Hostgator shown below.
Now, subsequently, log into your cPanel. Go towards the software/service section, and you can find QuickInstall there, by following the following steps.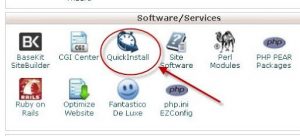 Click on QuickInstall, a quickInstall page will get open. You can find the WordPress option from the left side menu, it is under the blog software section. Click on WordPress to continue.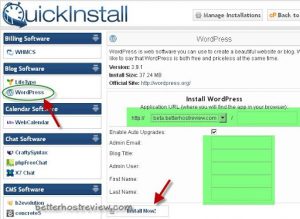 Firstly you need to choose a domain or subdomain to install WordPress to install WordPress using quickInstall. You can specify a subfolder as well to host your WordPress installation.
If you choose to input a sub-directory name, like 'blog', after the selected domain, such as 'www.betterhostreview.com', then quickInstall will install WordPress to this 'blog' folder under your domain root and you will be able to access your WordPress site from 'http://www.betterhostreview.com/blog/'.
If you want to install WordPress from domain root, meanwhile then leave the subfolder field blank. Fill in other boxes as required and tick the Enable Auto option.
It upgrades so additionally and fastly that the quickInstall will automatically upgrade your WordPress scripts to the latest available version.
When you are ready, click on the Install Now button to finalize the auto WordPress installation using quickInstall.
Install WordPress using Fantastico
Fantastico is an application installer available on few versions of cPanel. It includes setting up content management systems like WordPress quickly and easily. Although many platforms have now discontinued support for fantastico in favor of other systems like Softaculous, though it is still in use across the Internet.
Fantastico is a great start for beginner users who don't know a lot about setting up a website. It takes all the work off your hands while installing everything that WordPress requires. All you need is a bit of information about your website, and the system will do the rest.
Login to your cPanel Account
Step1. Access your cPanel account from the customer portal.
To do this, go to the blue "cPanel Login" from your account dashboard.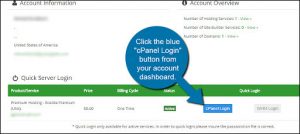 This may appear differently depending on the settings and hosting of accounts. While some hosting platforms may give you direct access to cPanel without using the customer dashboard. In any case, you'll need to access cPanel.
Step 2: Access Fantastico from the Software/Services Section
In cPanel, scroll down to the Software/services section and click "Fantastico De Luxe", a tool with a blue smiley face.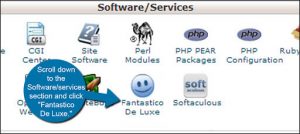 Step 3: Select WordPress
In the Fantastico navigation screen, a list of applications can be seen on the left. Click the required button for "WordPress."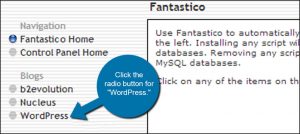 Step 4: Select New Installation for WordPress
Clicking the WordPress radio button will change the right panel. It will now show the information regarding WordPress including the current version that is available in Fantastico. For additional information, a homepage link, as well as a support forum, is given.
Click the link for "New Installation."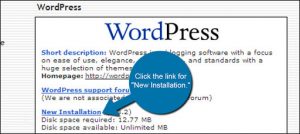 Step 5: Enter your WordPress Site Information and then Install
In this screen, you will have to give your website's information. These will be the settings your website will be using during the installation process.
Click the "Install WordPress" button at the bottom after you finish it.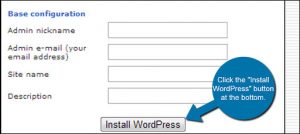 Once the installation gets complete, you'll be given a link to access the admin panel. It's probably a good idea to click the link and bookmark it so that you can find your admin panel later on easily.
Manually installing WordPress is also known as the famous 5-minute install since it takes less time. However, few steps are added in manual installation, and you will need an FTP client for that.
First, download the latest version of WordPress. Unzip the file, and use the FTP software to upload those files into the web host directory of your choice.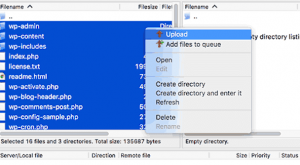 In case you want to install WordPress on your root domain name (like example.com), then you need to upload WordPress files to your website's root directory. Usually, this directory is called /public_html/.
On the other hand, If you want to install WordPress in a subfolder (like example.com/blog), then upload it in a folder /public_html/blog/.
Once you have uploaded WordPress, go to your hosting control panel to create a database for the same. In your cPanel, find the icon like this given in the snapshot:

Enter your database name, and click "Create Database", in the field to create a new database.

Now since your database is created, give a username to MySQL.This username will have access to perform actions on your database.
On MySQL Databases page in your cPanel account, scroll down to MySQL users section. Simply provide a username and a password for your new user and click on the 'Create a user' button.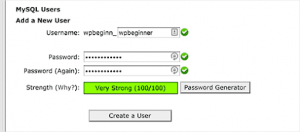 This new user still will not be having access to the database that you created earlier. For that, you will have to add the user to the database and give them permissions to perform all the necessary actions.
On your MySQL databases page in cPanel account, scroll down to 'Add User to a Database' section. Select the database user you created from the dropdown menu next to the user, select the database, and then click on the add button.

Select all privileges you want to allow this user to and moreover click on the make changes button.
Now your MySQL database and user are ready, and it's time to run the WordPress install.
Simply go to to the URL where you uploaded WordPress. In addition, choose the preferred language so that the rest of the installation is displayed in your own language.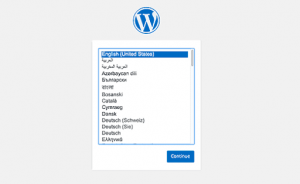 Click on the continue button to proceed.
You will now see some installation instructions. Basically, WordPress will now tell you that it will need your database name, password, and MySQL host information.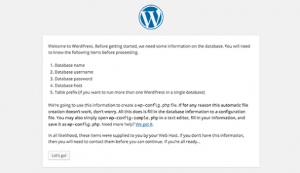 Further, click on the 'Let's go' button to continue.
WordPress will now show you a form. Therefore, you will have to enter the name of the database you created earlier.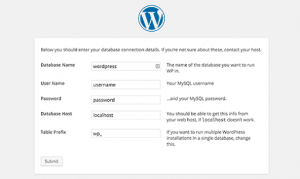 Fill in the information and submit it. WordPress will now connect to your database and will show you a success message.

Click on 'Run the Install' button to continue.
WordPress will now create tables in your database and then send you to the next step of the installation.
Provide information for WordPress to set up your site, which includes site title, username, password, and admin email address.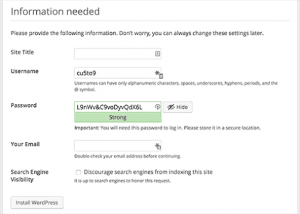 Click on the Install WordPress button to continue. WordPress will now automatically setup your website and finish the installation.
You will see a success prompt showing your username. Now just click on the Log in button to sign in to your WordPress site.

Installing WordPress using FileZilla
FTP is one of a standard way to upload or download files between your local system and your web server, and furthermore, FileZilla is a solid client that FTP needs.
Following details are mandated to be known regarding the FTP account on your server:
The FTP address of your website (usually ftp://example.com if your URL is http://example.com)
Your FTP username
Your FTP password
If you do not already have an FTP account on your server, use your cPanel or website administration tool to set one up, it will have all the required information.
Register your FTP server in the Site Manager before connecting the FTP server. Once you do it, just click once to connect the same server. Follow the below steps to register the FTP server:
Click File > Site Manager from the main Window of FileZilla.
Click New Site then name the new connection according to you (example: My blog server).
Go to the Host box enter the FTP address for your website. Usually, if your website is http://www.example.com, then the FTP address will be ftp://ftp.example.com or ftp://example.com. Note: Do not put a slash (/) at the end unless it is specifically told to do so on your cPanel or by your host.
Leave the Port box blank. Default value 21 should be used. Change these only if your FTP account details explicitly indicate that you should.
Select Normal from login type box.
Enter your full username that you have been given in the Userbox. It may be just a username, or it may look like an email address but actually, it isn't. For an illustration, it may look similar to user or [email protected].
Here enter the password. Remember that the password might be case sensitive.
Now Click on the OK button.

In the Toolbar of FileZilla main window, select the down arrow of most left icon "Open the Site Manager", and select your FTP server from the drop-down list. Or, you can start Site Manager from File>>Site Manager as well, select your FTP server and click 'Connect' button.
If all goes well, then in the top window of FileZilla, you can see a series of messages, and in the large window, you will see a listing of files appearing.
Install WordPress using One-Click Installers
Firstly, to install WordPress at DreamHost, log into your panel and go to the One-Click Installs page at One-Click Installs.
From the list of One-Click-Installs, select 'WordPress'.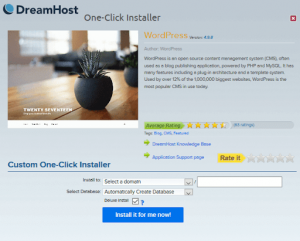 Enter the following:
Install to: Firstly, select the domain that you'd like to install into. The second textbox is for if you want to install into a subdirectory (if you do not want it stored in the primary directory). For example, if you want to install it into example.com/blog first select example.com in the first dropdown menu. In the second textbox type in a blog.
Select Database: You probably want to 'Automatically Create Database' above all since this creates a new unique database for your site. You can also choose an existing database all depends on your wish.
Deluxe Install: It's recommended to check this box if you prefer the extra features mentioned below. This is a free addition to your install.
Further, click the Install it for me now! button. Within 15 minutes, an email will be sent to you at the primary email listed on your DreamHost account. This email details further steps for the completion of the installation.
Install WordPress using SSH
Installing WordPress via FTP might take a longer time as it required to upload hundreds of file to the server. While one can install WordPress quickly in SSH.
First, create the database and user in my DirectAdmin control panel. You can use other control panels like cPanel or phpMyAdmin to do this as well.
Using the shell to download and install WordPress is a real timesaver. Its preferable for windows user to use Putty to log in their server over SSH.
Browse to the directory where you want to install WordPress and execute the following commands given below:
Download and unpack the latest WordPress package:
wget http://wordpress.org/latest.tar.gz && tar xfz latest.tar.gz

Move the contents of the WordPress folder up:


mv wordpress/* ./

Delete the WordPress directory and the compressed package which are empty.


rmdir ./wordpress/ && rm -f latest.tar.gz
Edit wp-config.php
You can even do this using a console editor like Nano or Vi but as it involves quite a few steps. Download wp-config-sample.php from the server and rename it to wp-config.php and open it in the text editor and follow up the following steps:
Add your database name, user and password.

Add the authentication keys and salts.

Change the WordPress database table prefix (optional).
You may also disable WordPress post revisions and set the autosave interval to a really high number by adding these two constants just above the line:
define('AUTOSAVE_INTERVAL', 35000);
define( 'WP_POST_REVISIONS', false );
Upload the filewp-config.php to the server, when you're done. WordPress also allows you to save the file one level above your WordPress install which is usually one level above the directorypublic_html.
Change the owner/group
You may consider it as a major drawback of installing WordPress via SSH here, that all files are now owned by the user who uploaded the files. This means the auto-update feature of WordPress can't be used by anyone else.
To get the auto update back we need to change the owner or group to the user Apache runs under. The process to do this depends on your OS and server configuration. We have used the below command as root:
chgrp -R apache public_html
but there might be a possibility that Apache uses a different name on your server (www-data or nobody are common names).
Run the install script
Install WordPress by running the script at.http://example.com/wp-admin/install.php
Enable WordPress SSH updates
To allow WordPress auto updates over SSH/SFTP you require to install one additional plugin: the brilliant SSH SFTP Updater Support.
And by using the same shell commands as above, this will only take a minute. Browse to the plugins folder and execute the following commands given below (update the plugin version number if a newer version is available):
wget http://downloads.wordpress.org/plugin/ssh-sftp-updater-support.0.4.zip
unzip ssh-sftp-updater-support.0.4.zip
rm -f ssh-sftp-updater-support.0.4.zip
chgrp -R apache plugins (note: execute this command as the root user!)
Installing WordPress on XAMPP
To get WordPress working with XAMPP, first, unzip WordPress in the right folder. Then go to the XAMPP folder on your computer and open the htdocs folder – C:/Program Files/XAMPP/htdocs.
Unzip WordPress files into its own folder and rename it as you wish. For consistency, let's call this installation of WordPress "WP" to match the name of the database that is created.

Open the WP folder where you have saved your WordPress, find the wp-config-sample.php file and rename it wp-config.php or with any .php extension as up. Open the file and scroll down the screen see to the following lines:

These lines of code shows the login details of your database:
Replace "database_name_here" with the name of your database, which here we have taken as "WP".
Replace "username_here" with "root" and leave "password_here" position blank.
Save the file and close it.
Now let's talk about installing WordPress.
Open your browser and go to http://localhost/wp/
You can see the translation screen that comes before the famous five minute WordPress installation process.

Once you are done choosing your preferred language, continue onto the next screen and enter your username and password details. Click Install WordPress.
Install WordPress on Windows with WAMP
The first thing you need to do is to download the latest version of WordPress from the WordPress.org website. It will download as a zip file.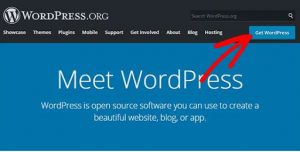 Then you need to extract the zip file and copy the 'wordpress' folder.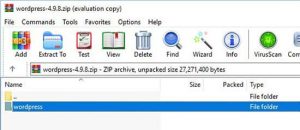 Navigate to the folder where you have installed WAMP.
Here we'll be referring to C:\wamp64 folder going forward. However, it may be different for you depending on where you installed the program.
Thereafter, paste the 'wordpress' folder into the C:\wamp64\www folder.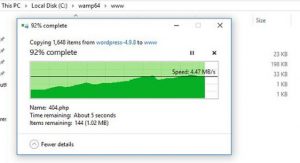 You can rename the 'wordpress' folder to anything you want, such as mysite, testsite etc.
Here we have renamed the folder from WordPress to mysite.
You can now open the web browser and go to http://localhost/mysite/
First, it'll ask you to select a language and then show you the database setup information. Go through it carefully, go ahead and click on the 'Let's go' button to continue.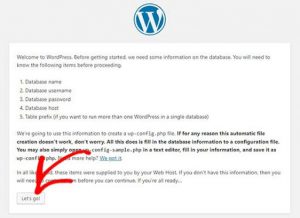 After that, you will have to enter your details like database name, username, password, host, and table prefix for the database.
The database name will be the one that you have entered in the previous step. We have taken it as 'test_db' here and filled the other columns as required, refer the snapshot: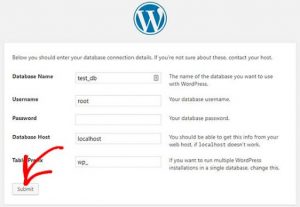 Click on the 'Submit' button when completed and WordPress will create a configuration file for you in the backend.
On the next screen, you can see a success message and now you can proceed with the installation part.
Click on 'Run the installation' button to continue.

Further on it will redirect you to the welcome screen of WordPress. Subsequently, you will be required to add a title for your new WordPress website, choose an admin username, enter a strong password, and provide an admin email address.
Once you're done and ready, click on the 'Install WordPress' button.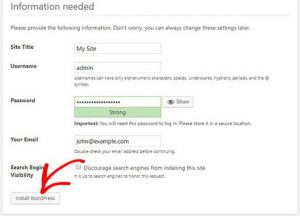 After the installation process, you'll see a success prompt. In the background, WordPress has created new tables in your database and it's ready to be used.
You can further proceed to your WordPress dashboard by clicking on the 'Log In' button.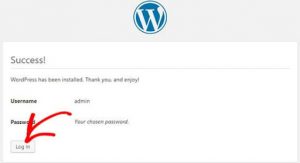 That's it, you have successfully installed WordPress on a Windows computer using WAMP.
Installing WordPress on Mac Locally using MAMP
Before you install MAMP on your Mac, you'll first have to download it from the MAMP website. MAMP requires your Mac to run Mac OS X 10.6.6 or later.
Once the MAMP gets downloaded, go to the MAMP disk image (it will be displayed as MAMP_2.0.3.dmg), and you will get to see a MAMP window pop up. Drag the MAMP folder (not MAMP PRO – we'll save that walk-through for the next time) to the Applications folder.
Now since you've got MAMP installed on your system, launch MAMP.app (located at /Applications/MAMP/MAMP.app).
While editing settings of MAMP, it might prompt you for an administrator password. This is so because MAMP runs on two processes: mysqld (MySQL) and httpd (Apache), and depending on the settings you set for those processes, you may or may not require to input your password as per your requirement.
Now open MAMP, click on the Preferences button. Then, click over to "Ports." where the default MAMP ports are 8888 for Apache, and 8889 for MySQL. If you use this configuration, your password will not be required, but you will have to include the port number in the URL (localhost:8888). But if you'd like to leave the port number out of the URL, you will have to change the Apache port to 80. The downside of using port 80 as your MAMP Apache port is that you'll always be asked for your password.
At last, you'll need to set a document root, on the web server. This is where all your files are going to be for your local web server. One such example of a document root is /Users/USERNAME/Sites/wordpress/. Once you're done editing all of the settings, hit OK to save them.
For more detail look at our guide on How to install WordPress on Mac Locally using MAMP
Install WordPress in Subdirectory
Installing WordPress in subdirectory allows you to run multiple WordPress information under the same domain. Installing WordPress in a subdirectory is very simple if your web host uses cPanel with easy scripts. These software programs let you perform a fast and simple WordPress installation. Otherwise, you'll be required to install WordPress to your subdirectory manually or move to a new web host.
Here we will show you the steps to install WordPress in subdirectory or root. Let's see how:
Step 1. Creating a Subdirectory under The Root Domain Name
Create a subdirectory under your root domain name, where you will be installing your WordPress files.
Connect it to your WordPress hosting account via FTP client or File Manager in cPanel. Then proceed further to the root folder of your site. Mostly it is the /public_html/ folder. You can see your WordPress files and folders here if you have previously installed WordPress in the root folder.
After that, select 'Create a new directory' from the menu.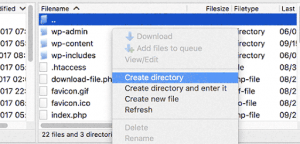 You have to be sincere while selecting the name for your subdirectory. This will be a part of your new WordPress site's URL and what your users will be typing in their browsers to influence this website. Like if after naming this to travel-guides, in this case, your WordPress website's address will be: http://example.com/travel-guides/
Step 2. Upload WordPress Files
Modify the all-new subdirectory by uploading WordPress files.
First, visit the WordPress.org website and tap on the download button. The browser will now download the zip file containing the latest WordPress software to your computer.
After you download the file, select and extract it.
Consequently, you will now see the 'WordPress' folder holding all the WordPress files. Upload these files to your new subdirectory.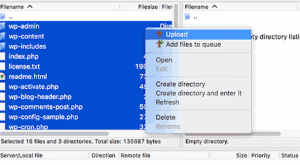 Using an FTP client connect to your Website and move ahead to the subdirectory that you have just created. In the local files panel of your FTP client go to the WordPress folder that you just obtained.
Hence choose all files in the WordPress folder and then upload them into your new subdirectory.
Step 3. Create a New Database
WordPress saves all your content in a database. Create a new database with your new WordPress site installed in a subdirectory.
Login to your cPanel dashboard of the WordPress hosting account. Go to 'MySQL Databases' under the databases section.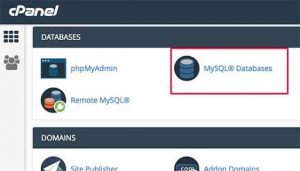 Provide a name for your new database and then tap on 'Create Database' button to continue on the next screen and your cPanel dashboard will create the new MySQL database. Now, just create a MySQL username in order to use this database.
Scroll down to MySQL Users section and give a new username and password accordingly. Click on the 'Create User' button to continue.
Likewise, scroll down to 'Add user to database' section, select your MySQL username and choose from your newly created database.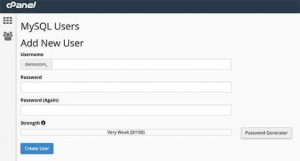 Next Click on Add button to continue. Now, cPanel will give the MySQL user full authority on the database you just created
Step 4. Install WordPress
Now you can install WordPress. For this visit the WordPress directory you created earlier in a web browser by typing the URL like this: http://example.com/your-subdirectory-name/
This will show the WordPress installation wizard. Further, choose the language of your preference for your WordPress website and tap on the continue button.
Give your WordPress database name, database username, password, and host as asked. Enter all the required database information and click on the submit button.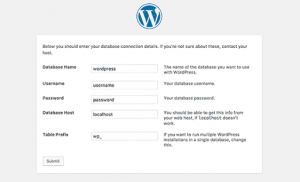 Now WordPress will connect to your database and you will see a message prompt like this:

Now click on 'Run the install' button to continue further.
You will have to give a title for your website and choose an admin username, password, and email address on the next screen.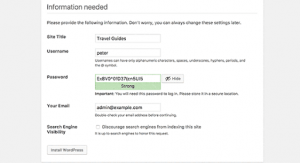 Click on 'Run the install' button to continue. WordPress will now build your website and will display you a success message: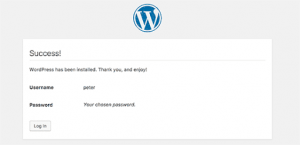 How to install WordPress manually
Some major steps in manual installation:
Firstly, download the wordpress.zip file and upload to the public_html folder via FTP, or via cPanel File Manager.

Secondly, extract all the contents of the wordpress.zip using cPanel File Manager.

Create a new MySQL database and user.

Run the famous 5 minute WordPress installation.
Things to do After Installing WordPress
Meanwhile, before publishing any articles, you are further recommended to change these settings accordingly as per your requirements. There are lots of things for which we need to make our WordPress website compatible with, right from optimizing our website for both visitors and search engines for securing our website.
1)  Delete the default admin account & Create a new one
2) Configure WordPress Permalink
3) Delete/Uninstall Unused Themes & Plugins
4) Disable User Registration
5) Deleting the Default Content
6) Set Title, Tagline, and Timezone
7) Setting Your Preferred Domain URL
8) Updating Your Profile
9) Update Discussion Settings
10) Update Comment Moderation Settings
11) Updating Reading Settings
12) Setting default Gravatar
13) Configuring the Post Auto-Save Interval
14) Configuring WordPress Ping List
15) Setting Default Category
In conclusion, we hope that the above article helped you to install WordPress. Furthermore, in case you face any problem while installing WordPress, you can contact to our WordPress help & Support Number to get instant support and service. Dial + 1 888 614 0555. We will be pleased to help you.
Read More Popular Blogs in WordPress: