4 simple steps to Install WordPress
Last Updated:

Sep 17th, 2018

Posted by:

admin

Category:

WordPress Support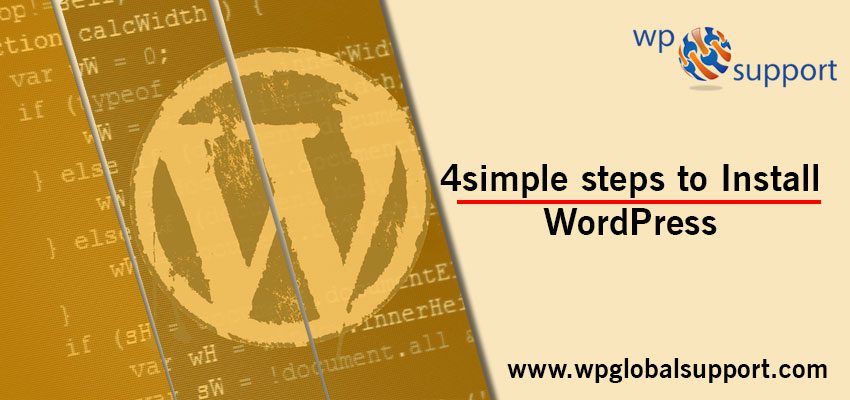 WordPress is famous for its ease of installation. All good WordPress web hosting companies allow you to install WordPress with a few clicks. In most of the cases installing WordPress is an easy process that takes less than five minutes to complete. In this article, we will show you how to install a WordPress by following the below-given steps.
You can also talk to our WordPress Technical Support team for any queries and help related to WordPress Installation. Dial + 1 888 614 0555(Toll-Free). They will resolve all your queries
Steps to install WordPress
Step1: Firstly Download the WordPress installation package
To start the installation, the very first thing download the WordPress from its official download page. WordPress is free and an open source platform under the GNU General Public License. You can also open https://wordpress.org/download/ link directly to download WordPress.
Now click on download WordPress option. Once you click on this option the installation package will be saved on your hard disk. Now locate this package and extract it to a new folder.
Step 2: Next, Upload the WordPress files to your server
Next, upload the extracted files and folders to your web server. Another simple way to upload the installation files is via FTP.
After the download is complete, extract the archives and upload it to your web hosting account. Client application like Filezilla or via cPanel>>File Manager>>Upload file(s) can be used to simply upload the installations files via FTP.
If you want this WordPress installation to be main for your website, the files should reside in the public_html folder of your account. If  you want to run only part of your website on WordPress you can always make a subfolder (i.e. public_html/blog)
Step 3
:

Create a MySQL database for WordPress

Now, create a MySQL database and authorize a user to it with full permissions. Once you create your MySQL Database and User, make sure you note down the following information as you will be needing these for the installation process database name, username, and password you've just created.
Step 4
: Go through the installation process
Now you can navigate to your website to start the installation process. If you have uploaded WordPress in your public_html directory you'll need to go to http://yourdomain.com in your preferred browser. The first thing you will see a message showing you don't have a wp-config.php file and create one. To proceed further just click on the Create a Configuration File button.
On this page you will see a message, suggesting you to prepare the vital information for the installation. Just press the Go! Button.
We hope that the above article helped you to install WordPress. In case getting problem while installing WordPress you can contact to our WordPress helpline Number to get instant support and service. Dial + 1 888 614 0555. We will be pleased to help you.
Read More Popular Blogs in WordPress: