WordPress Security & Malware Scan

Get WordPress maintenance, hack cleanup, security audit and monitoring service by our experts. Dial our toll-free number to start your conversation.
WordPress Security: Why Should You Care About WordPress Security

WordPress Security should be our first priority! Being WordPress is an extremely popular web platform. It is user-friendly, easy to update and maintain. But this open source software is also vulnerable to hacks. That's why it is so important to never leave a WordPress installation unmanaged. It is very significant to customize every WordPress installation so that it is harder for the hackers to find the files they generally target for attack. WordPress security issues are becoming a rising problem, as well as affecting thousands of websites every day. Many website owners are not even aware they've been hacked. Securing your website, databases and files became an obligatory task of each online business. As the number of threats and cracked websites increases yearly, you will certainly need a one-stop resolution that protects your websites and information without worrying about any future security risks. We secure WordPress websites through the most recent and finest practice methods.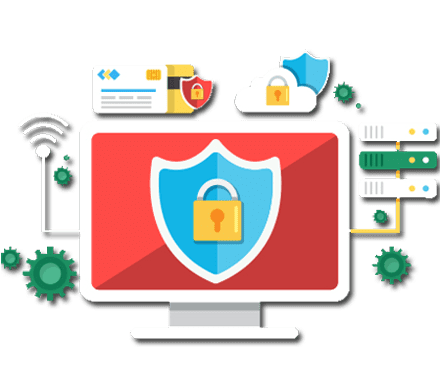 Our whole WordPress Security services cover all aspects of WordPress security vulnerabilities as well as firewall installation,
malware removal, database security, backups scheduling, future monitoring and much more.
WordPress Malware & Vulnerability Scan
Our WordPress security specialists will do a thorough security inspection of:
Web Server Configuration and Permissions
And anything else that could lead to a malicious hack attack or malware infection of your WordPress site.
WordPress Users Roles and Capabilities
Installed WordPress Plugins
Files and Directory Permissions
WordPress database Privileges
WordPress based websites have turn out to be one of the biggest and most popular targets of digital attacks and hackers all over the place creating a demand for advanced security measures when using the platform. Our security services are designed to analyze secure and monitor your website, as per the newest security measures. We have a team of experts that works all around the clock to get the latest security updates and make sure that your websites are well sheltered against any potential threat, malware, injected spam or hack. We can assist you with an extensive range of security services on WordPress, from managing the entire procedure for you and keeping it up-to-date on your behalf, to removing malware and installing software to make your WordPress website more secure. We offer our customers reasonable customer services so that your website maintains its integrity and performs at the top level in the upcoming days. Our security service protects you against the obvious threats and the ones that you may not be fully aware.
Why WordPress Website Security Is Necessary?
WordPress Security is a complicated task! Keeping your site safe not only a big effort but also one of the top agendas. A hacked WordPress website can become a big issue for your business revenue and your site reputation. Means to say, a hacked website can be lost your entire successful business. In accordance with a survey, every week google blacklists about 20,000 sites for malware and also about 50,000 for phishing. Therefore, if your WordPress site is your business, then pay attention towards WordPress security issues.
Being a successful online business owner, it's your responsibility to protect your business site. Come with us, we offer quantifiable, measurable, and dependable services to our customers. In case you ignore the security of your site, you would encounter one of the problems given below:
Web Hosting Providers Closes Hacked Accounts
Web hosting providers suspend your account in case your site has been hacked or cracked. Some would give you a few days to sort out the issue, but it is not enough to retrieve your database or files.
Hacked Websites Get Re-Routed
We all know that each & every hacker want to direct your traffic to their site, they also want to theft your customers. Simply means to say, your site's reputation will be lost overnight.
Hacked Websites Get Into Legal Issues
If hackers want to exchange your WordPress site with some untrustworthy offers, they will be consolidating illegal acts with your brand and name. You can get out into serious legal issues.
Hacked Websites Get Blacklisted By Search Engines
When your WordPress website gathers malware, it would not be safe for search engines to list you anymore. However, they will block you or even completely deindex you from their systems.
How We Secure Your WordPress Site
Security needs to be the utmost important stuff in all! Thus, while implementing WordPress security checklists & malware scan services, we cross-check for everything which may have any impact on site performance. There are several things which we do to secure your site. Some are listed below.
Secure your login page and prevent brute force attacks
Everyone knows the standard WordPress login page URL. Hence, we need to customize the login page URL and page's interaction. That's the first thing to consider while securing your website.
Some suggestions to secure your login page:
Set up website lockdown and ban users.
Use 2-factor authentication
Use email as login.
Rename your login URL.
Adjust your passwords.
Secure your admin dashboard
For a hacker, the most delightful part of the website is the admin dashboard, which is actually the safest section of all. Therefore, attacking the strongest part is the real challenge.
Here's what you can do:
Protect the wp-admin directory.
Use SSL to encrypt data.
Add user accounts with care.
Change the admin username.
Monitor your files.
Secure your WordPress themes and plugins
Themes and plugins are the crucial elements of a WordPress site. Unfortunately, they can also create serious security threats.
Now let's see how we can secure WordPress themes and plugins properly:
Update WordPress site regularly
Update Themes and Plugins regularly.
Remove your WordPress version number.
Secure the database
All your site's data and the information is stored in the database. It is important to take care of it.
Few things you can do to make it more secure:
Change the WordPress database table prefix.
Backup your site regularly.
Set strong passwords for your database.
Encryption, by Default
No doubt, strong encryption is important stuff to help your WordPress security and privacy. Over to this, we encrypt (serve on SSL certificate) all WordPress websites, including custom domains that are hosted on WordPress.com.
Not only this but, our WordPress security team of experts set up an SSL certificate to your site. If you have any problem contact to our WordPress experts.
WordPress Website Firewall
WordPress site firewall is like a security software works to control both the incoming and outgoing traffic of each & every network. It is installed between an internet connection and an internal network to secure networks from hackers.
That's why we run firewalls to your site and also we have processes in place to alert us about unauthorized hacking attempts to access WordPress accounts.
Protect the wp-admin directory
If you are a business owner, security of your WordPress website should be the first priority. You know that Wp-admin directory is the heart of any WordPress site. Therefore, the breakdown of this part of your site can cause damage to the entire site.
Protect your WordPress website with our WordPress team of experts. They protect wp-admin directory of your site by using various tools and their technical skills.
Use SSL to encrypt data
Securing the admin panel of your site by implementing an SSL (Secure Socket Layer) certificate is one of the best processes. However, SSL ensures transfer the secure data between the server and the user browser, so hackers cannot break the connection or spoil your info.
Hence, come with us and opt the benefits of our services belonging to the WordPress Security. To which a dedicated team of professionals is there for you like 24*7.
How It Works?
#1. Explain Your Issue
Explain all the information about issue throughout email or by filling our contact us form.
#2. Troubleshoot Execution
Our professional team of experts will take backup your site and fix it immediately.
#3. Issue Verification
Once the issue is fixed, we will verify it and understand how to avoid this issue in the future.
#4. Pay For The Fix
After the issue is fixed, confirm that your work is done and make the payment when you are 100% happy.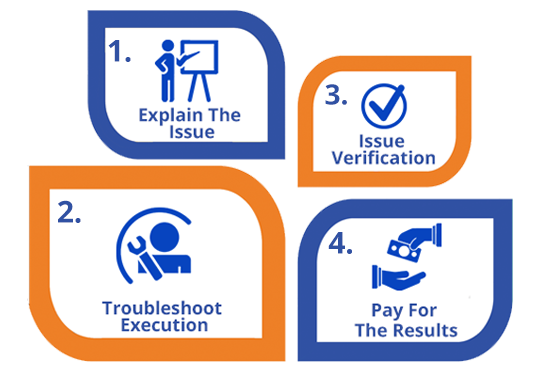 Learn More About WordPress Security Issues
No one knows instantly if their website is hacked. When they come to know it might get too late. If you are worried to see your website being dropped suddenly and dramatically falling down! It's time to recheck your site! This means something happens to your website.
Things to be noticed:
Website not opening.
Website not appears.
Website speed suddenly goes down.
When you open your site you find another website.
Sometimes you find the red screen of death.
Securing your website database and files is a compulsory task. We secure your site through our most recent and best security services. Well, as a website owner, there are lot of responsibilities that you need to take care.
What you should already know about the site:
1. You have to secure the login page and prevent brute force attacks.
Tips for securing login page:
Set up site lockdown and ban users.
You need to use 2-factor authentication process.
Thereafter use email as login.
Change your login URL name.
Manage your Password.
2. You need to secure the admin dashboard of your site.
What you should do for securing admin dashboard:
Protect the wp-admin directory.
You need to use SSL to encrypt data.
After that, add user accounts with care.
Rename the admin username.
Monitor your files.
3. Secure the database
Things you should do:
Change your WordPress database table prefix.
Backup your site regularly.
Pick the strong password.
4. Secure your hosting setup
Protect the wp-config.php file.
Disallow file editing
You need to connect the server properly.
Now set the directory permissions.
Disable the directory listing with .htaccess.
5. Secure your plugin and themes.
Regular update the themes and plugin.
Delete your WordPress version number.
Should we use an auto-update plugin?
We always prefer to go along with auto-update. But, in accordance with plugin updation, we make sure very before, that they do not trade-off the substantial security measures which we implement on our website.
Subsequently, it is worthless to utter that we only update plugins after going thoroughly over the testing phase on our test sites. At last, we will say a single thing, i.e, automated updates are appropriate but the results might be disaster security-wise.
We always prefer to go along with auto-update. But, in accordance with plugin updation, we make sure very before, that they do not trade-off the substantial security measures which we implement on our website.
Subsequently, it is worthless to utter that we only update plugins after going thoroughly over the testing phase on our test sites. At last, we will say a single thing, i.e, automated updates are appropriate but the results might be disaster security-wise.
There are a lot of major and minor mistakes that can be avoided. Rescuing these mistakes will make it difficult for hackers to enter your website and create problems for us.
WordPress and its add-ons is not updating.
Not Purchasing Quality Themes and Plugins.
Not Updating Themes and Plugins.
Lack of Security on Login Page.
Improper Use of User Roles.
Not Deleting Unused Themes and Plugins.
Not Choosing a Secure Host.
Not Keeping Website Backups.
Not installing a Security Plugin.
Not Checking for Malware.
For more information visit the link: https://www.wpglobalsupport.com/10-common-wordpress-security-mistakes-many-websites-make/
Are you know there are a lot of new web-based attacks are coming out day-by-day, that's why organizations, groups and people consider the security imperative that is now more than ever have previously. Now "Security" seems somewhat difficult. But actually implementing WordPress security is not difficult.
The following tips would not ensure that your WordPress website is 100% secure. But these suggestions will make hackers very difficult to hack your site.
You need to choose a strong password.
You also have to pick the right administrator user name.
Update the content by creating a second user.
Also, update the WordPress and its plugins to latest versions.
Now change the table prefix.
Regularly Backup your site.
Add the user accounts carefully.
Manage the users properly.
Use the two-Factor Authentication.
Use Security Plugins.
Install Good WordPress Plugins and themes
Follow the link for more info: https://www.wpglobalsupport.com/essential-tips-ensure-wordpress-security/
Best WordPress Security Plugins-2019

Wordfence
Wordfence is the most popular WordPress security plugins. It keeps on checking your site for malware infection. If your WordPress core, theme and plugins scan all the files and in case it finds any type of infection, it will notify you. However, it uses the Falcom caching engine for making your site faster. WordFence is free of cost, but some advanced features are available for premium users.
This plugin blocks the bruteforce attack and can add two-factor authentication via SMS. You can also block traffic from a particular country. It also includes a firewall to block fake traffic, botnet and scanners.
iThemes Security
iThemes Security is also a WordPress security plugin that asserts to offer 30+ ways to secure your WordPress site. However, you can stop automated attacks with single click installation and protect your website. It also fixes different common security holes in your site. It tracks registered users activity and adds password expiration, import/export settings, two-factor authentication, malware scanning, etc.
It scans the complete site and tries to find out if there is any potential vulnerability in your WordPress site. This prevents the bruteforce attacks and ban the IP address, which tries to try harder.
Acunetix WP SecurityScan
Acunetix WP SecurityScan is the security plugin for WordPress by Acunetix. Acunetix is a well-known company in web application security. It provides a security scanning tool to find vulnerabilities in web applications.
This plugin helps you to secure your site and suggests measures to improve security. It provides the file permissions hiding, admin protection, version hiding, removes WP generator tag from source, and database security. It removes several informations from the source code of the page, that can be used in the information collection process prior to the attack.
Sucuri Security
Sucuri Security is also the WordPress Security plugin. It is popular for website security and auditing company Sucuri. This plugin provides various security features such as security activity auditing, blacklist monitoring, malware scanning, file integrity monitoring, and a website firewall.
It contains several blacklist engines including Google Safe Browsing, Norton, McAfee Site Advisor, Sucuri Labs, and more.
All In One WP Security & Firewall
All in One WordPress security & Firewall is the best WordPress security plugin to check the vulnerability on your site. It reduces security risk by adding recommended security practices. If someone tries to bruteforce, it protects against bruteforce login attack.
It also sends you an email notification if you get locked out due to failed login attacks. When users try to save a weak password, it forced to use a strong password.
BulletProof Security
Bulletproof Security is also one of the best security plugins for WordPress. It takes care of different things. It adds database security, firewall protection, login security, and more.
Although it also comes with a four-click setup interface. Just activate this plugin and then relax. This plugin will take care of your website. Not only this but it is reliable, effective & easy to use WordPress Security Plugin.
Contact for any WordPress Security Support Services - Keep Hackers and Malware Out

Don't let hackers destroy your website, secure WP hosting with WPGlobal WordPress support services. Get Secure Firewall Protection Now.‎