WordPress security & malware scan

Talk to our WordPress Security Team to get the best solution, dial +1 844 897 0441 Toll-Free.
WordPress security & malware scan

WordPress is an extremely popular web platform. It is user-friendly, easy to update and maintain. WordPress is open source software that is vulnerable to hacks. That's why it is so important to never leave a WordPress installation unmanaged. It is very significant to customize every WordPress installation so that it is harder for WordPress hackers to find the files they generally target for attack. WordPress hacking is becoming a rising problem, as well as affecting thousands of websites every day. Many website owners are not even aware they've been hacked. Securing your website, databases and files became an obligatory task of each online business. As the number of threats and cracked websites increases yearly, you will certainly need a one-stop resolution that protects your websites and information without worrying about any future security risks. We secure WordPress websites through the most recent and finest practice methods.
The utmost important thing for a site! Well, our WordPress Security Team works decent hard to provide the information of security updates and vulnerability patches.
A general quote about the WordPress Security is; "It is about the risk reduction, despite the risk elimination."
Although, the use of third-party WordPress security plugins and themes tells the users about additional security threats and even they are elaborated by our experts. Literally, by the regular installation of the new version of core WordPress extensions and files, one can ensure that his/her website has all existing security patches and features.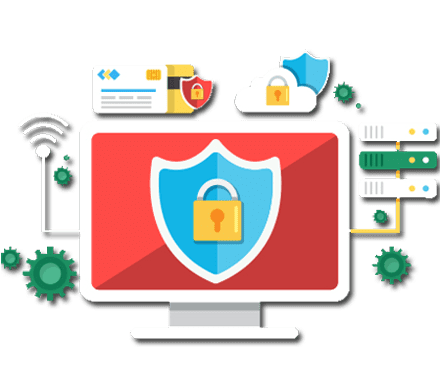 Our whole WordPress Security services cover all aspects of security as well as firewall installation,
malware removal, database security, backups scheduling, future monitoring and much more.
WordPress malware & vulnerability scan
Our WordPress security specialists will do a thorough security inspection of:
Web Server Configuration and Permissions
And anything else that could lead to a malicious hack attack or malware infection of your WordPress site.
WordPress Users Roles and Capabilities
Installed WordPress Plugins
Files and Directory Permissions
WordPress database Privileges
WordPress based websites have turn out to be one of the biggest and most popular targets of digital attacks and hackers all over the place creating a demand for advanced security measures when using the platform.Our security services are designed to analyze secure and monitor your website, as per the newest security measures. We have a team of experts that works all around the clock to get the latest security updates and make sure that your websites are well sheltered against any potential threat, malware, injected spam or hack.We can assist you with an extensive range of security services on WordPress, from managing the entire procedure for you and keeping it up-to-date on your behalf, to removing malware and installing software to make your WordPress website more secure.We offer our customers with reasonable WordPress security services so that your website maintains its integrity and performs at the top level in the upcoming days. Our security service protects you against the obvious threats and the ones that you may not be fully aware.
Our Glimpse To WordPress Security
Security Needs To Be The Utmost Important Stuff In All! Thus, experience the new arena of WordPress Security & Malware Scan with us at WpGlobalSupport. We as the pro-advisor indicate the Best WordPress Security Protection Tips.
However, our professionals are entirely dominated towards the security issue. Last, but not in the least we can empower your website via our creative and bold tips: which are as follows:-
Secure your WordPress themes and plugins

Themes and plugins are the crucial elements of a WordPress site. Unfortunately, they can also create serious security threats.
Now let's see how we can secure WordPress themes and plugins properly:
Update WordPress site regularly
Update Themes and Plugins regularly.
Remove your WordPress version number.
Secure your login page and prevent brute force attacks

What we recommend? Everyone knows the standard WordPress login page URL. We need to customize the login page URL and page's interaction. That's the first thing when we start to secure our website.
Some suggestions to secure your login page:
Set up website lockdown and ban users.
Use 2-factor authentication
Use email as login.
Rename your login URL.
Adjust your passwords.
Secure the database

All your site's data and information is stored in the database. It is important to take care of it.
Few things you can do to make it more secure:
Change the WordPress database table prefix.
Backup your site regularly.
Set strong passwords for your database.
Secure your admin dashboard
For a hacker, the most delightful part of the website is the admin dashboard, which is actually the safest section of all. Therefore, attacking the strongest part is the real challenge.
Here's what you can do:
Protect the wp-admin directory.
Use SSL to encrypt data.
Add user accounts with care.
Change the admin username.
Monitor your files.
Frequently Asked Questions

What is WordPress security?

WordPress security refers to those specific steps, methods, and techniques that apply to ensure that the WordPress data and files on the web server cannot be accessed or changed by anyone without specific authorization.
When your data and files are not protected through proper security measures, your WordPress site becomes weak for malicious hackers so that your hard work, your website, and possibly your livelihood will be destroyed.
Why should we care about WordPress security?

Like most WordPress users, you have made lots of effort and hours on your website. Some hackers have destroyed all your hard work, so it will be devastating to start over.
WordPress is an awesome website platform, but there are several security holes in it that hackers can exploit to get into your site to either cripple or destroy it. Therefore WordPress security should be one of your primary concerns.
How do we know if our site has been hacked?

Probably, you will not know that you have been hacked until it's too late. If you see that your website traffic has dropped suddenly and you see strange links, or funny characters in your content, or webpages suddenly stop showing in the search results, then the chances are your site has been hacked.
How is my website secured?

Not only do we keep your site up-to-date, we use many tools and security best practices to lock your website including firewall, file permissions, malware scanning, brute-force security and obfuscation. Once your site is in the hands of wpglobalsupport team, then your site is safe. We also offer several advanced security options, including two-factor authentication, termination of passwords, reCAPTCHA, SSL, away mode and backend hiding.
Are security plugins enough to protect my site?

Not at all! There are some good wordpress security plugins but they don't secure everything. Do not be stupid! There is no set of Security plugins that completely secure your WordPress website. Many layers of security are the best way to protect WordPress site.
Is it important to keep WordPress and its plugins and themes up-to-date?

Yes! Keeping your WordPress Security Plugins and Themes up to date reduces the risk of security vulnerabilities.
Should we use an auto-update plugin?

We only update the plugins to ensure that they do not compromise with the comprehensive security measures we implement, after we have tested thoroughly on our test sites. Automatic updates are convenient but results can be a disaster security-wise.
Is it possible for me to secure my own WordPress site?

Yes it is though; There are several steps to secure your WordPress site properly, some of which are very technical. If you are not well aware of the functioning of WordPress, PHP coding and databases, then you are better than leaving it to the professional. Mostly hacked site we have fixed had some type of do-it-yourself security.