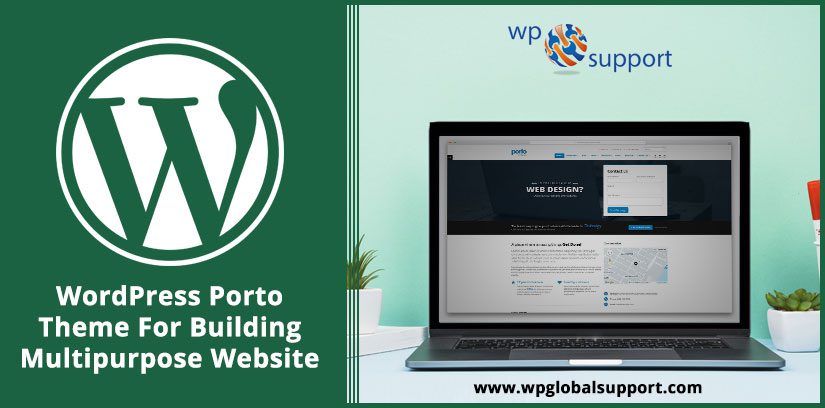 Whenever we talk about a powerful and flexible business theme, the name of the WordPress Porto theme should always come first in our mind. It is an ultimate and stunning WooCommerce theme that is suitable for any business and e-commerce sites. Where WooCommerce is a widely used e-Commerce solution. It is versatile & easy to handle. WooCommerce themes are responsible for the portrayal of your website. It's a bunch of files that combine and produce a graphical interface that designs a website, where there is no requirement for technical knowledge from the user.
Here, in this article, we will study in deep about Porto, a beautiful and flexible WordPress theme.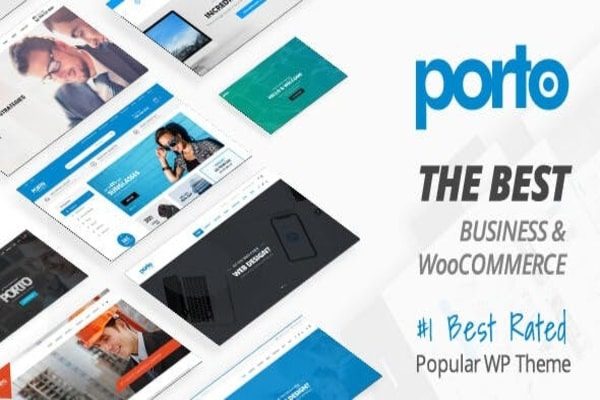 Overview
The WordPress Porto theme provides you all the essential elements and powerful features to create an awesome website of your choice. The main aspect which makes WordPress Porto theme different from each other is that it provides more exclusive skin layout, features, and many customization options.
You can also say that it is one of its own type of theme that is just perfect for any multipurpose and business site. WordPress Porto theme guarantees blazing-fast performance and high functionality which is very important for any successful business website.
The theme's unique and cutting-edge design can help to add life to your website. It features many powerful and effective theme customization options that can be used for designing an innovative website of your choice. WP Support provides the WordPress theme customization with dedication and excellence to prove a quality service. To know more about the services, visit us here.
As compared to other themes, Porto web templates offer exclusive skins and layout options for the websites. It offers WYSIWYG(What You See Is What You Get) feature which can help you to turn your imagination into your reality. You can create and manage any type of online store very easily.
With WordPress Porto Theme, now it's your chance to turn your ideas and imaginations into reality.
For Whom This Theme Is Really For?
WordPress Porto Theme is really for those who are seeking a multi-purpose and responsive theme which mainly focuses on building an eCommerce store. It is appealing for all those who want an elegant and stunning website and who wanted to show their innovative and creative ideas with the world.
Where eCommerce store needs to have all the key features that are critical to running a business. This includes order tracking, monitoring delivery, inventory management, taxes, etc.
As mentioned above this WordPress Porto theme is a powerful theme for business websites. Therefore if you are going to design a brand new business website for your company. Also, if you want to give a refreshing look to your existing website. Thus Porto is really made for you.
Because the WordPress Porto theme has full support for the WooCommerce. That is a leading WordPress online store builder plugin. However, it is not the end because Porto provides you a large number of eCommerce demos. These demos will be suitable for a range of products and brands.
Further on, it is the best multipurpose theme for photography, blogging, portfolio, and many others. You can outshine your skills to the world with the help of this theme.
Why Choose The WordPress Porto Theme?
Porto responsive WordPress theme can help you to give a smooth and extensive look to your new or existing website. Moreover, you can easily create a range of agency websites, corporate homepage, law office sites, and other business-related sites.
Porto has a huge range of selection for pre-built demos to choose best for your website. However, the Porto also has a large variety of customization options for your need. Although you will have no problem while changing the demo versions to better fulfill your needs.
In addition, Porto is very flexible so that you can use your own creativity to design the layouts from scratch fo your own website. Even if you are not a professional or new to WordPress with no extra coding experience Then also you will not have any problem while using Porto.
Reasons To Choose The Porto Theme
Well, there is not only one reason to choose this amazing WordPress Porto theme. Although Porto has a variety of functionality to meet your project requirements very well. Therefore if you want to create a good and fully functional business website then Porto can be the best theme that you are looking for.
However, If you are not sure what kind of theme you wish to use for your website. Also, if you want to know further about Porto before investing your money. Therefore you should read more to gather the details about what Porto is actually offering you in terms of the use features section.
All the exciting functionality of Porto theme are as follows:
Professional design and look
The look of the WordPress Porto Theme is very unique and attractive. Because Porto have a professional appearance and touch that mainly focus on corporate and business projects. However, this theme also has a unique quality to add many flairs to enrich the designs so that they will never appear old.
WordPress Porto Theme is a success in the market due to various kinds of reasons and its look and design are one of them. Because Porto mainly use the modern and very clean design. Also, it gives you very decent animated slideshows and many other eye-catching effects. It can help to make sure that your site will be in the perfect look and design.
The well suitable appearance of demo versions of WordPress Porto Theme is perfect for the most type of projects. Although, they also provide you a large number of customization options and functionality. Therefore WordPress Porto Theme becomes the best choice for many brands. Also, for such persons who capture the audience through quality design.
Ready-made demo version available
It includes a number of ready-made demo version that covers a range of styles and layouts. WordPress Porto Theme includes a variety of ready-made demo versions. Also, you will get a lot of options to customize your website's appearance. The aim of these demos is to help you get your website up and running as quickly as possible. Due to the demo versions of Porto offers a wide range of layouts styles.
In addition, there is a good selection of slightly more generic demo versions to choose from. Although with the less focused designs, these non-specific demos would be a good match for most types of websites and blogs. However, those demons can not easily be repurposed for other types of projects.
But with the customization options and flexibility of the theme, you are not restricted when getting your website to look as you want. Although you can import the demo content of Porto with just in few clicks. In addition, widgets, dummy content, and slider content are also included in the import.
This helps to ensure your website is ready for your own content in no time at all. One area where Porto stands out from the multi-purpose theme competition is that it includes a good amount of options for creating an online shop. Well, not just the selection of templates include in Porto for all important pages of your online store. This theme also features multiple eCommerce demos that are ready to go.
Drag & Drop Page Builder
Basically the WordPress Porto Theme provides the best Visual Composer. This page builder plugin or drag and drop design tool allows you to create custom layouts for your pages and posts. The ultimate Visual Composer addons pack is included with Porto.
Also, it adds many elements to your site which covers a large range of uses. Such as video players, galleries, sliders, pricing tables, and many more. There is also a good selection of eCommerce focused Visual Composer elements included with this theme.
Any of these elements can be added to your layouts, through either the front or back-end builder interface of Visual Composer. These layouts can then be populated with the Visual Composer elements. The flexibility of Visual Composer makes it easy to create the kind of layouts for your content.
That just would not be possible with WordPress otherwise at least not without some serious coding skills. The addition of this drag-and-drop builder plugin provides you with a lot more scope for customization, whether that is off the pre-made demos and layouts, or your own page designs.
Customization Options For Website
However, you will also get the best control over your website design, looks, and functionalities. Thus It totally depends upon your decision. That either you like to import the demo content or use pre-made layouts for your website. Although you can customize each and every aspect of your website.
You can do so with the help of detailed theme options within the control panel. All of these take place through a set of visual controls. This dashboard covers everything from page layouts and header types, through to social media integrations, and custom error pages.
In addition, the WordPress Porto theme has 18 different header designs to choose from. Although you are still free to select the best header type for your project. No matter which of the pre-built demos you apply to your website. Customizing the fonts and typefaces used on your website is just as easy.
However, the typography section of the options panel lets you choose different types of fonts for each text formatting styles on your website. This includes body text and various header styles. Also, there are 600+ typefaces to choose from with the Google Fonts integration.
In addition, you can set up background images, custom colors, and styling for many individual parts of your website. Also, through the theme options control panel, you can do this very easily. WordPress Porto Theme mainly focuses on e-commerce. Thus it is reflected in the theme options control panel.
Through the dashboard, you can customize many of the online shop properties of your website, within a few clicks. These e-commerce settings cover the product display layouts and the format of the individual product pages. You can also decide whether to enable the cross-selling feature, plus many color customization options.
Well Optimized For Speed
It is equipped with a Porto Optimizer tool that can help to improve the page loading speed of the website. WordPress Porto Theme is able to offer a great page load speed very easily with a lightweight layout and standards for Search Engine Optimization.
Therefore it helps in maximizing the speed of your website. Also, it increases usability for the user. Besides that, the WordPress Porto Theme also offers an exclusive speed optimization wizard. This wizard can help to reduce the page load time very well.
Other Reasons And functionality
Although the WordPress Porto Theme is certainly not lacking in functionality. It has everything from pre-made demos to the advanced customization options. Therefore Porto is a truly flexible WordPress theme. However, Porto has a few more opinions to offer. These are as follows:
Built on the Bootstrap framework: It was built on the bootstrap framework which helps you to add different styling options, fonts, colors, and typography options.
The light and the dark color are available: Different dark and light skin layout option is available.
Multiple eCommerce stores and product layout: You can easily create multiple stores according to your choice and differentiate them according to the categories and product layout options
Easy to afford: It price of this Porto business theme is affordable and fits in your budget.
Trustworthy theme: Thousands of users trusted the functionality and performance of this theme gave it 4.9 ratings out of 5.
Intuitive approach: The Porto WordPress theme provides you an intuitive approach to reach the different levels of websites with its simple and effective design.
Porto Theme Installation
You can easily install the Porto theme in two different ways which are as follows:
1. Installation via FTP Client
To install the Porto theme for your WordPress site you will have to follow the given procedure:
The first basic step you will have to take is to download the Porto theme file from the Themeforest. Then, Unzip the porto.zip file from the themes files which you have downloaded from the ThemeForest.
Connect your FTP server and then navigate it to the folder where your WordPress is installed.
Go to wp-content/themes/ and then upload the Porto folder (ensure that your path should look like this: wp-content/themes/Porto).
Now open your WordPress admin panel and go to the Appearance>>Themes>>Activate Porto theme.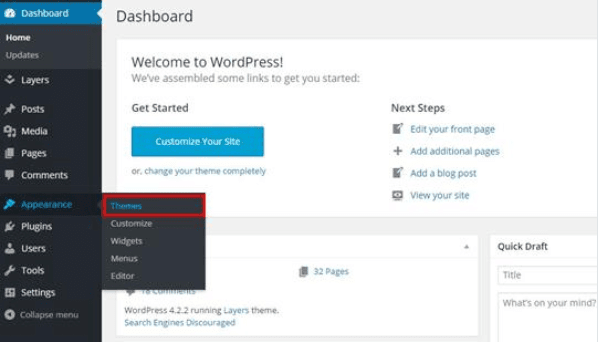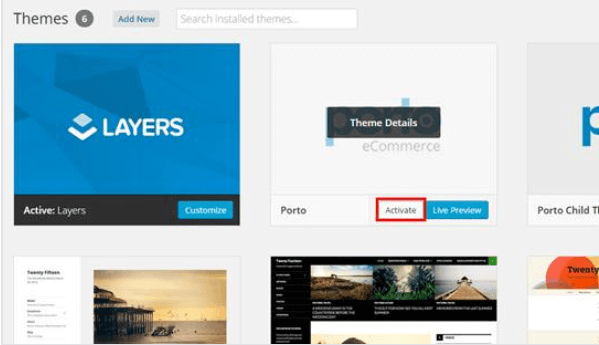 After the activation of the theme, you will see a Setup Wizard page on the screen. You can follow the instructions step by step to set up the theme and demo content properly.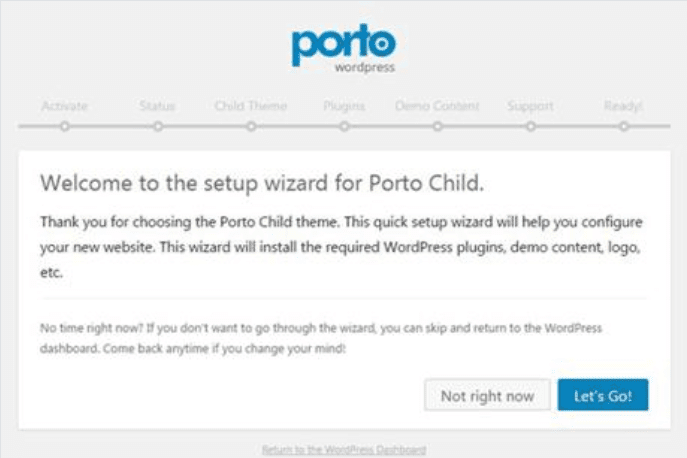 2. Installation via WordPress Admin panel
You can also install the Porto theme via the WordPress admin panel. To download the Porto WordPress theme via admin panel you will have to follow the given procedures:
First, open your WordPress admin panel and then go to the WordPress dashboard>>Appearance>>Themes on the admin sidebar.
Now click on Add New and Upload Theme button.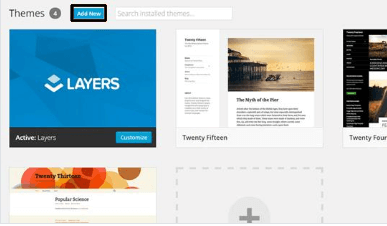 After that, upload the porto.zip file from the Theme files folder which you have downloaded from the ThemeForest.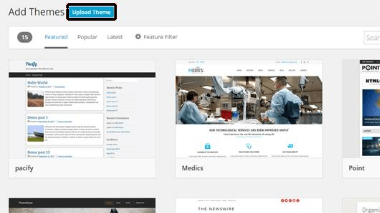 Once installed, open your WordPress admin panel and then go to Appearance>>Themes on the admin sidebar and activate it.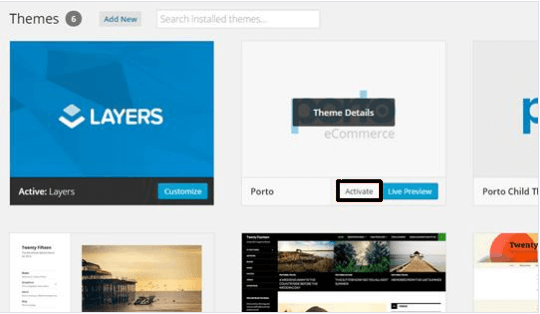 For more reference, you can also see the installation from YouTube. Now let's see how to update its new versions;
How To Update The Porto Theme?
Porto theme can be updated in numerous ways but before updating, some of the recommended procedures are needed to to be taken which are as follows;
Procedures to follow before updating
Create a backup of your site including the wp-content folder, wp-config.php, and .htaccess file and also create a copy of the WordPress database. If you don't know about this process then you can also use several plugins such as UpDraft Plus and WordPress Backup Buddy.
Backup Porto theme option in Appearance>>theme options>>Import/Export.
Remove all the previous Porto theme folder.
It is recommended not to change the name of the Porto theme folder.
Reset the browser cache, server cache, and plugin cache.
It is also advised to update all the required and recommended plugins.
One-click theme update
In the new WordPress Porto Theme 4.6 version, a new update method was added. It will help you to give a reminder notification about the new update whenever it is released in the market. Further on, you can easily download this theme by navigating through the Dashboard>>Updates using the WordPress standard update method.
Go to the WordPress Dashboard>>Updates. See the below screenshot;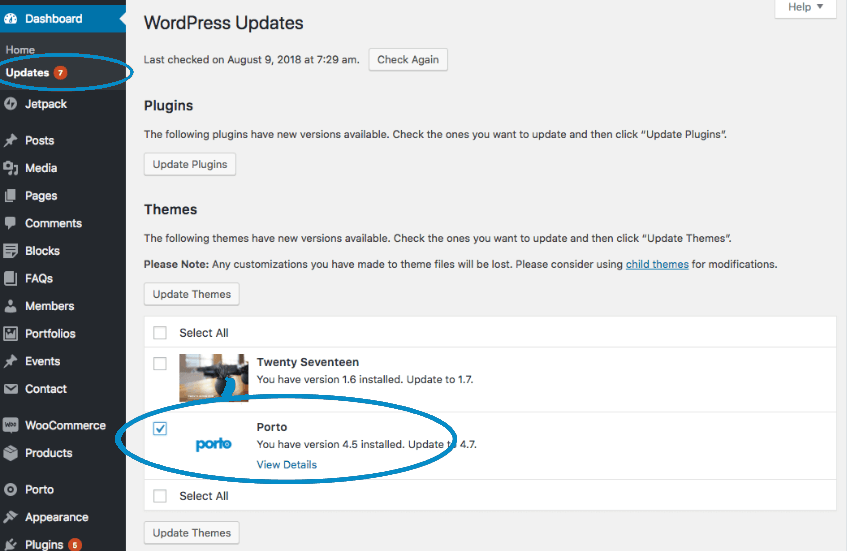 Thereafter, go to the Appearance>>Themes.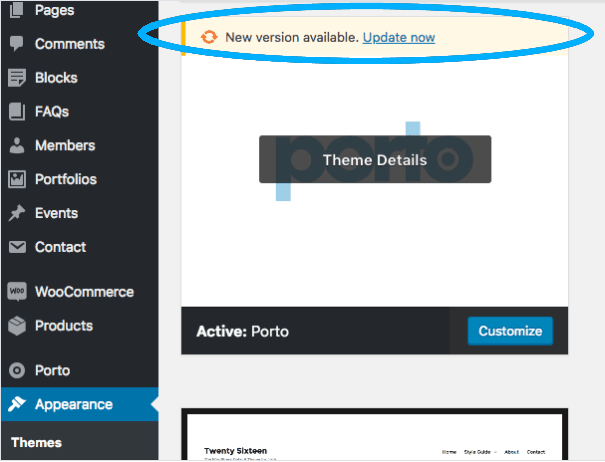 Traditional theme updating method
The traditional method is a lengthy procedure which requires more steps and manual work. First, you will have to download the new theme package from your ThemeForest account. where ThemeForest is one of the largest global community of creatives. When you have the new theme package. You can upload the new theme by using the WordPress method or via the FTP method. The ThemeForest holds a large collection of premium WordPress themes neatly organized in categories and easily searchable.
Update theme via FTP method
Navigate your cursor to the "wp-content > themes" location and create a backup your "Porto" theme folder by it into your device.
Now retrieve the new "porto.zip" file which you have download from the Themeforest and then extract the "Porto" theme folder in the zip file.
Now drag and drop the new "Porto" theme folder into the "wp-content>>themes" location. You can also opt to replace the currently installed theme if you haven't deleted the old file.
After updating the theme you will see a reminder notification on the screen regarding the update of the plugins associated with this theme.
Now go to the Appearance>>Theme Options on the admin sidebar and select the "Save Changes" button.
Update theme via WordPress method
First, deactivate the current "Porto" theme from the "Appearance>>Themes" section by activating a different theme. Once you activate a different theme, you are being able to deactivate the current Porto theme and can easily install the newer version of the theme.
Now similarly like the FTP (File Transfer Protocol) method you will have to retrieve the new "porto.zip" file from your new ThemeForest download.
Then Upload the new "porto.zip" file under the "Appearance>>Themes" section. Now select the "Install Themes" tab and choose to upload the zip file.
Once the file gets uploaded in your system, activate the new WordPress Porto Theme.
Now again like the FTP method, you will see a notification message on the screen which informs you about the plugins that needed to be updated with this WordPress theme.
Navigate your cursor to the "Appearance>>Theme Options" on the admin sidebar and click on the "Save Changes" option.
Features And Design Layout of WordPress Porto Theme
WordPress Porto Theme has many features that are just perfect to create a high quality and standard Website that can look magnetic.
Features
Responsive design: The design of the theme is highly responsive.
Child ready theme: You can easily inherit the properties of the parent theme with the child ready feature.
30+ homepage layouts available: It offers more than 30 homepage layouts that can help you to create a beautiful homepage design layout
Drag and drop feature is available: Porto website template featured drag and drop feature that can help you to easily add media and file into your website.
Features powerful admin panel: It featured a powerful admin panel option that helps to manage all the tools and necessary resources.
WPML and retina Ready theme: You can easily create a multi-language and retina ready website.
One-click demo importer: With just a single click you can easily import the demo content of your webpage. You can also see Porto WordPress theme demo.
Easy documentation is available: The theme provides you easy and detailed documentation support so that no user will have to face any kind of difficulty in using the Porto theme.
Quick view integrated: This feature will help you to see a quick preview of your website. It will show you how your website will look after implementation.
Woocommerce compatible: You can easily create any kind of online store as it is integrated with WooCommerce support.
24/7 customer support: The theme provides you 24/7 full customer support so that you can easily discuss all your queries and issues with them.
Multi-vendor support is available: The theme provides you multi-vendor support so that you can easily get any type of technical support whenever needed.
Browser compatible: WordPress Porto Theme is browser compatible which means that you can easily run your website on different search engines like google, bing, UC Browser, Opera Mini and many more.
OpenCart and Extensions support: WordPress Porto theme is fully compatible with the latest OpenCart version and it is also compatible with tons of extensions.
Well organized source code: The source code is well organized which can easily help you to choose the light and dark skin layout.
Pricing of Porto Theme
The regular pricing of Porto theme is $59. It helps you to provide 6-month full support from p-themes. You can also extend the support period from 6-months to 12-months by just paying $17.63. In other words, you can say that WordPress Porto Theme provides you 12-month full support from p-themes only at $76.63.
The quality of the Porto WP theme is being checked and verified by Envato.
# Note: The price displayed excludes sales tax.
Revenue of Porto
The regular pricing of one theme is $59. As far as we are concerned the theme has done 35,679 sales from ThemeForest. So the total revenue earned by the Porto theme until 24/12/2019 is ($59✕35,679) = $21,05,061
Pros and cons of Porto
Everything in this world has some advantages and some disadvantages. Similarly, every WordPress theme has some merits and demerits. So without taking any single minute of yours let's discuss the pros and cons of WordPress Porto Theme.
Pros
Easy to afford.
WordPress Multisite(WPMU) Tested and Approved
Powerful Speed Optimization tools are available.
Upgrade the page reloading speed of the Website.
Powerful theme options are available
No coding required
Always keeps updated
Simple and effective design
Cost-effective
Best selling business theme
Suitable for portfolio and blogging purpose
Perfect for any kind of business website
Easy payment options are available.
Easy to install and update
Detailed customization option for website
Plugins associated comes free
Perfect for animation and styling option
Tremendous eCommerce support is available.
Various pre-made demos and design layouts.
Powerful theme options control panel.
Powerful drag-and-drop page builder plugin
Best choice for business entrepreneurs.
Cons
It is a Paid theme.
Lack of full support from WordPress customizer.
Lots of competition is there.
Summing up
Finally, we can say that WordPress Porto Theme is a responsive and multipurpose theme that can be used for creating a unique and elegant website. Porto eCommerce theme is probably the best theme for photographers, bloggers, small and big businessmen and for those newcomers who want to grow their business online.
Further on, the main motive of the WordPress Porto Theme is to provide super fast and high-class performance to the user and ensure the customers' satisfaction. It contains all the necessary tools and customization options that a user may want in creating a WordPress site. As It comes loaded with all key features that are critical to running an eCommerce business. They include order tracking, monitoring delivery, inventory management, taxes, etc.
We hope that you really like the article and if you have any suggestions and feedback then you can mention it in the comment box given below.
If you have any queries related to this theme then feel free to contact our WordPress support developer.
That's it, thanks!
Porto WordPress Theme Review