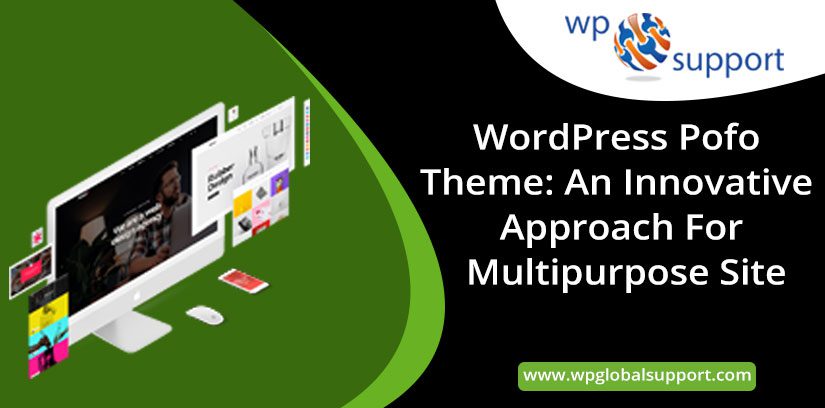 Pofo WordPress theme is an elegant and innovative multipurpose theme designed by ThemeZaa. This WordPress business theme can be used for creating a professional website for corporate, creative agencies, portfolios, etc; It features pre-built website demos that will help you to launch an effective website of your choice.
Pofo WordPress theme is a perfect solution for all those who want to start a new business website or want to update an existing site. As Pofo is integrated with WooCommerce support so it is also the best option for running an online store.
In this article, we will study the main features and aspects of the popularity of this WordPress theme. So let's discuss this beautiful and attractive theme in detail.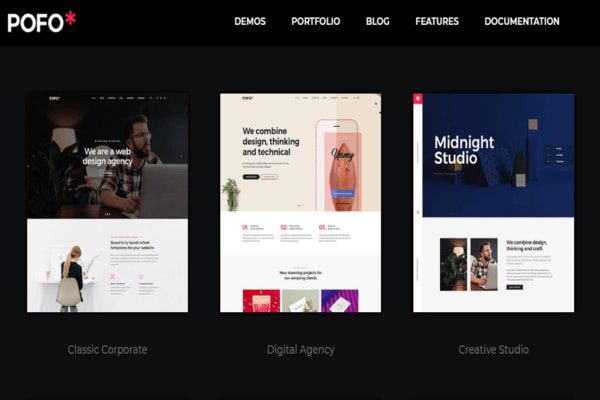 Overview
Pofo WordPress Theme is an appealing theme for all those who want a stylish look and design for their website. It is suitable for photographers, bloggers, artists, and creative persons. It is one of the best themes that offer services related to creative industries.
The Pofo theme is highly Seo optimized which means this will help you to increase the page loading speed of your website.
Further on, it can be used for launching a range of websites for large and small scale businesses. It is a perfect theme for creative agency, blogging and for freelancing work. This WordPress theme is very flexible, that's why it is a great tool for building websites for clients.
The professional and sleek design of Pofo theme will help drawing more and more customers towards your site.
So, anyone who wants to do some creative work or wants to showcase its web talent to the world, Pofo theme is the best solution for him/her.
Why choose the Pofo theme?
Pofo is a modern WordPress theme that comes with a unique and intuitive approach. You can create a beautiful and modern website. With the help of the Pofo theme, you can give a boost to your business online. You can also say that it is one of the best tools to raise the benchmark of your business.
Because if you are seeking for a very stylish design for your own website. Then the Pofo theme will positively attract creative developers. Also, if you are providing services to creative industries so this theme will be a perfect fit for you. Because you can quickly start small or large business websites in no time.
The Pofo WordPress theme has many demos for the site which can be used to spontaneously. Therefore POFO theme is an ideal choice for a freelancer, creative blogger, creative service provider, and any business or agency. Also, you can create any type of website for your customers with the help of the advanced, flexible, and easy to use WordPress theme.
Pofo provides you the freedom to import any demos into your own site. Also, you can use them in the same way as they are or do more as per your choice. Because option are vary to do so, such as you can use the page builder tool with drag-and-drop functionality. This tool will help you to customize the demo content very efficiently.
Besides that, with Pofo you are free to design custom WordPress web pages from scratch. In addition, this WordPress theme provides you a complete set of controls for the WordPress customizer. This feature will help you to create even more creative work. Also, if like to get more details about why you should choose this? then read more Pofo WordPress theme review here.
Reasons to choose the Pofo theme
Intuitive approach: The Pofo WordPress theme provides you an intuitive approach to reach the different levels of websites.
Simple and effective design: You can easily design a beautiful and effective website with the help of the Pofo theme.
Easy to customize: It is very easy to customize this beautiful WordPress theme.
Easy to install: You can install this WordPress theme with just one click.
Plugins support: Most of the plugins which are very useful for creating a stunning website is supported by this multipurpose WordPress theme.
Affordable price: You can easily get this WordPress theme at an affordable price.
Trusted theme: One of the most trusted themes according to the user's experience.
User-friendly interface: Pofo theme provides a user-friendly interface to deliver better end results to the users.
24/7 customer support: It provides 24/7 customer support so that it can resolve all the queries and problems faced by a user while using this theme.
No coding required: The main advantage of using this theme is that a user can develop an awesome website in WordPress without touching a single line of code.
Key Features of Pofo Theme
The Pofo theme is just the perfect one to provide you the latest and trending features that are just commanding in order to make your Website looks very attractive and catchy among the visitors.
Leading-edge design
The effortless and cutting edge design of the Pofo WordPress theme is so unique and attractive with focused design attributes that can let you create an innovative blog and showcase creative work of any kind.
SEO friendly
The theme is highly SEO optimized so that you can easily rank your website over SERP from all the latest search engines like google, bing, etc; To boost this, the theme also comes with the effective data that is structured with Google.
Developer friendly code
The theme is made by using different WordPress Standard practices. So, that you can easily enjoy the features of the theme without any difficulty. The theme's code is just made to provide effortless coding that can be customized easily.
WPML ready theme
The Pofo theme is fully compatible with the WPML (WordPress Multilingual) feature so that you can easily create a Woocommerce multilingual website that can support a wide variety of language strings with its POEdit tool.
Integrated with WooCommerce support
The theme is fully integrated with WooCommerce support that can help you to create an online store of your choice. It is a perfect platform for your Website that can be monetized and provides you a successful business option over the web. It also provides you the minimal shop experience.
One-click demo import
With the theme's One-click demo import feature you can easily import all the content of your webpage with just a single click. You can see a demo of the Pofo theme from here. You can also customize or set up the demo to import your desired content only.
Well documented theme
The theme provides you easy and detailed documentation support so that no user can face any problem during the installation and execution of the theme. With the help of this, you can also customize the data according to your specifications.
Modern WordPress plugins
It comes with a package of best-selling WordPress plugins Slider Revolution, WPBakery Page Builder, Visual Composer, W3 Total Cache, WordPress Yoast SEO, etc; plugins that can make your Website trendy. With the help of these Plugins, the user of your blog can navigate easily through the Website to different sections with ease of theme functionality.
Drag and drop builder tool
With the powerful Drag and drop page builder feature, you can easily edit the demo content of your website using the Pofo theme. The tool provides you with a lot of easy to use custom shortcodes and other customization options.
Browser & device compatible
The Pofo theme is compatible with all the modern web browsers so it is very easy to find your website on all the latest search engines like Google, UC browser, Opera Mini and many more.
Supports social sharing
The Pofo theme provides you an efficient way to share your posts over your favorite social media with a single click through its special features without installation of the extra plugins.
Fully responsive
The Pofo theme is just made for your Website that looks very responsive to a wide variety of latest Gazettes like Mobile, Tablets, PCs, etc; The theme's beautiful sliders and layouts can also match the retina-ready compatibility to make the blog awesome.
Free lifetime updates
Easy and free updates are available for this theme from time to time so that it can run easily with the modern WordPress framework. These updates can help to maintain your Website's compatibility with all the latest and trendy WordPress versions.
Perfect one-page designing
This theme is perfect for designing a one-page website. Its One-page home page demo will give you a smooth scrolling effect to different linked sections of the homepage. This useful tool also comes with the WordPress menu that can give you a distinct experience of your blog design.
GUI feature
The Pofo theme supports WYSIWYG(What You See Is What You Get) graphical user interface that helps you to drag and drop a web element into your webpage very easily. The GUI feature just provides you the best way to customize your Webpage in accordance with your specifications.
Other customization features
Pofo provides some advanced sidebars, widgets to customize the Website with the most preferred style as well as Font icons that provide the awesome look of the text content. The powerful shortcodes of the theme also let you customize the blog with endless possibilities.
Pofo Pre-Built Demos For Websites
The Pofo WordPress theme has a variety of demo contents. However, Pofo's pre-built website demo library is definitely the best feature of it. These demos let you build various kinds of websites as per your need. Also, Pofo demos allow you to create a large variety of website projects.
In addition, this feature will help you to make the best use of this creative and multi-optional WordPress theme. However, the Pofo demo websites are basically classified into various different categories. Therefore they are able to adjust according to the need of different types of projects very easily.
Therefore currently Pofo offers you to develop a corporate, portfolio, an agency, or blog website as per your desire and needs. No matter what you want Pofo pre-built website demo is always ready to give you the best. So now let us get to know more about these different demos in this Pofo WordPress theme review.
Demo For Pofo Business Website
This creative business website demo of Pofo lets you create any site that suits businesses or individuals very easily. The demo gives you a sidebar flyout menu. That makes it easy for your visitors to find what they actually looking at your site. Also, the homepage content can be adjusted and quickly customized to suit your business goals.
On the other hand, the selection of page templates can help you to ensure that your portfolio makes a good impression on your online audience. Therefore you can build a stylish website to help you attract more clients. In addition, you can change the colors and fonts very easily.
Besides that, you will get the option for multiple header layouts to choose from same as other Pofo creative theme demos. In addition, you will also get access to all the pre-built page templates that your business or personal website will definitely need.
Demo For Pofo Studio Website
The POFO creative studio website demo is perfect to build any studio website effectively in no time. Although your website visitors can easily scroll down the homepage layout. Also, they can view all the most important information about your business.
However, with the help of the bold homepage design of your website. You can create a memorable impression on your new visitors. Also, there is a portfolio section on the homepage layout. So if anyone wants to use a creative theme for presenting their best work online.
Therefore this section of Pofo Wordpres theme must be a particular interest for you. Besides that, in the default homepage sections, you can display information about the services you provide, and your agency, also your projects that you have completed.
Demo For Metro Portfolio Website
If you have lots of creative work to show off, such as graphics and illustrations, then this demo is ideal. Because the distinctive design makes it easy for visitors to immediately get to know you. If you are a freelancer or creative type working alone in some other capacity,
Therefore this personal portfolio demo could be for you. However, you will be able to increase your chances of connecting with the right people, just by giving your audience a quick way to find out about your skills, backstory, and goals.
There is also a full set of blogging templates to help you demonstrate your other interests and skills.The different portfolio layouts and homepage sections give you plenty of options when it comes to presenting your work.
Demo For Pofo Blog Website
Basically, all of the Pofo WordPress website demos include a blog section. Also, there is a purpose to built this blog demo. Because it has homepage design that gives you a great opportunity to present your best blog posts front and center.
Although if your main focus is creating a stylish blog, then this demo could be the best choice. So that you can customize the homepage layout to showcase your blog posts in many interesting ways.
However, you will have no trouble while designing a stylish blog with so many impressive blog post layouts. Also, you will get templates in the Pofo theme package, as well as multiple sidebar widgets, with this creative WordPress theme.
Besides that, there are some other interesting Pofo website demos also available. They can make up this theme package includes the minimal portfolio option such as the photographer portfolio design and the personal blog layout.
Pofo theme installation
To install the Pofo theme, the first basic step you will have to do is to download the Pofo theme.

Two Methods of installation
There are two different ways to install the Pofo WordPress theme which are as follows
Install Via WordPress
Install Via FTP
Let's discuss each of them;
Pofo Installation via WordPress dashboard
Log in to the WordPress admin panel of your website.
Now navigate your cursor towards the "Appearance section>>Themes option>>Add New>>Upload Theme".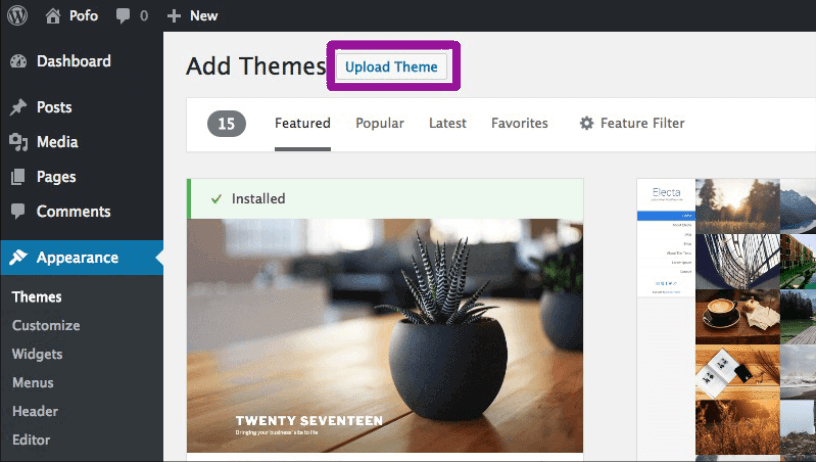 Thereafter, press the "Choose File" button.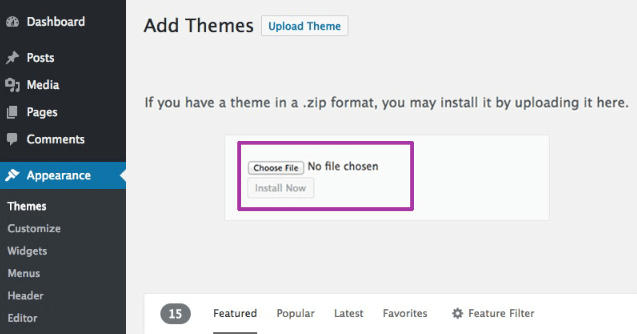 Then select pofo.zip file from your computer.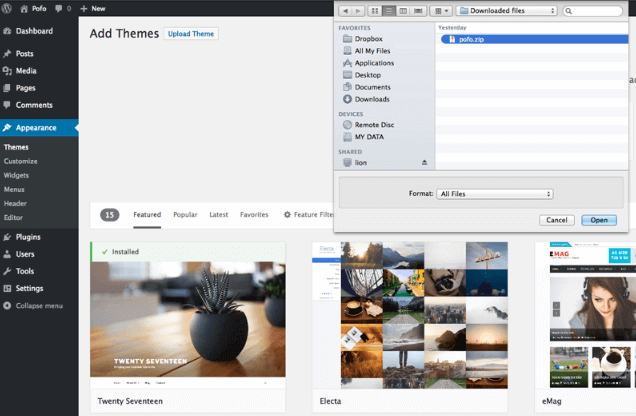 Now click on the "Install Now" button.
After that activate the theme by going to "Appearance>>Themes".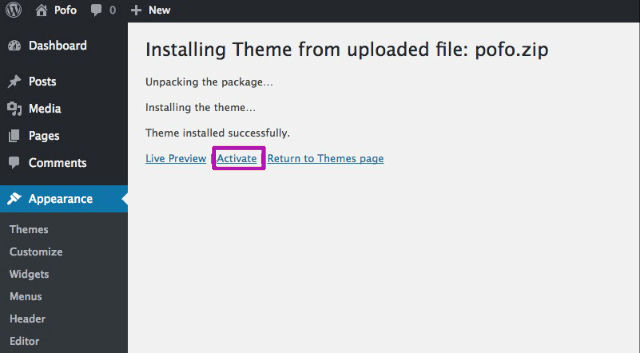 Now, you will be asked a product license key to activate the theme. You can get the product license key by logging into your Envato account or ThemeForest account.
For more information, you can also visit the Pofo WordPress theme installation video.
Pofo theme installation via FTP
Extract the Pofo theme folder from the Pofo.zip file which you have downloaded from ThemeForest.
Now by using an FTP client upload extracted theme to your server in the wp-content/themes folder. For more information see the reference image given below.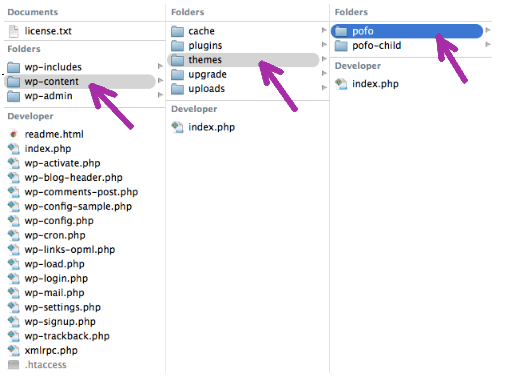 When the theme is uploaded to the server, you can now activate the theme by going to Appearance>>Themes and then select the "Activate" button.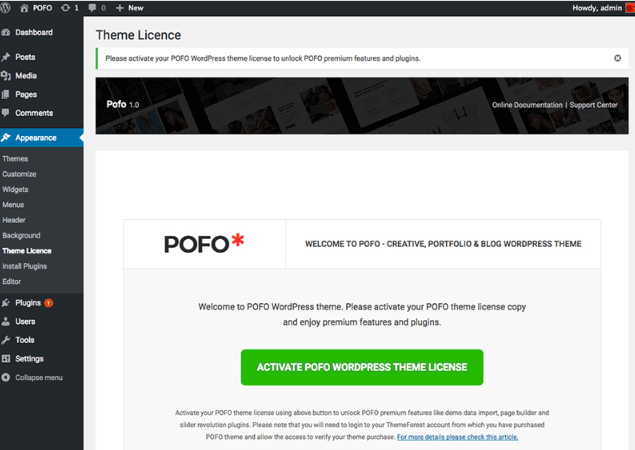 Now just like the WordPress upload method, you will be asked to enter the product license key to activate the theme. You can get the product license key of the theme by logging into your Envato or Themeforest account.
For more information, you can also visit the Pofo FTP installation video from Here.
Add-on plugin requirement
When you visit the plugin installation page after the activation of the Pofo theme. You are advised to install some plugins like Pofo Addons, Slider Revolution, and WPBakery page builder, etc. These plugins can help to run Pofo smoothly without any effort.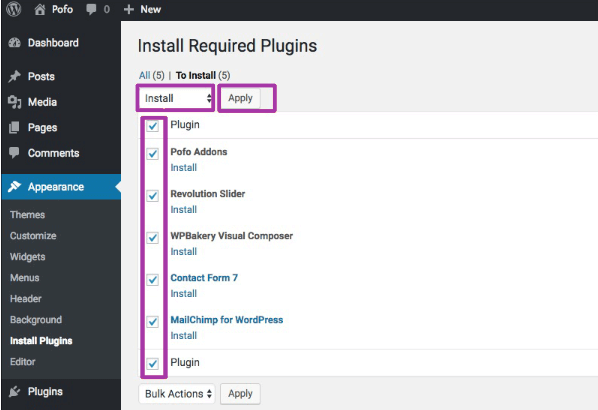 You can also download 3 other WordPress plugins from WordPress.org plugin directory i.e. Contact Form 7, MailChimp for WordPress, and WooCommerce.
All these plugins come free with the Pofo WordPress theme and they help to make it a multipurpose and responsive WordPress theme.
How to update Pofo WordPress Theme?
Pofo theme is updated with new and advanced features. These new updates are very important to make your website bug free, secure and equipped with modern tools and plugins so that it can run effortlessly with the new and advanced version of WordPress.
There are three different methods to update the Pofo theme which are as follows;
1. Update theme via Envato Market plugin
Envato Market plugin can help you to install the WordPress themes and plugins bought from the ThemeForest. Whenever any new updates are available for a theme or plugins, it will automatically give you a reminder notice to install the latest version of the theme so your website can run effortlessly without any problem.
Hence, with the help of this plugin, you can download the latest version of the Pofo theme WordPress in just a few clicks.
2. Update via WordPress admin panel
To update this multipurpose WordPress theme you will have to follow the given steps which are as follows:
First, you will have to install a plugin called Easy themes and plugin upgrades.
Then download its latest version file from ThemeForest. The file you download to update your theme is basically a .zip file. So, now the next basic step you have to do is unzip the Pofo.zip file.
Thereafter, login to your WordPress dashboard and navigate to the Appearance>>Themes>>Add New.
Now click on the "Upload Theme" option.

Click on the "Browse" option to locate a new (Pofo.zip) file.
Now you will see an "Upgrade existing theme" option. Select the "Yes" option to carry on the procedure.
Now click Install Now>>Activate.
3. Update via FTP
To update the file via FTP you will have to follow the given procedure:
The first basic step is to log in to your ThemeForest account.
Now download the latest .zip file of the theme.
Unzip the latest version of the Pofo.zip file.
Upload the extracted folder into the "/wp-content/themes/".
Now replace all your existing directory with the new one.
After the installation of all the new files finishes, you can enjoy the latest version of the theme.
# Note: It is advised to take a backup of your website including the wp-content folder, wp-config.php, and .htaccess.
Take a copy of your WordPress database so that if any mishappening occurs during the update process then you can easily revert back to your original site.
Pricing
The regular license price of this theme is $59. It provides you 6-month full support from themezaa. You can extend the support period from 6 months to 12 months in just $17.63. In other words, Pofo provides 12-month full Themezaa support at $76.63/year.
Revenue
The regular price of each theme is $59. As far as we are concerned the theme has done 4,314 sales from the ThemeForest. So the total revenue earned by the Pofo theme until 23/12/2019 is ($59✕4,314) = $2,54,526.
Wrapping up
In simple words, we can say that you can turn your ideas and imaginations into reality with the help of the Pofo theme that will help you to increase the ranking and efficiency of your website. So, it's your turn to outshine your imagination and creativity with the help of the Pofo theme.
We really hope that the article is worth reading for you. If you have any queries and suggestions then you can mention it in the comment box given below.
If you want any kind of WordPress help and support, then feel free to contact us on our toll-free no. +1-855-945-3219.
That's all it is, thanks!
Pofo WordPress Theme Review