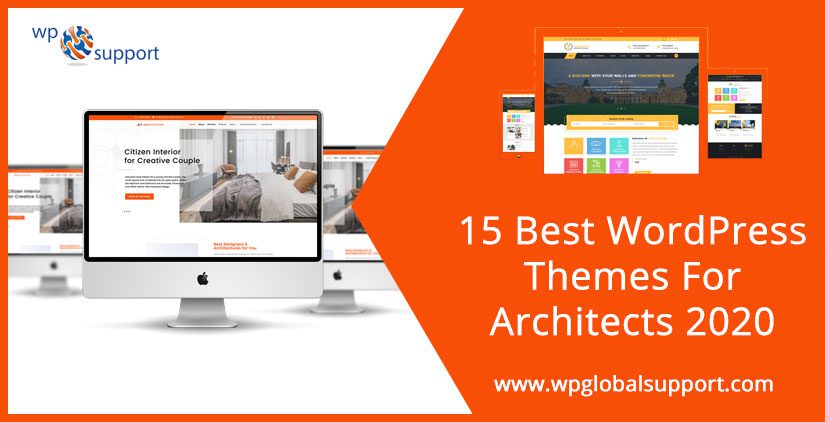 Well, If you want to start any new business online that is not easy. Similarly, the architecture business website needs a lot of effort. But various WordPress Themes For Architects can help you to build the best WordPress website. For this reason, many people prefer to choose a WordPress theme that is both well-organized and creative.
While in a quest for their ideal WordPress theme for architects. Because, nowadays, a mix of professional and innovative approach when doing business is valued and implemented by many, and this is especially true of architecture business. For architects, having a great website in which you can showcase your projects and portfolio is very crucial.
Visitors to the website must easily access the required information for a given project and be impressed by how it is presented. Similarly, many people want their creatively-driven architecture website to be unique in some way. Since your website represents your business, the more unique your website looks, the more chance there is to stand out from your competitors after all.
---
Why You Need WordPress Themes For Architects?
However, while you may know exactly how to get cracking when planning a new structure, designing your website may leave you scratching your head. Looking through some of the best WordPress themes for architects that we have carefully selected for you will surely help you out in your business endeavors.
As a bonus, they might even get your creative streak going The key elements you'll need are clear with a little thought. If you will want to show off your work with an appropriate portfolio that offers design flexibility and some themes will offer outstanding visuals for those looking for something that will really stand out.
Also, you want the design that matches your brand so think about running the rule over your contender's font, color, and layout options. While a page builder plugin and a myriad of Google Fonts are nice, if the theme looks good to you right out of the box you'll be up and running a little quicker.
Once you decide how you want your website to be, you can go about selecting the Best WordPress theme for Architects that will avail the desired functionalities. There are WordPress themes that are specific to given professions and with the one you can get a professional website without writing a single line of code.
Certainly, before you start using new WordPress themes for architects. At first, you need to register for a new domain name also, get web hosting, and after that, you need to install the WordPress system. After successful installation you ready to select your preferred architects WordPress Themes for building your company website.
15 Best WordPress Themes For Architects
Here we are providing the best WordPress themes that are ideal for architects and creative agencies. If you're struggling to find a suitable theme? We are here to help you out. In this given below collection, we are suggesting the 15 Best WordPress Themes For Architects to build a creative website. Also, we bring you the best themes for the architects that the market has to offer.
1. Ambient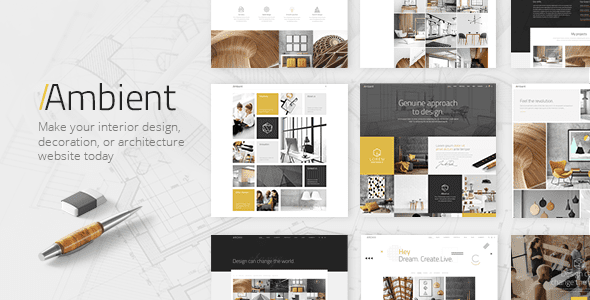 You can create a perfect website for your interior design and architecture business with the Ambient WordPress theme designed for interior designers and architects.
Ambient As a theme specially intended for architects and interior designers, Ambient can be an ideal solution for your business. Not only does this theme possess a huge collection of layouts for decoration and interior design. But it also comes with 12 already made homepage templates.
So you can start adapting your website to your preferences with ease. This theme is loaded with an outstanding collection of decoration and interior design layouts. Ambient presents your work and create an attractive website with ease also without coding knowledge.
Ambient WordPress theme comes with 12 contemporary homepages. Also, a variety of ready-made sets of inner pages. That you can customize according to your needs and make your amazing website today.
Ambient WordPress theme for architects has the following Features:
Easy to use, no coding required
Powerful Admin Panel
12 Homepage examples
Inner page templates
Import demo site with One-Click
Responsive and Retina Ready
Extensive typography options
Various Portfolio List layouts
800+ Google Fonts
Extensive Typography Options
Three Header Types
Customizable Foote
In addition, the WordPress Ambient theme is also the Retina-ready. Also, it has an extensive list of typography options. As a result, you can be assured that your page will look approachable, smooth, and attractive to your visitors. So what are you waiting for? launch your new architecture website with Ambient today.
Price of the theme:
| Regular License | Extend Support |
| --- | --- |
| $69 | $21.38 |
2. Inteco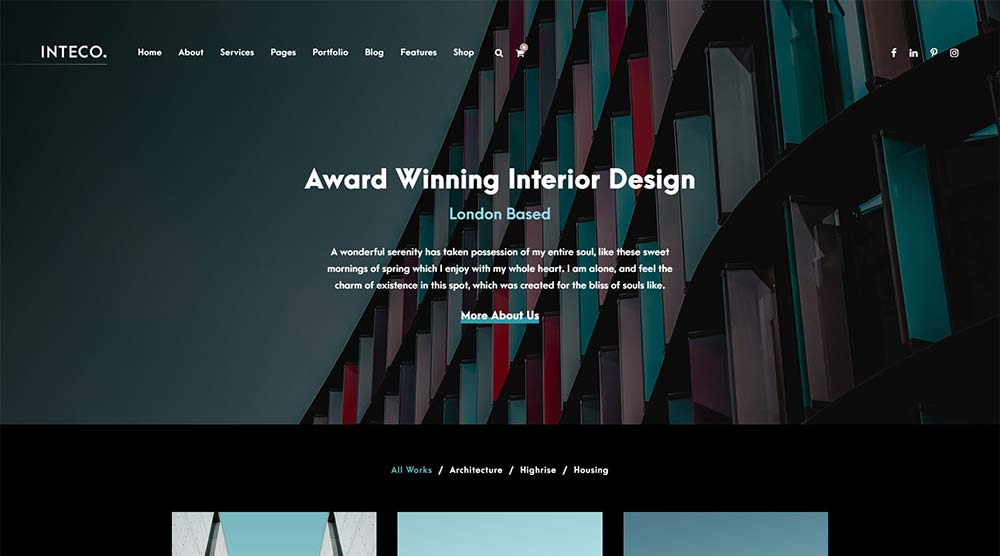 If you are searching for innovative architecture and interior design themes. Then Inteco is the best solution for you. Inteco provides you all the creative stuff you need to create a website with ease.
Inteco WordPress Theme for Interior design and architecture is a premium responsive theme. That is especially for architecture, architectural, architect, interior design, furniture shop, landscape design industry. The design is clean, minimal, and very sleek.
This is one of the most suitable Interior and architecture themes in the market. You can do so with one-click demo import functionality to the practical color picker. This means you can turn your website to other colors that match your aesthetics with just a click.
Most of Inteco's six home page headers offer huge (almost full-page) image placeholders, letting you display your most impressive work upfront. After that, you'll find that each layout focuses on a different need.
For example, one might help you showcase your other work, while another can be perfect for selling your business through positioning statements.
Inteco WordPress theme for architects has the following Features :
GDPR Tool
19 Header Styles
14 Blog Layouts
9 Portfolio Templates
11 Hover Styles
6 Gallery Layouts
Fully Responsive
Automatic Theme Updates
Live Customizer
Inteco comes with the 3rd version of the super powerful & customizable framework by GoodLayers. Inteco has developed the core of the theme. That gathered each and every feedback from the customers. Also, it put everything into this framework. Inteco also comes with the most powerful drag and drop page builder.
Price of the theme:
| Regular License | Extend Support |
| --- | --- |
| $59 | $17.63 |
3. Kastell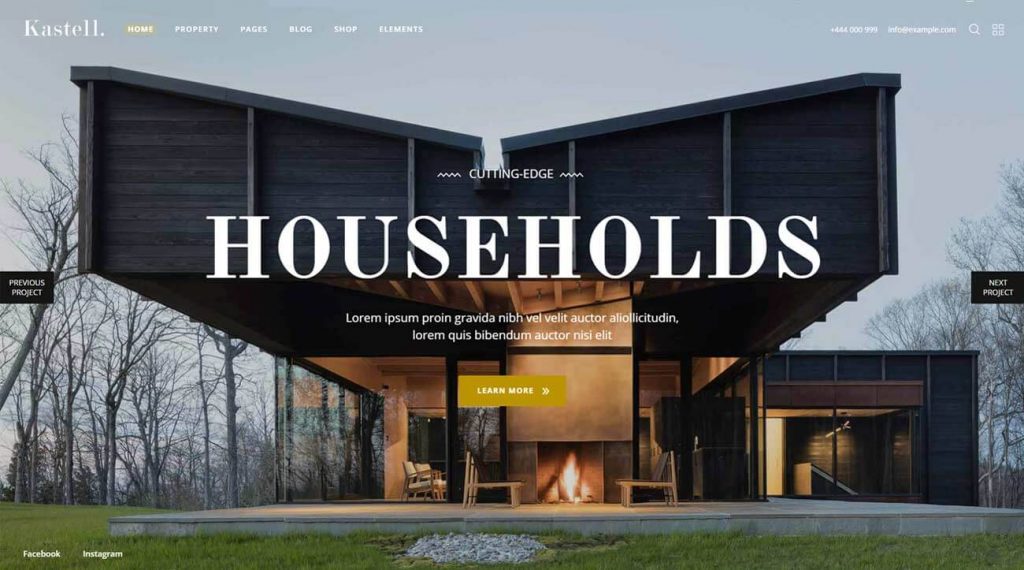 Kastell is set up with eye-catching and fully customizable homepage layouts, Kastell will perfectly showcase every property in just the right way, whether it's a business building, a house, a real estate, or anything else you may want to present on your website.
Kastell is packed with 6 homepage examples and including a big collection of custom shortcodes, it has all the tools you will need in order to visually impress your customers. In addition, Slider Revolution Responsive Plugin and amazing WPBakery Page Builder are also bundled for free.
You will get 2 premium plugins included with it. Also, you get to import the full theme demo content with just one click of your mouse. With Kastell, you are sure to have a wonderful single property and apartment complex website up and running in no time.
The best Kastel WordPress theme for architects has the following Features:
6 homepage Examples
Property Shortcodes
7 Amazing Font Icon Sets
800+ Google Fonts
Highly Customizable Title Area
Highly Customizable
Extensive Admin Interface
Simple One-Click Import of Demo Content
No coding knowledge required
Big custom shortcode collection
Responsive & Retina Ready
Collection of useful inner pages
Kastell is the modern WordPress theme for building design, architecture business, and construction companies. Certainly, if you decide to test Kastell? You will surely find a perfect inspiration for starting your new architecture business with It.
Price of the theme:
| Regular License | Extend Support |
| --- | --- |
| $75 | $23.63 |
4. Revolution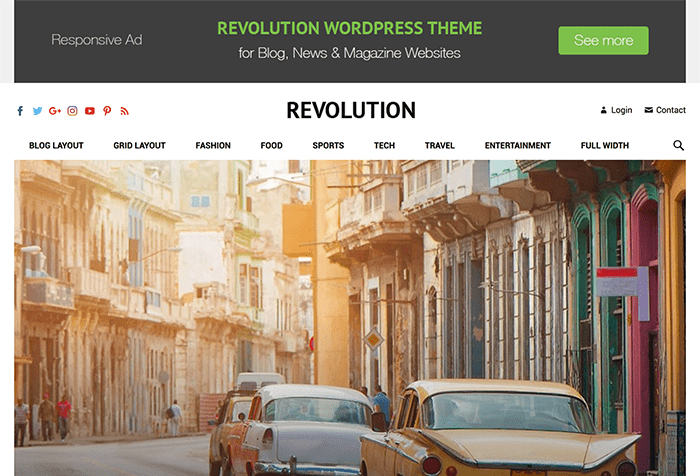 Revolution WordPress theme has various customization options that make it the best theme for web owners for a long time. Portraying your Architectural Projects in Revolution is now possible thanks to the Multiple Layouts, Powerful Shortcodes, Google Fonts, and Templates.
Revolution is a WordPress theme that lets you write articles and blog posts with ease. Revolution customizes your architect website in WordPress. Although Revolution is very easy with the built-in Visual Composer Plugin.
The Revolution theme is a good option for a news portal, newspaper, magazine, lifestyle, or architect site. The Revolution WordPress theme can be used for any project like technical, lifestyle, food, photography, construction, etc. This WordPress theme is SEO optimized and ads friendly.
WordPress Revolution is the latest addition to the growing list of new successful themes. Revolution is a WordPress theme that lets you write articles and blog posts with ease. The Revolution theme is a good option for architect businesses.
The Revolution WordPress theme for architects has the following Features:
Responsive and Mobile Friendly
Theme Customiser
Localization or Translation Ready
Speed Optimized
Search Engine Optimized (SEO)
WooCommerce Support
Page builder integration
One-click Demo content import
Multiple Demos
Fully responsive
WordPress Revolution is a modern theme that allows you to write articles and blog posts with ease. This theme is excellent for the Architect business site. Revolution is the perfect combination of amazing and professional advanced design with lots of powerful features.
Price of the theme:
| Regular License | Extend Support |
| --- | --- |
| $59 | $17.63 |
5. Infinite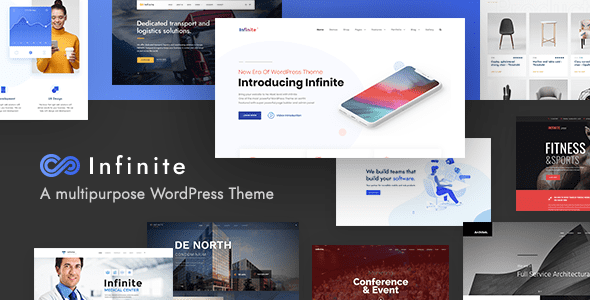 Infinite offers a custom drag-and-drop page builder, over 20 demo templates, and plenty of customization options. What's more, the bundled Slider Revolution plugin is a popular choice for creating stunning full-screen displays of your work.
Infinite is a well-designed WordPress theme for multi-purpose websites. This multipurpose theme often claim they can cater to all niches. After all, it's an appealing selling point. However, Infinite takes a different tack.
Rather than appeal to every niche, this multipurpose theme narrows in on helping creatives, including architects, to produce stunning websites, with no coding skills required. Just use the drag and drop feature and that's all.
Infinite comes with the most amazing drag and drop page builder. Also, it has great features like background wrapper options, custom skin color, three view modes, ajax page builder saving, pre-built pages, blocks, and much more.
The Infinite WordPress theme for architects has the following Features:
Powerful & Customizable Admin Panel
100% Fluid Layout
Demo Importer
19 Header Layouts
Customize Header Styles
Secondary Navigation
Floating Navigation
Unlimited Sidebars
Custom Skin Color
Page Builder In Single Post
Powerful Drag & Drop Page Builder
Unlimited Color
SEO Optimization
WPML Fully Supported
WooCommerce Fully Supported
15 Blog Layouts
12 Portfolio Layouts
In conclusion, Infinite comes close to being the ultimate multipurpose theme for creatives. It offers a great depth of functionality and has enough versatility to potentially remain your go-to theme for a long time. Check it out it could be perfect for you.
Price of the theme:
| Regular License | Extend Support |
| --- | --- |
| $61 | $18.38 |
6. Assemble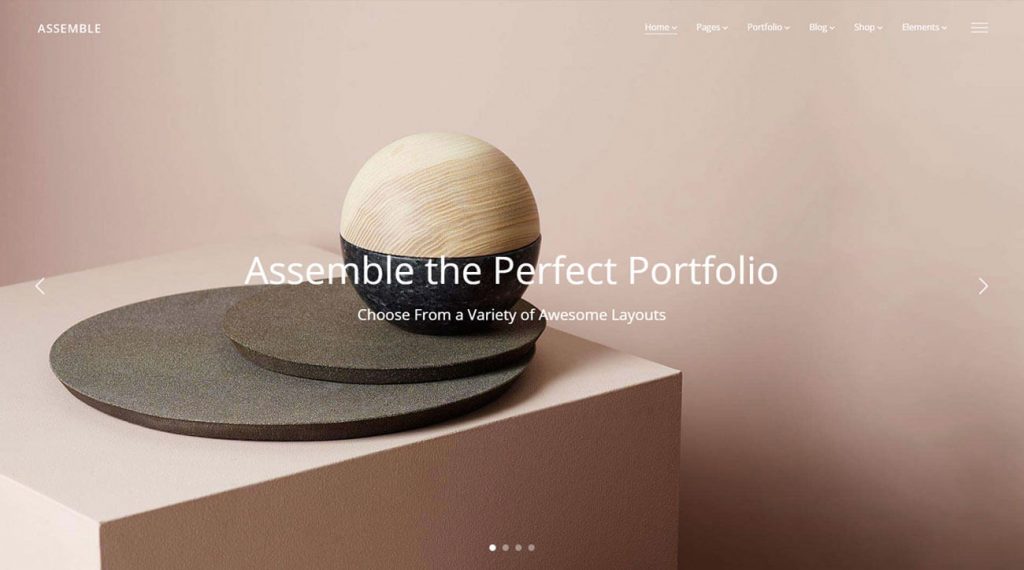 Assemble WordPress theme is perfectly suitable for any creative agency, architecture studio, or a freelancer. Assemble comes with everything you may need. Firstly, it's packed with 18 amazing homepages that can be used for a wide variety of uses.
Assemble power and professionalism is something that fuels your creativity, then this responsive theme could be the best choice for you. For instance, WordPress Assemble contains a stunning collection of 18 homepages and beautifully packed elements carefully crafted for your use.
Its powerful customization options and some of the layouts are inspired by pop art. Also, it made for everyone who wants an original artist portfolio. Another great thing about Assemble is its compatibility with the WooCommerce plugin.
Browse through pre-made portfolio list types and tailor your website to your desired preference. In the same way, flexible shortcodes allow you full customization and let you display your projects just like how you envisioned.
Assemble WordPress theme for architects has the following Features:
Multiple Customizable Layouts
600+ Google Fonts
Easy-to-Use Powerful Admin Interface
Styling Options for Elements
WPBakery Page Builder Plugin
Slider Revolution Responsive Plugin
Easy-to-Use Powerful Admin Interface
One-click import of demo site
Loads of creative home and inner pages
A large collection of custom shortcodes
Parallax Effect on Edge Slider
Various slide animation types
Finally, this theme is also well documented. Assemble documentation has a step-by-step guide on how to customize your website. As a result, it will make your site-building process is easier and quicker.
Price of the theme:
| Regular License | Extend Support |
| --- | --- |
| $75 | $23.63 |
7. Ratio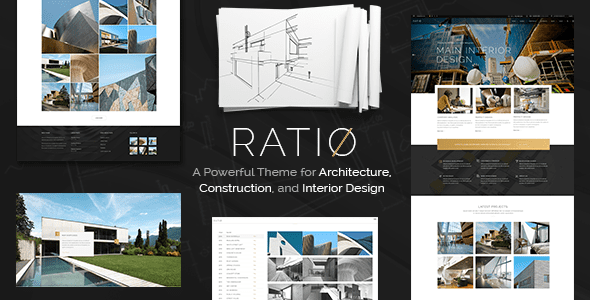 The Ratio WordPress theme for architects is a very flawless looking theme. specifically crafted to meet the needs of those in architecture, interior design, and construction businesses. The Ratio has huge custom shortcodes, 15 homepages and a copious amount of both shop and blog list layouts are more than enough to cover all your business necessities.
The Ratio WordPress theme has managed to balance flair and functionality perfectly. Let your high-quality imagery take the center stage and the extra info appear below them conspicuously. Simultaneously, you can customize your portfolio by picking from 25 portfolio options, choose your ideal shop layouts.
Also, you can easily import all the pages with one click import option. In addition, this theme is also Woocommerce compatible and is translation and Retina ready. With this theme, there's a little bit of a mismatch between the portfolio and gallery pages, and the rest of the design.
Starting with the ways to display your work, there are numerous layout choices at your fingertips with six different columns, masonry, and Pinterest-style templates on offer. Individual pages also look crisp and elegant with images taking center stage and additional information sitting prominently below.
Ratio WordPress theme for architects has the following fearures:
15 Homepages
25 Portfolio Variants
40 Custom Shortcodes
10 Single Project Types
WooCommerce Compatible
Custom Shortcodes.
Multiple Customizable Layouts.
Customizable Mega Menu.
WooCommerce Integration.
Social Share Functionality.
Easy to Use Admin Interface.
However, elsewhere Ratio looks a little bland. The different page layouts look a little too business-like for our tastes, and the font size that worked so well in the portfolio looks too small here. Scrolling could be smoother, and header and slider elements are oversized and too prevalent.
Price of the theme:
| Regular License | Extend Support |
| --- | --- |
| $69 | $21.38 |
8. Die Finnhütte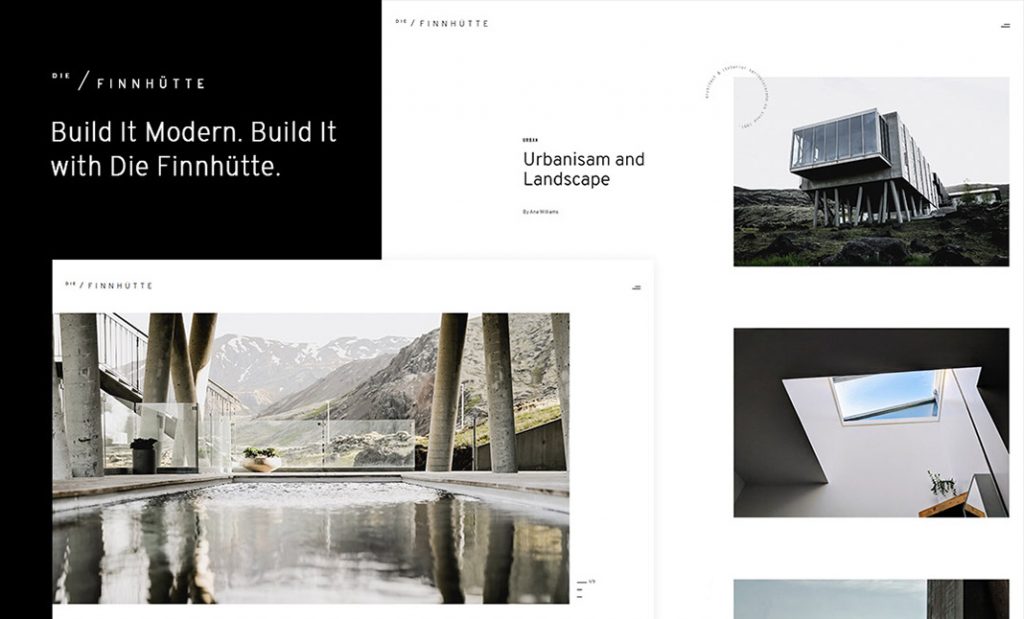 Die Finnhütte helps you to build your own architecture website. Die Finnhütte modern architecture and interior design theme made specifically for all architects and interior designers. Also, it's well suited for modern furniture stores and salons.
Die Finnhütte is the most appropriate choice for architects and interior designers. Because of its bright background and sleek design, it fulfills all the needs you want. Also, it has a penchant for contemporary style.
The Die Finnhütte WordPress theme has all the elements, a contemporary architecture website needs. However a full-fledged interior design website can be loaded with Die Finnhütte's 25+ beautiful portfolio templates, shop list, and single product layouts, and much more.
Die Finnhütte WordPress theme for architecture boasts 11 homepages and more than 25 portfolio templates. However or an elegant, awe-inducing atmosphere, try a full-width four-column showcase with discreet hover effects to welcome your website visitors.
WordPress Die Finnhütte theme for architecture has the following features:
Four Customizable Header Types
Customizable Mega Menu
Icons, and Dripicons Icon Packs
WPML Plugin Compatibility
Child Theme Included
Powerful Admin Interface
Highly Customizable
No coding knowledge required
One-Click Demo Content Import
Retina Ready
Fully Responsive
Predesigned home and inner pages
Die Finnhütte provides every option, feature, and element. Therefore you can create your website obstacle-free and fully functional. Build your website in a modern way.
Each image will lead them to a single project presentation with detailed description and image galleries. With Die Finnhütte, you also have a choice between dark and light skin.
Price of the theme:
| Regular License | Extend Support |
| --- | --- |
| $79 | $25.13 |
9. Maison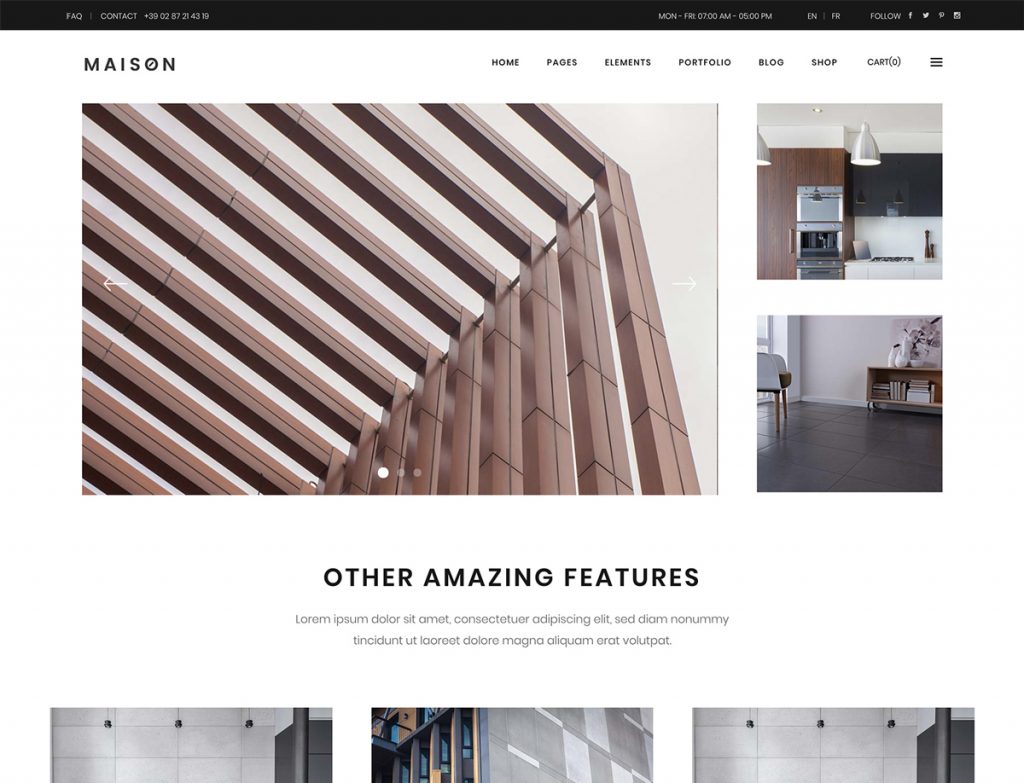 Maison is ideal for both Large Architectural Firms and Freelance Architects working on a tight budget, as well as Interior Designers. Overall, Maison's stylish portfolio lists and the captivating interface will help you emphasize the fact that architecture is visual art.
Maison WordPress theme is packed with assorted blog templates and also comes with a collection of 12 completely customizable homepage layouts. Some of the key features in Maison include 12 Customizable Homepage Options and an extensive range of Portfolio Layouts and Predefined Blog Templates.
The Maison theme features 12 customizable home page options, a number of portfolio layouts (which feature a slick array of hover animations), and an extensive set of pre-designed blog templates. With the bundled Visual Composer drag-and-drop page builder plugin.
Maison allows you to create beautiful layouts, catalogs, and single product pages with ease. Maison is also retina-ready, and its content to white space ratio feels well-balanced, meaning the overall look is as smooth as polished marble regardless of the screen size.
The best Maison WordPress theme for architects has the following Features:
12 Predesigned Homepages
800+ Google Fonts
5 Icon Front Packs
Multiple Customizable Layouts for Portfolio Lists
Large Collection of Custom Shortcodes
Easy-to-Use Powerful Admin Interface
One-click import of demo site
12 predesigned homepages
Practical inner pages
A large collection of custom shortcodes
Multiple customizable layouts for portfolio lists
Portfolio Masonry lists
Multiple hover styles for portfolio lists
Modern WordPress Maison theme comes with flexible options and is compatible with the WooCommerce plugin so you can sell your products online. Maison packed with various homepages and fully customizable inner pages. Maison will help you build the best architecture and interior design website in no time.
Price of the theme:
| Regular License | Extend Support |
| --- | --- |
| $75 | $23.63 |
10. Kalium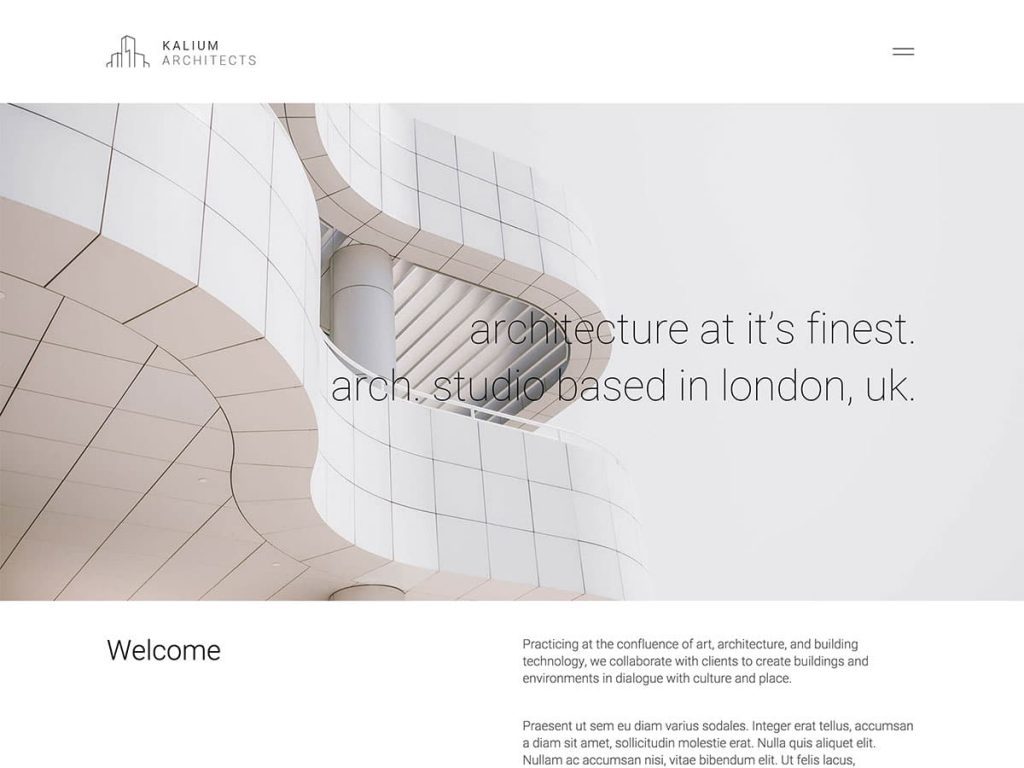 Kalium offers some amazing a professionally created pre-built websites so you can easily import any demo website within seconds at 1 click install and then change the content easier to fit your needs. Some of the demos offered by Kalium are very amazing.
Kalium provides a variety of hover styles and animation effects in addition to parallax backgrounds. Two slider plugins are included for designing your slideshows and galleries: Revolution Slider and LayerSlider. And don't panic if you have a custom-designed font. You can upload that to use with Kalium.
Getting your name and your work out in front of people is easy with social media integration and WPML plugin compatibility, although navigating to your project pages may take a moment as the menu isn't prominently displayed. All in all, this responsive and retina-ready theme is a fantastic option for showcasing your project portfolio.
Kalium takes the less-is-more approach to heart with its bold, minimal design. Huge images dominate the pages, with very little text to clutter up the white space. Though designed as a portfolio site for creatives, Kalium is still useful for showcasing business projects and even has a demo just for architects.
Kalium WordPress theme for architecture has the given below features:
WPBakery Page Builder
Revolution Slider plugin
LayerSlider plugin
Advanced Custom Fields PRO
WooCommerce Product Filter plugin
Product Size Guide plugin
GDPR ready
One-Click Demo Content Installer
Multisite support
Rich Theme Options
Custom Skin Generator
With Kalium portraying your work in a contemporary, unique setting is easy. It comes loaded with layouts, templates, skins, Google Fonts, icon fonts, footer styles, and shortcodes. And customization is a breeze with the included Visual Composer plugin. For fast setup, you also have a one-click demo import option available.
Price of the theme:
| Regular License | Extend Support |
| --- | --- |
| $60 | $18 |
11. Domik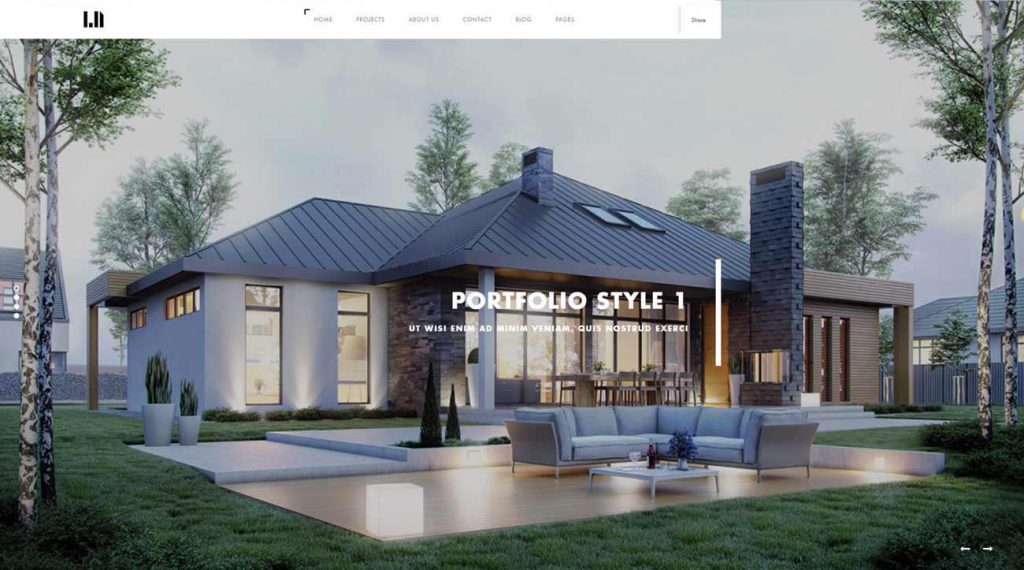 Domik theme is powered with 7 different portfolio page styles, full-screen backgrounds, and WPBakery Page Builder. Domik WordPress theme is ideal for architects, photographers, furniture designers.
Domik is a creative Responsive Architecture WordPress Theme. Domik is perfect if you like a clean and modern design. Also, it is useful for those who need an easy, attractive, and effective way to share their work with clients.
In other words, these elements will surely help you in having a smooth experience while adapting your future website to your creative business needs. Also, if you are looking for a theme that has a clean and modern design.
Then you've found it! Domik WordPress is an ideal theme for architecture companies, interior designers, who want to build an attractive website to present their business in a stylish and effective manner.
The Best Domik WordPress theme for architects has the following Features:
AJAX Page Transitions
4 Different Style Home Page
7 Different Style Portfolio Page
600+ Google Web Fonts
Power Theme with Redux Framework
Fully compatible WordPress 5
WPBakery Drop & Drag page builder
AJAX Page Transitions
4 different style home page
7 different style portfolio page
Full-screen backgrounds
Youtube Video background
Fully responsive
Retina ready
Touch and swipe
Support Contact Form 7
Power Theme Options with Redux framework
One-Click Import Demo Data
Price of the theme:
| Regular License | Extend Support |
| --- | --- |
| $49 | $13.88 |
12. Prague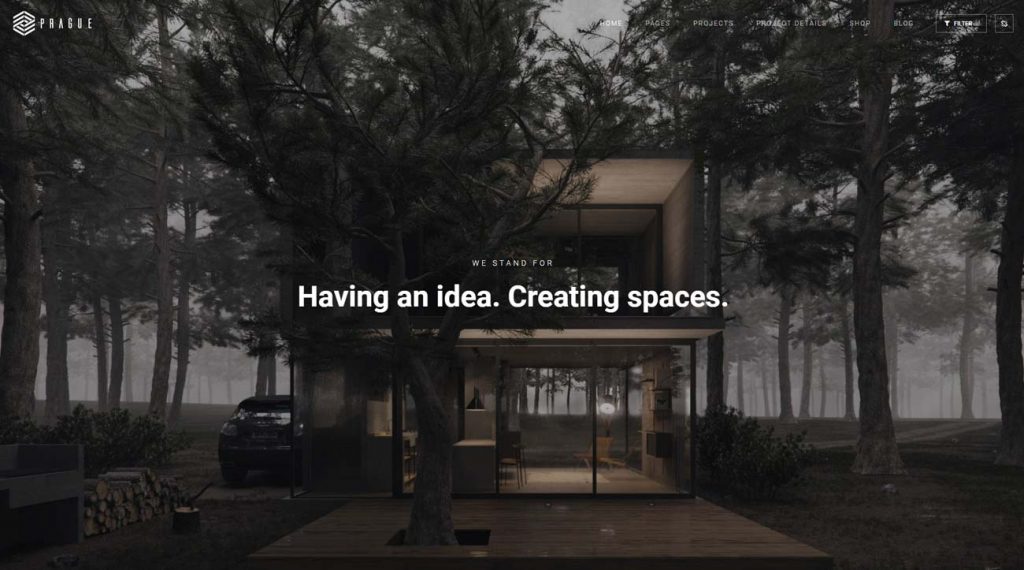 Prague theme has a clean, minimal, and stylish design. Therefore it offers various features to architect and interior design studio websites. This theme is a perfect solution for all architecture, interior design companies, and similar businesses.
Prague WordPress theme helps you to showcase your works, display your interior design projects, post architectural and furniture design articles, show design stats, sell design & art products online.
People who have helped build this theme carefully analyzed all top architecture companies in order to help you find exactly what you need to run a perfect architecture and design-oriented website.
Prague WordPress theme is ideal for Interior Design Services, Living Room Design, Exterior Design, and Cottage just to mention a few. The clean and prominent design in Prague powered by Rev Slider and Visual Composer makes this theme stand tall among other themes.
Prague has a beautiful design and a bunch of features to make your website stand out from the crowd. Powered by WPBakery and Rev slider.
Prague WordPress theme for architects has the following Features:
14 Unique Homepages
WPBakery Page Builder
WPBakery Page Builder and Rev Slider Included
Extremely Customizable
Online Documentation
SEO Optimized
Extensive Collection of Powerful Shortcodes
WooCommerce Compatible
Gravity Forms Compatible
Fully Responsive
Sticky Menu
The theme will help you to push your clients in the right direction thanks to the bunch of Features, Essential Pages, and Outstanding Portfolio Page Layouts. Prague comes bundled with Multilingual Support, making it a great fit for your international audience.
Price of the theme:
| Regular License | Extend Support |
| --- | --- |
| $59 | $17.63 |
13. Arkhitekton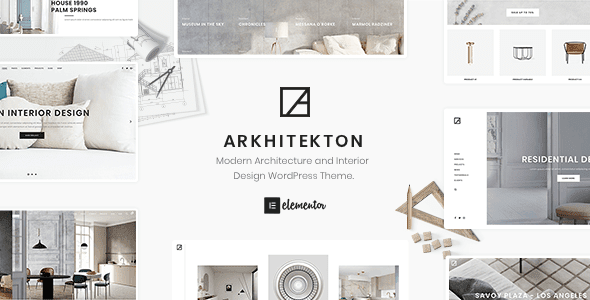 Arkhitekton has everything simply drag & drop. However, if you want to create the header/footer, there are more than 50 elements to help you. Also, there are copy-paste features, template library, visual design, mobile editing, translate ready, and many more features of Arkhitekton.
Arkhitekton theme uses a minimalistic style that primarily showcases project galleries. You can easily divide your projects into easily navigable categories that drill down further into individual projects. Within those pages, you can let your work speak for itself with full-width pictures.
Arkhitekton is a modern theme that can be used for architecture, interior design, architects, and much more. The attention to detail in Arkhitekton makes it very powerful and easy to use, everything possible from the most powerful page builder Elementor.
Compared to other modern themes, this one doesn't come with many bells and whistles. However, it does come bundled with the Elementor page builder plugin, which enables you to customize pages with ease. You also get access to a lot of pre-built layouts you can use to kickstart your firm's website design.
Arkhitekton WordPress theme for Architecture has the following features:
Elementor Ready
Header and Footer Builder
Live Customizer
WPML Ready
Hero Builder
Navigation Elements
Revolution Slider Included
Fully Responsive
Mega Menu
One-Click Demo Importer
Translation Ready
Sticky Menu
Retina Ready
WooCommerce Compatible
Well, in our opinion, themes don't need to be overly complex to be stellar. If you're looking for a simple, elegant theme that enables you to showcase your firm's best work, Arkhitekton could be perfect solution for you.
Price of the theme:
| Regular License | Extend Support |
| --- | --- |
| $59 | $17.63 |
14. Cobalt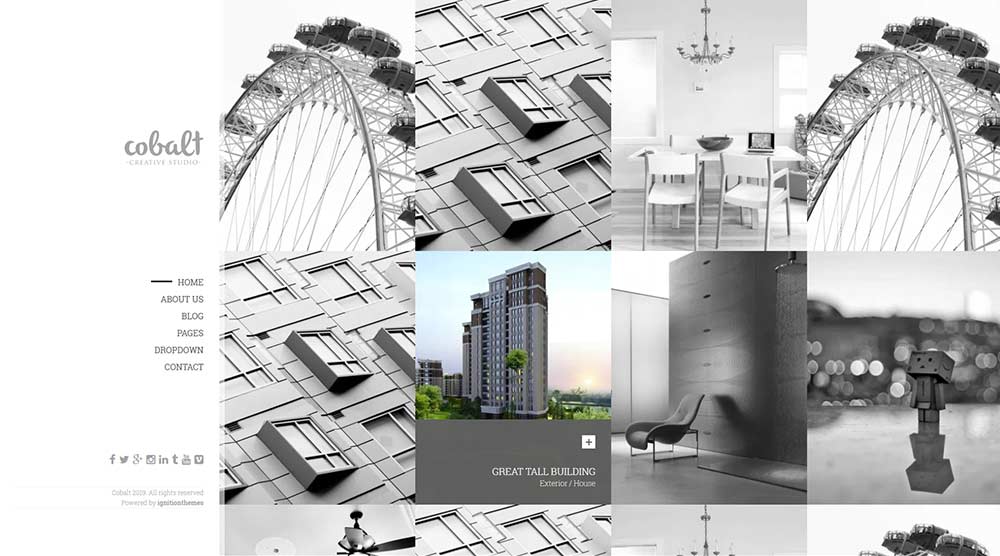 Cobalt is an advanced WordPress Theme for Architects & creative people. Also, it has been designed specially in a minimal & simple design concept, to make it easier for the customers to navigate within your website.
Cobalt comes with 4 blog templates, great for presenting your works in detail or sharing stories about your expertise. Another great thing about this theme is the fact you get all of its PSD files for free. As layers are organized in a simple way, you can easily access them and use the elements you need.
Cobalt has Retina Ready icons and it is fully responsive all because of font Awesome feature. It comes with a big option of Homepages, Blog Pages, About us Pages, and other pages.
Build your website like a true professional with Cobalt. This theme is made for architects, architecture studios, and creatives of any other kind. Its minimal and simple design makes it the perfect choice if you want to put a focus on your works in an effective way.
Cobalt WordPress theme for Architecture has the following features:
6 Home/Portfolio Layouts
4 Blog Templates
12 Color Schemes
PSD Files Included
Minimal Design
Responsive design.
12 color schemes.
5 homepage/portfolio templates.
3 portfolio Single Templates
4 Blog Layouts
3 Single Blog Layouts
Cobalt WordPress theme is packed with 6 home or portfolio layouts. However, Cobalt is great for showcasing your architecture projects or designs. This fully responsive, retina-ready theme will look good on any type or size of the screen of your device.
Price of the theme:
| Regular License | Extend Support |
| --- | --- |
| $49 | $13.88 |
15. Etalon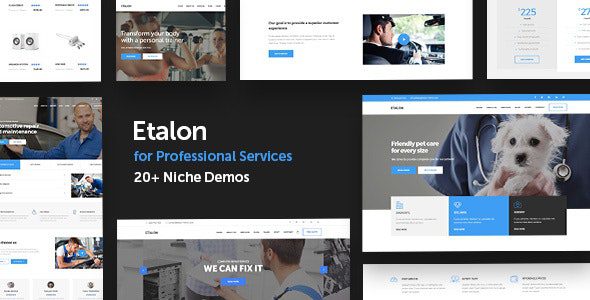 Etalon is an easy-to-use WordPress theme, ideally suited for small business owners, entrepreneurs, and business professionals. The Etalon theme comes packaged with the premium WPBakery Page Builder for WordPress and Revolution Slider add ons.
Etalon is a clean coded theme built with Bootstrap 3 is fully customizable with advanced typography options and is also easy to use. Etalon is a popular choice among web designers and small business owners for creating attractive websites. This imaginative theme is optimized for the best performance.
Several shortcodes will ease the process of building a blog from scratch. Etalon WordPress theme has 20 completely different, cleanly designed demo homepage templates for business professionals. This is just a glimpse of what you can achieve by using the theme.
Etalon is the perfect multi-concept theme if you are looking to showcase your architectural projects in a professional manner. It has a contemporary corporate feel and a clean, modern look that shifts focus to your design and company info.
Cobalt WordPress theme for Architecture has the following features:
CSS3 Animations
Lightbox Gallery
Cross-browser Compatibility
Customized Theme Options Panel
30+ WPBakery Page Builder Custom Elements
Free Lifetime Updates
Fully Responsive
Built with HTML5 and CSS3
Smooth CSS3 animations
Well organized, clean and valid Code
Code built with SEO best practice in mind
Compatible with the latest WordPress version
Cross-browser compatibility
One-click demo importer
20 Unique homepages
Etalon WordPress theme options panel is designed to simplify the development of your website. however, you can control each and every section of the theme. Even without having to write a single line of code. There are various advantages of using the theme options panel.
Price of the theme:
| Regular License | Extend Support |
| --- | --- |
| $59 | $17.63 |
Conclusion
At the end of this article we will hope that you come to get the desired and suitable WordPress theme that all you want. Also, we wish you that with these theme you will grow your business very well.