5 Best WooCommerce Inventory Management Tools (2018)
Last Updated:

May 25th, 2018

Posted by:

admin

Category:

WordPress Support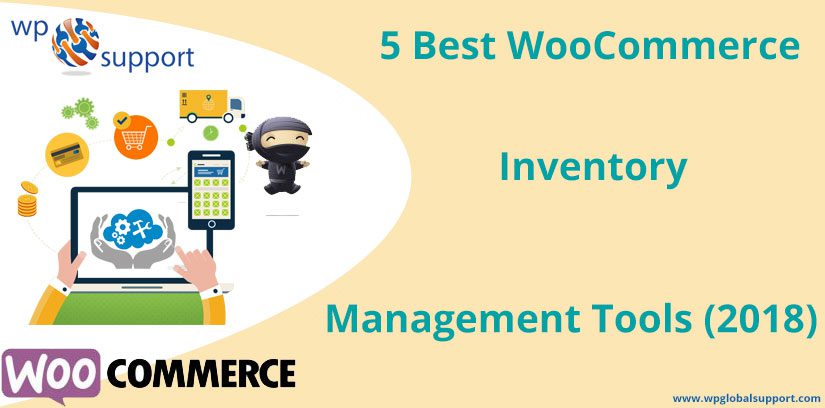 Are you getting confused while selecting the Inventory Management Tools for WooCommerce? If you are starting out your WooCommerce store inventory management is not so much difficult. But, choosing the best tool is a confusing task.
You have just a few products, you know where you are purchasing it from. And also know whose buying it. These things are easy. But as your store grows, it all becomes complex. The demand for your products increases and your sole supplier is not able to meet it. You look for other suppliers. Therefore, we have hand-picked some best and popular tools those help you in WooCommerce stock management.
For any prompt help and support contact to our WooCommerce Setup team. Dial our Toll-Free number + 1 844 897 0441(Toll-Free).
We have mentioned below few best WooCommerce stock management tools:-
1. WooCommerce Stock Manager
WooCommerce Stock Manager is a unique, popular, and free inventory management tool. It helps you manage stock for simple and variable products. It gives you the power to efficiently manage products, customers, and orders. Thus, by using this tool, you can manage stock, back order, stock status, sale price, regular price, and weight for each product and variation.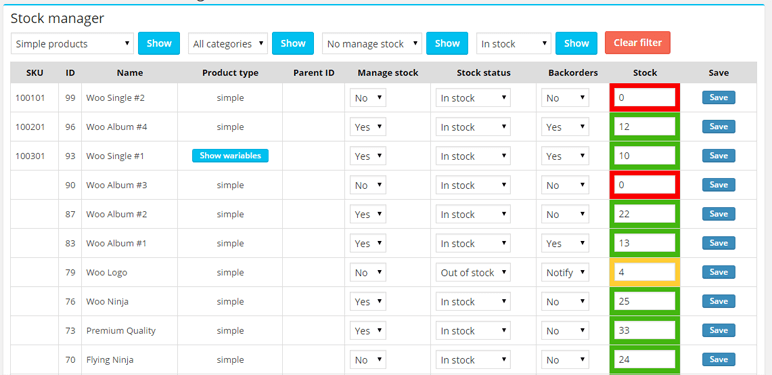 However, this tool also permits you to export all stock data from your store into a CSV file. You can edit the CSV file as per your requirements and then import it back into your store.
Features
Stock report.

Product filtering.

Import / Export.
Pricing
Free and Available in WordPress repository
2. TradeGecko
TradeGecko is one of the most popular, multichannel inventory management and order management software. It has integration with WooCommerce and many other platforms.
TradeGecko automates stock adjustments, stock updates, and purchase orders for your store. Its inventory management software syncs your sale with multiple aspects of your store like the invoice, delivery, and stock level.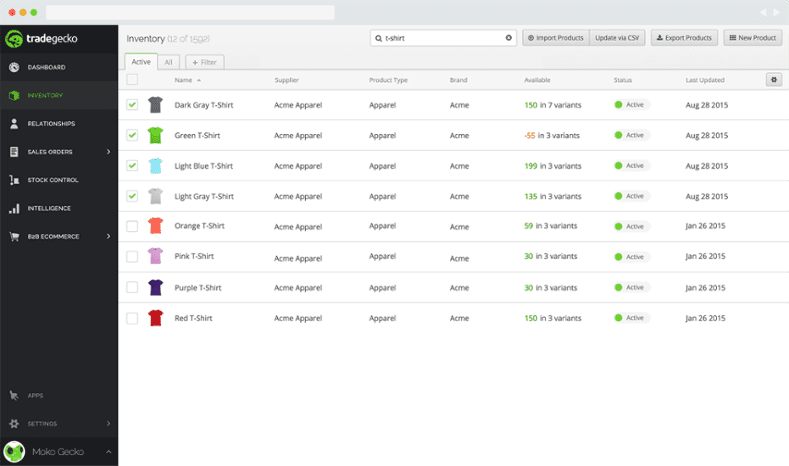 TradeGecko gives ample tools to launch your own wholesale business by creating a wholesale price list for your products. It manages to keep itself simple to deal with, even though the data is dealing is back end is quite complex. Hence, Smooth integration with WooCommerce, make sure that your focus stays right at the core of your online business. This helps you sell in multiple channels at the same time without any problems. Even you can integrate more than one WooCommerce store into a co-ordinated inventory system.
Features
Inventory control.

Inventory Optimization.

Accounting integration.

Warehouse inventory management.
Pricing
The 14-day free trial also available.

Starts at $79/month.
Read Also: 7 Free WordPress WooCommerce Extensions 2018
3. WooCommerce Rapid Stock Manager
WooCommerce Rapid Stock Manager enables to update your stock inventory and variants sizes fastly, showing everything on one screen. This bulk stock management tool is available on codeCanyon.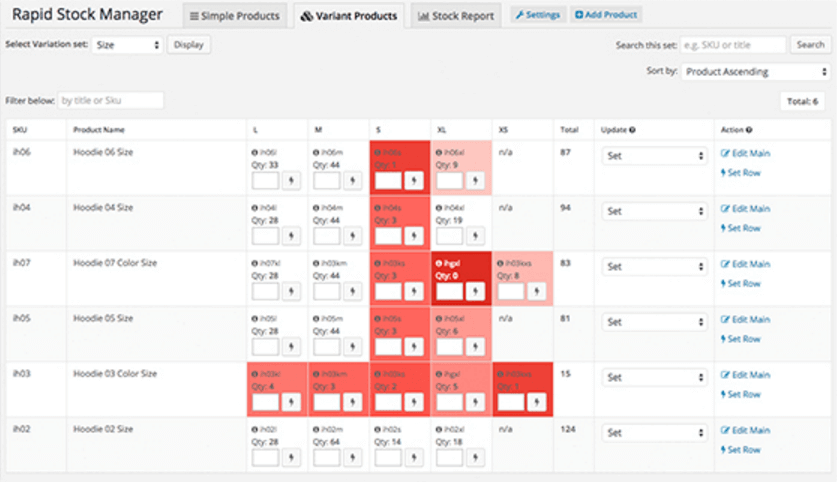 Rapid Stock Manager helps you with the option to update the stock on your online store automatically while adjusting with the existing stock levels. Therefore, your customers won't face any problem when they purchase a product. At the same time, you update the stock. If required, then you can export stock reports to an excel file. The stock report detail is available with data on who edited the stock last and to what quantity.
By using this tool, you can integrate stock around multiple warehouses and also print transfer receipt. Hence, you can purchase this tool with a regular licence from CodeCanyon for $46.
Features
Stock report.

Batch update.

Multiple warehouse management.
Pricing
4. Smart Manager
Smart Manager is a breakthrough WordPress plugin that provides the speed, ease and power of an Excel-like spreadsheet. It is a unique and very popular WooCommerce inventory management tool from store apps.
Thus, a smart manager is the best and free WooCommerce plugins for managing your store.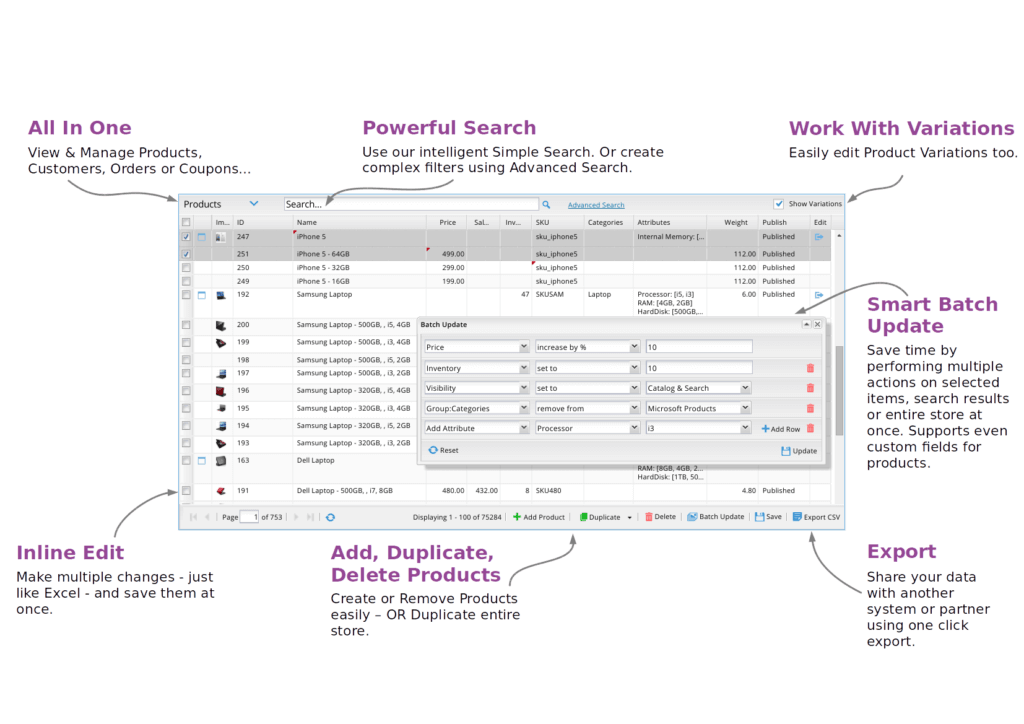 It is battle tested for success – works with large stores too. Power Packed – 263+ features. Pro add-on for even easier management.
Features
Batch update.

Automatic Calculations.
Inline edit.
Snappier navigation.
Simple reports.
Pricing
Single site license – $149/year.

Free version available in WordPress repository.
5. StorePep Mobile App
StorePeP is a handy tool when it comes to continuous store monitoring and management on the go. This native Android app is a great companion for WooCommerce online store owners to keep the way of their store performance.
You can check the product details and update, stock, description, and price from the StorePeP mobile app.
Thus, Real-time push notifications of this app will surely help you stay on top of things.

With this StorePeP tool, you can access some sales reports that give you great insights on multiple aspects of your store including inventory management.
By using this tool, you can filter the sales by different time period- Today, Yesterday, Previous week, Previous month, Current month or a custom date of your choice.
Features
Monitor your WooCommerce store.
Get Real-time alerts on your phone.
Benefits of using the solutions for inventory management
WooCommerce provides the good flexibility to incorporate features that are not available out of the box.
In some cases, you can find some excellent tools for inventory management too.
Let's look into some of the areas where these solutions can make a positive difference.
Managing multiple sales channels.
Balance the supply chain.
Tracking business growth.
Automation for instant results.
Smooth integration with WooCommerce.
Real-time updates
Other WooCommerce Inventory Control and Management Softwares
Omnichannel Inventory Management from Stitch Labs.
WooCommerce Inventory Management from Finale Inventory.
WooCommerce inventory management and order management from Orderhive.
Conclusion
Managing your inventory is a huge task that can give many problems to business owners. It becomes huge difficult when you have multiple sales and procurement channels.
Therefore, we discussed five best inventory management tools that help you to streamline your inventory in the way.
If you found the blog useful, do not forget to use the comment section provided below. Also, share the blog with your peers. You are on your way to getting more exposure.
Get instant help from our WordPress Technical Support Experts as they will fix your issue without any wastage of your precious time. Dial + 1 844 897 0441(Toll-Free). We will be pleased to hep you.
  Recommended Blogs: