8 Best WooCommerce Inventory Management Tools-(2018)
Last Updated:

Nov 12th, 2018

Posted by:

admin

Category:

WordPress Support
Are you getting puzzled while choosing the Inventory Management Tools for WooCommerce? If you are starting out your WooCommerce store, inventory management is not so much difficult. But, choosing the best tool is obviously a confusing task.
However, the best inventory management plugin for your wholesale and retail business is the one that meets your requirements. And possibly one that you enjoy using the most.
In Fact, you will be quite amazed to see how WooCommerce inventory management can be so simple, effective and efficient. Further, an inventory management system can help you manage your business's inventory and stock items, keeping track of exactly where your assets are and what they're worth.
Continuously, you have just a few products, you know where you are purchasing it from. And also know whose buying it. These things are easy. But as your store grows, it all becomes complex. The demand for your products increases and your sole supplier is not able to meet it. You look for other suppliers.
Therefore, we have hand-picked some best and popular tools which definitely help you in WooCommerce stock management.
Best WooCommerce Inventory Management Tools
WooCommerce Stock Manager

TradeGecko

WooCommerce Rapid Stock Manager

Smart Manager

StorePep Mobile App

Atum Inventory Management

Orderhive Inventory Management

Veeqo
Let's get cracked in detail!
1. WooCommerce Stock Manager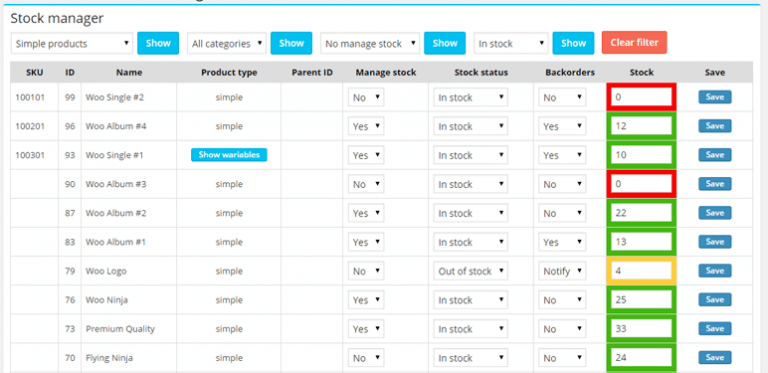 WooCommerce Stock Manager is a unique, popular, and free inventory management plugin. Further, it allows you to manage stock for products and their variables on one screen without going to each product screen. Also, it gives you the power to efficiently manage products, customers, and orders.
Thus, by using this tool you can manage stock, back order, stock status, sale price, regular price, weight and much more for each product and variation. Woocommerce Stock Manager products can be filters by Product ID, Product Name, and default sorting.
However, this tool also permits you to export all stock data from your store into a CSV file. Along with, you can edit the CSV file as per your requirements and then import it back into your online store.
Features
Stock report.
Import / Export.
Product filtering.
Multi-store operation.
Fast & easy retail POS.
Pricing
Free and Available in WordPress repository.
2. TradeGecko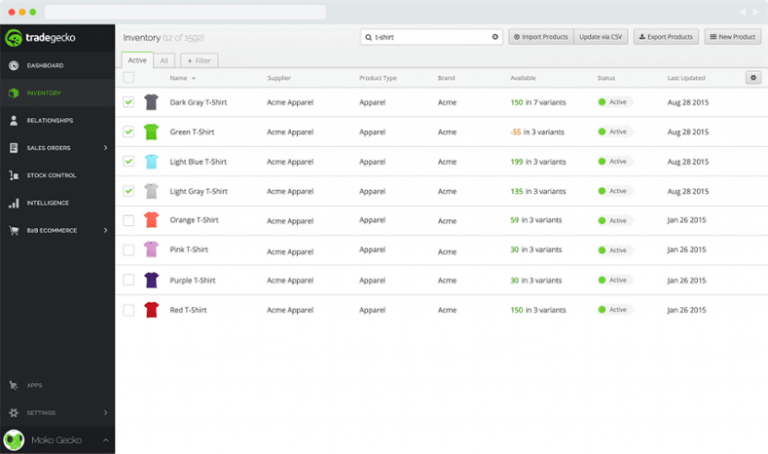 TradeGecko is one of the most popular, multichannel inventory management, and order management software. It has integration with WooCommerce and many other platforms. Furthermore, TradeGecko allows the users to balance their creativity and passion with business and operations, giving them the best of both worlds.
Continuously, TradeGecko automates stock adjustments, stock updates, and purchase orders for your store. Its inventory management software syncs your sale with multiple aspects of your store like the invoice, delivery, and stock level. This plugin also offers a mobile app for iPhone, iPad and Apple Watch that lets you manage your products and orders from anywhere and it's free to all TradeGecko users.
TradeGecko gives ample tools to launch your own wholesale business by creating a wholesale price list for your products. It manages to keep itself simple to deal with, even though the data is dealing is back end is quite complex.
Hence, smooth integration with WooCommerce ensures that your focus stays right at the core of your online business. This helps you sell in multiple channels at the same time without any problems. Even you can integrate more than one WooCommerce store into a co-ordinated inventory system.
Features
Multi-locations.
Inventory control.
World class support
Inventory Optimization.
Accounting integration.
Warehouse inventory management.
Pricing
The 14-day free trial also available.
Starts at $79/month.
3. WooCommerce Rapid Stock Manager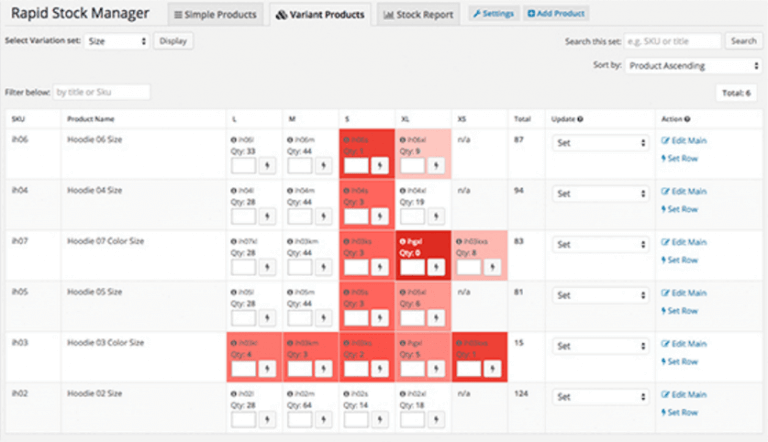 WooCommerce Rapid Stock Manager allows the user to update your stock inventory and variants sizes fastly and displaying everything on single screen. Continuously, this bulk stock management tool is available on codeCanyon. With the help of this, you can filter products by type, category, stock manage or stock status.
Furthermore, Rapid Stock Manager helps you with the option to update the stock on your online store automatically while adjusting with the existing stock levels. Because of this, the customers won't face any problem when they purchase a product. At the same time, you update the stock if required, then you can export stock reports to an excel file. The stock report detail is available with data on who edited the stock last and to what quantity.
By using this tool, you can integrate stock around multiple warehouses and also print transfer receipt. Hence, you can purchase this tool with a regular license from CodeCanyon for $46.
Features
Stock report.
Batch update.
Friendly interface
Multiple warehouse management.
Pricing
4. Smart Manager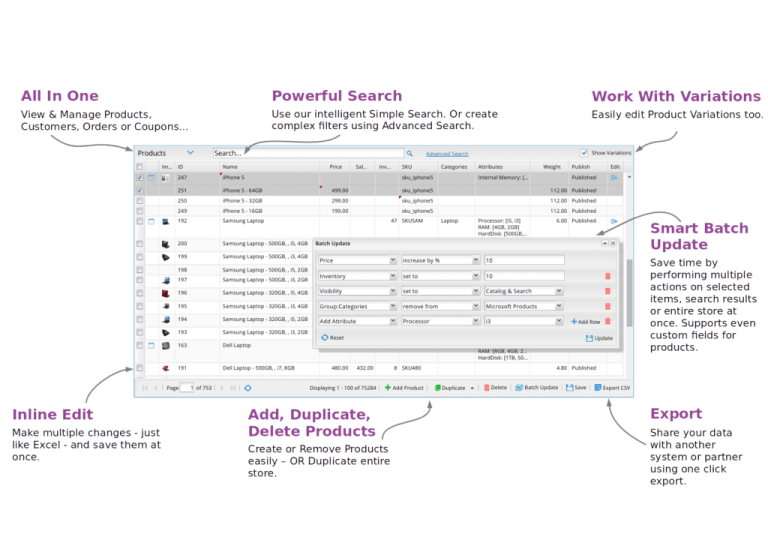 Smart Manager is a best WordPress plugin that provides the speed, ease, and power of an Excel-like spreadsheet. It is a unique and very popular WooCommerce inventory management tool from store apps. Smart Manager also helps the users in managing the e-commerce store.
It is battle tested for success – works with large stores too. Power Packed – 263+ features. Pro add-on for even easier management.
Features
Inline edit.
Batch update.
Simple reports.
Snappier navigation.
Automatic Calculations.
Quick spreadsheet like browsing.
Pricing
Single site license – $149/year.
Free version available in WordPress repository.
5. StorePep Mobile App

StorePeP is a handy tool when it comes to continuous store monitoring and management on the go. Further, this native Android app is a great companion for WooCommerce online store owners to keep the way of their store performance. However, StorePep helps you identify the areas of improvement on your site, and implement solutions instantly.
Also, you can check the product details and update, stock, description, and price from the StorePeP mobile app. Thus, Real-time push notifications of this app will surely help you stay on top of things.
With this tool, you can access some sales reports that give you great insights into multiple aspects of your store including inventory management. However, by using this tool, you can filter the sales by different time period- Today, Yesterday, Previous week, Previous month, Current month or a custom date of your choice.
Features
Dashboard reports.
Monitor your WooCommerce store.
Get Real-time alerts on your phone.
6. Atum Inventory Management

Atum is also the best free inventory management tool for woocommerce. Further, it gives you the full control on the WooCommerce stock. It is an advanced stock management tool for woocommerce. With the help of this plugin, the users can keep track of every item which they have in stock.
Also, the users can create purchase orders, setup locations, and suppliers. This free tool helps you to control all your products from one screen. It is all in one platform. Meanwhile to say, atum inventory management plugin will take care of all your business needs.
Features
Free.
One page updating.
Quickly edit the product details.
Record any inventory movements.
Complete location for hierarchy tracking.
Export your full inventory into PDF or CSV.
7. Orderhive Inventory Management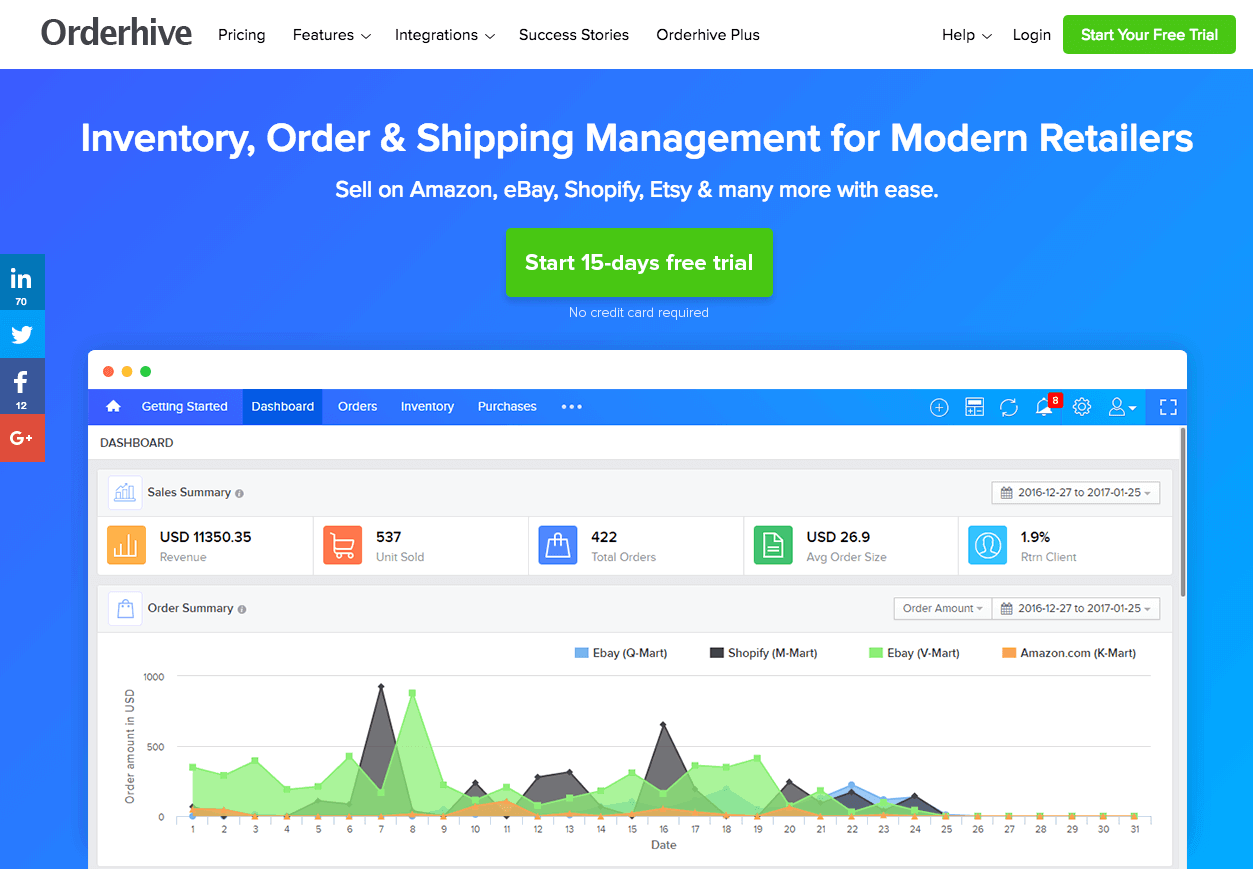 Orderhive is another management inventory system that provides you end to end solutions to multichannel sellers without having a juggle between different system. It simply allows sellers to manage multiple channels from a single integrated backend system.
Continuously, this is saas based software provides the most efficient filters and accurate data information on adding data.
However, orderhive is one of those inventory management tools that allow you to do all your inventory activities by scanning barcodes. So, you can install this plugin for the strong and happy business.
Features
Barcode system.
Multichannel mapping.
Multichannel mapping.
Configure product bundles.
Real-time inventory tracking.
Simple yet beautiful application
Developed by leading brand (openxcell).
8. Veeqo

Veeqo includes everything that a vendor needs for successful business. Further, Veeqo enables the business to become more efficient with the ability to manage everything from one platform. It is an advanced inventory management tool that keeps inventory perfectly synced across multiple warehouses. Veeqo creates the product kitt/bundles and keeps inventory balanced.
With the help of veeqo, you can push your products up to Amazon and eBay at the click of a button, and enhance sales instantly. If you want to manage your stock in the higher level than veeqo is best for it.
Features
Bulk edit.
POS integration.
Pinpoint bin location.
Invoice customization.
Complete price control.
Provides inventory history.
Thus, Veeqo inventory management is the smart way to manage and grow your e-commerce business.
Benefits of using the solutions for inventory management
WooCommerce provides the good flexibility to incorporate features that are not available out of the box.
In some cases, you can find some excellent tools for inventory management too. Let's look into some of the areas where these solutions can make a positive difference.
Attractive themes.
Professional yet simple.
Provides huge flexibility.
Balance the supply chain.
Tracking business growth.
Automation for instant results.
Managing multiple sales channels.
Coordinates everything from one place.
You can adjust inventory from anywhere.
Smooth integration with WooCommerce.
Other WooCommerce Inventory Control and Management Softwares
Omnichannel Inventory Management from Stitch Labs.
WooCommerce Inventory Management from Finale Inventory.
WooCommerce inventory management and order management from Orderhive.
Conclusion
Managing your inventory is a huge task that can give many problems to business owners. It becomes huge difficult when you have multiple sales and procurement channels.
Therefore, we have discussed the best inventory management tools that help you to streamline your inventory in the way.
If you found the blog useful, do not forget to use the comment section provided below. Also, share the blog with your peers. You are on your way to getting more exposure.
Get instant help from our WordPress Technical Support Experts as they will fix your issue without any wastage of your precious time. Dial + 1 888 614 0555(Toll-Free). We will be pleased to help you.
  Recommended Blogs: