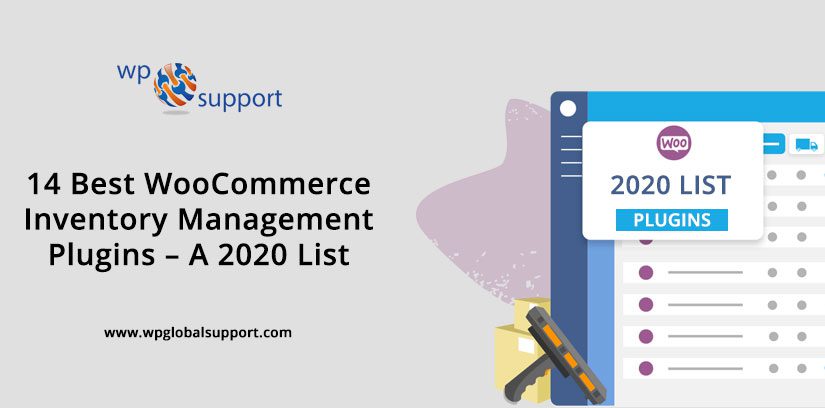 Planning to set up your own online WooCommerce business, But do you know it's needed lots of hard work & smart decisions to make your online inventory management business successful? To start an online store or inventory, choosing the best WooCommerce inventory management plugins is always important. The WooCommerce stock manager plugins contain huge important factors such as accurate inventory planning, warehouse arrangement, inventory balance, employee efficiency & many more.
Management plugins of Woocommerce help you to maintain repetitive tasks. It can maintain diverting focus from one thing to more than another thing like improving revenue & CRO.
(In Short, Plugins for WooCommerce Inventory management are all about managing WooCommerce inventory/stock in the best manner & gives you a smooth, hassle-free online inventory running experience).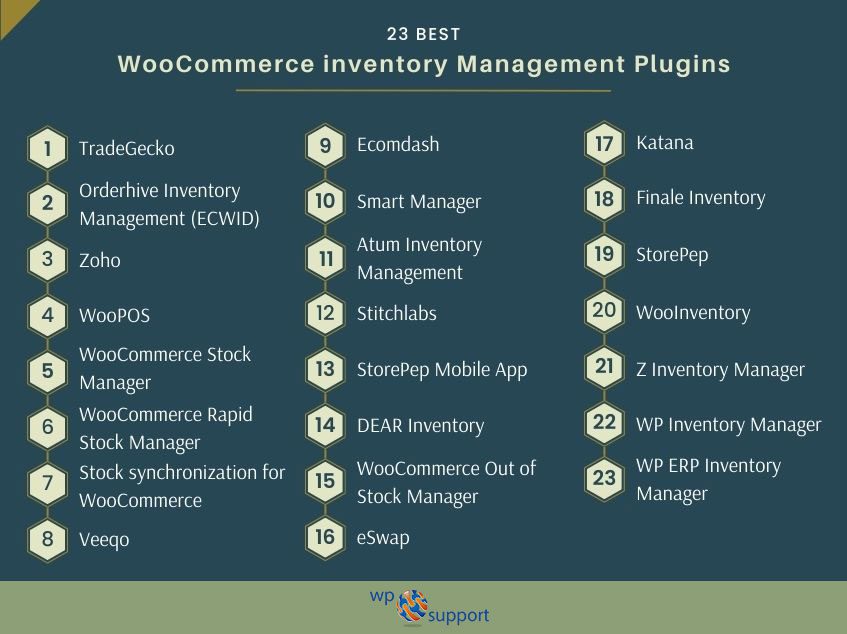 Managing a business with stock management plugins is not difficult, but choosing the best WooCommerce inventory management plugins to manage your online stock is difficult if you are a first-time user. There is a huge availability of WooCommerce order management plugins with different key features but for the same purpose. Here in this article, we cover the most popular & 23 best WooCommerce inventory management plugins that help in to boost your business & running them simple, efficient & effective way. But before discussing WooCommerce management plugins in detail, first, we share the basic information about what is the importance of stock management plugins including their benefits & difficulties in inventory management.
Benefits & Importance of WooCommerce inventory management
WooCommerce provides great flexibility to incorporate features that are not available out of the box. In some cases, you can find some excellent tools for managing inventory too. Let's have a look at some of the areas where these solutions can make a positive difference.
Attractive themes
Professional yet simple
It provides huge flexibility
Balance the supply chain
Tracking business growth.
Automation for instant results
Managing multiple sales channels
It coordinates everything from one place
You can adjust inventory from anywhere
Smooth integration with WooCommerce
Difficulties In WooCommerce inventory management
Along with the various benefits of Woocoomerce stock management, there you may face a few common difficulties also. Here in the below list, we mention a few common issues you may face with online stock management.
It's boring to manage your WooCommerce store every time whether it is creating products, settings prices, or any other tasks. For this, you have to go to your dashboard and settings every time to make any changes.
Performing these changes takes a huge amount of time which is not beneficial for you. However, the plugins automatically perform such changes. You just focus on your important work like marketing and customer service.
Inconvenience to handle large database
No doubt, you start to face problems when you have thousands of products and categories. A lot of errors occur and correcting them means loss of a huge amount of time.
You need to update the order as well as customers constantly. But you cannot do it one-by-one similar to products. This will only make your work worse.
It's not possible to make any changes in your existing list that has thousands of variables. Because you will have to visit that particular product to make the necessary changes.
Best WooCommerce Inventory Management plugins
Go through the table of content for your convenience since this blog consists of numerous inventory management plugins, thus searching for the relevant plugin of your interest. Also, a list of contents is given below with complete information about WooCommerce inventory management plugins price, features & other important factors.
TradeGecko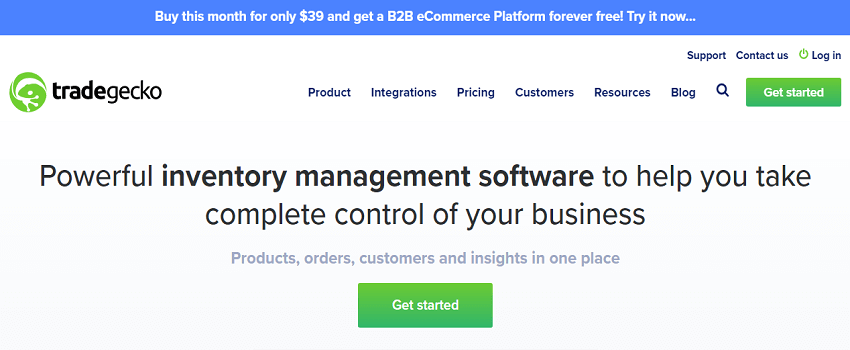 TradeGecko has integration with WooCommerce and many other similar platforms. It is one of the most popular multi-channel WooCommerce inventory management plugins as well as order management software. Furthermore, TradeGecko allowed the users to balance their creativity and passion with business and operations, giving them the best of both worlds.
Continuously, TradeGecko automates stock adjustments, stock updates, and purchase orders for your store. Its inventory management software syncs your sale with multiple aspects of your store like the invoice, delivery, and stock level.
This plugin also offers a mobile app for iPhone, iPad, and Apple Watch that lets you manage your products and orders from anywhere and it's free to all TradeGecko users.
TradeGecko gives ample tools to launch your own wholesale business by creating a wholesale price list for your products. It manages to keep itself simple to deal with, even though the data dealing in the back end is quite complex. It gives more reliability to your business as it helps in minimizing human errors.
Hence, smooth integration with WooCommerce ensures that your focus stays right at the core of your online business.
This helps you sell on multiple channels at the same time without any problems. Even you can integrate more than one WooCommerce store into a coordinated inventory system.
Features
Multi-locations
Inventory control
World-class support
Inventory Optimization
Accounting integration
Warehouse inventory management
Pricing
It offers 14-day trial periods and pricing starts from $39/month
Founder

$39/month

Lite

$79/month

Small business

$199/month

Business

$599/month

1 user & 1 sales channel integration
2 user & 1 sales channel integration
5 user & 2 sales channel integration
8 user & 3 sales channel integration
Accounting integration
Accounting integration
Accounting integration
Accounting integration
50 sales orders/month
300 sales orders/per month
1000 sales orders/month
3000 sales orders/month
Single warehouse
Single warehouse
Single warehouse
Single warehouse
Multiple currencies
Multiple currencies
Multiple currencies
Multiple currencies
Zonal shipping rates
Zonal shipping rates
Zonal shipping rates
Zonal shipping rates
24/7 email technical supports
24/7 email technical supports
24/7 email technical supports
24/7 email technical supports
Tradegecko mobile sales app
Tradegecko mobile sales app
Basic user rights
Advanced user rights
Tradegecko payments* & Intelligence
Tradegecko payments* & Intelligence
Tradegecko mobile sales app
Tradegecko mobile sales app

×

Tradegecko connect +
Tradegecko payments* & intelligence
Tradegecko payments* & intelligence

×

×

Tradegecko connect +
Tradegecko connect +

×

×

B2B e-commerce platform
B2B e-commerce platform

×

×

Batch & expiry tracking
Batch & expiry tracking

×

×

Tradegecko manufacturing
Tradegecko manufacturing

×

×

2 hours of setup assistance
4 hours of setup assistance

×

×

Account manager
Account manager

×

×

×

Demand forecasting

×

×

×

API Access

×

×

×

Advanced B2B customization

×

×

×

FBA integration

×

×

×

Warehouse management apps
For more information visit Tradegecko's official site
Orderhive Inventory Management (ECWID)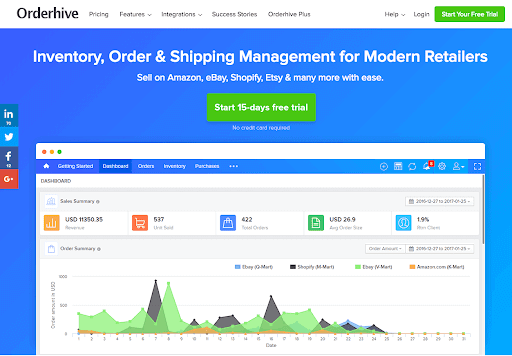 Orderhive is another management inventory system that provides you with end-to-end solutions for multichannel sellers without having a juggle between different systems. It simply allows sellers to manage multiple channels from a single integrated back-end system.
Orderhive allows you to sync with multiple ecwid channels. You can cancel, confirm, ship & track orders from one place without wasting your precious quality time.
It offers a warehouse management feature through which you can manage multiple warehouses with flexible stock policies, stock transfers, and easy integration of your accounting software. You can trace the order you placed by its order number and also gets real-time order status updates.
It helps to manage all your inventory in one place so you can track the performance of each and every product from anywhere and at any time.
This is saas-based software that provides the most efficient filters and accurate data information on adding data. However, Orderhive is one of those inventory management tools that allow you to do all your inventory activities by scanning bar codes. So, you can install this plugin for a strong and happy business.
Features
Bar code system.
Multichannel mapping.
Configure product bundles.
Real-time inventory tracking.
Simple yet beautiful application.
Developed by a leading brand (openxcell).
Pricing
It has a free 15 days trial.
Starter package – $99.99/month.
Professional – 199.99/month.
Growth – $299.99/month.
Zoho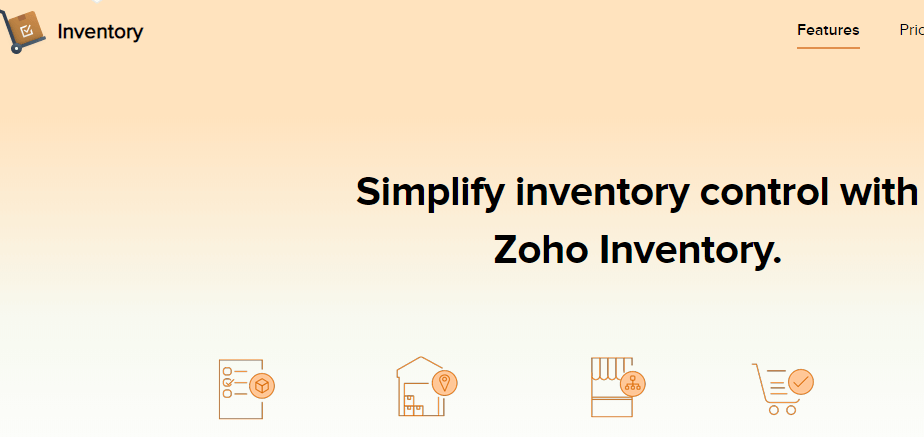 Zoho is another responsive WooCommerce inventory management plugin that mainly focuses on your sales with great control over inventory management and order fulfillment. Zoho offers multi-channel inventory management. It is very easy to set up and install this WooCommerce inventory management plugin.
It is integrated with different modern plugins which allows you to sell your product on different online platforms like Amazon, eBay, etc. These plugins also help in saving a detailed log of each and every WooCommerce order and sending them to Zoho CRM.
You can synchronize all your WooCommerce orders with this effective WooCommerce inventory management plugin. You can list the items in your stocks according to their types and features. It is integrated with Kloud Connector with the help of which WooCommerce integration is possible.
It provides a tracking management system for your products so, that whenever you placed an order you can track it by its serial number. It helps you to compare the stocks from your different warehouses and facilitates the transfer and reporting of products between them.
Features
Easy to install and set up.
Automatically connects with the WooCommerce store.
Error reporting service is available.
Synchronized all WooCommerce with Zoho.
Filter the products by their types, price, date of manufacture, etc.
Send data as notes.
Pricing
For the basic premium version, it is $29/month where you can handle only 100 orders per month.
For the pro version, it is $249/month where you can handle up to more than 30,000 orders per month.
WooPOS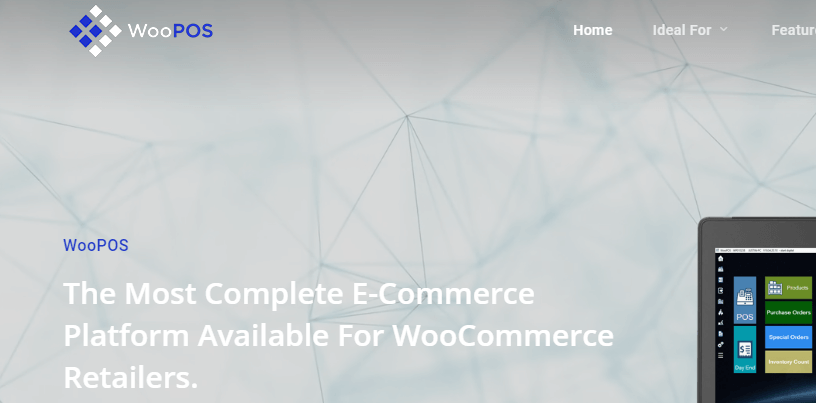 WooPOS is also one of the most popular WooCommerce inventory management plugins. It is considered one of the most powerful add on available at the WooCommerce store. It allows you to collect information for inventory management in an efficient and well-organized manner.
This inventory management plugin is basically designed to customize your unique retail necessities. It can be best suitable for any kind of business whether it is small or large.
The purchase order management of this plugin is awesome, which offers you great access to stock adjustments. It allows you to manage your inventory from multiple stores with detailed accuracy and customization. With the powerful tracking features, you can track all your stocks and inventory in one centralized space.
It comes with a powerful cloud database feature that helps to access your data anywhere, anytime. You can easily customize your WooCommerce store with physical retail locations and add automation and new functionality to your current WooCommerce setup.
Product identification, logistics, procurement, etc are now very easy with the help of a custom barcode label generator. We can say that WooPOS has all the essential requirements to manage the stocks and inventory efficiently.
Features
Simple installation
A highly detailed tracking system
It comes with a built-in barcode and label generator
It offers cloud database features
Manage multiple storefronts with ease
Safe payment modes are available
Synchronize data across stores
Customer support is available 24/7
Pricing
For a single user, the price is $29/month
For 5 users it is $119/month
For 10 users it is $219/month
WooCommerce Stock Manager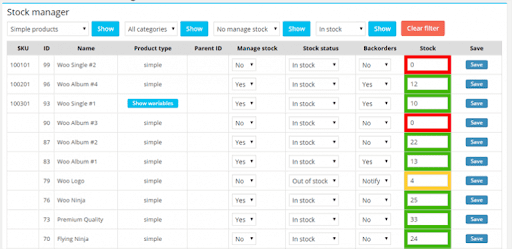 WooCommerce Stock Manager is a unique, popular, and free inventory management plugin. Further, it allows you to manage stock for products and their variables on one screen without going to each product screen. Also, it gives you the power to efficiently manage products, customers, and orders.
Thus, by using this tool you can manage stock, backorder, stock status, sale price, regular price, weight, and much more for each product and variation. Each product of WooCommerce Stock Manager can be filtered by Product ID, Product Name, and default sorting.
However, this tool also permits you to export all stock data from your store into a CSV file. Along with it, you can also edit the CSV file as per your requirements and then import it back into your online store.
Features
Stock report.
Import / Export.
Product filtering.
Multi-store operation.
Fast & easy retail POS.
Pricing
Free and available in the WordPress repository.
Installation
You can install it either by using the WordPress dashboard, uploading it in the WordPress dashboard or by using FTP.
Using the WordPress dashboard:
In the plugin dashboard, go to Add New.
Search for this plugin "WooCommerce Stock Manager"
Install and activate this WordPress plugin.
Uploading in the WordPress dashboard:
Go to the Add New in the plugin dashboard.
Navigate to the 'upload' area.

Choose the WooCommerce-stock-manager.zip file from your computer

Click on 'Install Now and activate the plugin in the plugin dashboard.
Using FTP:
Download and extract the WooCommerce-stock-manager.zip directory to your computer.

Upload this directory to the /WP-content/plugins/directory.

Activate the plugin in the plugin directory.
WooCommerce Rapid Stock Manager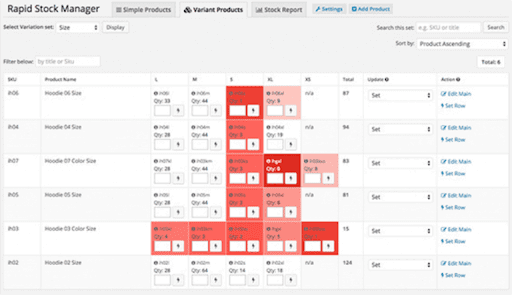 WooCommerce Rapid Stock Manager allows the user to update their stock inventory and variant sizes fastly while displaying everything on a single screen. With the help of this stock management, you can filter products by type, category, stock management, or stock status.
Furthermore, Rapid Stock Manager helps you with the option to update the stock on your online store automatically while adjusting to the existing stock levels. Because of this, the customers won't face any problems when they purchase a product. At the same time, you update the stock if required, then you can export stock reports to an excel file.
The stock report detail is available with data on who edited the stock last and to what quantity. By using this tool, you can integrate stock around multiple warehouses and also print transfer receipts. Hence, you can purchase this tool with a regular license from CodeCanyon for $46.
Features
Stock report.
Batch update.
Friendly interface
Multiple warehouse management.
Pricing
Stock synchronization for WooCommerce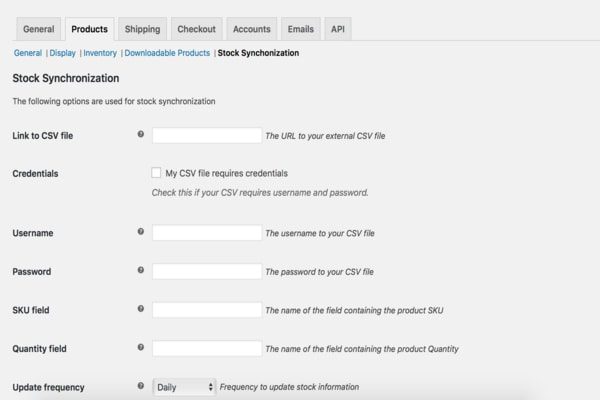 Stock synchronization for WooCommerce is also a good inventory plugin that allows managing your store's inventory with external inventory files. It automatically updates your stock quantities from an external file.
Apart from that, you can also synchronize your stock with an external CSV file. For instance, let's say any one of your suppliers sends you a CSV inventory file so you can easily update them with the help of this plugin. It also supports Dropbox and googles drive for backup. In simple words, it saves your stock information on google drive and dropbox.
The best thing is it works in a good manner with both multisite and regular WordPress installs.
Key features
WPML support
Manages your product prices
Manages stock information
Hourly, daily, and weekly updates
Supports dropbox
Support google drive
Compatible with variation products
Select your delimiter (semi-colon, comma, or tab)
FTP support & large CSV files supported (10.000+ lines)
You can add up to two quantity fields
Pricing
This plugin costs $15 with 6 months of support from a maximum of 1850. You can also extend support for up to 12 months by paying an additional charge of $3.75
Veeqo

Veeqo includes everything that a vendor needs for a successful business. Further, Veeqo enables the business to become more efficient with the ability to manage everything from one platform. It is an advanced inventory management tool that keeps inventory perfectly synced across multiple warehouses.
Veeqo creates the product kit/bundles and keeps inventory balanced. With the help of Veeqo, you can push your products up to Amazon and eBay at the click of a button, and enhance sales instantly. If you want to manage your stock at a higher level then Veeqo is best for it.
Features
Bulk edit.
POS integration.
Pinpoint bin location.
Invoice customization.
Complete price control.
It provides inventory history.
Pricing
Accelerator – 460 Euro/month.
High Growth – 580 Euro/month.
Premium – 880 Euro/month.
It provides custom pricing as well.
Thus, Veeqo inventory management is a smart way to manage and grow your e-commerce business but a bit costly.
Ecomdash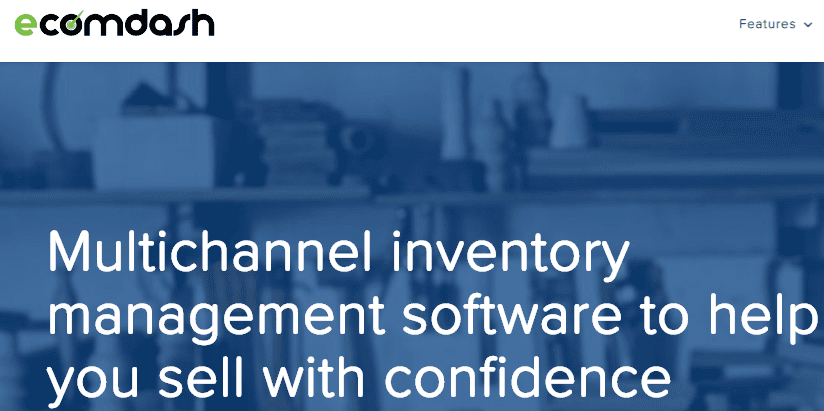 Ecomdash is a new and highly advanced WooCommerce inventory management plugin software. It helps in the automation of stocks and manages WooCommerce very efficiently and effectively. As we all know that the success rate of your online business depends upon inventory management.
If your eCommerce Automation software is comprehensive and advanced then you don't have to worry about the products you sell and don't have to waste time managing the spreadsheets to hold the accounts for your business.
Ecomdash comes with automation software that helps to manage your inventory and stocks automatically. It also allows you to keep a track record of your product details and keep your products up-to-date. You can sell your products from multiple channels and keep a track record of your sales meticulously from anywhere.
You can diversify your product according to its type and can also bundle the product falling in the same category. It featured custom alert options that notify you whenever your inventory level gets low. With the unique mapping ID systems, you can track your product with different keywords and identifiers.
It comes with order management software that helps in fulfilling every aspect of order management. You can integrate this plugin with an unlimited sales channel according to your choice. All we say about this WooCommerce Inventory Management Plugin is that it is one of the most effective and responsive inventory management software used till now.
Features:
Easy to install

Easy management and updating of products.

Improve the visibility of products and supply chains.

Track serialized inventory.

Track products with unique mapping ID systems.

Set custom alerts.

Manages inventory across multiple warehouses.

Create a work record to track the status of finished products.

Accurately view Quantities of components and finished products.

Sell your products in bundles and multi-packs.

Manages sales orders across an unlimited number of sales channels.

Integrated with a large no of plugins for better efficiency and result.
Pricing:
A free trial is available for 15 days.

Either you can pay $50/month or $576/year.
Smart Manager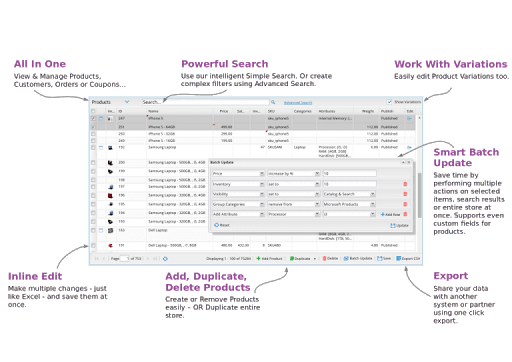 Smart Manager is the best WordPress plugin that provides the speed, ease, and power to manage and control your WooCommerce store by using excel-like Spread Sheets from a single screen. It is one of the unique and very popular WooCommerce inventory management tools from store apps. Smart Manager also helps the users in managing the e-commerce store.
It acts as a battle test for success which works with large stores as well. Power-Packed – 263+ features. Pro add-on for even easier management.
Features
Inline edit.
Batch update.
Simple reports.
Snappier navigation.
Automatic Calculations.
Quick spreadsheet-like browsing.
Pricing
Single site license – $149/year.

The free version is available in the WordPress repository.
Atum Inventory Management

Atum is also the best free WooCommerce inventory management plugin. Further, it gives you full control of the WooCommerce stock. It is an advanced stock management tool for WooCommerce. With the help of this plugin, users can keep track of every item they have in stock.
By using this theme you have the power to change every aspect of your WooCommerce inventory, SKUs, suppliers, weight, and price of the products. The developers of Atum developed a brand new Widget section that can be customized from every corner.
Also, users can create purchase orders, and set up locations, and suppliers. This free tool helps you to control all your products from one screen. It is all in one platform. Meanwhile, to say, the Atum inventory management plugin will take care of all your business needs.
Features
Free.
One page updating.
Quickly edit the product details.
Record any inventory movements.
Complete location for hierarchy tracking.
Export your full inventory into PDF or CSV.
Pricing
It takes the add-on pricing with small businesses in mind.
Stitchlabs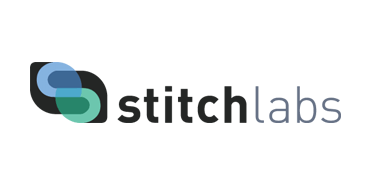 Stitch is offered by Stitchlabs (Stitch Labs is an integrated, cloud-based inventory and order management solution that caters to mid-sized multi-channel retail brands) which is another good e-commerce inventory management tool to consider which syncs the inventory, data, and orders across multiple sales channels, suppliers and fulfillment locations.
It acts as one of the beneficial tools for many e-commerce companies that have one centralized location to view available inventory across those channels and that sell on multiple platforms.
It allows the product to integrate with other eCommerce platforms like Amazon and eBay so that whenever a customer places an order on Amazon or eBay or say your WooCommerce site, all the orders get automatically synced to Stitchlabs and keeps the orders in one location.
Features
Rich in functionality.

The 24*7 support team is

available to solve your queries.
It has zero integration, which

works.

Great inventory system for small businesses with large inventories.

Consistent in adding functionality.

'Tag' contacts and order with bits of critical information.
Pricing
Basic – $799/month.

High – $959/month.

Premium – Customized.
StorePep Mobile App

StorePeP is a handy tool when it comes to continuous store monitoring and management on the go. Further, this native Android app is a great companion for WooCommerce online store owners to keep the way of their store performance.
However, StorePep helps you identify the areas of improvement on your site, and implement solutions instantly.
Also, you can check the product details and updates, stock, description, and price from the StorePeP mobile app. Thus, Real-time push notifications of this app will surely help you stay on top of things.
With this tool, you can access some sales reports that give you great insights into multiple aspects of your store including inventory management. However, by using this tool, you can filter the sales by different time periods like Today, Yesterday, Previous week, Previous month, Current month, or a custom date of your choice.
Features
Dashboard reports.

Monitor your WooCommerce store.

Get real-time shipping rates from multiple carriers on your phone.

Live tracking notification to your customers.

Generate 100s of labels in a few clicks.
Pricing
Free 14 days trial period is available.
Starter package (600 orders) – $9/month.
Popular (3000 orders) – $29/month.
Premium (6000 orders) – $49/month.
Enterprise (Unlimited) – $99/month.
DEAR Inventory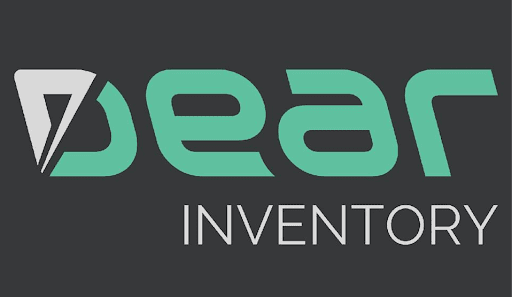 If you need to track the finished goods as well as the list of raw materials, DEAR inventory is a good option. DEAR will allow you to control sales, inventory, and shipping on multi-channels.
DEAR is ideal for manufacturing companies with its pre-defined manufacturing module, which helps you track the cost of raw materials and labor in the production of finished goods. Just as other inventory management systems like Stitch, TradeGecko, and Orderhive. DEAR is a robust inventory management product.
It allows businesses to create a plan, and track each phase of the purchasing process. The solution it provides reminds the user to reorder the stock in time to avoid the stock-out situation. Since this software records the suppliers purchasing history along with product cost and informs the user after certain analysis when to buy the next batch of products.
Features
Unlimited outlets and registers.
User control permissions.
Multiple payment methods
Sale offline and sync orders when online.
Refund and return.
Pricing
It provides 14 days of a free trial.

Monthly – $199.

Annually – $2189 (free for 1 month).
WooCommerce Out of Stock Manager
When your current stock becomes zero, it takes some more time to order again the goods and reach you by transportation. However, this time gap will negatively affect your business a lot. Therefore it is a good practice to set the order for goods before your stock becomes empty.
As the name describes its quality, the WooCommerce Out of Stock Manager plugin will prevent your business from falling down. Also, it saves you from situations like out-of-stock or low-stock. This maintains the flow of business and orders very well. This plugin is also WPML compatible.
The WooCommerce out-of-stock manager plugin has various top features. This plugin allows you to set multiple stock values. Also, the online store admin is able to assign custom low stock values to a set of products and/or product categories too. Besides that, the online store admin can also configure a default warning value for those products that don't match any custom value rule.
The WooCommerce out-of-stock manager plugin helps the site admin to speed up the monitoring and editing of the products. You can do it just by directly adding a widget to the WordPress dashboard under custom low levels so that you can manage all the inventory manageable items too.
Custom product page text feature of WooCommerce out-of-stock manager plugin allows you to customize In stock, and Out of stock using the texts menu. Also, it is possible to manage the Above custom stock level and Under custom stock level with texts that showed on the product page.
Although when the customer places an order, the WooCommerce Out of Stock Manager plugin checks all purchased products remaining stock. Therefore the left value of the purchased products notifies the store admin. In addition, if one or more of the product items has reached a configured custom warning level.
Features
Set values for multiple and custom low stock
Dashboard widget
Custom product page texts
Email Notifications
Multiple email notification recipients.
Pricing
The Regular license will cost you $16
eSwap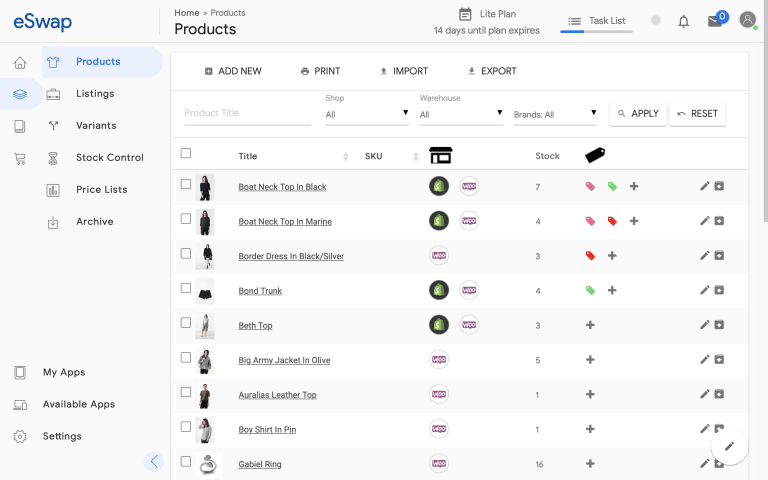 Like others, eSwap also is an enhanced inventory management system. That has all the requirements to control and manage your inventory very effectively. Basically, It is a cloud-based inventory manager. Also, eSwap supports many useful integrations, and WooCommerce is one of them. In addition, with the help of automatically updating and synchronizing functionality, you will be able to balance all your stock levels.
eSwap one-screen inventory management allows you to do per-channel filtering, use custom tags, sorting products, very easily. With the new and easy design, you can see all your inventory on one screen. Also, you can view all stock of all warehouses for each item, add new inventory items directly from eSwap, import and export to CSV, and sync to connected channels.
Although eSwap multi-variant products inventory management allows you to have every separate variant of product stock in warehouses, sell those product variants individually. Also, you can get all reports as per the variants of the product. Besides that, eSwap has different dimensions for variants to make correct shipping estimations and shipping too.
However, with the help of eSwap, you can archive any product for your inventory. You can do so just by keeping all the related information about product prices, images, inventory, etc. Besides that, If you need then you can again unarchive all the products, that too in bulk. Therefore it is a huge time-saving option for you if you are operating a large inventory.
Features
One-screen inventory management
Multi-variant products inventory management
Archive for your inventory
Pricing
Free trial available for you
Premium – $79/month
Business – $199/month
Katana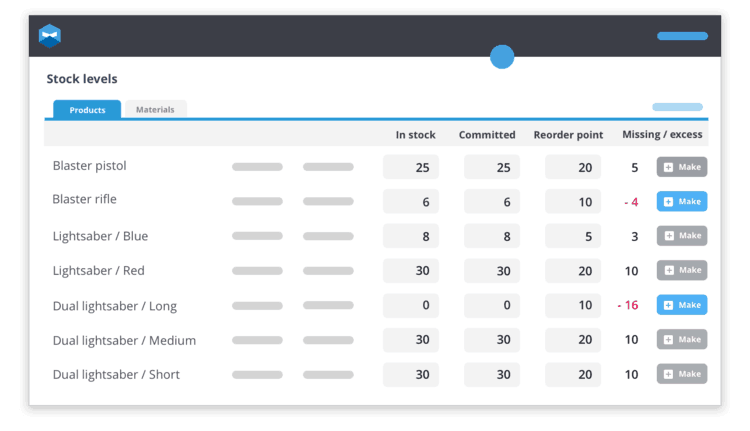 Katana is one of the most popular choices among other inventory management plugins. You can use it for manufacturing & scaling businesses. Because Katana makes it easy for manufacturers to sell their products on WooCommerce. So that they can handle business operations and inventory. Although you can easily create bills of materials with Katana for your inventory products and their variants.
Also, you can gain multichannel inventory visibility and floor-level control too. The Katana is the ultimate smart manufacturing software. This all-in-one WooCommerce inventory management plugin is built by manufacturers, for the manufacturers. However, you can ensure on-time purchasing of goods and materials, manage your products, and avoid stock-outs too with relevant alerts.
Also, you can control the production responsibilities of team members. Because you will have full visibility of your order fulfillment process. Although unlike the majority of other inventory management systems that are available out on the market, this one is specifically supporting the modern product-making businesses looking for scalability. Therefore you can automate your inventory workflow with Katana's visual interface.
Also, Katana has a smart auto-booking engine, that allows you to prioritize orders, and you can see the availability of raw materials and finished goods in real-time. Therefore by adopting Katana into your online store or eCommerce business, you can expect to centralize and get complete control over your manufacturing. In addition, it integrates with WooCommerce, as well as with other e-commerce platforms, and also with advanced accounting software like QuickBooks.
Katana allows you to import all your customer data and products to synchronize your inventory levels and order fulfillment. Also, you can connect one or several online stores to your Katana account. And manage your entire business operations from a single point. Certainly, if you fulfill a sales order within WooCommerce, or complete a manufacturing order in Katana.
Then your stock levels will automatically adjust to give you a real-time and accurate measurement on both platforms. Katana's unique auto-booking system means Katana will automatically take available material and allocate it to the order when a manufacturing order is created. Also, it will let you know quickly if you can begin work or need to order more supplies.
Features
Tracking Finished Goods
Raw Material Availability
Bill of Materials
Priority-Based Production Planning
Multichannel Support
Manufacturing Floor-Level Control
Manufacturing Cost Calculations
Pricing
It offers a 14-day free trial
The Regular license will cost you $79 / Month
Finale Inventory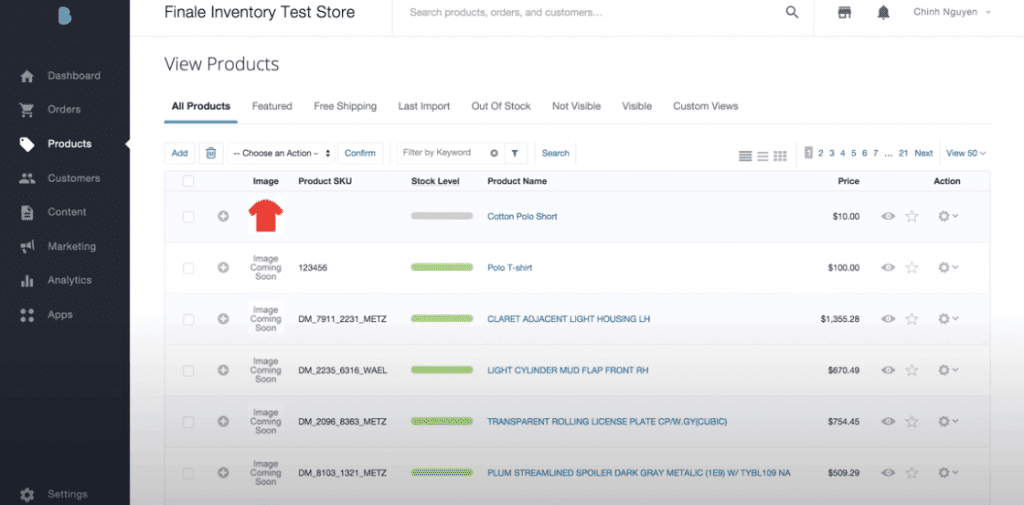 Finale Inventory is also a cloud-based Inventory management tool that automatically syncs with your orders. Also, it allows you to make the proper stock adjustments and keep your inventory up-to-date. Because it is a cloud-based architecture. Therefore your all sensitive and important data is in a secure cloud platform. also, it updates in real-time and is accessible from anywhere in the world with any internet-connected device.
However with Finale Inventory order management functionality. It Integrates with all of your sales channels and marketplaces. That allows you to keep your inventory levels accurate and always up to date. Also, it has a multi-warehouse support feature, that keeps a track of your inventory spread across multiple warehouses or locations.
Therefore, moving your stock between sites is simple with the Finale Inventory. Because the centralized inventory of this plugin keeps track of all of your inventory from one place to ensure that the stock levels are accurate and up to date.
Besides all the qualities the purchasing and replenishment features of Finale Inventory offer you the automatically restock forecasting. With the help of your sales history, the tool can accurately calculate dynamic reorder points that anticipate the best time to request more of a given item.
Features
Purchasing and replenishment
Order management
Multi-warehouse support
Centralized inventory
Cloud-based architecture
Pricing
It will cost you $99/month
StorePep
As there are many highly advanced level WooCommerce Inventory management plugins available in the market. Also, there are some who just started to provide their services. StorePep is one of them because it's a native WooCommerce app for your mobile to manage and monitor your store on the go. It will help store owners maximize their productivity and efficiency by fulfilling orders on time.
The StorePep Real-time alerts you on every single update like order status changes and stock status. Ans its order tracking can display the arranged lists of orders based on different order statuses like Pending orders, Cancelled orders, Refunded orders, etc. The app also lets you find the best-selling products in your store.
With StorePep in-app stock update, you can change the stock status to 'In Stock' right from the phone. Also, manage the shipping. As soon as a product is successfully delivered to the customer, you can change the order status of that order by saying 'completed'. StorePep will inform you about this order through the push notification feature.
In addition, timely sales reports, reports contain parameters like the store's total sales, average daily sales, total refunds, etc. The app displays these reports on the well-organized dashboard.
Features
Timely sales report
In-app stock update
Order tracking
Real-time alerts
Manage the shipping
Pricing
It will cost you $99/month
WooInventory
WooInventory is another smart and decent inventory management solution. It will help you manage your WooCommerce inventory efficiently. This WooCommerce Inventory management plugin offers you a great set of features. That enables you to handle all the aspects of your online store or eCommerce inventory management. There are useful options that enable you to enter purchase invoices.
The stock adjustment would make it really useful to keep your inventory up to date at all times. This report will provide you with insights on all transactions for the period of time that you specify. In addition, there is a stock planner option, which will give you an estimate of how long the existing stock will last. This will help you plan the purchase well ahead in a more assured manner.
The plugin also offers you options to set alerts and email notifications for various stock levels. In addition, there is an item ledger that will give you a complete idea of all the product stock, purchase, and sales details of a specific product item. There is another unique feature called the Stock Position Report of this plugin.
The basic version of the WooInventory plugin is available for $199. However, you can get advanced features like Stock Planner, Alerts, and Valuation in the pro version, which costs $389. Furthermore, you can check out a few add-ons such as POS integration, Purchase Order System, and Multi-Location Inventory too.
Features
Email notifications
Stock planner option
Stock Position Report
Order tracking
Stock adjustment
Stock Position Report
Pricing
It will cost you $199/month
WooCommerce Cart Stock Reducer
WooCommerce Cart Reducer can manage & reduce the virtual stock quantity because WooCommerce can't remove the items from the inventory. This plugin can modify the inventory items, so no problem if your cart data is missing or deleted.
Generally, this plugin is not for all of that but especially who are selling some especially items. This plugin may have the ability to expire items automatically from the cart. The expiration can enable cart stock to reduce. This is a WordPress Plugin 
Key features
Looking at ajax and mini-cart notices
Adding indicators of different kinds to know what item expires on the cart.
Installation
Download the plugin from wordpress.org or
Login to the WordPress Website dashboard
Go to the plugin section, & install from there.
After installing the plugin, you can activate this.
Go to Configure plugin setting
The plugin is showing on the dashboard
Go to their setting section
Integrate the admin page
WooCommerce Attribute Stock – Share Stock Between Products
WooCommerce Attribute allows the creation of global product attribute based on stock. A simple talk of this plugin in Concept, especially flexible, extensive range of used cases.
This plugin can manage very easily, track product stock, temperamental stock & much more. Many advantages have but must be that is your stock levels go quickly out of sync & your customers able to purchase different types of similar products eventually, you have remained one stock of this product does have.
Key features
Attribute-based stock
Limit product stock
Quantity multiplier
Stock management
Stock reports
Low stock emails
REST API
Highly compatible
Developer friendly
Installation
Download the plugin from wordpress.org or
Login to the WordPress Website dashboard
Go to the plugin section, & install from there.
After installing the plugin, you can activate this.
Go to Configure plugin setting
The plugin is showing on the dashboard
Go to their setting section
manage your stocks
Other WooCommerce Inventory Management Tools
Omnichannel Inventory Management from Stitch Labs.

WooCommerce Inventory Management from Finale Inventory.

WooCommerce inventory management and order management from Orderhive.
Given below infographic illustrate the best WooCommerce inventory management plugins
Z Inventory Manager
Z Inventory Manager is another free WooCommerce inventory management plugin on our list. It is a light and easy-to-use resolution to automate stock inventory and make it more efficient. Using this plugin, you can organize your sales, purchase orders, and shipments easily and quickly. The plugin also comes with a paid version that contains added elements such as copy sales and purchases, Inventory stats, and Transaction history. We provide the best inventory system that is installed on your WordPress-powered website.
To do an automatic install: Log in to your WordPress admin panel, a guide to the Plugins menu, and click Add New. In the search domain type "Z Inventory Manager" and click Search Plugins. Once you've found the plugin you can install it by communing Install Now.
The plugin also contains a pro version, helping with additional functionality such as replicating sales and purchases and displaying comprehensive inventory statistics and history. In expansion, you will be able to receive updates for the plugin for up to 12 months.
---
Benefits of Using Z Inventory Management
Improve Business Agility.
Reduced Costs and Higher Revenues.
Higher Efficiency.
Better Visibility.
Compliance, Safety, and Security.
Support
Lot control.
Spanish language.
Currency.
Call to undefined methods.
Inventory in stock levels.
Features
Ship and track sales.
Monitor inventory.
Lightweight.
Real-time inventory management.
Purchase orders.
Reports.
Pro Version Features
Inventory Status.
Copy Sale and purchase.
Transaction History.
24X7 Support.
Report.
Pricing
Free
Basic
Pro
Business
$0.00
$0.00
$3.59
$4.49
$6.39
$7.99
$11.99
$14.99
Per month. Billed annually
Per month. Billed annually
Per month. Billed annually
Per month. Billed annually
300 Views
2,000 Views
100,000 Views
3,000,000 Views
2 Tables
10 Tables
100 Tables
1,000 Tables
3 Plans per table
4 Plans per table
6 Plans per table
10 Plans per table
4 Cells per plan
10 Cells per plan
20 Cells per plan
100 Cells per plan
Billing Cycles
Billing Cycles
Billing Cycles
Billing Cycles
Tooltips
Tooltips
Tooltips
Tooltips
Sign up
Sign up
Sign up
Sign up
Full Plan Comparision
Limits
$0.00/ Month
$0.00
$3.59/Month
$4.49
$6.39/Month
$7.99
$11.99/Month
$14.99
Views
300
2,000
100,000
3,000,000
Tables
2
10
100
1,000
Plans per table
3
4
6
10
Cells per table
5
10
20
100
WP Inventory Manager
WP Inventory Manager is a relatively new inventory management plugin with only 1000 plus active installs on the WordPress storage. That, however, doesn't mean it is any less practical than the plugins noted in this list. Using this plugin, you can manage bulk items in your account and change their stock levels, and pricing, and add variation pricing in a single click. The plugin also comes with a paid version that contains added elements of support and the ability to use paid addons. WP Inventory Manager is an effortless-to-use plugin to contain products on your WordPress dashboard. The setup has no nuisance, and the drag-and-drop feature makes the plugin perfect for beginners. This powerful tool includes add-ons to help your business. WP Inventory Manager is an easy-to-use plugin to handle inventory on your WordPress dashboard. The setup has no nuisance, and the drag-and-drop feature makes the plugin perfect for beginners. This effective tool includes add-ons to help your small business. Manage products, equipment, and more on your WordPress website. Excellent for car dealers, art collectors, parts sellers, etc.
How to do Installation Upload 'wpinventory' to the '/wp-content/plugins/' directory.
Activate the plugin through the 'Plugins' menu in WordPress.
Click on the new menu Button"WP Inventory" and follow the quick-start rules.
Benefits of using WP Inventory management
Using a WordPress inventory management system, you can simply do that. All the points regarding your developments will be in the system. So, after a specific time, you can check your stock without having to spend a good amount of time. Also, you can add products to inventories
Support
Supports multiple categories.
Fully customizable labels.
Templating system makes customization easy.
Choose what fields you want to use and mark them as required.
Uses different database tables for quicker database access.
A developer is familiar with themes, filters, and utility operations.
Features
Advanced user control.
Advanced inventory manager.
Advanced search.
Bulk item manager.
Reserve cart.
Pro Version Feature
Advanced Inventory Manager.
Import and Export.
Ledger.
Reverse Cart.
Bulk Item Manager.
Location Manager.
Advanced Search.
Advanced User control.
Pricing
Free
Standard
Professional
Premium
$0
per organization/year
$190.51
per organization/year
$342.92
per organization/year
$520.74
per organization/year
50 Orders/month
1500 Orders/month
7500 Orders/month
15000 Orders/month
50 Shipping labels/per month
1500 Shipping labels/per month
7500 Shipping labels/per month
15000 Shipping labels/per month
50 Aftership tracking/month
1500 Aftership tracking/month
7500 Aftership tracking/month
15000 Aftership tracking/month
1 Warehouse
2 Warehouse
5 Warehouse
7 Warehouse
2 Users
3 Users
5 Users
10 Users
Composite items
Composite items
Composite items
Composite items
Client Portal
Client Portal
Client Portal
Client Portal
GET STARTED
GET STARTED
GET STARTED
GET STARTED
Addons
ADDONS
Additional Users
Additional Warehouses
Order and Shipping labels
Advance Auto scans
SMS
$22.86 For each additional user
per organization/year
$76.19 For each additional warehouse
per organization/year
$4.57For 50 orders + 50 shipping labels
per organization/year
$5.32 For 50 scans
per organization/year
$0.95/credit
You must buy a minimum of 5 credits
WP ERP Inventory Manager
WP ERP (Enterprise Resource Planning) is a complete WordPress business manager WP ERP has 3 core modules HR, CRM & Accounting. This module makes a complete ERP system for any kind of business that is tending to a crossbred-site request for fake exposure. WP ERP is an all-in-one ERP solution. The plugin delivers a Customer Connection Management Module, a Human Resource Management Module, and an Accounting Module. Whether it is a calculation, attendance, HR administration, payment gateway, or your company's investment management WP ERP has got you covered. The plugin also comes with a paid version that contains added elements of support and the ability to use paid addons. WP ERP is the first full-fledged ERP (Enterprise Resource Planning) system through which you can simultaneously handle your WordPress site and business from a single medium. WP ERP's free version has all the necessary parts you need to handle the basics of your business.
WooCommerce is directly connected to WP ERP through WooCommerce integration. Introduce stock management qualification into your WP ERP system by counting the Inventory Management attachment.
Install and activate the attachment like any different plugin.
Please note that WP ERP must be installed and activated in the directive to use this extension.
Only Accounting Supervisors will be capable of considering and using the Checklist menu. Navigate to the WP Admin Dashboard → WP ERP → Accounting → Inventory.
Support
Creating product categories
Creating products
Adding stock to the inventory
Selling stocks as products to customers
Generating reports on the stock
WooCommerce integration
Benefits Of Using WP ERP Inventory Management
Enhanced Business Reporting.
Better customer service.
Improved Inventory Costs.
Boosted Cash Flow.
Cost Savings.
Better Data & Cloud Security.
Business Process Improvement.
Supply Chain Management.
Features
Create contact groups.
Make notes for each customer.
Schedule calls and meetings directly.
Create a company profile.
Activity logs show all dealings.
Contact live stages to prioritize service.
Pro Version Feature
HR Email Digest weekly/Monthly.
CRM Customizable Life Stages.
Task Management in CRM.
Sale and Purchase Returns.
Work From Home.
Employee Resignation.
Company Org Chart.
Pricing
HRM
WP ERP Pro $9.99 month (+9 premium extensions)
Training
$2.49/mo
Payroll
$9.49/mo
Workflow
$9.49/mo
Reimbursement
$4.99/mo
Custom Field Builder
$4.99/mo
Recruitment
$9.49/mo
Attendance
$4.99/mo
Document Manager
$2.49/mo
SMS Notification
$2.99/mo
Asset Manager
$3.49/mo
CRM
WooCommerce
Integration
$5.99/mo
Deals
$9.49/mo
Workflow
$9.49/mo
Custom Field Builder
$4.99/mo
Document Manager
$2.49/mo
SMS Notification
$2.99/mo
Accounting
Payment Gateway
$4.99/mo
Payroll
$9.49/mo
WooCommerce
Integration
$5.99/mo
Workflow
$9.49/mo
Reimbursement
$4.99/mo
Custom Field Builder
$4.99/mo
Inventory
$4.99/mo
Conclusion
Managing an inventory is not an easy task and at the same time, it is very important to keep an efficient flow of your online business stock. Often the task can be tiresome and challenging when you have multiple sales and procurement channels.
Therefore, we have discussed here some of the best Woocommerce inventory management plugins that can help you to streamline your inventory in the best possible way. You are just on your way to getting more exposure.
Use the comment section given below to share your opinion regarding this blog, if you find it useful, also to share the blog with your peers.
If you have any difficulty, you can get instant help from our WordPress Technical Support Experts as they will fix your issue without any wastage of your precious time. Dial +1-855-945-3219 (Toll-Free). We will be pleased to help you.

Thanks!
Recommended Blogs:
11 Most Useful WordPress Accounting Plugins And Software