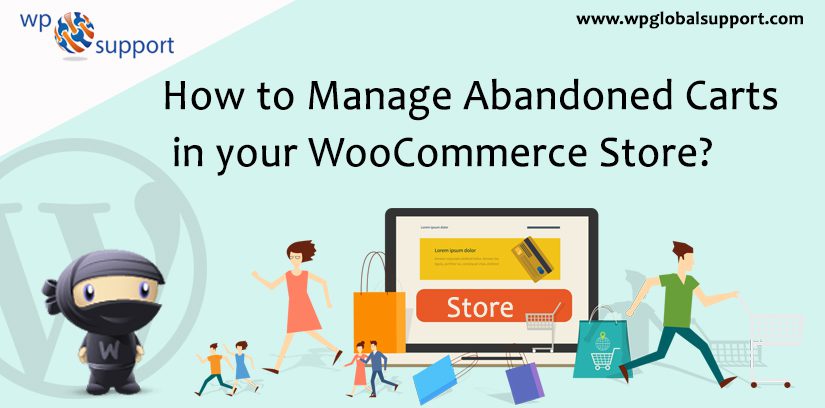 Are you looking to Manage Abandoned Carts in your WooCommerce Store? Read this ultimate guide and manage Abandoned Carts in your WooCommerce store easily. Did you know that about 69% is the average shopping cart abandonment rate? That's huge!
However, as the business owner, you have to reduce this rate. And to do the same, you have to know the underlying reasons for Cart Abandonment.
There are several reasons:
An unexpected shipping cost added.
The checkout process is confusing or too lengthy.
No guest checkout option, and so on.
Insufficient payment options.
Although you can solve these issues by making a few changes on your WooCommerce site, there are techniques to reduce the cart abandonment.
For example, the client was only surveying various options and abandons the cart to buy it from the opponent. In such scenarios, you need to employ an abandoned cart recovery strategy.
For best and instant support regarding WooCommerce Setup talk to our Experts by dialing our Toll-Free number +1-855-945-3219.
Manage Abandoned Carts in your WooCommerce Store?
Abandoned Cart Recovery
Since the problem of the cart abandonment is old as online shopping itself. Therefore many research has gone into completing the abandoned cart retrieval strategy.
Thus, being the most popular email campaigns. Businesses have seen a 12-13% cart recovery rate within days of employing email retargeting campaigns.
Sending Customized Emails
Personalized email can work wonders. However, this is not just a message that needs to be optimized, the client should be mentioned as a reminder of the abandoned order. Also, there should be a link to restore the abandoned cart.
Also, you could experiment with the template, and analyze which template works best depending on which template is the most responsive.
Thus, for multilingual sites, email templates can be made compatible with multiple languages to meet customers that belong to different areas.
Adding Coupons and Offers to Emails
Considering the stats, about 75% of visitors abandon their cart had the intention to make a purchase. The best way to force them to buy products would be to entice them with a discount or offer.
However, the free Shipping works like a coupon code. And the coupon mentioned in the follow-up template and can give customers a discount on the abandoned cart.
Establishing a relationship with email marketing service will be a great way to manage your email recovery campaign for WooCommerce. Alternatively, you can also see plugins such as Abandoned Cart Pro, or WooCommerce Recover Abandoned Cart.
Analyzing User Interaction Stats
Now, you cannot ignore user interaction analytics. Therefore, analyzes for abandoned and recovered carts, help to understand which products are being abandoned, and which recovery strategies are working.
Admin emails can help too. If a user recovers an abandoned cart, then a mail should go to the owner of the store to inform that the product has been purchased.
Emptying Abandoned Carts
While abandoned carts are sometimes recovered by the users, some may just show no answers. In this type of case, the cart is empty to ensure that the inventory is longer. This step is important as your recovery efforts. And it cannot be ignored.
After all, you do not want interested customers to leave your WooCommerce store without shopping due to insufficient inventory.
CONCLUSION
Due to abandoned carts, a lot of revenue is lost. Here, we have mentioned some steps about How to manage Abandoned carts in your WooCommerce store.
Some of these steps can help to recover such abandoned carts.
And this leads to the end of the blog!
If you have any doubts or suggestions, feel free to share them as comments. Hope this blog is helpful to you!
Get more information related to a wordpress contact wordpress support phone number, +1-855-945-3219(Toll-Free). Our Experts will guide you instantly.