The admin panel or admin area is also known as the administration area in WordPress website where only an authenticated user can make changes. Generally, to access it, visit wp-admin directory in your web browser. For example, http://www.wpglobalsupport.com/wp-admin/
In other words, it allows you to create and manage posts, pages, menus, media, change styling in the form of themes, add functionality in the form of plugins, and much more. Furthermore, it is the administrative center of a WordPress website. However, Editor, Contributor, Author etc. such type of users have limited access of admin area.
Apart from this, there is a toolbar or admin bar at the top of each administration screen that gives you access to some administrative functions. And there is main navigation on the left side of the screen that gives you access to most of the WordPress management tools. The middle area of the screen is called the work area where you can edit, write, and delete posts. At the end of each page is called footer area. Generally, each & every part comes with a sub-menu.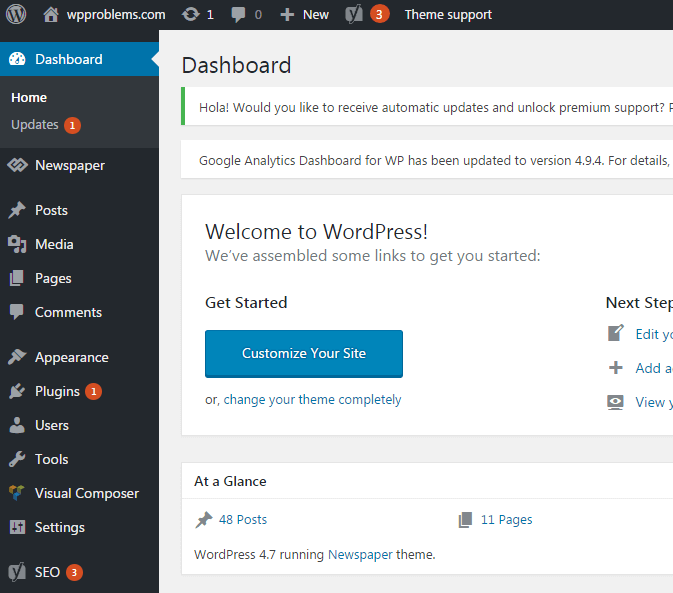 WordPress admin panel contains these following parts:
Admin Menu:

It is the main menu of the admin panel. It contains menus and submenus items which user can easily choose and go through.

Admin Bar:

It is the top bar located in the top side of the admin area dashboard. It can contain some useful links and information. An authenticated user can only see this functionality.

User Info:

It shows the information about currently logged in user. It is situated on the top right corner of the WordPress site. It also shows some other useful information about the user and a logging out button in its bottom.

Content Area:

It is the central part of WordPress admin panel/area where all the information shows.

Help:

It shows some information about help related to WordPress issues.

Dashboard Widgets:

Dashboard widgets contains all the structured pages in the dashboard.

Screen Options:

It gives the user to show or hide some elements on pages.
How to accessing WordPress admin panel
By default, WordPress powered website provides a URL by which you can access the admin area of your site. The link something look like this:
https://example.com/wp-admin/
However, all WordPress users can log in to the WordPress website but the permission depending on their role. Like:
Administrator: have access to make any changes in WordPress site.
Subscriber: have access only one page – their profile. They can update only its own personal information.
Editor: have access to edit post, pages, etc. Means to say, it does not have access to do anything in the entire site.
To Know More: