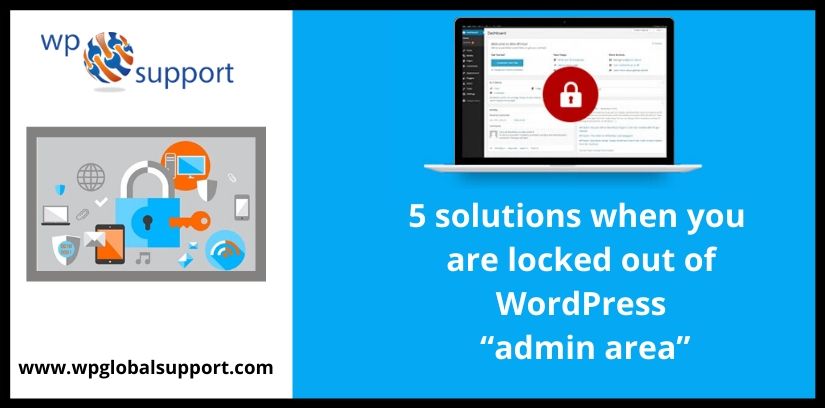 If you've been locked out of your WordPress Dashboard and can't imply to access anything, don't worry. In this article, we will show you what to do when you are locked out of WordPress admin panel. So you can re-access your site. When you are locked out of WordPress "admin area". Suddenly a million terrible thoughts start coming in your mind like:-
Did someone hack my site?

Can be the issue resolved.
There are some reasons why you could be locked out of your WordPress admin, so let's take a look at each one of them one by one. Hopefully, through this process, you will be able to find out of your problem.
1. Error Establishing Database Connection :
Have you ever seen this error on your website? The main reason behind why this error occurs because WordPress is unable to establish a Database connection on your site. It could happen for different reasons. It could happen if your database got corrupted for some reason and your web server is having some issues.
If you are facing this issue, then see our whole guide on how to fix the error establishing the database connection in WordPress.
2.

Incorrect Password Issue :

Once, when you are typing an incorrect username and password, you won't be able to log in. In some cases when you are trying to reset your password you never receive an email. Some of the times it happens due to the victim of a hack. We suggest you reset your WordPress Password.
3.

White Screen of Death:

In your WordPress admin are you seeing a white screen? It usually happens because the exhausted the memory limit. This issue referred to as the white screen of the death. It could be caused by a badly coded plugin or theme or by inaccurate web hosting. If you want to get rid of this error, then see our guide on how to Fix the white screen of death in WordPress.
4. L

ost Admin Privileges :

Many of the times you may Log in to your WordPress admin, but you don't see any admin or any admin's functionality, for example, no themes, no plugins etc.

This could happen when your user permissions were modified or generally due to hacking. Hacker would be the infected website and then they delete your admin rights. In this case, you should add an admin user to the WordPress database via MySQL (phpMyAdmin).
5. PHP Errors (Syntax error, unexpected function etc) :
Syntax errors usually happen when you are pasting a code from a website, but if you don't know what are you doing it can be a failure. If you posted a code on a website and it will block your WordPress admin, then the only way is to fix this issue to using the FTP program.
Once you have installed the FTP program you have to log in to your site and Go to the theme file that you modified. Most likely it was the functions.php file. Now, get rid of this code you added in there. Re-upload the file and you should be fine to go. You can also fix the Syntax Error in WordPress very easily.
CONCLUSION
Being locked out of the WordPress admin or wp-admin screen can be an annoying issue to the user. You lose the capacity to edit your site, publish new blog posts or take responsibility for comments and other administrative works. Hopefully, after going through all of these possible schemes, you have already fixed your site.
If you are unable to resolve locked out of WordPress "admin area" Talk to our WordPress support team to get instant service. Dial +1-855-945-3219 now.We will be pleased to help you.
Read some other Blogs: