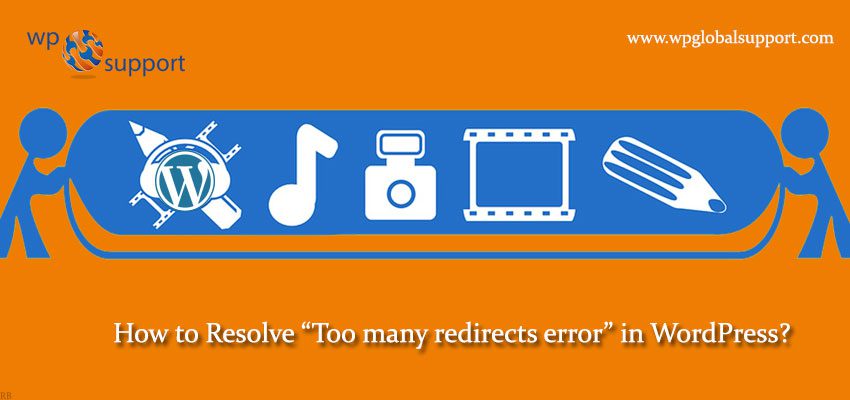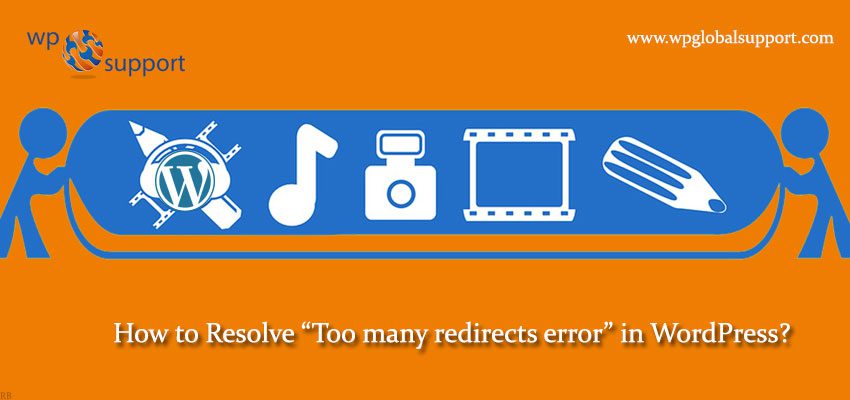 Are you facing "Too Many Redirects Error" on your WordPress site? It is one of the most general problems faced by most of the users in WordPress. No need of getting frustrated, there are many easy ways to solve this Redirect Error in WordPress. The Redirect Error will Block the accessing of your WordPress Site.
Such an error can make you in trouble but In this article, you will see straightforward solutions for fixing too many redirects issue in WordPress
What is too many redirects Error in WordPress?
It is known as a 310 error but can sometimes show up as a 404 "page not found" error. It means the browser you're using doesn't know where it's assumed to go. The main problem is that your browser can't reach your site either because the address you entered points to too many places or the address isn't marking to the exact place.
You could be seeing these error message like this:
Your home and sites are incorrect and different.

There are misbehaved plugins installed that redirect your site.

There's a blunder with costume changes to the .htaccess file.

A new site is created in your network with the same URL as a deleted sites.

You are hosting multiple sites or network on one IP address.
Reasons for Getting Error Too Many Redirects in WordPress?
This error generally occurs due to a misconfigured redirection issue. As you know that WordPress has SEO friendly URL Structure which uses the redirect function. Some other WordPress plugins also use the redirect services. Where a plugin is defined as a type of software that contains a group of functions that can be added to a WordPress website. They are used to provide additional functionality to your application.
Like, WordPress SEO plugin which allows you to delete category base from category URLs by redirecting users to a URL.
WordPress SSL and cache plugins also use redirects. Due to a misconfiguration in any of these redirection tools, your site may stop redirecting users to a URL. In that case, the user's browser is captured between two pages and thus you see the error.
Resolving too many redirects error in WordPress:
Most of the time a user has site address URL and WordPress address URL setting. In this case what you will need:
1. Checking your URL setting: First off all this point is important for error is to check your URL setting.
a) Checking URL setting via administrator Dashboard: Firstly you go to the WordPress admin area and click setting, your general setting should appear by default. Check your site address (URL) and WordPress address (URL). Next, you see your URL is correct.
As admin area is also known as the administration area in WordPress website where only an authenticated user can make changes. It allows you to create and manage posts, pages, menus, media, change styling in the form of themes, add functionality in the form of plugins, and much more.
A theme is a group of stylesheets and templates that are used to describe the appearance and display of a WordPress site. A WordPress theme changes the layout & design of your site. Also, templates are those files which control how your WordPress site will be displayed on the Web.
The articles posted by the admin of a WordPress site are called posts and pages are like posts. Pages can be managed in a hierarchical structure in WordPress.
b) Changing/checking URL setting manually: When you want to be able to the admin area of your WordPress installation this point is possible in that case. With help of WP_configure.php file, you can change your URL setting. You can also edit the file by downloading the file or your file manager then editing it.
You can edit the file via file manager using the following step:
Hosting your file manager by using hosting control panel.

Find your wp_configure.php file and after

that press edit.

Add the following lines to the file and replace

http://example.com

with your WordPress URL and also replace

http://example.com/WP

.

After above step click save icon.

And last visit your website to check the changes of WordPress URL fixed ERR_TOO_MANY_REDIRECTS error.
2. Disabling your plugins: Another reason to cause of this type of error is corrupted or outdated plugins. You can disable all of your plugins very easy to follow step:
Access your file manager using your hosting control panel.

Find your WP_content folder and access it after that you will see plugins folder.

Select plugins folder and then choose rename option. Now rename your plugins backup.

And the last step click save button.
3. Disabling your .htaccess file: This is also another type of problem int a redirection loop, in this case you can disable your .htaccess file to regain access your site, follow below steps:
Access file manager by using your hosting panel.

Select your .htaccess file, press right button and choose rename option.

Rename your .htaccess file to anything else if you want.

And the last step access your domain.
As, where the .htaccess(hypertext Access file) is the configuration file of a website. This configuring file used to run Apache Web Server software. Any alteration in this file can cause an error.
CONCLUSION
In too many redirects issue your WordPress site goes down and your browser tells you if there too many redirects or that your site is in a loop. We hope that this article helped you to solve error too many redirects issue in WordPress.

You can also visit our site for any further support and help, dial WordPress customer service phone number +1-855-945-3219 (Toll-Free).