8 simple ways to fix WordPress 500 internal server error
Last Updated:

Sep 15th, 2018

Posted by:

admin

Category:

How to Fix
Wondering how to get rid of WordPress 500 internal server error? We will show you the 8 simple ways to fix WordPress 500 internal server error. The 500 internal server error runs on every page of your site when there's a problem with the server or file system that's disturbing your site thoroughly. This usually occurs in the root directory, where your WordPress files are, but it can also be caused by a problem on your host's server. So let's have a look at how to fix WordPress 500 internal server error.
What is 500 internal server error in WordPress?
500 internal server error in WordPress is one of the most irritating errors that can occur in WordPress.
It is a server-side problem. When you type a particular URL into the address bar you are requesting the server to display a page. Due to some reason, the server is unable to show you that page and that is why it raises its hands (not really) and tells you there's an error.
The "500" is the server response code for this type of error and "internal" means that the error is on the server side and not at your side.
Also Read: 2 simple methods to fix WordPress RSS feed errors
Reasons for getting Internal Server Error in WordPress?
Internal server error is not limited to WordPress and it can occur with anything else running on your server as well.
When you are trying to access the administrator area while the rest of the site works well.
Other causes of internal server error in WordPress are corrupted .htaccess file and PHP memory limit.
Solutions to fix 500 internal server error in WordPress:-
1. Backing Up Your Site
These solutions require making a lot of changes in your site's root directory. It's strongly recommended you backup your site before trying any of these solutions in case anything goes wrong.
2. Check .htaccess file
500 Internal Server Errors is caused due to misconfiguration of '.htaccess' file. So rename it like '.htaccess_bk'.Generally, this folder is present in public_html folder of your file manager. As it is a hidden file you need to choose the option called show hidden files in settings of your file manager. Check the permissions for '.htaccess' usually, it is 644.
3. Check PHP version
If you are using PHP version above 5.3 and your .htaccess file consists of "register_globals = on" line you need to remove it and reload your site. As register globals only support till PHP version 5.3.
4. Check WordPress Themes
Next, open the '

themes

' folder and rename the folder containing all files which access the theme which is activated.

It will deactivate the current theme and the default theme will be activated automatically.

At Last, reload the website.
5. Increasing the PHP Memory Limit
Sometimes this Internal server error can occur if you are exhausting your PHP memory limit. If you are seeing the internal server error when you trying to login to your WordPress admin or uploading an image in your wp-admin, then try to increase the memory limit by following the below-given steps:
Firstly, create a blank text file called php.ini

Paste this code in there: memory=64MB and Save the file

Using FTP upload it into your /wp-admin/ folder.
If increasing the memory limit solve the problem for you, then you have fixed the problem temporarily. The reason for saying this is because there has to be something that is exhausting your memory limit. This could be a bad coded plugin or even a theme function. We recommend that you ask your WordPress web hosting company to look into the server logs to help you find the exact problem.
WordPress Website Maintenance Service, Dial + 1 888 614 0555(Toll-Free)
6. Deactivate all Plugins
If none of the above-given solutions worked for you, then this error is being caused by a precise plugin. It can be possible that it is a combination of plugins that are not playing well with each other. So, you have to deactivate all WordPress plugins at once.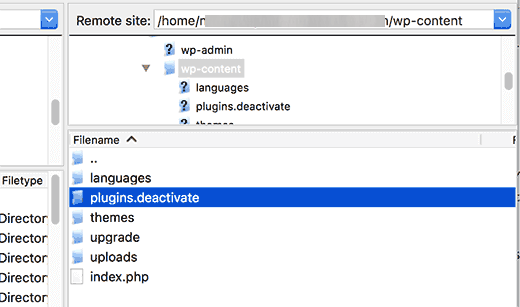 If deactivating all of the plugins fixed the error, then you know it is one of the plugins that is causing the error. Just go through and reactivate one plugin at a time unless you see the one that caused the issue. Get relieved of that plugin, and report the error to the plugin author.
Read More: How to fix 'Another Update in Process' WordPress Error
7. Re-uploading Core Files
If the plugin option didn't fix the internal server error, then it gives the benefit re-uploading the wp-admin and wp-includes folder from a fresh WordPress install. This will NOT delete any of your information, but it may easily fix the problem in case any file was corrupted.
8. Ask your Hosting Provider
If nothing works for you then get in touch with your hosting provider. By seeing the server logs, they should be able to get to the bottom of things. Have a look at our guide on How to choose best WordPress Hosting.
WRAPPING UP
These are all the available solutions that may fix the internal server error problem in WordPress. So, from this article, you will get a clear opinion from where literally the problem arises when you encounter 500 Internal Server Error. Hope this article saves your time from investigating and fixing the error.
If your problem is still not solved, contact our WordPress Support Team. Dial Toll-Free: +1 888 614 0555 to talk one of our executives.
Some of our other blog which you might find useful: