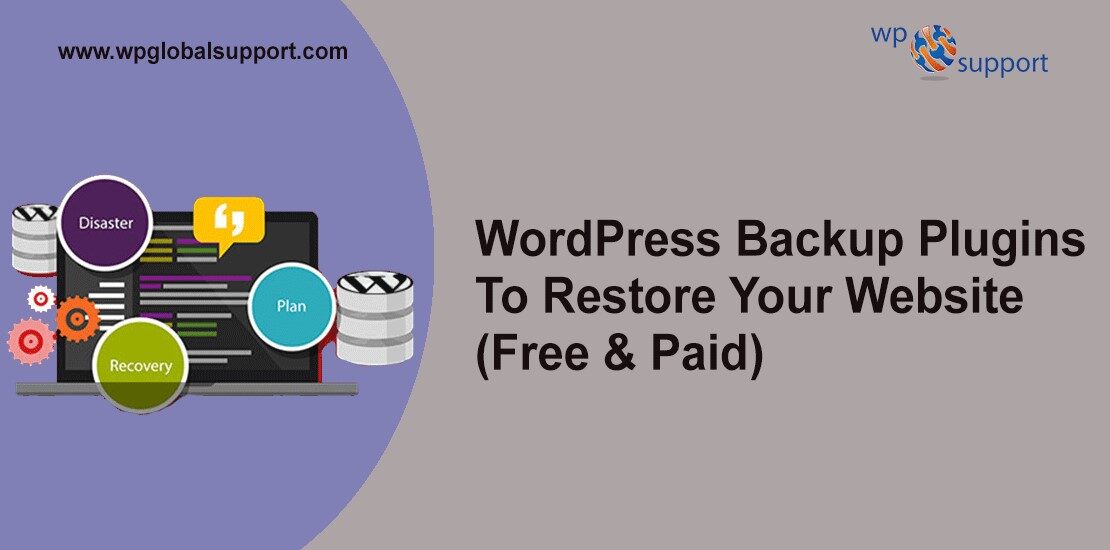 WordPress needs to overcome everything! So, why to behind in case of creating a WordPress backup. Hence, we brought some best backup plugins for WordPress to restore your WP Website.
Creating a WordPress backup on a regular basis is the compulsory task to save your site when something goes wrong. This means to say, backing up your site saves you in destructive situations like when your site gets hacked or due to any reason you accidentally lock yourself.
Imagine that you have spent a lot of time maintaining your blog … and all of them have vanished only in an instant, how would you feel? Means, you worked very hard, and they all have disappeared in just a few seconds.
Despite something bad happens to your site, a single WordPress plugin can save your valuable business. Note that there are many WordPress hosting providers comes with limited backup services. But we recommend not to depend only on them. Being a site owner it's your responsibility to create your WordPress backup.
Thus, there are a lot of free and paid WordPress backup plugins that are quite easy to use and will help you to backup your entire site. But before this, let's see why your site fail and lose their data;
Some reasons to failure your site
Datacenter problem – where your site lives, that also known as the houses of the server.
You don't pay on time for your hosting.
Accidentally, your host deletes your sites.
Your site gets hacked or infected with malware.
If themes and plugins do not update properly.
You tweak such code that destroys your site and you can't identify that the code caused it.
Now,
What to look into the backup plugins for WordPress?
You know very clearly, creating back up of your site is half part of the battle. That's why you need to check what features a plugin should have for doing this task properly. However, there are a lot of plugins available to backup your site, but you have to choose one that allows you to take complete backup and restore your site. It can be a bit difficult but thereafter reading the blog it becomes easy for you.
Listed below are the things that should have in a WordPress backup plugin dropbox, choose one of them that fit your needs;
Backup methods
Complete backup: Some plugins allow you to create complete backup including your all WordPress files and database.
Database backup: Some plugins allow you to create only WordPress database backup.
Scheduled backup: Some plugins allow you to schedule backup to run automatically.
Backup location
Before sometimes, most over the WordPress plugins store your backup files only on your own server. But now to improve your WordPress site security, all good WordPress backup and restore plugins store your backup files to remote locations like Google Drive, Dropbox, or Amazon S3. From here you can restore your site easily even in case your site gets hacked.
We recommend, pick a plugin that allows you to create a complete backup and schedule automatically. Apart from this, a thing – WordPress migration that is different from the restoring process because it includes changing your domain name. For which it is necessary to find and replace on your database in phpMyAdmin.
Therefore, if you will think ever to migrate WordPress site, look at the WordPress website backup plugin that supports migration.
Now before bending towards the point, let's discuss some key features that every plugin have;
Key features of WordPress backup plugins
When you select your backup plugin options, there are some features that come with all the backup plugins. They are:
Automation: To be honest, backup plugins are running slightly if they are not automated; You can conduct manually the backup every time.
Ease of use: Depending on the way of the technique, they all are easy to restore from backup.
The ability to back up your entire site: You do not want your database, but all your media files, themes, etc. The backup that only restores your website leaves you plenty of work to do.
Support: If you suddenly encounter a problem while restoring your backups, then you should have the resource to get started.
Best WordPress Backup and Restore Plugins
Best WordPress Backup and Restore Plugins
WPvivid

The WPVivid WordPress website backup plugin offers you some great features. Such as it can be scheduled automatic backups for the website. Although one-click restore, as well as migrations, options are also available. In addition, you are able to send backups with this plugin to remote storage services. As well as you can migrate entire websites or files to new hosts and domains efficiently.
Besides that, you can also customize the backup content. However, you can also lock the backups to prevent it from auto-deletion. WPvivid offers you a completely free backup, restore, and migration solution for any WordPress websites. Certainly, they also have a pro version that offers a lot more features such as staging and merging. But the best part is that these offers are lifetime deals.
Key Features
Automatic Backup
Backup Uploads
One-Click Restore
Log Files available
Manual Backups
Backup to Localhost
Easy Migrations
Instant Email Report
Multiple Cloud Storage options
Pros:
Live progress monitoring feature available
The pro version extends the cloud storage
Therefore it supports for pCloud and Wasabi
Large database backup available
This plugin supports full website backups
Backups can be locked to keep it safe from auto-deletion
It filters large files from a backup to speed up things
It gives lifetime deals that are quite affordable
Cons:
You have to buy the highest package for using most of the plugin
Not all premium package offers features such as staging and incremental backups
Supports only Beaver Builder, Elementor, and SiteOrigin builders
You have to buy a premium package to get full access to it
The most robust features did not include in the starting package
Pricing: WPvivid backup plugin available for you at the price of just $99 to $299 only for a lifetime purchase. Though, if you need the high-level agency-grade service, then you will have to buy its highest package.
Preview: Well, the WPvivid website backup plugin is worth useful if you want to backup your site. Also, considering the fact, that this plugin has the best price which seems more than worth it for a lifetime deal.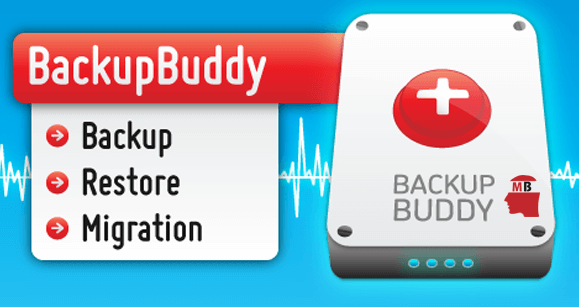 It is the most well-liked premium WordPress backup plugin founded by Cory Miller in 2008. With more than half-million installations, it allows you to schedule daily, weekly, and monthly backups.
More so BackupBuddy automatically stores your backups in cloud storage services such as Amazon S3, Dropbox, Stash (their cloud service), Rack space Cloud, FTP, and even email also. If you apply their Stash service then have the ability to do real-time backups.
It is one of the best WordPress plugins in comparison to others because it creates the entire backup of your WordPress installation such as your all files in the WordPress media library, backup all WordPress files, WordPress plugins, and themes, and much more. Means, you will have a copy of your entire WordPress installation that you lost.
After creating backup completely, the plugin provides you a downloadable zip file of your complete site.
There is a good advantage of using this plugin is – It is not a subscription-based plugin, it's free of cost, means no monthly fee. Therefore, you can use the plugin in numerous site mentioned in your plan.
To store your backups, you will also get accesses to premium support forums, 1 GB of cloud storage, and regular updates. However, with its iThemes Sync features, you can manage up to 10 WordPress site from a single dashboard.
Finally, it is multi-features plugin, means to say, you can duplicate, restore, and migrate WordPress site.
Key features
Entire site backup plugin.
Single click setup and easy to configure.
Setup automatic multiple backup schedules on a daily weekly, or monthly.
By uploading an ImportBuddy or individually file, it restores your site.
Pros:
The plugin allows you back up individual files such as PHP, .html, and some other.
Cons:
It accomplishes malware scanning and troubleshooting operations as well.
A few of features are beyond the understanding of non-technical bloggers.
Pricing: $52 for blogger plan for single site license.
Review: This premium WordPress backup plugin is the best solution for you. It is fully featured works for you to restore, backup, and migrate a WordPress site. Finally, it is a powerful alternative to VaultPress and UpdraftPlus.
VaultPress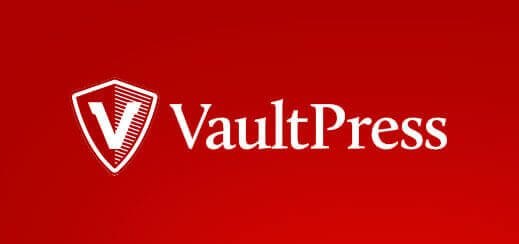 VaultPress is a real-time WordPress backup plugin founded by Matt Mullenweg and the team at Automattic (that currently operates millions of websites on WordPress.com.)
In the beginning, it launched as an independent plugin, but now it becomes a part of JetPack (Automattic another product.) That's why to use this plugin you will need the JetPack subscription plan. However, it comes with multiple pricing plans with various features.
However, jetpack's higher plans also provide security scans and some other advanced features.
This plugin also creates the entire backup like post, comment, revision, media file, and dashboard settings. Fast forward, it has been there in for quite a long time. The seamless working and fixed approach seem to attract WordPress users. It achieves the job of backing up your data, in a secure platform, with utmost perfection.
However, with this plugin, you can protect your site from malware, hackers, damage, accidental, and host outages.
It also has few downsides;
It is a recurring expense that you can add up in case you have many sites because you are paying per site.
You will have to get WordPress.com account, install and subscribe to jetpack plugin.
Your backup you have created are stored only for 30-days on the lower plan. You will have to pay $29/month in case you want an unlimited backup archive.
Key features
Inbuilt storage, you don't need to connect any third-party platform such as Dropbox.
Automatic daily backups.
It comes with customer support.
Daily scans for malware.
One-month money-back guarantee.
Pros:
It contains the much-desired real-time backup feature
Security scanning attribute is an added advantage
Cons:
Other plugins give extra attribute, VaultPress is just anxious with backup and security.
Pricing: $39/year for JetPack Personal plan
Review: It is a part of Jetpack that provides the best value for money. It is an easy option for you in case you use Jetpack features like social media promotion, JetPack CDN for photos, etc.
BlogVault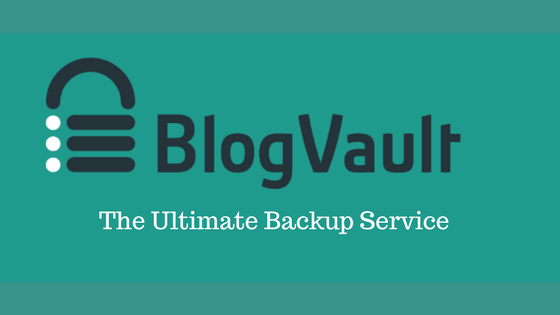 BlogVault is the best and most reliable incremental WordPress website backup plugin. More so it comes with free staging environment and cloud storage. It is trusted by 4,50,000+ website worldwide. Along with being a WordPress plugin, it is also a Software as a Service (SaaS) solution.
Further, BlogVault creates daily site backup and also lets you create unlimited on-demand backups manually. Not only this but, it also creates offsite backup independently on its own servers. That's why there is no load (zero loads) on your servers.
This plugin has a smart incremental backups feature that sync incremental changes so that your server takes minimum loads. This gives the best performance for your site. Along with backups, you can also restore and migrate your site to another host easily. You can store your backup for up to 90 days so that you can restore your WordPress site from any mishap.
This is a bit expensive plugin in comparison to others. You have to pay $89 for basic plans for a single site license.
Key features
Come with inbuilt free staging.
Run without technical knowledge.
Personal customers support for users.
Install and setup just 60 seconds.
Pricing: $89/year for the personal plan (For single site license)
Review: It is one of the best and easy to use WordPress backup plugins. It creates the offsite backup, from which your server does not load. But it is a more expensive plugin.
BoldGrid Backup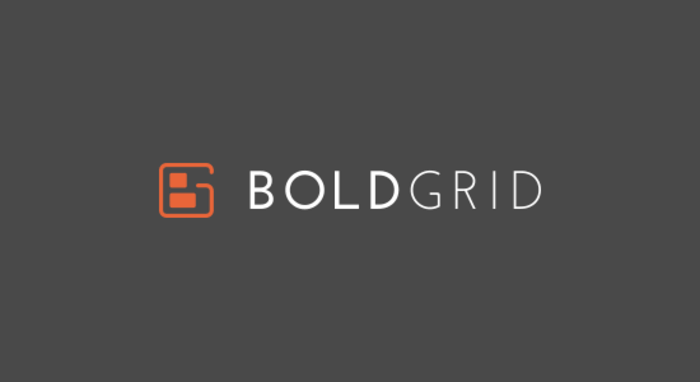 BoldGrip Backup is also a WordPress backup plugin founded by Boldgrid (website builder powered by WordPress.) It backup your complete site with a few clicks. You can also create a backup manually or schedule backup to run automatically and also migrate your site.
Further, this plugin has an automated fault protection feature that creates backup automatically before updates of your site. And due to any reason update fails, so it rolls back your site automatically to the last backup. Means to say, the best feature that avoid you against update errors.
With the help of this plugin, you can store up to your 10 backups archives and in remote storage locations such as FTP, SFTP, and Amazon S3.
Key features
Before WordPress updates, it creates automatically backup.
Storage backup offsite.
Schedule backup
WordPress core automatic update control.
It can show you the list of all your backups.
Price: $60/year including all premium tools & services.
Review: It is an easy WordPress backup plugin which helps you to create your site backups. The best is it comes with a bundle of powerful tools.
Duplicator

As you know by the name, Duplicator is a popular WordPress plugin that is used to transfer your WordPress sites and backup your site as well.
Further, this plugin does not permit you to make an automatic scheduled backup that creates it less than ideal primary WordPress backup solution for a permanent created website.
With more than 10 millions downloads, this plugin gives you the opportunity to move, copy, or clone your complete site from one place to another, which is a good solution. If you are looking for full redundancy in this event, if your primary site goes down, so you need the failover option.
Key features
Manually entire or parts of site backup.
Duplicate a live site to a staging area.
For easy reuse or distribution, it bundle up a complete site.
Perform full migration.
Pros:
Confidant each functioning through email notifications.
Permanent updated to keep the compatibility with the latest WordPress version.
Cons:
Restricted access to the quality of the free version.
Pricing: Free
Review: It allows you to create a backup manually. If your host creates the backup on a regular basis, use the Duplicator plugin to take backup on the staging environment. It also the best plugin to migrate your site.
UpdraftPlus

UpdraftPlus is a free multisite WordPress backup plugin. It is one of the most popular plugin with more than two million installations. It lets you a complete backup of your site and saves it to the cloud storage or download to your computer.
UpdraftPlus supports scheduled and demand backups. With this plugin, you can also choose the option which files you want to backup. However, it can automatically upload your backup to Google Drive, S3, Rackspace, Dropbox, FTP, email, and many other cloud storage services.
Additionally, you can create automatic backups with its free version that runs on your preferred schedule. It also has a premium version that comes with advanced features & functionality such as its paid version backup to Microsoft Azure, Backblaze B2, Microsoft OneDrive, Google Cloud Storage, SCP, SFTP, and WebDAV.
Key features
Entire site backup plugin.
Set up many automatic back-ups on various schedules.
Backups manually or schedule them in advance.
The Premium version comes with customer support.
Pros:
Learn about the plugin usage with the help of tutorials.
Check your WordPress database for corrupt files, and repairs them.
Cons:
Pro version supports necessary features.
The plugin dashboard materializes confusing for starters.
Pricing: Free and its paid version for $70.
Review: UpdraftPlus is the most popular plugin with over 2 million active installs and 4.9 out of 5 star rating. Its free version comes with a lot of features while it's premium version unlocks all powerful backup features.
BackWPUp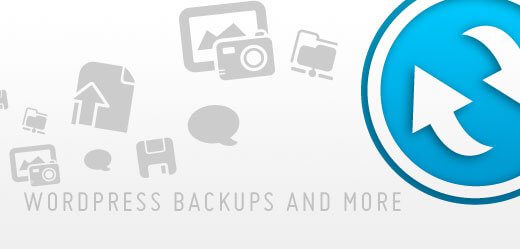 BackWPup is a free plugin that allows you to create full WordPress backups for free and store on the cloud (Amazon S3, Dropbox, Rackspace, etc.), FTP, email or on your computer.
Also, it is very simple and easy to use plugin that allows you to schedule automatic backups as per the updated frequency of your website. In addition, this makes it easy to restore a WordPress site from backup. However, You can easily restore your installation with a single backup .zip file.
Further, it has a premium version BackWPup Pro that comes with the ability to store backups on Google Drive, priority support, and some other cool features.
Key features
WordPress XML Export
File backup
Save the backup to a directory
Database backup
Store backup to Dropbox, FTP, S3 services, Microsoft Azure, Rackspace Cloud, SugarSync.
Pros:
Restore wordpress website from backup is very easy.
This plugin is extremely simple to use. And lets you schedule certainly backups as per your site's update frequency.
Cons:
WordPress 3.9 and PHP 5.3 is needed to use this Plugin.
Pricing: It is free but the premium plan also available.
Review: With more than 600,000 sites, backWPup is the best plugin. Further, there are also advanced are included in the premium version.
BackUpWordPress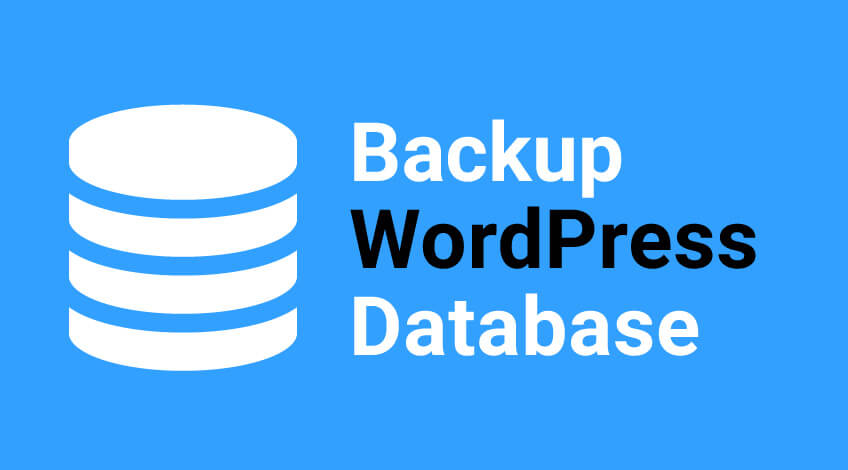 It is a complete WordPress backup and restores plugin with automatic scheduling support. BackupWordPress allows you to create separate schedules for your databases and files. But there is a problem the free version does not allow you to store your WordPress backups in the cloud storage service.
Also, the plugin gives you the option to use zip and mysqldump for a higher backup. Time is the essence, so this can be an important benefit.
If you wish to store your backups on Google Drive, FTP, Dropbox, etc., you will have to buy premium extensions for it. Extensions are available for every service. And you can purchase the one that you need or the whole bundle.
Key features
Easy to use, there is no setup required.
Manage many schedules.
Emails you each backup files.
Works on Windows and Linux server.
Customer support.
Multi-languages translation option like Chinese, Spanish, Serbian, Italian, Russian, Romanian, Lithuanian, Dutch, Basque, French.
Pros:
This plugin is obtained in different languages such as Serbian, French, German, Chinese, etc.
Uses few resources, works easily in shared hosting environments.
Cons:
Open source that is adaptable to changes and malware injection.
Pricing: Free but the premium plan also available.
WP-DB-Backup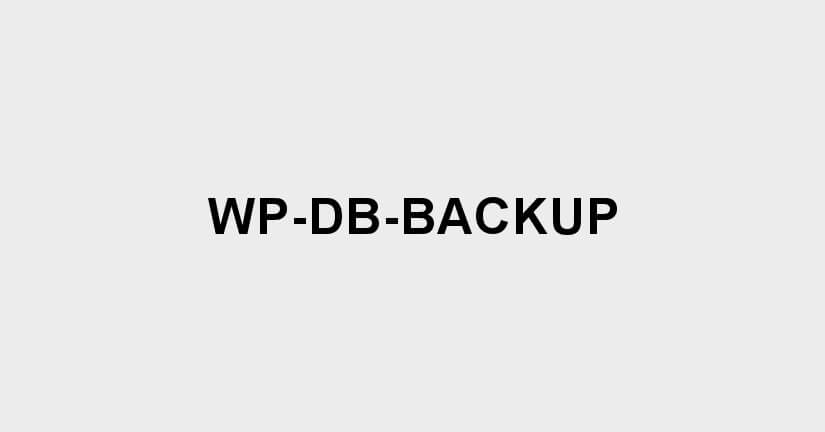 WP-DB-Backup is most popular WordPress backup plugin with over a half-million active installs. But the problem is that it backups your WordPress database.
This means that you need to manually backup your media files. If you don't update the website very often and/or don't upload images, then you can use WP-DB-backup as your primary WordPress database backup plugin.
The WP-DB-backup makes it really easy to create database backups, schedule automated backups and restore the database. Also, this is a very useful tool for those users who don't have the phpMyAdmin to manually backup WordPress database.
WP-DB-Backup – as the name suggests, backs up your database, not your files. If you want your files to be backed up, then you have to find an alternative solution.
Pros:
Its free version offers numerous attribute, including Automatic Backups and Sorting.
Configured simply without diving into the technicalities.
Cons:
Relatively a new plugin in comparison to another well-established player.
WP Migrate DB

WP Migrate DB is important for handling a database. The main reason for the processes of backup, migration, and restoration has been dealt with detailed important. The plugin permits the user to download the backup as an SQL file. It can handle serialized data (data and objects) with perfection.
However, this plugin is best for developers who want to migrate from the production site to new install and migrate locally developed website to production or staging server.
Key features
Backups
Pull and push your database
Export database
Store migration profiles
Phenomenal email support
Solid security
Multisite tools addons
Pros:
An ideal plugin for both the developers and the non-technical bloggers
Regularly updated and enjoys grand user ratings
Cons:
The free version give limited functions.
Pricing: Free but also available in the premium version.
Preview: As the name suggests, it is WordPress migration as well as a backup plugin. It is best for developers to migrate WordPress site to a new host.
Duplicator Pro

Duplicator Pro is a backup plugin for data backup. It safeguards your website from sudden data loss. Also, it is quite possible that Duplicator Pro is one of the simplest tools in the market. Basically this plugin has two important functions such as creating backups in the form of a zip file, and it can create migrate-ready clones too.
However, one of the best features of Duplicator Pro is the fact that you are able to clone any website along with its custom settings. After that, you can restore it just by a one-click install. Thus it is very easy to use. Although the features of Duplicator Pro are pretty minimal.
But all these features are powerful enough to compensate for that lack. Although this plugin comes with both free and paid versions. However, the free version is a little limited in terms of usage as well. Because you will have a limit in terms of the size of the backup.
Key Features
Scheduled Backups
Incremental Backup
Options for Cloud Storage
Continuous Backup
Web Access / Restoration
Backup WordPress files
Compressed backup files
Auto-database creation
Backup Log
Email Notifications
Pros:
This plugin has an easy installation wizard
It takes the feedback of customer very seriously
Cons:
Very less effort put it into an onboarding process
Migration settings are difficult to use for big websites
Pricing: The plan of Duplicator Pro has four different levels such as Personal, Freelancer, Business, and Gold plans which start from $59 per year.
Preview: Basically the name of this plugin is well suitable for its work. Because Duplicator Pro is a WordPress data backup plugin. This is simple and best for developers to backup WordPress site and then restore it in just a few clicks.
WP Time Capsule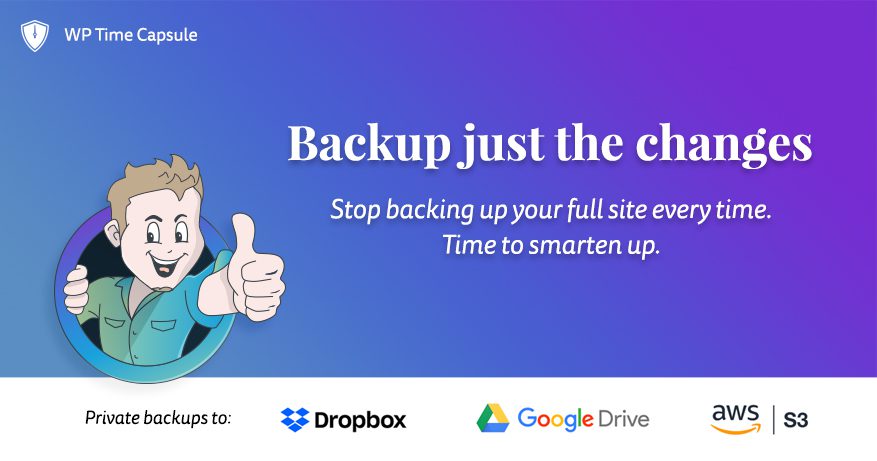 WP Time Capsule is one of the plugins if you wish to take the backup only of the latest files of your site instead of the entire WordPress website. Also, you are able to change the backup interval between every 6 hours or 12 hours and daily. Basically this plugin reduces the used storage and amount of time spent for full website backups.
Besides that, all the changes that you done on your website will be automatically backed up. Also, the main advantage of WP Time Capsule is that this plugin can consume fewer resources due to it does not compress and zip your backup files. However, you are able to restore your website with one just click. Thus making changes and updates is not a stressful experience.
In addition, you can check out the edits in real-time with the help of the Staging feature of it. This plugin also offers you a few options to back up the files on cloud storage websites same as many other WordPress backup plugins. Also, when you install it, the first thing you will need to do is connect this plugin with one of the cloud storage locations such as Dropbox, Amazon S3, or Google Drive.
However, to use the WP Time Capsule on any website. Then you must register on WP Time Capsule for an account. After that install the free plugin and then connect this to the cloud app with your plugin so that you can transfer your WordPress backup files to any of your preferred locations.
Although these cloud apps native file versioning system can detect the changes. Also, it maintains the file versions to create a reliable backup and restores the backups in real-time. Therefore you will be able to revert your website if necessary. However, once completing the full backup process.
After that, you can schedule a time for backing up your recently changed files. Although this WordPress backup plugin can integrate with your cloud storage applications. Therefore WP Time Capsule is definitely one of the easiest options available for you. Thus unlike other options, even a beginner can manage all of the features.
Because it is much easy to moving forward once the plugin is installed and set up. Basically this plugin automatically initiates a backup of your website before each update. Hence if any problems arise with those updates. Then you can easily restore your website. Also, this plugin offers you GDPR-compatible and encrypted database backups.
Although the calendar view option is another great feature of the WP Time Capsule plugin. This feature is very useful if you need to restore the content from a specific date. Well, this is very straightforward as you can see. Thus all you need to do is just click on the date. And choose either you want to view or restore files from your selection.
Because these backup files are made incrementally and dropped directly into your cloud account without needing to be compressed and zipped first. Also, as you know this plugin takes lesser server resources and disk space. Therefore it restores very faster, that can be performed even if you do not have access to your website or plugin.
Key Features
Staging area included
Incremental Backups
Offers White-Label Agency Solutions
Merge with Live site included
Scheduled Backups
Email notifications
Pros:
It does not compress backup files
Consumes a few server resources
It is the nice go-to solution for incremental backups
This plugin is very easy to use for you
No requirement of technical knowledge
The plugin offers a lifetime package
Cons:
Not the complete solution for full site backups
It has a bug that known for malware attacks on 300,000 sites
Pricing: WP Time Capsule offers you the simplest pricing structure.
You can sign up for an account with a 30-day full-featured trial on the website. WP Time Capsule pricing starts from $49 per year. Also, they provide you three simple plans and out of all the backup plugins.
Preview: Well, if you need a backup plugin which is simple yet effective, easy to use, and user-friendly. Then WP Time Capsule is the perfect option to consider. Because WP Time Capsule backs up your website. Also, you will not have multiple copies of these files. This feature is helpful because less disk space will be used. This plugin does not create any zip files, thus very few server resources are used compared to other backup methods.
All-In-One WP Migration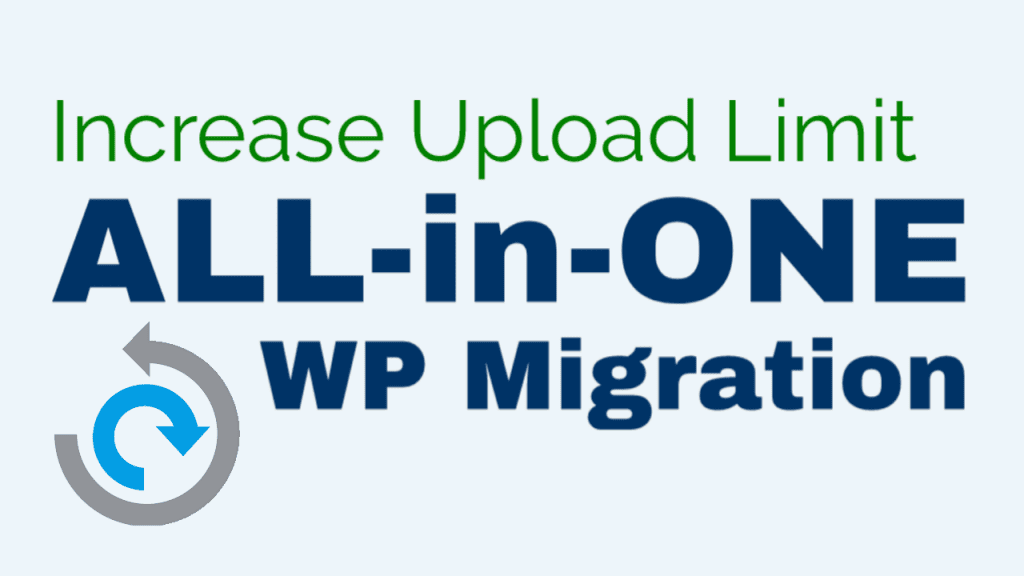 This All-In-One WP Migration plugin is the best and easy to use backup mechanism. Also, it is mainly a WordPress website migration tool than just a site backup plugin. Besides that, this wonderful and multipurpose plugin also provides some of the very useful website backup features to you.
Key Features
One-click simple restore option
Create the backups in just one-click
Import or export of .wpress files very easily
It has All-In-One WP Migration dashboard
Multiple cloud storage options available
Pros:
No technical knowledge required at all
Drag and Drop import options are available
The integrity of this plugin is very nice to use
This is a very good choice for websites of all size
Cons:
For a dedicated backup need, this plugin may not useful
The plugin's free version limits the size to 512 MB only for the backup
Not seems a good tool for e-commerce websites
It has some unusual issues in its customer service
Pricing: All-In-One WP Migration plugin will cost you just $59 per year only.
Preview: Well, this plugin seems a good choice if you need a fast and simple backup tool. The All-In-One WP Migration plugin considering much easy to use, Therefore the price also seems fairly worth it.
Most Concern Things For A Backup
If you still want to know what you should actually care about during a backup process or software functionality when you invest your money. Then hopefully, this list of features will help you understand. The preferred points of plugins over the others.
Website Load Must Be Minimal
Look for a plugin that uses its own servers. This shifts the load to their servers instead of slowing down your server. Certainly, the speed and performance of your website's will never affect form the backup process.
The way most plugins work is to fetch all the files and databases on the site, collate them into one folder, and compress it all. Although it may use more server resources. Thus it may lead to some serious billing issues with the hosting provider of youe site.
Option For Testing The Backup
How do you know for sure that your backup works? Simple test it out on a staging website. Good backup plugins will give you that option. Although, a staging website is nothing but a dummy website that helps you to test the changes to your site.
Therefore your live website will not affect. Hence you can restore the backup confidentely. But the reality is that no backup plugin gives you a free staging site. That's why you need a managed backup service.
Ease of Use Backups
We believe that the process involved in taking a WordPress backup should be extremely easy and very effective. Although the migrations, backups, and restores process must be a one-click functions. Therefore no technical skill will be require at all.
The majority of plugins can be difficult to set up. You have to synchronize your cloud accounts in some cases and that's not an easy thing. Therefore it should be considered that the ease of use must to be a major point of view.
Backup Must Work Reliably
Your backup file must not be corrupt, incomplete, damaged, or in the wrong format. That would be dangerous because they will not work. You need backups that must always work. The problem is the same with many plugins because they are very inclined to timeout errors.
Although this mean is that the plugin stops working halfway through the backup. Since it's really difficult to test the backup, you never know if you have the full backup or not.
Restore Process Should Be Fast
If things go wrong, you will not have time to spare before you fix things. You need to restore your WordPress website very quickly. Preferably, you should be able to do it right from your WordPress dashboard. Now, the way that most backup plugins work is that it gives you a zip file to download.
However this seems like a very good idea, but in reality, it is not. However, restoring the website manually is not considered as a good idea. Because this can lead to some major severe issues such as with the database.
Must Have Flexible Backup
Well, it should be your choice that you want a daily backup or monthly. The idea of flexibility explores that what type of website backup you want. Not everyone needs incremental backups but if you want them, you should be able to schedule one any time.
Also, if you are responsible for managing the website, then you may want to take manual backups every time you change something on the site. Without a flexible schedule, you don't get a real advantage.
Boiled Up
Although, if you are running a medium size site and hate paying the monthly fee, then we recommend you the popular UpdraftPlus plugin. Why?
Because they have their own cloud storage, Stash, that makes it easy for starters to store their backups in the cloud with a few clicks.
And the second one we prefer VaultPress – because it is easy to use and provides real-time incremental backups. It means it takes the backup of what has been updated within minutes instead of backing up all your data and files every hour or every day.
Whatever WordPress Backup Plugin you choose, please do not store your backups on the same server as your site.
By doing so, if your server's hardware fails or is worst, you get hacked. Then you do not have a backup that defeats the purpose of setting up a regular backup.
This is the reason why we highly recommend storing your backups on the third-party storage service such as Dropbox, Amazon S3, Google Drive, etc.
We hope this blog helped you to choose the best WordPress Backup and Restore plugin for your WordPress site.
If you have any question, let me know in the comment section! Also, share the blog with your peers!
If you're looking for someone who can help you with WordPress Backup & Restore then you can dial our Toll-Free number +1-855-945-3219 now. We will be pleased to help you.

Thanks!
Read More Blogs