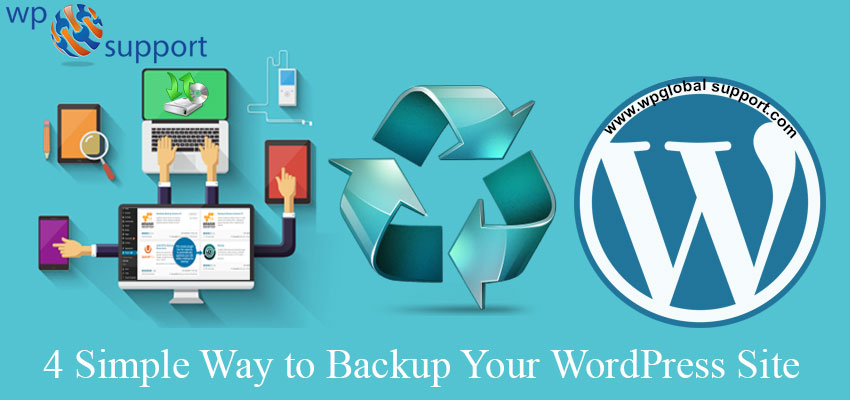 Your WordPress database contains every post, comments and section of content you have added to your site. If your database gets erase or corrupt, you stand to lose everything you have written. There are three main components to look for with a proper backup of your WordPress database and files, you can quickly restore your WordPress website from a backup.
Code: WordPress core, zero or more plugins, and one or more themes.
Assets: Images, documents and other user-upload files, and maybe plugin or theme cache or configuration file    
Database: A MySQL database containing your posts, pages, comments, links, settings.
Read also: How to Restore WordPress Website Without a Backup?
4 Way to Backup Your WordPress Site
1) Manual Backup:
The most basic way to backup a WordPress website is to manually create copies of its database and files and then download it. You can make a .zip file to the archive for the files and a .sql export for the database. They can be downloaded directly to your local machine or stored somewhere safe.
You have to remember to backup regularly.

Take a long time to download a big website.

There is no way to only download files that have changed bandwidth.

You must have manually monitored the download to ensure that it has complete properly.

You need to create your own, logical

way to

manage and store the backed-up files.
2) cPanel backups:
Backing up with cPanel is easy. But there are some pitfalls to avoid. Let us start with a brief explanation of how to back up, if you are hosting on a server with the cPanel control panel installed:
Login into your cPanel control panel.

Click on the "Backup" icon.

Select "Generate / Download a Full Backup".

Select "Home Directory" in "Backup Destination" and enter your email address, before clicking the "Generate Backup" button.

You'll receive an email when the backup is ready.
3) Rsync backup: 
Rsync is a piece of software that allows you to copy files from one server to another. It's clever because it will only transfer files (and even just parts of files) that have changed, saving you time and bandwidth.
Setting rsync up is not a straightforward process, but if you have a second Linux server under your command, this offers a great way to backup wordpress site incrementally.
4) Backup via Plugin :
There are many WordPress backup plugins that will create backups for you automatically if you are not comfortable doing so manually. Again, remember to download the backups from your server once they are created.
Summary
Taking backup of your WordPress website is extremely helpful if you don't want to lose important changes, live site data in case anything happens to your website. Backup means you have a similar copy of your content and data with you from which you can restore your website anytime.
Here is a brief summary:
Decide on the best backup schedule.

Before you install anything or update anything on WordPress always run a backup.

Two things need to be backed up: first your database (which contains all your content and settings) and second the files (which make up your website) Of these two, the database is the most important, as it's the most difficult to repair.

Store your backup zip files someplace safe – because you never know when you might need them.
If you're looking for someone who can help you with WordPress Backup & Restore then you can dial our WordPress customer service number  +1-855-945-3219.
Recommended reading: How To Backup Your WordPress Website To Google Drive?