WordPress Comments allow the visitor's of your website to have a discussion with you and each other. When you activate the comment option on your page or post, WordPress inserts several text boxes after your content where the users can submit their comments.
Once you approve any comment, it appears underneath your content. It's up to you whether you want to customize how you receive comments or tweak how your site displays comments. WordPress provides a thorough set of options to build a community from the visitors to your site.
They are usually great for your website because they show you which of your content is becoming popular and what is your visitor's opinion on what you write. Such as the below screenshot of comments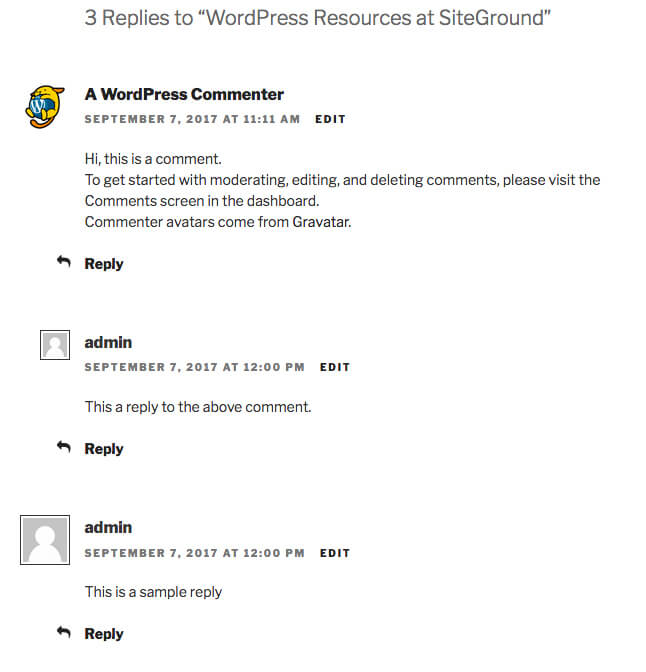 The way how your comments are shown on your site depends on your WordPress comments settings as well as the theme you're currently using.
How to Configure Comments?
The available settings for your comments are listed under the discussion tab of settings option in your WordPress admin panel.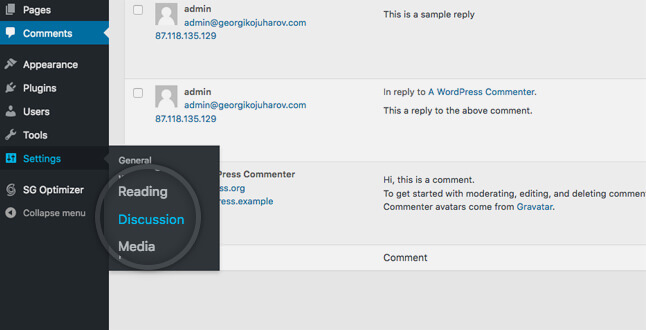 On this page, there are several important settings that you can change depending on your needs:
Allowing people to post comments on new articles – this setting handles whether the comments under your new posts are enabled or disabled by default. Enabling or disabling comments under a particular post or page will overwrite this setting.

Comments must be manually approved – if you want to moderate each comment that enters your site before it goes live, enable this option. If you do so, you will have to activate new comments from the Comments page.

Show Avatars – by default, WordPress will link the commenter's email address to his/her avatar in Gravatar if such is present. With this option, you can either hide or show avatars next to your comments according to your need.
Disabling comments on specific pages or posts:
Sometimes, you may want to disable the comments for certain page or post. For example, your Contact Us page with a simple mail form on it shouldn't have comments under it. In such cases, you can disable the comments for that particular post or page.
For this, open the All Posts/Pages section of the wp-admin and click the Quick Edit button for the desired Post/Page. This will show a new panel in which there will be a section named Tags. In that section where you can see an option Allow Comments, which you can disable if you don't want people to be able to leave comments on the specific page/post on your website.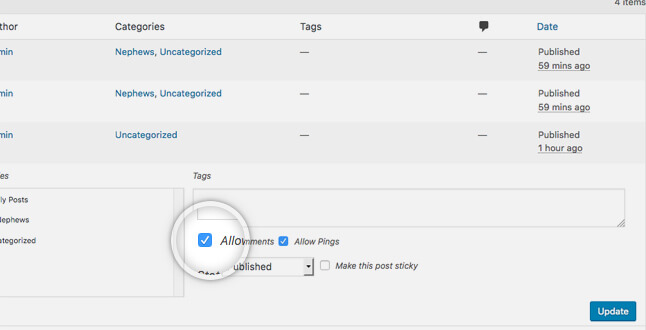 Automatically closing comments
It's possible to turn off comments after a specific number of days automatically. To do this, visit the Settings, open Discussion page and look for the "Other comment settings" section. Check the box next to the option specified below, fill in the number of days after which you want the comment to get deleted automatically and click on "Save Settings."
Although on page comments are disabled by default, you can enable them anytime while publishing a new page or editing an existing one.
To know More: