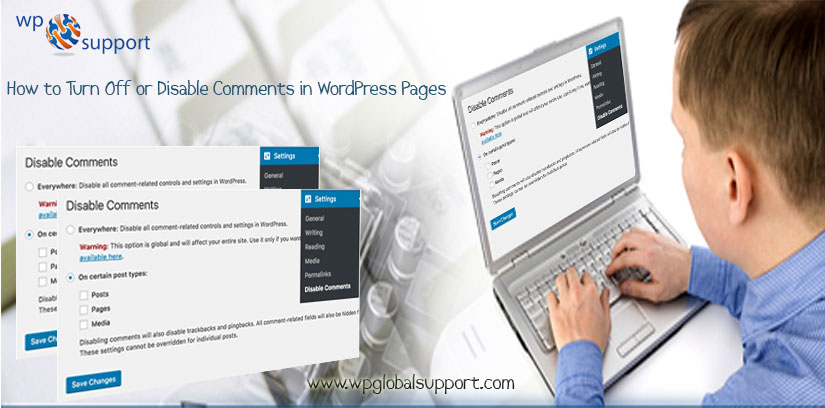 Do you want to know how to Turn Off or Disable Comments in WordPress Pages?
We will help you with that. By default, whenever you publish a new page it comes with comment box enabled. If you think the comment box is not necessary for your site, you can disable it.
Want to know how? Keep reading this post. If you don't get what you were looking for, give us a call at our WordPress Helpline +1-855-945-3219.
Why Remove Comments in WordPress?
Many WordPress users are small business owners who usually don't add a blog section on their website. Mainly their sites consist of static pages which make comments useless.
You can easily disable comments on WordPress pages. Some of the bloggers don't want to use comments at all. They believe that comments are a distraction & source of spam.
The problem is that most WordPress themes have built-in support for comments. This means if you manually turn off comments it may still pop up here and there.
8 Ways to Turn Off or Disable Comments in WordPress Post or Pages
There are many reasons for disabling comments in WordPress. If you want to disable comments for certain posts, disable comments on all pages and create tighter controls who can comment.
1 Individual Page Controls
There may come a time when you want to block or allow comments on a specific page of your website. It's good to know that you have the option to control comments on each page.
First of all, Navigate to the Page or Post in WordPress that you want to update this setting for.
Scroll down to the bottom of the page you will see a box labeled Discussion. In case you do not see that box, scroll back up to the top of the page and open Screen Options in the top-right corner.
Click Discussion and then scroll down again. It should be there now.
For disabling comments on this page, unclick the Allow comments box. You can disable trackbacks and pingbacks.
Save all your changes.
2 Disable All Future Post Comments
If you want to disable comments on your posts, you can set a universal control from the Settings within WordPress.
In WordPress, select Discussion from the Settings tab.
Uncheck Allow people to post comments on new articles if you want to disable this functionality.
Save your changes.
3 Setting Auto-Close on Comment Sections
If you want to remove comments from previous posts. You can do this through the same discussion settings in WordPress.
In WordPress, go down to the Settings tab and select discussion.
In the Other comments settings section, check the Automatically close comments on articles older than [0] days. This will remove comment form and thread on all posts created previously.
Save your changes.
4 Implement Stricter Comment Controls
If you like some of the comments coming through but want better control over which ones actually publish to your site, you can set up those restrictions within WordPress's settings as well.
In WordPress, go down to the Settings tab and select discussion.
The amount of control you put over how comments are submitted, reviewed, and approved is up to you.
Save your changes.
5 Kicking out Trackbacks and Pingbacks
Trackbacks and Pingbacks are comments which appear on your posts after someone has linked to your content on their own website. Many WordPress users choose to disable them completely.
In WordPress go to the Settings tab and select Discussion.
Under default article settings, uncheck Allow link notifications from other blogs on new articles.
Save your changes.

The Akismet plugin is one of the most popular plugins available. The best thing about this plugin is that it's pretty hands-off. For cleaning out bad or other suspicious looking comments you shouldn't need to go to your comment's folder.
For preventing your site from publishing malicious content Akismet checks your comments and contact form submissions against the global database of spam. You can review the comment spam it catches on your blog's Comments admin screen.
Features of Akismet plugin
It Automatically checks all comments and filters that look like spam.
Each comment has a status history, you can easily see which comments were caught or cleared by Akismet.
URLs are shown in the comment body for revealing hidden or misleading links.
7 Using the No Page Comment Plugin

You can do a lot to control comments on posts in WordPress. When it comes to pages, it seems like you either have to disable comments on individual pages or disable comments on every single page and post on your website While you could use the option to go through and disable comments on each page, that's time-consuming and downright annoying. That's why you'll need No Page Comment so you can set comment controls for pages all at once without affecting your posts.
8 Using the Disable Comments Plugin

This WordPress plugin you'll need if you want to completely disable comment functionality. It means that there will be no comments on pages or posts on your site. The Disable Comments also disables comments fields and sections throughout the WordPress admin so that users can't override the universal settings.
This plugin allows administrators for globally disabling comments on any post type like attachment etc. It also removes all comment related fields from edit and quick-edit screens. it can be used to disable comments on the entire network on multisite installations.This plugin provides the option for fully disabling the commenting feature in WordPress.
Conclusion
Well, these were some simple ways to enable, disable, and get a better handle on comments on your WordPress site. Each WordPress site has different needs when it comes to comments and different solutions are required.
Hope you have found our this post informational and useful. If you are looking for any type of WordPress support services mentioned below, contact us at toll-free number: +1-855-945-3219.
Read more: