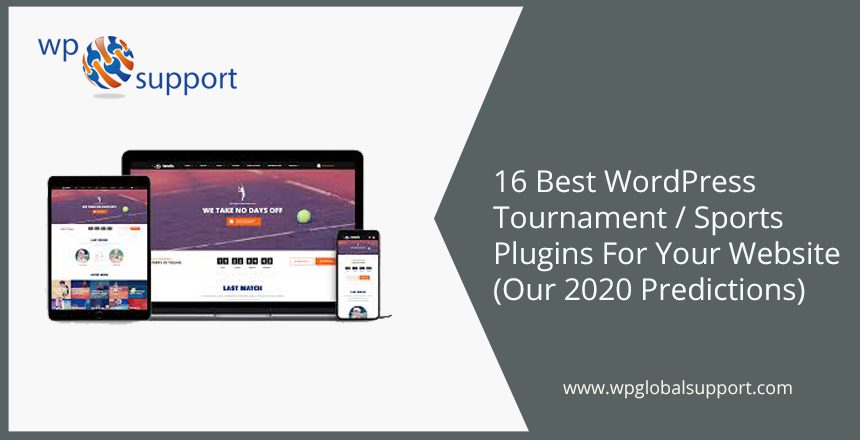 WordPress is a versatile platform that allows users to create websites with various functionalities. One such functionality is the ability to integrate sports-related features into your website with the help of plugins. In this article, we will discuss some of the best sports plugins for WordPress that can help you create a dynamic and engaging sports website.
In accordance with a survey on the internet, about 25% of worldwide sites are running on sports. The reason behind this is – nowadays, most people have started taking more and more interest in sports.
Continuously, with its versatility & flexibility, WordPress is one of the great platforms to create a sports site. Not only this, but you can also create any kind of site through WordPress.
But, with the number of plugins, it can be difficult to find one of the best plugins for your WordPress site. Therefore, we have decided to show you the best WordPress Sports Plugins for your blogs.
Best WordPress Sports Plugins For Your Site
Game Planner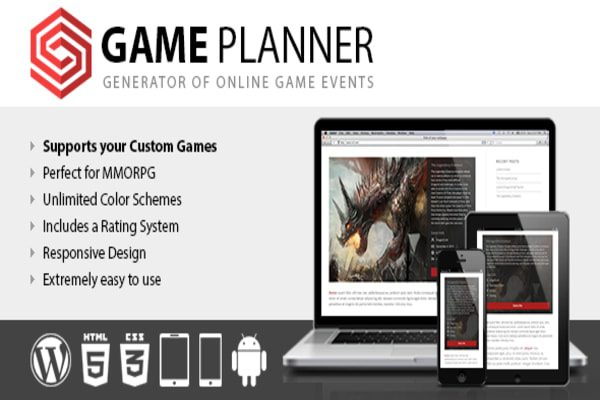 Game Planner is the best WordPress plugin to organize online gaming events. Just create instances and Raids for MMORPG games, FPS, Sports, Clan wars and much more. A plugin that can enable you to handle and plan multiplayer online games.
With the help of this plugin, you can create Game Event cards and Event tables to showcase the details of specific gaming events. Make way for the players to register them, as well as customize events. Its screencasts feature is just fantastic to share important info with the players regarding the subscription process.
Just rate your players based on your criteria with the Game planner that is highly responsive to all the latest gazettes. The plugin is WPML compatible so don't need to worry about a specific language.
Pricing
With the regular license, the theme costs you $26. You can also extend the support for up to 12 months at $7.88. With a complete extended license, the plugin is available for $1300.
Fan Victor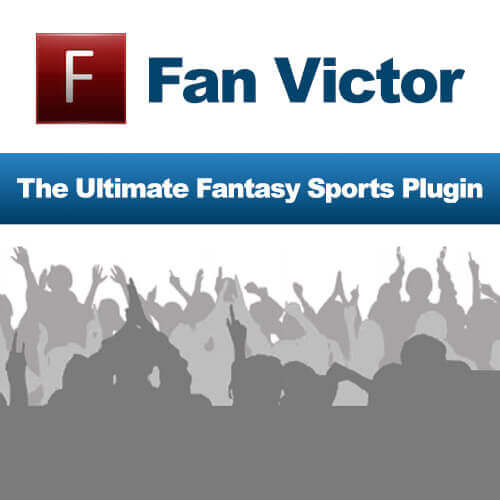 Fan Victor is the best plugin for WordPress that gives the chance to members spending their credits competing in daily tournaments and contests. It involves predictions of outcomes for sporting events. Also, it hosts fantasy contests for sports like NFL, NHL, MLB, NBA, NCAA Basketball and Soccer, Football, NASCAR, Gold, etc.
With the help of this, keep the users engaged on your site with a totally exciting Fantasy Sports game and make money on the largest sports niche today. Have a look at WordPress Plugins to Engage Visitors to Your Website.
This stunning Fantasy Sports Script is open-source. You are free to change the code to your own liking. You can also modify the template files to get them to look completely what you require.
Everything is entirely automated while you sign up for the Premium version of the plugin. However, this plugin connects players to each other so they play against each other. There is literally no risk to you. Additionally, this is a very flexible Contest Engine that you can simply adapt to Fantasy Sports Games.
Pricing: $97
Fan Victor is one of the Fantasy Sports plugins for WordPress and PHPFox that gives you the option to host your own pay or free fantasy or pick leagues on your very own site fast and pain-free.
Front End Features:
Lobby Block
Create Contest Page
Pick Selection Page
Live Rankings Page
My Contests Page
Transaction History
Add Payment
Payment Request
Credit System
Back End Features
Settings
Select the site rake percentage
Manage withdrawal requests with a simple table
League Table WordPress Plugin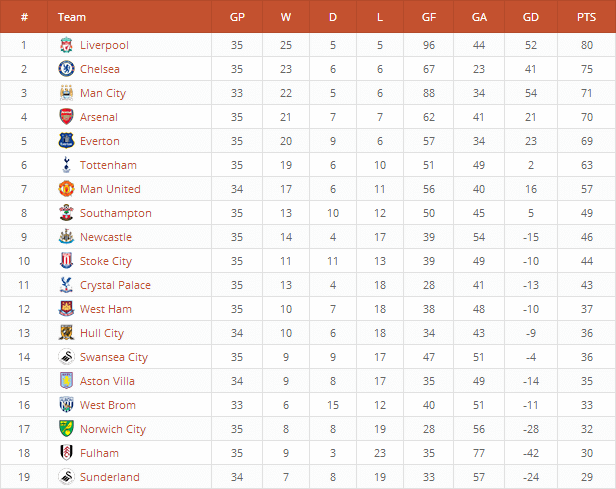 League Table Plugin lets you create league tables in your pages, posts, and custom posts in widget areas. You can rapidly sort your league tables by multiple columns. Set the colors of your league tables with a color picker, the whole table parts are fully customizable.
Continuously, League Table WordPress Plugins create awesome responsive tables for the property table layout. You can simply specify the width and height of your table with just a few clicks.
However, it includes your tables anywhere on your website including your posts, pages, custom posts, and widget area with a simple shortcode.
Pricing: Free of Cost.
Features:
Uses shortcode
Import and export.
Spreadsheet editor.
Customizable colors.
135 customizable options etc.
It is simple to use and customize.
Sortable columns and Responsive tables.
MSP – MultiSport eSport WordPress Plugin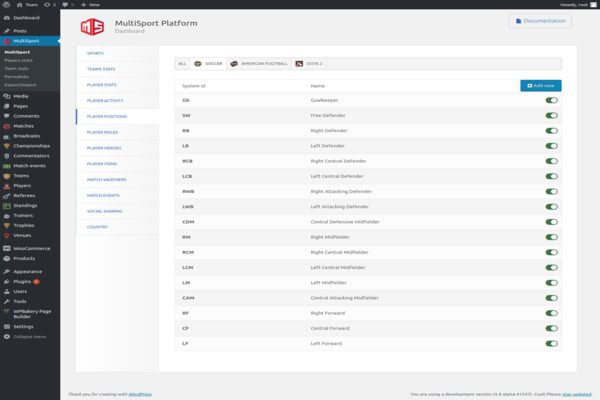 MSP (Multi-Sport Plugin) is one of the best in sports WordPress plugins that manage all your sports events on your Website. It helps you add your own sports event or any other sports-related activity that gives complete sports feel.
Documentation with this plugin will help you right from the installation to other plugin-related queries. The statistics system based on match scores and WPML compatibility is some of the many features of this plugin.
Pricing: Regular license – $29( 6 months support from tor bara) which can be extended up to 12 months by $9.
Features:
Visual Composer feature to shape your Sports WordPress website better. It comes with 90 exclusive sports and esports add-ons.
It provides you with a CSM that has a powerful extension system data that allows you to re-write new event information.
Extended WordPress editing lets you edit team names, match numbers, and many more details.
The plugin is translation ready and is fully compatible with WPML.
Sports Bench Sports Plugin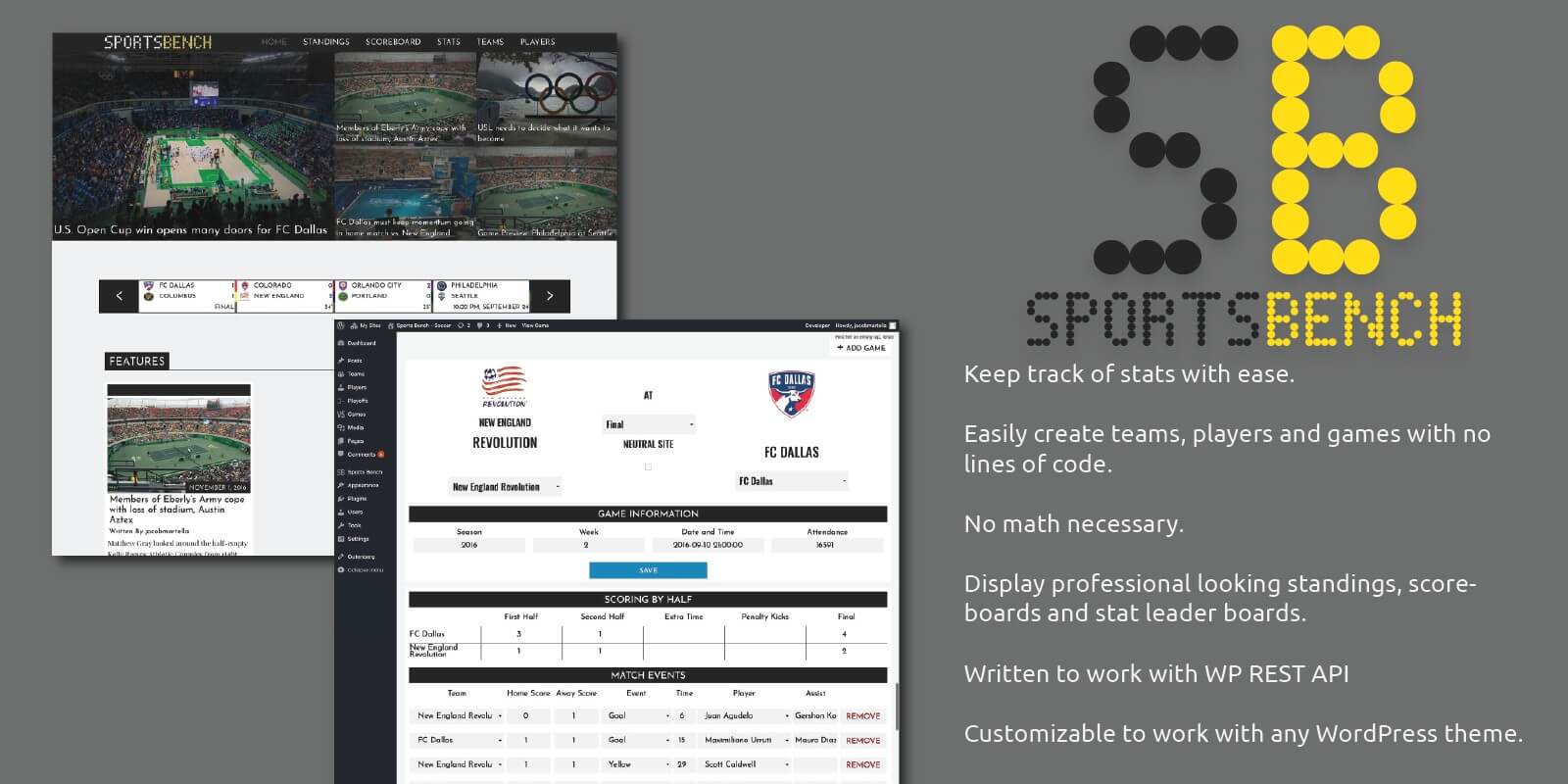 Sports Bench plugin consists of a heap of a feature that helps to enhance and draw the crowd toward your site. It can be a floating bar portraying the details about the matches or a sidebar displaying the widgets, where all of it comes in handy with this plugin.
The plugin has the ability to display the standings, which is the scoreboard for all games for the current season, and the statistical leaderboard. Show game statistics before the recap of the game. Easily create pages for teams and players.
Pricing: Regular license – $26( 6 months support from JacobMartella ) which can be extended up to 12 months by $7.88.
Features:
Show Quick Recaps in an attractive sidebar. Replaced videos can be added or just as text.
Add a widget to the standings, leaderboards, and scoreboards to increase your site. Which is driving traffic to your site.
Overwrite the default style with easy customization support. You can easily design a layout with some easy custom CSS code.
Shortcodes can be added to any part of the page. Therefore, you can use the location on the page and make it more attractive.
Football Formation WordPress Plugin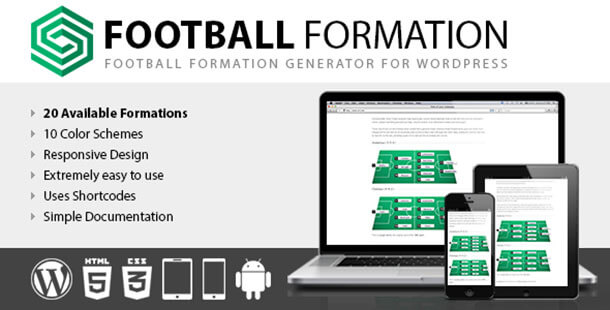 Football Formation WordPress Plugin is the most important part of any sport which includes analysis of the other teams and your own. Your players need to imagine formation and where they should be on the field. They need to see what they did and how to repeat it. They need to see how other teams have done something right and how to repeat it.
Moreover, they need to even take a look at where everyone did something wrong and make sure to never ever replicate it. And this is one of the WordPress sports plugins where you can improve your team's game. The only drawback is that it is a premium plugin though it only costs $17, which is affordable for your team.
Pricing: Regular license – $17 ( 6 months support from DAEXT ) which can be extended up to 12 months by $4.50.
Features:
You can create a maximum of 2 football forms in every post.
You can do the first football formation [Team 1] with the shortcode and the second football formation [Team 2] shortcode.
Create your football form directly within your post, this plugin uses the WordPress meta box feature.
You can set the vertical and horizontal margins of your soccer formation with a specific option available in the Football Formation menu.
Soccer Engine – WordPress Sports team management Plugin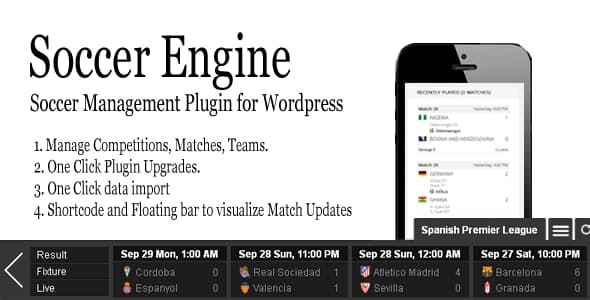 The soccer Engine plugin makes things easy for you by managing and displaying the latest updates on soccer. This sports WordPress Plugin not only helps in enhancing your WordPress site but also has a lot of perks like a floating bar providing the details about the matches.
This plugin enables you to use shortcodes on any page or anywhere you want. These codes don't need tedious work to run even non-techy people can use them easily.
Pricing: Regular license – $26( 6 months support from shazzad ) which can be extended up to 12 months by $7.88.
Features:
Installing this plugin is very easy and easy to use.
With the help of this plugin, you can get all the latest updates about upcoming, upcoming, or live matches.
You can create your own competitions and set your own rules to win, lose or draw matches. Thereby keeping the harmony between the players
The plugin enables you to easily maintain and import 6 global soccer tournaments from your server. But you need to support active items for it.
An easy-to-use and easy-to-use interface is provided. This certainly makes the hassle-free to adapt to the user's requirements.
Fixtures and Results

The fixtures and Result plugin will let you store matches, competitions, formations, and players in a database for archiving and showing retroactive and upcoming fixtures. Furthermore, it is designed to work with numerous sports that allow you to manage and record results.
This plugin offers two widgets one showing the latest results and the other displaying the upcoming fixtures. The widget can simply extract the information from all matches or specific grades or codes.
Pricing: Regular license – $18( 6 months support from butterfly media ) which can be extended up to 12 months by $4.88
SportsPress WordPress Plugin

SportsPress is one of the best WordPress plugins which will transform your WordPress-powered blog into a fully configurable team (club or league site).
Furthermore, this plugin has a number of plugins that allow you to create player statistics, league calendars, sports-specific team pages, and much more. If you run a sports site and you are looking to showcase your team or even your entire league, then this plugin is best for you.
Continuously, SportsPress features a suite of sports tools including automated standings, player rankings, fixtures, players, and staff. You can import events, players, clubs, and staff from CSV files.
There are some other features of this WordPress plugin are shown below.
Pricing:
Club License(Team and small clubs) – $99
League License(Leagues and larger clubs) – $199
Agency License(Agencies and Organisations) – $499
Features
Equation Builder.
WPML compatible etc.
Player profiles & statistics
Club profiles with a player list
Select a current and previous club
The Venue information and maps.
Easy shortcode menu in editor and Sports presets.
WP Club Manager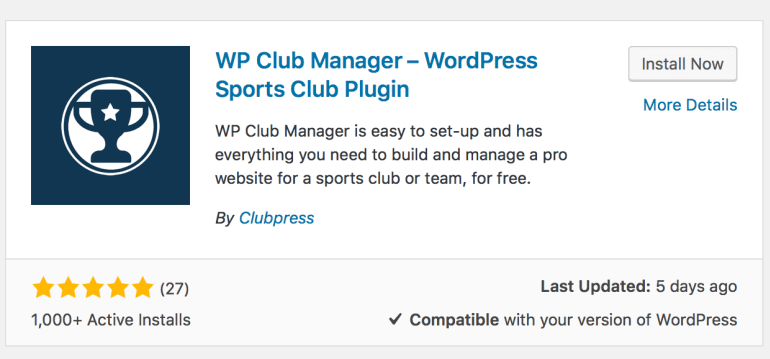 WP Club Manager is designed to create and manage a sports club-related website using popular CMS, like WordPress. Meanwhile, to say, with the help of this plugin, you can manage multiple profiles, and create player profiles, and stats.
Furthermore, you can instantly highlight fixtures, players, results, table, and sponsor info using different widgets on your Website. However, this plugin is a great addition to any sports site and also makes customization easy.
Pricing: Free of cost.
Features:
Fixtures and results.
Manage club sponsors.
Player and staff profiles.
It manages multiple teams.
Player performance ratings etc.
Football Pool WordPress Plugin

The football Pool sports plugin will allow the logged-in users of your blog to predict the outcomes of matches and earn extra points with bonus questions. You can simply add your teams and match info for another competition.
Quickly use the built-in pages and shortcodes for adding the pool to your blog. However, several widgets and shortcodes will allow you to show info from the championship or the pool.
Continuously, this plugin installs a few custom tables in the database and ships with accurate info for the FIFA 2018 World Cup in Russia. But, it can be operated with the match information for other championships or sports. Remember that, deactivating this plugin may delete all the data of the plugin from the database.
Pricing: Free of cost.
There are some other features of this Football Pool WordPress plugin which are as follows:
Features
Configurable scoring options
Various leagues for your users
Add a bonus question for extra fun.
Import or export the game schedule
Extra info pages for venues and teams.
Use different leagues for your users (optional).
Automatic calculation of championship standing.
Users can easily predict the match outcomes
Built-in pages and shortcodes for adding a pool to your posts.
Sports Club Management Plugin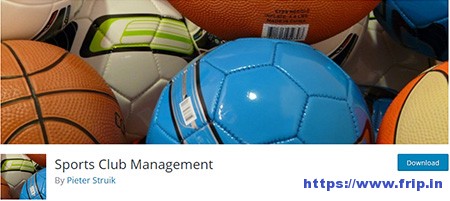 Sports club Management plugin will let you manage data for your invoices, members, club competitions, and matches. Further, this Plugin comes with various built-in competition formats for leagues, knockout tournaments, individual scoring, and all for individual competitors and teams. You can instantly import and export data from a CSV file.
Furthermore, using this plugin you can use easily member categories to partition your members into groups. With the ease of using of shortcodes, you can fastly publish matches, rankings, competitions, matches, and teams anywhere as per your choice.
Pricing: Free of cost.
Features
Members can have a featured image.
Extend predefined fields by defining up to four custom fields.
Option for excluding privacy-related data from publishing etc.
Typical fields are address, name, phone, email, and much more.
Widgets will let you show member's birthdays and current matches.
SIS Handball WordPress Plugin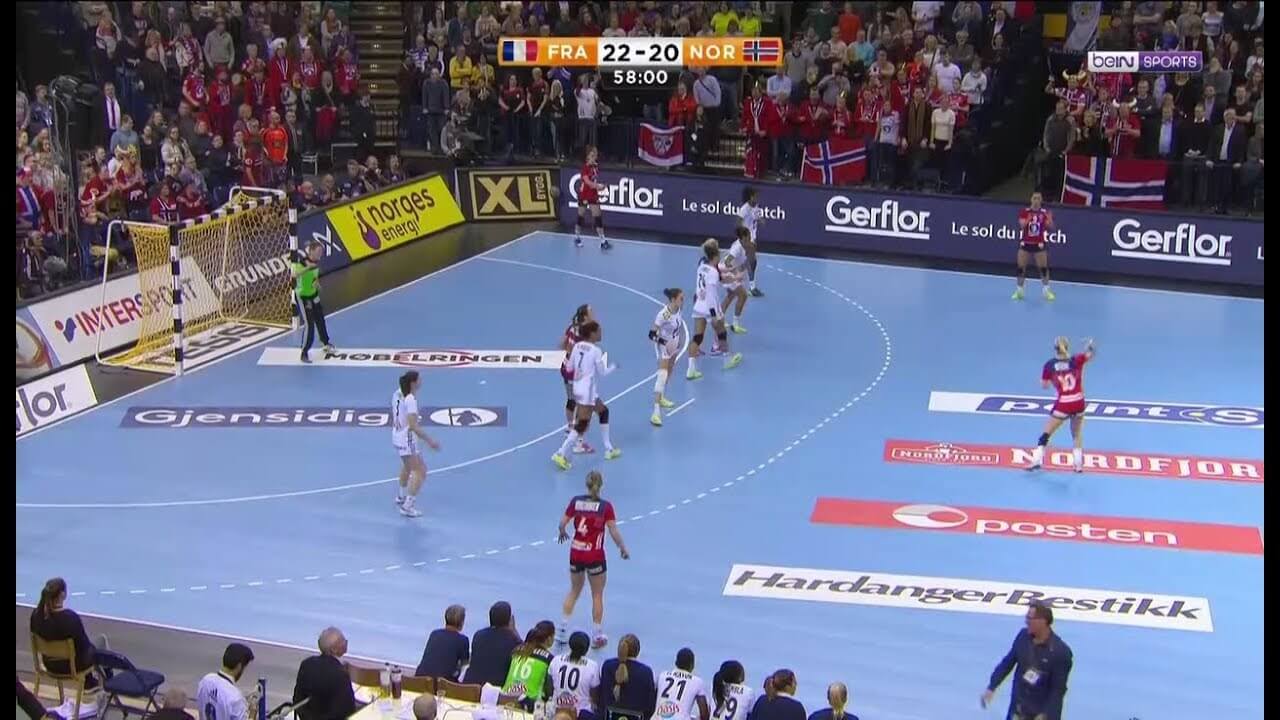 SIS Handball Plugin will let you display results, standings, and statistics. This WordPress Plugin will allow you to display tables, and past and future games as live data.
However, using the shortcode generator you can generate various shortcodes and place them anywhere you want to show different data on your website. You can mark your team in both dynamic and static tables and can also mark if it has won in the overview of past games.
Other features are concatenating different teams, showing average values of single teams, building an overview of the next games, etc
Pricing: Free of cost.
Features
Ease of use of the shortcode generator.
Show the average values of single teams.
Cache data to fasten your site and minimize traffic.
Display tables, and past and future games as live data.
Mark your own teams in both dynamic and static tables.
Mark your team if it has won in the past game's overview.
Concatenate different teams to create the next game's overview.
JoomSport – WordPress Sport plugin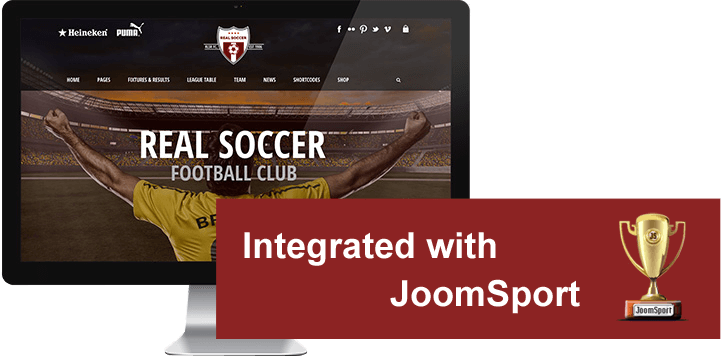 JoomSport is one of the simple and powerful WordPress sports plugins which is completely user-friendly. Being equipped with all the features itself gives it the tag of the best sports plugin. You will be able to solve all the problems at every stage of your event using this plugin.
This plugin for a single as well as team competition mode allows you to run both single players and teams of sports teams.
Pricing:
Basic Subscription -$50 setup fee (paid once) + $10 / month(billed annually)
Advanced Subscription – $50 setup fee (paid once) + $20 / month(billed annually)
JoomSport + Mobile app – $250 setup fee (paid once) + $60 / month(billed annually)
Features:
Provides you with additional fields to add all the necessary information related to the event.
Users of your website can arrive in the event of any difficulty because the plugin will provide you the place page which will have an inbuilt map and detailed feature.
You can add players with their photos for better looks of your website then you can also add information and full details.
The plugin is designed on a bootstrap framework which makes it responsive. It also comes with fully professional and designed pages for authentic forms.
Team Rosters

Team Rosters is one of the free WordPress sports plugins. It lets you create a custom post type for each player including a list of fields for adding the attributes of that player. These include things like:
Name
Number
Position
Height
Last School
Home Town
Bats
Throws
You can add excerpts and information in the other info field. After it is completed the player can be assigned to a team. The team are categories here so assigning a player to a team is as simple as assigning a post to a category.
Furthermore, when you fill in the player info – it can be done on an individual, player-by-player basis, now there is the ability to import multiple players' details by using a CSV file.
Doing this can save amounts of time to make this one of the more usable sports plugins out there, offering to create details player lists.
Finally, you can say this is a very useful plugin. As, with this plugin, you can do a lot of things it is an ideal option for someone compiling a list of players, or any group members for that matter. And the plugin can be shown on your site in numerous ways.
Pricing: Free of cost
Soccer Info

The soccer Info plugin is a great choice if you blog about football or just want to show upcoming fixtures and previous results from the major leagues on your Website. It works with 51 leagues from around the world including:
English Premier League
Spanish Primera Division
German Bundesliga
Italian Serie A
However, no matter who you support there is a good chance your team's league will be featured here provided they are in the top league for their country.
Continuously, the installation of this plugin is quite simple. Moreover, using a shortcode the data can be inserted into posts and pages or in the sidebar with the included widget. With this, you can show easily the league tables, fixtures, or results for any of the 51 leagues covered.
Pricing: Free of cost.
Features
French Ligue 1
Italian Serie A
Brazilian Serie A
Dutch Eredivisie
Hungarian NB I
UEFA Champions League
UEFA Europa League
German Bundesliga
Portuguese Liga
Spanish Primera Division
English Premier League
Belgian Pro Liga
Finnish Veikkausliiga
Multisport platform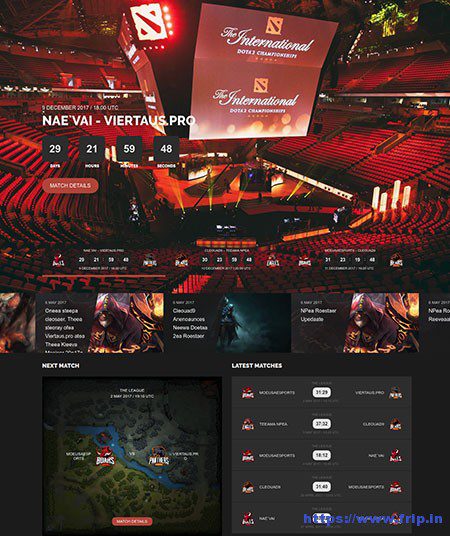 The MultiSport platform is one of the best and most complete WordPress sports plugins. The Multisport platform WordPress plugin can provide you the ease of use for sports and escort teams, leagues, and tournament management.
In addition, this plugin also lets you easily manage the different sports events and players too. Although this is built with the advanced visual composer plugin. Also, this plugin has more than 90 Shortcodes and custom add-ons too.
These all can help you to customize and edit your website like a professional. And you can do so with the help of an advanced sports editor. However, This will easily gather all the data related to sports stats for any sports events. In addition, this is able to calculate and summarizes it. Also, it can display in many different ways, such as graphics, tables, and circle diagrams.
Besides that, there are some other useful features of this WordPress plugin that includes a statistics system that is based on the match scores and it includes a layout builder also is translation ready too.
Pricing: The regular license of this plugin will cost you $29 only, and you can get extended support for 12 months for just $9 only.
SportsPress for football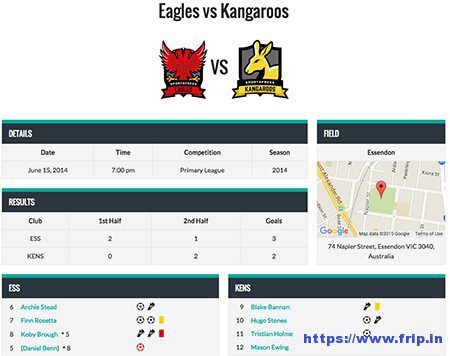 SportsPress is also one of the best plugins specially designed for football. Although with the help of this plugin, you will be able to transform any of your WordPress blogs into a fully functional blog for your football club as well.
In addition, you are able to schedule the matches easily. Also, you can do the soccer admin branding too. However, it will allow you to replace the SportPress icon with a football icon very easily. Besides that, you can quickly set up the goals reporting with a red football icon. In addition, the other important features include the football field information and maps information too.
Pricing: Free of cost
Features
Soccer Admin Branding is able to replace the SportsPress icon with a football.
You can easily Schedule Matches (Fixtures & Results)
You will get Football Field Information and Maps
There are own Goals Reporting with a red football icon
Conclusion
Some of these WordPress sports plugins will be of great use when managing your sporting events, teams, and competitions. It will also help in displaying sporting information on your site. We suggest you use these WordPress sports plugins for your website that can look quite attractive for sports & team management.
We have cleared all the features of a good WordPress sports plugin. So what are you waiting for? Grab these amazing WordPress sports plugins for your website. If you really like this post, just express your thoughts in the comment section below.
If you're looking for someone who can help you for WordPress Backup & Restore then you can dial our WordPress Support number +1-855-945-3219 (Toll-Free). One of our Professional Expert will guide you instantly.

That's it, thanks!