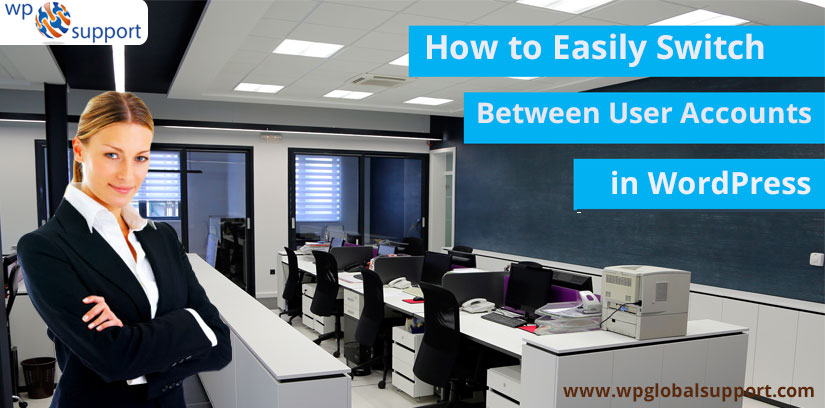 WordPress is a versatile CMS with a variety of features. It provides full control and flexibility to its users. With these features, you can handle your website in any way you want.
Most of the time, you have to view your site from a different perspective for testing or developing purposes. For that, you will often need to switch your account between administration and user.
You can switch users manually. But, every time logging in and out is not a smart step. In fact, So, to work smartly you have to learn the way to easily switch accounts without leaving your homepage.
In this Tutorial, we are providing you with a complete explanation of how to switch between user accounts in WordPress.

Why do you need to switch between user accounts in WordPress?
Fortunately, WordPress will permit you to attach new users and admins to the same site. According to their assigned role, these users have permission to visit several things on your site. You can also permit your users to sign up on your site and set a default user role for all new users by going to the Setting >> General page.
As the author of a site, automatically you will be assigned to the administrator user role on your site. It will provide you with an entire control with the ability to handle all user accounts.
In a manual way, it's quite difficult to handle multi-user accounts. You have to log in and log out every time to switch so it's very necessary to switch user accounts automatically.
How switching user accounts in WordPress is helpful?
If you are working on a site that allows your users to submit their own listings. You'll have to double-check that all features are working properly, which you can do only by switching the user accounts.
Or maybe you need to enable a maintenance page for a website. As an administrative, you have full access to your WordPress website. While your users have only your maintenance page. If you want to know the current status of your maintenance page then you can quickly switch the user accounts with the WordPress plugin.
On the other side, switching between WordPress users will get benefits for WordPress Multisite networks. After installation of multisite, most of the time you will get the need to go from one to another account to see how everything is going on.
Advantages of switching user accounts
Immediately switch you to any user account from the User display.
Immediately switch back to your originating account.
It keeps the ability to immediately switch back in again after log out of your account.
It is fully secured.
Come with WordPress, WordPress Multisite, BuddyPress, and bbPress.
Only those users who are having the ability to edit other users can switch the user accounts. Likewise, this is only Administrators on single site installs and Super Admins on multisite installs.
The password cannot be released.
Use the cookie authentication system in WordPress to remember the account you have to switch from and when switching back.
Fully supportable for administration over (if applicable).
Method Switch Between User Accounts
WordPress offers you "User Switching" plugin that allows you to quickly switch between two or more accounts.
User switching plugin: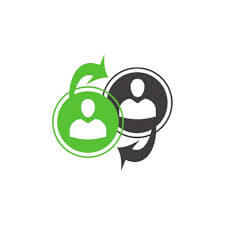 If you are regularly handling different accounts in WordPress then this plugin is perfect for you. This plugin helps you in immediate Swapping between the user account in a click. The user switching plugin holds a rating of 5 stars with more than one lakh active installation.
User switching plugin has all the feature which is required for the user account swapping. Like it allows instant switching of the user's account in both login and logout manner. And it is compatible with multisite WordPress, BuddyPress, And bbPress.
The plugin is also secure to use because:
It allows switching to only those user who has permission to edit other accounts.
It focuses on Password security.
Implement the nonce security system.
Give priority to Cookies authentication.
Always supports the administration and overhead SSL.
To add these features to your website first, you need to install and activate the User Switching plugin. For extra information, see our blog on how to install a WordPress plugin.
After activation of the plugin, go to the Users>>All Users tab in your WordPress admin(dashboard). Here, you will get a 'Switch to' link next to every user account.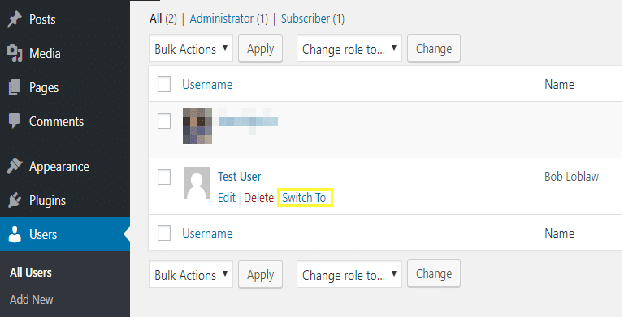 Also, those users who have access as an administrator can only switch the user. Once you will be done to switch to a new user account, you can continue testing your site logged in as that user.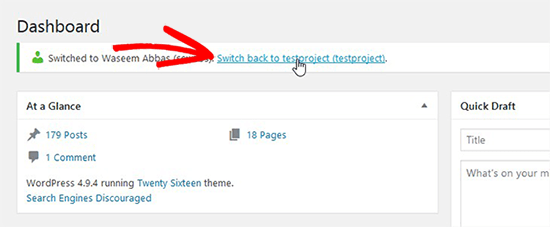 After completion of these tasks, you can switch back to your own account by clicking on the link "Switch back to Project name(Project name)" displayed on the screen.
Conclusion
If you are handling so many accounts on your WordPress due to any reason.  Often, you need to manage them at the same time. In this situation, it's obvious to switch accounts again and again. This blog is an effort to make you comfortable in managing all user accounts.

We hope, our tutorial helped you to easily switch between user accounts in WordPress. Also, we've discussed the advantages of WordPress account switching. If you have any query related to switching user accounts in WordPress, let us know in the comments section provided below.
Still, if you are facing problem in WordPress call us on our Toll-free number ++1-855-945-3219. Our WordPress technical support team is available all the time to help our viewers.

That's all, thanks!
Recommended Blogs: