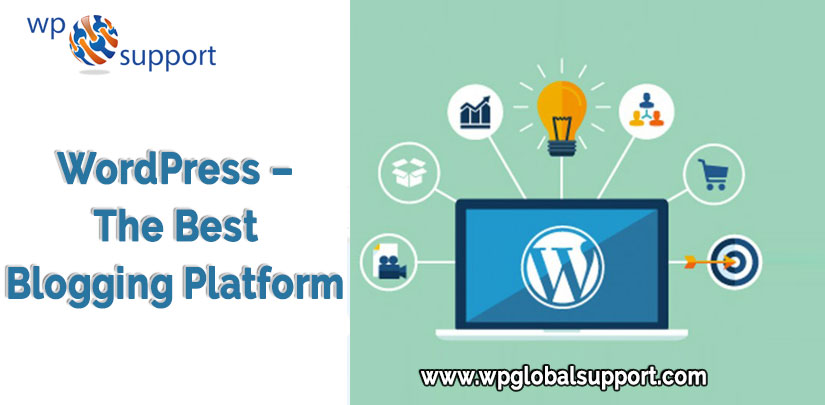 In today's world, you have often heard the world "BLOGGING". It's quite popular among everyone these days.
So basically blogging involved a personal web log in which a person would journal about their day. It is an easy way to express your thoughts and opinions through blogging and being a blogger you can also keep your customers and clients up-to-date.
It is a platform where you can not only show what you know but also they can interact with you and get to know that the person they are trusting on is the right one or not.
But most of the people are confused that which is the best blogging platform for a blogger and why? One platform which has out shadowed other medium is WordPress.
Blogging can be a serious profession if one wants to go with but for that, you need the right platform to do that. In this article, we will understand the reasons why WordPress is one of the most used & best blogging platforms and considered as arguably the best one.
Why WordPress?
You may ask the question. Well, read it till last to know your answer.
WordPress is one of the leading websites all over the world for serious bloggers. It is a free and open-source content management system (CMS) based on PHP and MySQL.
More than 27.5% of the top 10 million websites as of February 2017 used it to build their sites. It was started in 2003 and since then there are many professional bloggers as well as aspiring bloggers using word press as the right platform.
WordPress helps you in every possible way to reach users' requirements. It is easy to use and not time demanding like other platforms. You can have a Word Press powered blog in less than 10 minutes.
Features of WordPress
Integrated link management features
Search engine–friendly and clean permalink structure
Ability to assign multiple categories to posts and support tagging of post
Automatic filters are also included providing standardized formatting and styling
IT supports the Trackball and Pingback standards for displaying links to other sites
WordPress post can be edited in HTML or using one of a number of plugins
44,225 WordPress Plugins with 1,253,649,315 Total Downloads
5 Reasons Why WordPress Is The Best Blogging Platform
WordPress Support
People who are operating WordPress for the very first time may get confused that what to do. In such case, WordPress technical support team provides quality assistance which makes it easy to use. Even a novice can handle it well by just dialling our support phone number +1 844 897 0441.
WordPress Themes & Plugins
whenever anyone starts with a new blog, the first thing that will come to our mind is how to design it. There are three ways to do it:-
1)Hire WP theme designer
2)Buy a Premium Theme
3)download free word press theme
WordPress is SEO friendly
It is SEO Friendly than any other blogging platform, So when it comes to SEO you don't have to worry much as most of the people find tricky plus you can also use SEO PLUGIN to enhance your blog & optimized it.
WordPress – Static as well as Dynamic Website
You can any day trust word press is periodically updated and improved, having your static website with Word Press will help you in better SEO and ranking in search engine.
Many people have switched from static HTML sites to WordPress because its plugins help a lot to optimize your on-site SEO and dashboards make it easier to update or improve for everyone. It offers easy ways to integrate social media on your site and as we know today there is no better platform than social media to show off your talent.
Trust – Respect – Popularity
One needs to gain the trust of a wider range of people, so they should know that the person they are trusting in is reliable or not. And being a blogger it is very important to gain people's trust. Then only you can gain respect from them.
Popularity can also be counted as one of the major factors if one thinks about it seriously. You can get the right popularity only when you have the right platform to show what you are capable of, so yes to be out of the box your work should be like that.
If you are still confused, read this infographic by wpbeginner to make a comparative analysis to determine which blogging platform should you choose.

Conclusion
We can easily conclude that WordPress is the best blogging platform for professionals as well as for beginners too. It is easy to use and even for those who are not much into technical things. You can mention your thoughts by commenting below. For further assistance, dial our WordPress support phone number +1-855-945-3219.