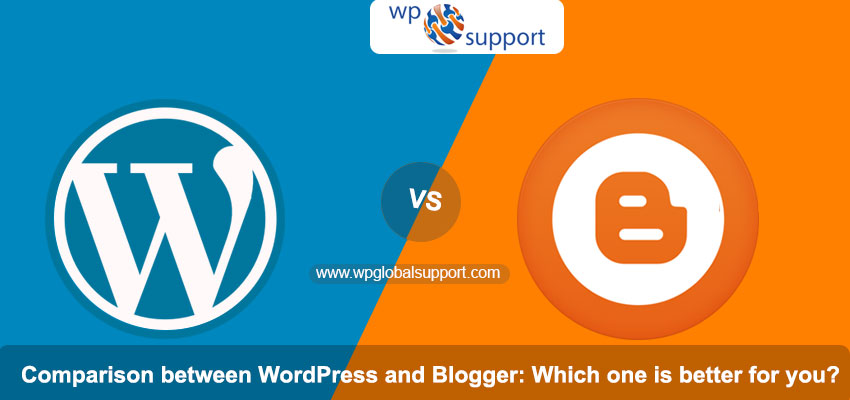 Read this Comparison between WordPress and Blogger to know which is one is better for you? Who is the best blogging platform?
It is very common as well as an interesting question between the new age beginners and bloggers. In this article, we have tried to give a proper and detailed answer to this question.
We will be doing a comparison between these two giant of the internet (WordPress & Blogspot). We will try to answer questions like; why one should choose WordPress or bloggers, how they are different, and the most important question which one is better for you?
You can have a word of conversation regarding this or any other issues with our WordPress technical support team. Call at our 24/7 toll-free number +1-855-945-3219.
Comparison between WordPress and Blogger
Let's start with the brief introduction of WordPress and Bloggers.
WordPress
WordPress is free to use which is based on MYSQL and PHP. It is a content management system was started with an aim to deliver free of cost blogging services. It is open source website creation based on online process and tool is written in php which was started from 2003 with a single bit of code.
Blogspot
Blogspot is a product of Google. It easy to create beautiful and unique blog sites without cost. Blogspot makes it possible for you. To become a blogger, all you have to do is start your own way. Then start,writing and posting. It was bought by Google in 2003.
WordPress and Blogger, both provide the unique platform to publish a blog or site. Both provide certain useful and distinct features which makes them popular. We have tried to figures out which one is better by having a compariosn on these distinct features. Let's start the comparison.
Blogging platform:
WordPress is known as content management system(CMS) in the competition of blog creation sites. It provides some new & useful features, which are not available on Blogspot. In another word, we can say that this is the advanced version of blogging. It is open source, and actively maintained, unlike blogger.
Blogger is marked as the fine blogging platform. It is so simple to use and also easy to understand like how to write new blogs, how to add more pages, simple step to add html widgets, write a new blog post as u as possible.
Blog setup: installation process
WordPress allows you to have complete control over blog setup. It is useful for full blog optimization. You can tweak anything you want to do to maintain your blogs and set up the WordPress using your technical skills. After that install WordPress software on your hosted server.
Blogger is easy to install or easy to setup and start a blog. It doesn't require any software to install and to run blogs. It is easy to setup without any cost. You don't have to be good at coding. It such a very useful process. By investing some time you can start writing your post on Blogspot.
Blog hosting:
You need a WordPress hosting provider to host your website or blogs. If you see your blogs as a source of income and want to establish yourself as a brand then WordPress can be your best. WordPress blogs make a greater reputation on the online market. Some of the most popular hosting service provider is Hostgator, Bluehost.
The blogger platform is procured by the Google. That's the reason you should not worry about blogger hosting as it is free. One of the major reason behind its popularity is it doesn't require the hosting cost. Google has all rights to hosting the blogs in blogger like removing all the blogs from search engine and also take down your all blogs if it does spam on the web.
Services:
WordPress.com is commercial. There are thousands of WordPress plugins, templates and themes which comes with inbuilt SEO(search engine optimization). WordPress implies there services with premium upgrades.
Blogger is not a commercial platform. It was bought by Google in 2003 to provide free blogging plateform. There is not any improvement in default themes.
Customization and themes:
WordPress provides the variety of themes from non-premium to highly customizable SEO friendly premium themes. It allows you to transform your blogs into full on dynamic, static and hybrid professional looking websites. The wordpress offers so many features like responsive, theme, seo plugin and advanced support community. It is the better choice for pro bloggers.
Blogger provides a limited number of non-premium themes by default choose blogger dashboard. You need to customize your design, template layouts, colors, themes and typography as per your requirements. There is limited no. of blogger templates and you have to put enough efforts in customizing those design. The blogger provides the best user-friendly experience. Blogger has their own tool(blogger widgets) which is used to make your website is unique.
The brief summary of the comparison between Bloggers vs WordPress
| | | |
| --- | --- | --- |
| Comparison | WordPress | Blogger |
|  Ownership | It is owned by you. | It is owned by Google. |
|  Limitations | It has some limitations. | It has no limitations. |
|  Cost | It is free of cost. | It is web hosting cost. |
|  Security | Its security is maintained by you. | Its security is maintained by Google. |
|  Support | It is provided an extremely active support system. | There is a limited choice of support system then it does not provide sufficient amount of support system. |
How to decide which one is more useful?
Blogger is not brand-able website, then you do not choose blogger. On the other hand WordPress is a brandable website, it's very useful for all the users.

Blogger is most widely used as a  blogging platform and it is also a oldest platform. And the other side wordpress is open source software or it also use to blogging platform.

Blogger is not a better for seo to blogging platform  and the other hand wordpress is better for seo to blogging platform.
Advantages of WordPress and blogger:
WordPress:
Its create own domain name.

Pluggins the are backbone of WordPress.

Themes decide the navigation on sites and there look.

It is totally free.

It is SEO friendly.
Blogger:
It is free with better web exposure.

Easy to the interface for a

newbie.
It monetizes

the blogs with google ads.

Create a subdomain with the use of their own blogger.

Post content without the fuss.
Disadvantages of WordPress and blogger:
WordPress:
WordPress is an open-source blogging platform.

It is an excess of plugging.

WordPress is a frequent update for blog sites.
Blogger:
It lacks plugging.

It's on your blog sites.

blogger  has limited templates on blog site.
Future of both these blogging platform:
Blogger's future totally depends

on Google, they have to right shut it down.
WordPress's future does not depend on one or individual companies

.
Conclusion: which should you choose?
On account of features and services, WordPress is a better option. But it doesn't mean the blogger is not good. If you only want to spread your knowledge and thoughts via blogs then blogger is useful but it doesn't help you making money for online marketing in the longer run.
On the other hand, WordPress has some great features which make it easier for you to earn money online. By using a blogger you are dependent on Google but in the case of WordPress, you are free to do whatever you want.
Both WordPress and blogger have their own pros and cons and it's up to you to decide which one is better for your project. What should you be focusing first is what's the purpose of your websites?
If you just want functional blogs and are not worried about modern design and look and feel, the blogger may be better options.
If you want your blogs to be stylish or full of latest features also have big plans for your site then WordPress is a better option for you.
Some more blog which you might find useful: