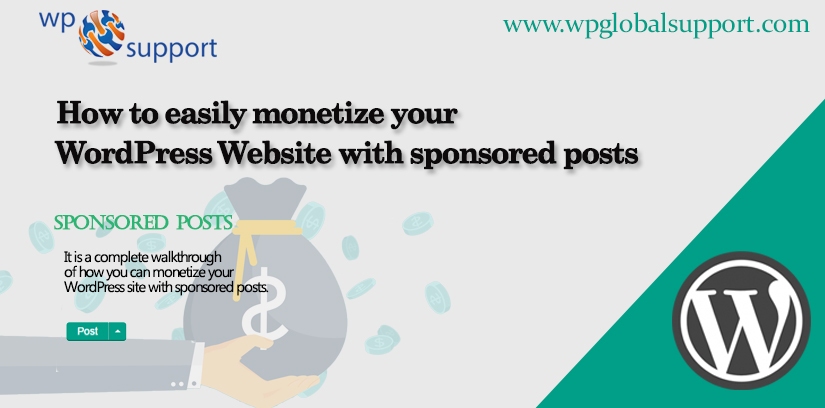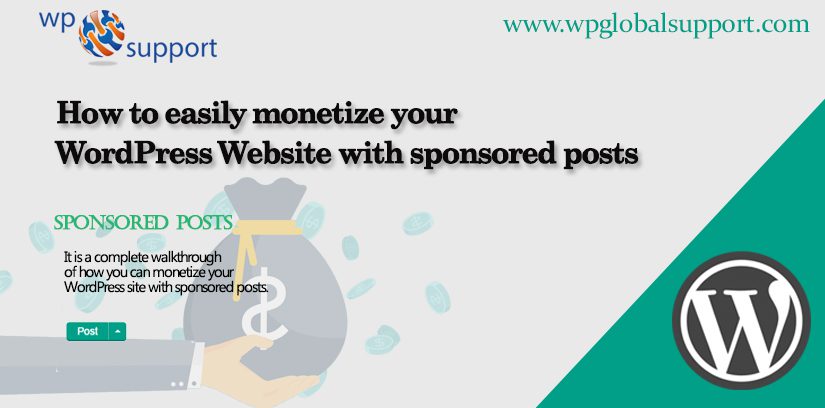 Here is a complete walkthrough of how you can monetize your WordPress site with sponsored posts. Nowadays it's very challenging to monetize your WordPress website or blog. Sponsored posts are a great way for opening up a healthy revenue stream while still maintaining control over your website.
Monetizing a blog may not be as simple as it used to be but sponsored posts are still a usable, valid way for adding an income stream to your blog or website. Let's get started:-
Overview of sponsored posts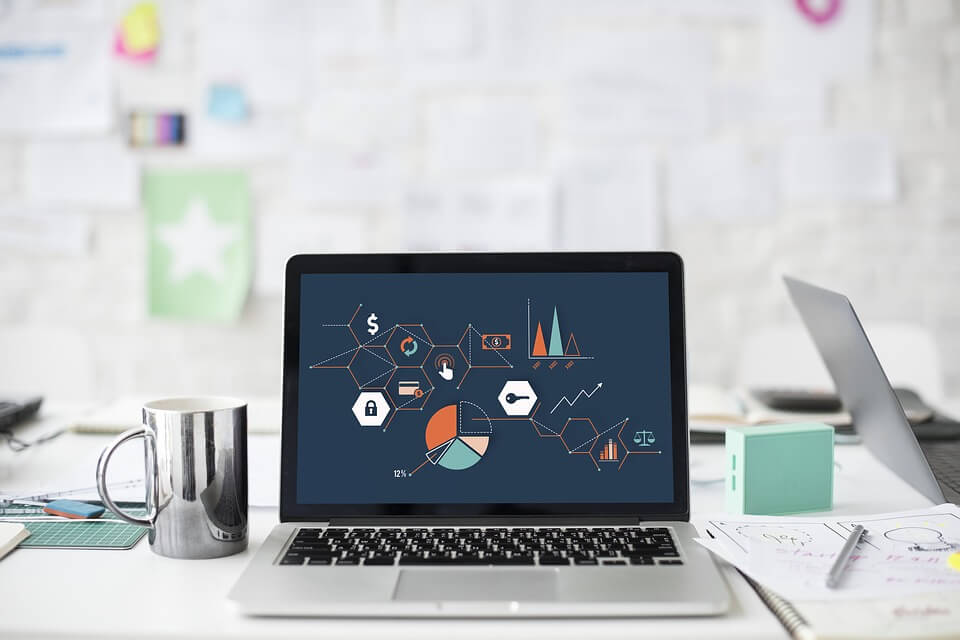 They are the articles that a website owner or blogger is paid to publish on their own Web sites by brands, companies and businesses. It can be written by either the site owner/blogger or by the sponsoring brand. In case you are hired to write the post as well as publish it on your site surely, you'll charge a higher rate than if you're basically just renting space on your site.
Sponsored posts can take a different variety of formats like summaries of an offer, reviews, videos, infographics and much more. Articles posted by the admin of a WordPress site are called posts
Searching for the companies that will pay for sponsored posts
For finding sponsors willing to pay for posts and reviews on your website or blog content marketer and strategist Kristy Ellington suggest that you start with smaller national brands and companies:
The other best source of sponsors for beginners to create a portfolio and some experience is local businesses. Identify businesses in your niche who are situated near you and if they can't afford to pay you, you may want to explore some form of bartering. After you have some experience under your belt look at partnering with marketing and PR agencies. Just form a good relationship with one or a few, do consistently good work and then you'll get more work from them in the future.
Likewise, sponsorship market sites like Cooperatize, PayPerPost, Sponsored Reviews and Tomoson can assist you to find sponsors by performing a middleman function, leaving you to concentrate on the writing. For additional resources on where and how to select more sponsors, A Beautiful Exchange provides a number of tips for working with media companies and pitching companies directly to create a business relationship and make money online.
What should you charge for a sponsored post (or review)?
Finding companies and advertisers are the very first step to earn money with sponsored content on your website or blog. But as even the most cursory Google search will prove the going rates for sponsored content changes wildly.
As Google is a source of free traffic, Search engine optimization takes many forms. Google Search Console is formerly known as Google Webmaster Tools. It provides you full detail reports on the visibility of your pages on Google.
SuccessfulBlogging.com's post on the subject of fair fees for sponsored blog posts recommends that complicated algorithms may not be the good place to start generally ones that include PageRank as a factor. Relatively traffic and audience alignment should be bigger concerns for reputable brands. But some brands may place more attention on other metrics.
One of the better places to start is a media kit for your website. It is a collection of documented information about your blog and its readership, including the major analytical metrics like unique pageviews and bounce rate. At last, you can get an idea of going rates by looking for posts such as this Babble roundup of 25 bloggers and what they charge per sponsored post. After that adjust for your relative traffic/readership size and your experience level.
For WordPress Website Maintenance Service, Dial Toll-Free +1-855-945-3219.
To disclose or not to disclose(Legal Responsibility)
Publishing paid content to the audience comes with a legal responsibility. The major issue with sponsored posts is whether or not you should disclose that they are in fact sponsored posts. In most of the countries, it is the law to disclose sponsored content. The answer is clear for U.S. bloggers that you should disclose. In fact, the Federal Trade Commission needs it.
If you're in the U.S. you must include a clear statement with every sponsored post identifying that the post was paid for by the sponsoring brand. Many bloggers and site owners put their disclosures at the end of the post, the disclosures actually should be placed at the beginning. You can even get creative with the disclosures and don't make them so creative that they lose all meaning for your readers.
Additional tips and best practices for publishing sponsored posts
Earning money by publishing sponsored content isn't rocket science. If you wish to start a blog and earn money online there is some more vital advice to consider. Here we have shown some of the tips and best practices for sponsored posts and paid reviews on your own website or blog:
Adding rel="nofollow" tag to sponsored links. Many agencies especially SEOs will try to insist that you do not add this tag. You can exactly comply but if you do charge more and also take into consideration that by doing so you're risking your own site rankings.
A tag in WordPress is one of the default tools one can use to categorize their WordPress posts.

Select your clients and projects carefully. Niche yourself, develop your own expertise and be brave enough to turn down any inquiry that doesn't meet your own criteria.

Time your publication of sponsored posts carefully. Releasing five sponsored posts in a row will most likely turn off your readership. Create and use a better editorial calendar for avoiding this.

Adding value with high-quality images. It will support to justify higher rates across the board.

Keep your tone authentic and identifiable. Just hit the sponsor's major talking points but try to do it in an organic way. Just entertain and educate at the same time wherever possible.
Some WordPress Plugins for Monetizing a Blog:-
1. WordPress Mobile Gesture Monetization
It provides a completely unique way of monetizing the mobile website of your WordPress blog. The engine of the plugin is focused on user interaction with your content scroll events, swiping, tapping and zoom actions. As plugin is defined as a type of software that contains a group of functions that can be added to a WordPress website. They are used to provide additional functionality to your application.
2. Ad King Pro
This plugin specializes in banner advertisements. Banners are a very common way for advertising products, affiliate products, your own products, and similar items that would signify a direct advertising technique. You can also add your AdSense ads if you prefer. The shortcode makes sure that you can position your ads anywhere on your WordPress site.
Where, shortcodes are those special functions/tags that allows the user to quickly and easily pull related bits of mentioned functionality into their content. The additional feature of Ad King Pro is Google Analytics integration as it allows you track the performance of your ads through unique link attributes.
3. Ad Blocking Detector
Many bloggers are fighting with common ad blockers to prevent users from avoiding advertisements on their blogs. The market for ad blockers has grown into a problem specifically for media websites like Forbes. It heavily depends on the advertising revenue to keep their content websites alive. Using Google Ads and showing those ads on a site with an ad blocker enabled won't work. This creates problems as any technology aware web user is going to naturally use an ad blocker.
The WordPress Blogger suffers from this a lot. You can also read our article on Comparison between WordPress and Blogger: Which one is better for you? The only solution is to use an ad blocker detector and this can inform users that you'd like them to disable their ad blockers so that you can earn.
4. Advanced Ads
Advanced Ads actually takes care of the business here. Select from three unique ad types: plain text and code, AdSense ads and rich content. All three types when selected can be configured for their display options. For example select display positions and custom margin settings to position ads particularly as you require. The other conditions include the search results, single pages, and other outstanding WordPress content areas.
5. Content.ad
The other way for bloggers to earn revenue from their content is through external content platforms that can deliver your website appropriate content through a widget and any time your users indulge in promoted content. Here, widgets allows you to add content and features to your sidebar without writing any code.
Here, sidebar is a theme feature, which is basically a vertical column provided by a theme for displaying information other than the main content of the web page. Also, theme is a group of stylesheets and templates that are used to describe the appearance and display of a WordPress site.
Templates are those files which control how your WordPress site will be displayed on the Web. It is a layout which is only for certain pages. Also they are the separate files that can be applied to every page in WordPress.
You get a share of the revenue generated for that click. It is the best way to give your readers a chance to learn more about the topics you write through the means of external websites that are suitable to your own niche.

Conclusion
This article was brought to you by WpGlobalSupport. We have a team of well-qualified professional who can solve all your problem related to WordPress. Contact us to know more. Dial our wp support helpline: +1-855-945-3219 (Toll-Free).