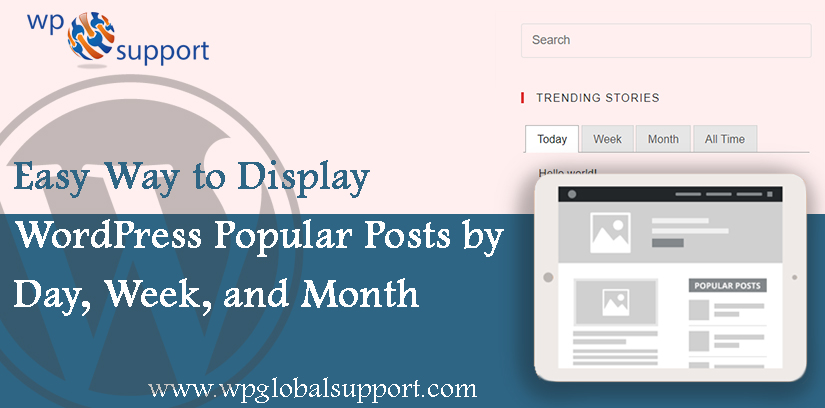 Do you wish to display your most popular posts by day, week, month and all-time in WordPress? The popular posts help visitors to find quickly your top content, which helps you increase traffic and page views.
In this blog, we are going to share with you an easy way to display WordPress popular posts in the day, week, and month and all-time.
Why display popular posts in WordPress?
As the articles posted by the admin of a WordPress site are called posts. Where, Posts are arranged in reverse sequential order in WordPress. Where admin can create more Administrators, invite new users, remove users, and change user roles.
Admins have complete control over posts, pages, uploaded files, comments, settings, themes, imports, exports, other users, of any site.
When you start writing a WordPress blog, so you do not have a lot of content, which allows you to manually display chosen posts in a sidebar widget. As widgets allows you to add content and features to your sidebar without writing any code.
Although your website grows, you will see that there is not much exposure in the old articles on your website.
By displaying your top content, you allow new users to quickly find the best articles on your website. This increases user engagement on your WordPress site and enhances your page views.
As User engagement displays you what users do when they visit your website. It helps you identify patterns of highly engaged user behavior which results in more conversions and sales.
Now the problem is that if you are displaying your popular articles all time, then a very limited set of articles get repeated exposure. Also, you can diversify it by showing popular posts by day, week, or month.
Now time arrives to know:
Way to Display WordPress Popular Posts by Day, Week, and Month
Let's see:
Creating Popular Posts By Day, Week, Month, and All Time Widgets
Firstly, you have to install the WordPress Popular Post plugin and then activate it. For more details, see our guide on How to install a plugin in WordPress.
WordPress Popular Posts plugin is one of the best plugins for WordPress. This plugin provides many options such as time range excerpts, number of ideas, featured images, view count, and much more.
As where excerpt in WordPress means of 'Post excerpt' is the blog description with a link on 'Read More' or 'Continue Reading' tag which directs you to the whole article.
On activation, you have to go to Appearance »Widgets page to drag and drop WordPress popular post widgets on any sidebar.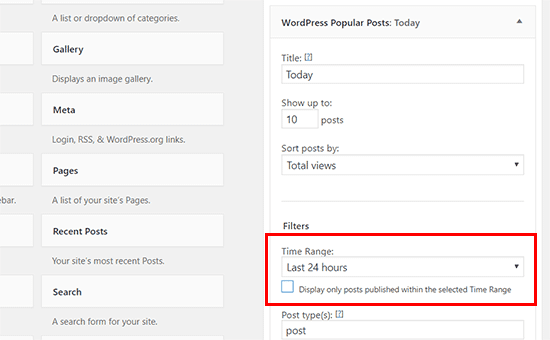 You can name this widget 'Today' and you can select last 24 hours within the time limit area. Next, you can review other widget options and set them according to your choice. Do not forget to click the save button to store your widget settings.
After that, you have to add another popular posts widgets and give it a 'week' name. In the widget settings, you have to select '7 days' under the time limit field and then click the Save button.
Also, repeat the same process for adding monthly and all-time popular posts widgets.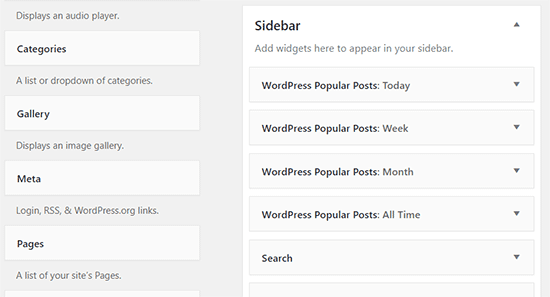 Don't worry about widget placement at this time because we'll adjust them to the next step.
Creating a Tabbed Widget for Popular Posts
In this part of the guide, we will prepare a tabbed widget for our WordPress sidebar. The tabbed widget will allow us to display our popular posts widgets within a single widget with tabs.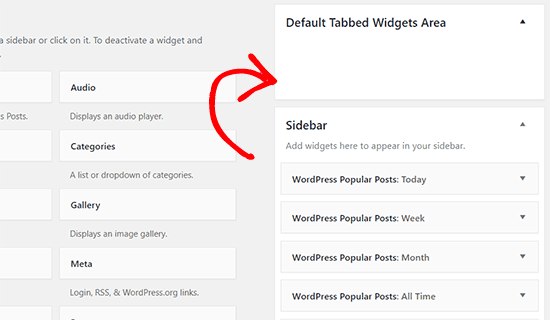 Here, you will require moving your all popular post widget into this particular widget area that is shown below.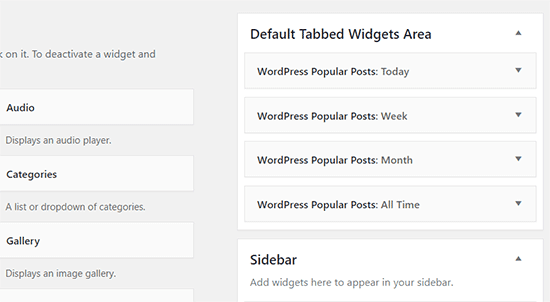 After that, you have to find 'Ultimate tabbed widgets' in the available widgets and then add it to the sidebar of your website where you want to show popular posts.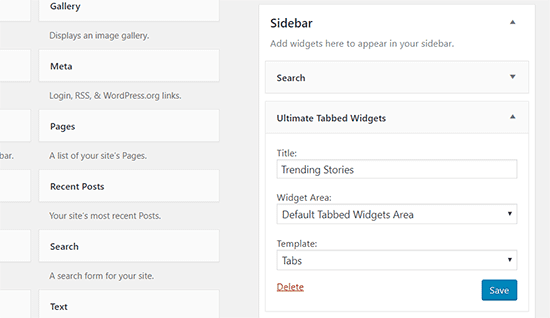 In the widget settings, give a title for popular posts widget. Under the Widget Area field, you must choose 'Default Tabbed Widget Area', and select the tabs for the template field.
As templates are those files which control how your WordPress site will be displayed on the Web. These files draw information from your WordPress MySQL database and generate the HTML code which is then sent to the web browser.
After that, don't forget to click the 'Save' button to store your changes.
Now you can view your popular posts widget on your website by showing the top articles of the day, week, month and all time tabs.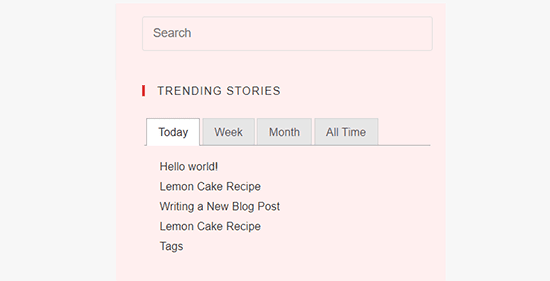 Now, you can rearrange the tab order by simply moving the widget up and down in 'Default Tabbed Widget Area'.
CONCLUSION
Here, We discussed an easy way to Display Popular Posts by Day, Week, and Month in WordPress. Read the above steps carefully and display your Popular Posts by Day, Week, Month and all time.
We hope this post helps you to learn to Display Popular Posts by Day, Week, and Month in WordPress.
If you have any suggestion or thoughts, tell us in the comment section! Also, share the blogs with your friends.
If you need any help related to WordPress Security just contact to our WordPress Support Team, Dial +1-855-945-3219 (Toll-Free). Our doors are always open for you and we will help you to solve all your major issues related to WordPress.