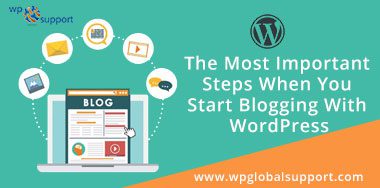 Do you want to start blog with WordPress but have no idea how to go about it? Well, you're not alone. Many people are opting for a blogging career because it's very lucrative. Starting a blog is very easy because you don't have to be tech-savvy. With a little bit of guidance, anyone who knows their way around a computer can start a blog.
WordPress is a free blogging platform, but if you want access to more features, you can get the self-hosting version at a premium. The Internet is quite resourceful today. If you're struggling to complete your assignment, PaperWritten is here to help.
Following is a comprehensive guide that can ensure you avoid common mistakes when starting your blog. Stick around to find out the most important and initial steps before starting a blog with WordPress.
Steps For WordPress Blogging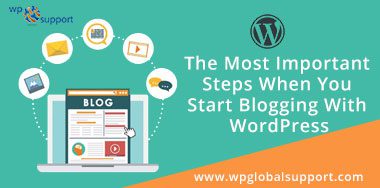 Comprehensive WordPress Blogging – Initial guide
Choosing Between WordPress.com and WordPress.org
Choosing between the free WordPress and the self-hosting software is the most important decision before start blog with WordPress. The two options might seem the same, but there is a huge difference between them. Whereas WordPress.com allows you to host your blog on the WordPress server, on the other hand, you'll need to purchase a web-hosting to use WordPress.org.
If you are starting a blog as a hobby and you're not keen on monetizing it, you can go with WordPress.com. All you'll need to do is go to WordPress.com and start creating a blog.
However, if you're serious about the blog, your best bet is WordPress.org. Unlike WordPress.com where you don't own your blog, the premium you pay with WordPress.org entitles you to ownership.
In both cases, you own your domain; the only difference is for the case of WordPress.com, you cannot change the back end code. WordPress.org offers much more flexibility and functionality.
Self-hosting allows you to call your blog whatever you want without 'WordPress' appearing therein. That gives your blog a professional look, and people are likely to take you with some interest.
Register A Domain Name
Once you make your choice between WordPress.com and WordPress.org, the next thing is to register a domain name. A domain name is what website visitors type into search engines to get to your blog. It works as your unique address on the Internet.
Aside from serving as your blog's URL, the domain name is also your brand. You need a domain name that can be easy to promote you among your audience. Ideally, the Domain name should be the same as the blog's name.
A good domain name is one that's unique yet easy to remember. That is why you should avoid numbers and hyphens because they make your domain name hard to master. You should pick a name that's relevant to what your blog will be about.
The importance of domain names is that once you register it, no one else can use it but finding an available domain name in a saturated field can be a challenging task. You can use online tools to help you find out your desired domains that can really work for you.
You can register your domain name directly on your chosen web-hosting or purchase it using a separate online service. The latter is preferable because it's more secure. Registering directly on your web-hosting creates a single point of security issues.
As far as getting the Domain name, our recommended and the preferred choice will be Bigrock. Bigrock is just the right solution for your domain name needs and what else, it is An Award-Winning, ICANN-Accredited Domain Name Registrar that can make a stand out performance of your Website with a perfect Domain name.
The distinct features of Bigrock are:
Transfer and register your domain
Round the clock assistance in case of any issue
Check the availability of the desired domain name
Domain Extension
Web Hosting
Email Hosting
DIY Website Builder
Namecheap is another name of the desired Domain name provider that can really make the things happen for you in terms of getting a top-notch Domain that can perfectly fit your Website initials.
Reasons why Namecheap?
Easy-to-use tools
Manage subscriptions all in one place
Automatic setup for Namecheap domains
Single login
Interesting features that are provided by the Namecheap
Supersonic CDN
Validation.com
EasyWP
Namecheap VPN
G Suite
Business Card Maker
Logo Maker
Strikingly
Hosting
and lots more
Purchase Your Preferred Web-Hosting
A web-hosting is what powers your blog. Without the web-hosting, people cannot access your blog. Since you're going with WordPress as your chosen Content Management System (CMS), you'll need a WordPress-specific web hosting.
Even though you have to pay a premium for a web-hosting, it doesn't have to be expensive. Every WordPress-specific web hosting comes with different packages at competitive prices. You'll need to take your time to figure out which package suits you.
Once you choose a package, just ensures that you have specified that you already have a domain name. You'll need to key in your domain name, and follow the prompts that'll help you connect your domain name to the web-hosting.
For Webhosting, just refer to Interserver as it is a top Web Hosting Provider that can make an impact with its easy to use functionality that can best fit your budget as well as adaptable for any site and individual whether a beginner or professional.
Some fantastic features of Interserver
Unlimited Domains
Free Website Migration
450+ Cloud Apps
Easy to Use Control Panel
Global Content Caching
Unlimited E-Mail Accounts
Unlimited Storage & Transfer
Price Lock Guarantee
Reasons to be the preferred choice
30 Day Guarantee
Price Lock Guarantee
Renewal Cost
70% Are Migrations
We also suggest you opt for Bluehost as it is one of the best WordPress Hosting providers for the experience it provides over the years as the most trusted brand to host a number of Websites.
Some features it provides are
Fast scalability, upgrade to a VPS with one click.
The free bundled SSL certificate.
Easy 1-click WordPress installation.
An enhanced cPanel for starters.
Strong uptime and load time.
Free site transfer, free domain name.
Install WordPress
That is the final step in opening a WordPress blog. When you choose a WordPress specific web-hosting, you won't need to download WordPress. The first time you sign in to your account, you'll be asked to set up your website.
Under 'start a new website' select WordPress and key in your site's details. You'll need to set up the password you'll use to log in after which the web-hosting will automatically install WordPress. Once the process is complete, you can give yourself a tour of the dashboard to familiarize yourself with the features.
Conclusion
WordPress is among the best Content Management Systems (CMS) in the market. You can choose the free version or go for WordPress.org, which offers more functionality.
Now we hope that you can get a better understanding of how to start a WordPress blog, you can start brainstorming on the blogging ideas and if you have any query that relates to the topic, don't hesitate to call our WordPress global support helpline number +1-855-945-3219 (toll-free).

Thanks!
Read more useful blogs