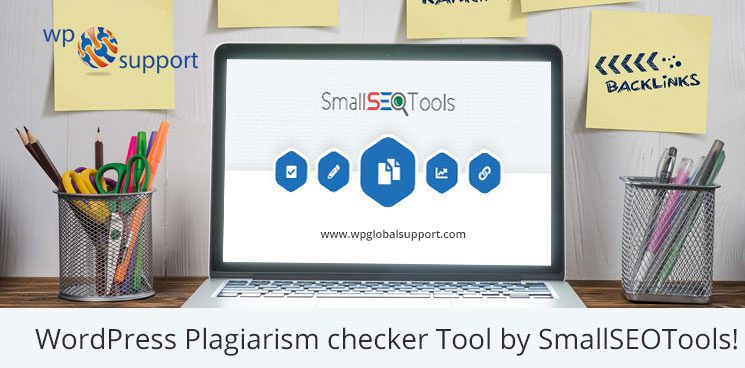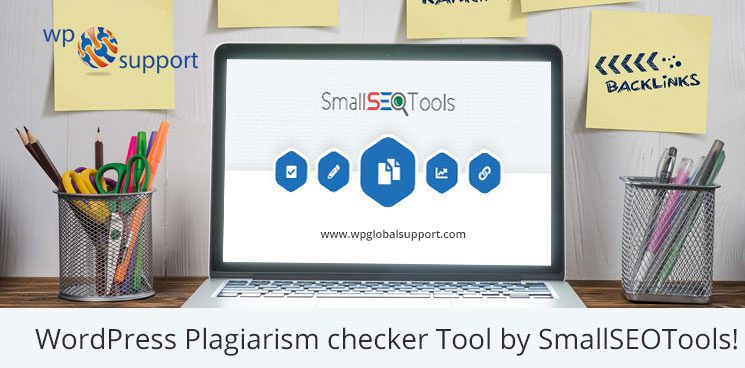 Suppose you are a WordPress developer or content writer. In that case, you should always have a plagiarism checker that can help you avoid the accusations and blame for different sorts of plagiarism/duplications.
In this post, we would be throwing light on one of the best plagiarism checker tools found on the web, especially WordPress. There are only a few plagiarism checker tools for WordPress, and it can be difficult for you to find the most suitable one.
Below we have discussed the best plagiarism checker, which can help you screen and remove plagiarism from your WordPress website content.
Free Plagiarism checker – SmallSEOTools
The free plagiarism checker tool by SmallSeoTools is one of the premium services available on the internet. Most of you might be familiar with the plagiarism checker working with small SEO tools. Still, not all of you would know about the WordPress plugin of this tool. The WordPress plugin of the plagiarism checker tool by Smallseotools is one of the best services that can help you screen plagiarism. This is why we recommend that you use it.
If you want to enjoy this plagiarism checker's free services, you can easily enjoy 20 queries in a day. For more queries and search inputs, you need to get into the different packages. Unlike other plagiarism checker tools, you do not need to copy and paste or upload the tool's input. You can easily get the WordPress plugin for free with this tool when you get the plugin. You can directly check your content with it instead of wasting time uploading and inserting it in the basic module of the tool.
This WordPress plagiarism checker also has tons of features that make it different from others. If you run a blog or any business website, this plugin will prove to be helpful for you. Some of the top features of this plagiarism checker tool's plugin are listed below for your knowledge!
Features of the plagiarism checker
Here are some of the highlighted features of the tool which make it special and different from others.
Fast and Accurate results
The WordPress plagiarism checker by SST is one of the quickest services on the internet. The plagiarism checker tool is not only quick but is reliable. You must know that the results produced by this site are 100% accurate. Suppose you install this plugin on your WordPress blog or site. In that case, you do not need to worry about your content being stolen or plagiarized. If someone is copying your content, you would be alerted by the scanner. You can easily treat the case accordingly.
Sentence wise checking
The duplicate content checker by WordPress can easily help you in checking every sentence of your blog or your website. You must know that the working of this plugin is based on artificial intelligence. When the tool detects content in your blog, it first analyzes all of the text and splits it into small divisions. The splitting of text into small phrases makes it easier for the tool to scan it for all sorts of duplication.
One-click checking option
As we have told you before, you do not have to upload content in the checking tool. Rather, you have to click on the 'check plagiarism' button while using the plugin, and the tool would start scanning the blog. It will get you detailed results if any plagiarism is found in the content. You will get to know about the percentage of plagiarism along with the exactly matched links.
Monthly and yearly plans
The plans and packages offered by this plagiarism checker are very much affordable, and you do not have to worry about any extra weight in your pocket. The plugin can also offer up to twenty free queries that make it accessible to free users.
Safety and Security
People usually avoid checking for plagiarism just because of security reasons. This plugin offers complete privacy and security to the content it checks, and you do not have to worry about it being stolen or hacked by any other person. The content you check with this plugin scanner is safe and locked!
Comparison of plagiarized content
Finding plagiarism is one thing that most plagiarism checker tools can do but comparing copied content with the source is an excellent feature of the tool you must know about. Suppose this tool finds any plagiarism or paraphrasing of your content. In that case, it will help you manually compare both texts for better understanding and screening!
Easy to use
This plagiarism checker plugin is extremely easy to use and configure. You don't need any skills to run it on your browser. You have to create an account with smallseotools.com and register yourself after registration. Things would become much easier to understand and run.
Multiple website usage
You can check content on different websites and blogs by using the same account, which is a big plus of using this tool. If you have this plugin, then there is no need to create multiple accounts!
You should try this plagiarism checker plugin if you are related to the WordPress fraternity!