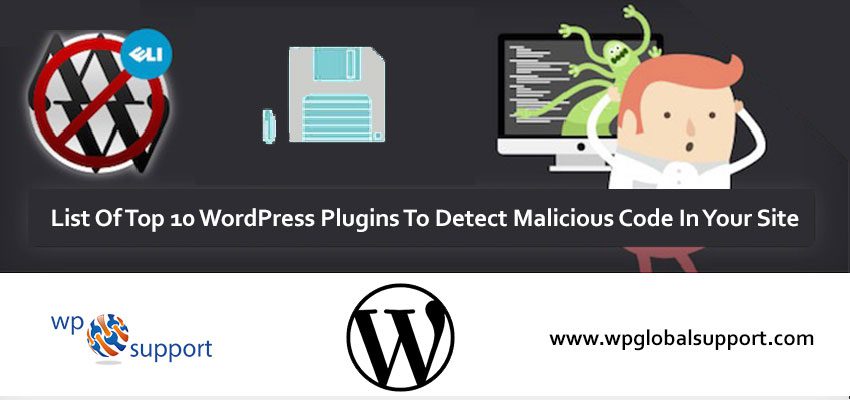 Here, in this post, we are going to introduce you the best WordPress plugins to detect malicious code. We all are aware of the fact that WordPress is one the most popular Content Management System (CMS) used either for blogging or other purposes like setting up an e-commerce store. It is also one of the most popular platforms for website creation.
This is the reason why WordPress has become a lucrative target for hackers and potential abusers. They try to apply different techniques and approaches to gain access to the WordPress site. To save your website from such attacks it is necessary that your website should have a reliable security wall.
However, the WordPress contains multiple Themes and Plugins to choose from. Some of them are free while some are paid. Sometimes these Themes are actually uploaded by people who have tweaked them for their own gain.
Also, some WordPress users use premium Themes and Plugins that are downloaded by illegal means. They could possibly be filled with malicious codes, loopholes or backdoor installed in them. Thus, if you use any pirated theme or plugin, you are in great danger of losing control of your website, data or reputation any day.
In this post, we've gathered top 10 effective tools to deal with malicious code in a WordPress theme or website.
WordPress Plugins To Detect Malicious Code
1. Theme Authenticity Checker (TAC)
Theme Authenticity Checker (TAC) is a WordPress Plugin which scans the Theme of your website for malicious codes such as hidden footer links and Base64 codes. After installation, the plugin will go through the source codes of each of your themes and will look for any unwanted code.
Once detected, it then shows the path to the particular theme, the line number and a small piece of the distrusted code which makes it easy for a WordPress administrator to directly identify and analyze a particular piece of suspicious code.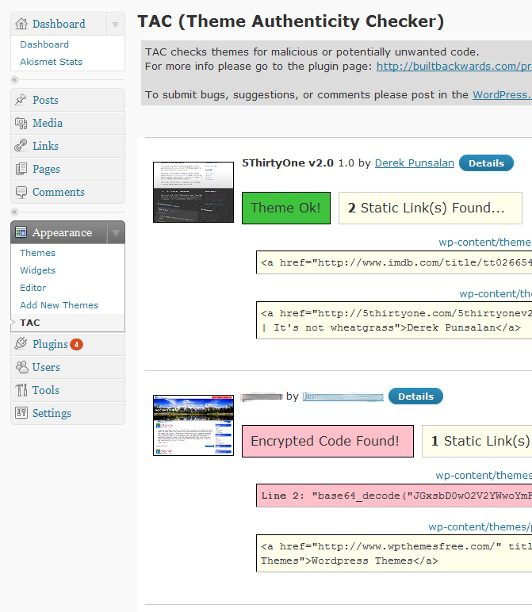 2. Exploit Scanner
Exploit Scanner scans all the files, posts, comments, database and other sections of your website to find out any suspicious or malevolent code.It also monitors the existing and newly installed plugins to detect any unusual or misleading file name.
When using Exploit Scanner, remember that it will not prevent your site from a hacker's attack and it won't remove any suspicious files from your WordPress website. In fact, it provides a detailed report to the site administrator.WP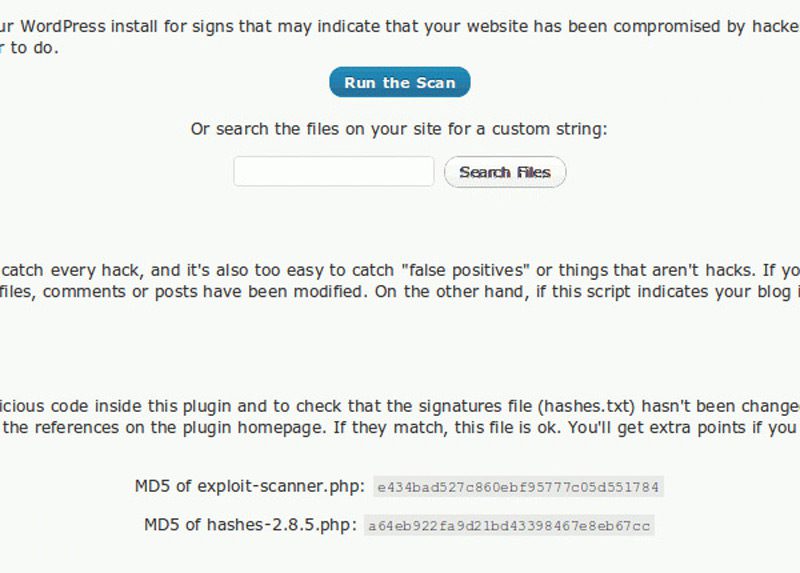 Also Read: How to Secure your WordPress Site from Malicious Plugins?
3. WP Antivirus Site Protection
WP Antivirus Site Protection is a security plugin for detecting and removing malicious code from your website. It scans your WordPress themes as well as other files uploaded to your WordPress website. This plugin detects most of the common threats including spyware, adware, backdoors, worms, rootkits, trojan horses and fraud tools.
However, the main features of WP Antivirus Site Protection include scanning of each file uploaded on your website, updating their virus database on a regular basis, the removal of malware, sending alerts and notifications via email and lots more.

4. Sucuri Security
Sucuri Security is the most popular and highly reputed malware scanning WordPress Plugin. The main features of Sucuri Security are:
Monitoring files uploaded onto the WordPress website
Blacklist monitoring
Security notifications
Security activity monitoring
Remote security malware scanning etc.
Also, the Sucuri security Plugin also offers a powerful website firewall add-on which can be purchased and activated to make your website even more secure. By using these features, Sucuri can make sure that your website is safe from potential abusers and all the files of your website are safe.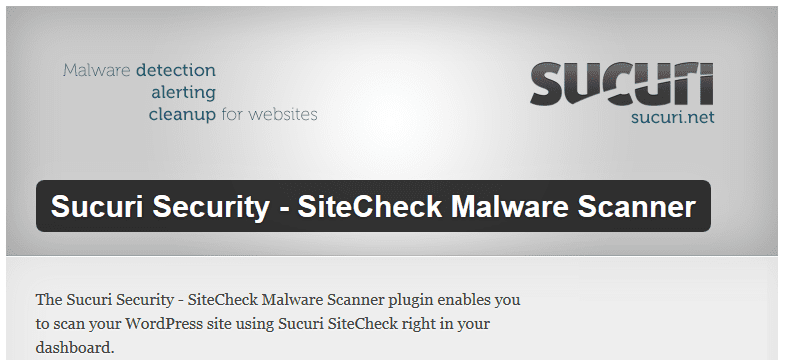 5. Wordfence Security
Wordfence Security is also one of the most popular WordPress Security Plugin. It defends your website against cyber threats. This Plugin is provided with a powerful built-in feature to scan for potential backdoors, suspicious code, and any other security vulnerability.
However, this Plugin includes two-factor authentication, it also blocks an entire malicious network (if detected). Wordfence security plugin also compares the source code of your website against the official WordPress repository to make sure that everything is in order.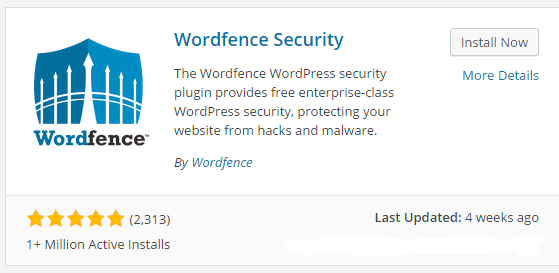 6. Quttera Web Malware Scanner
Quttera Web Malware Scanner provides the convenient solution to both known and unknown malware on your WordPress website. It scans your website for protection against malicious code injections, viruses, worms, malware, trojan horses etc.
This excellent free plugin scans your website to find out any instance of malicious code usage, iframe exploit, JavaScript obfuscation, redirects, hidden backlinks, etc. Also, this Plugin looks for common security threats including trojans, malware, spyware, backdoors, virus, etc.
Last but not the least, the plugin also finds out if your website is blacklisted by Google or other authority sites. The feature of the one-click scan will provide you with a detailed security report on your website.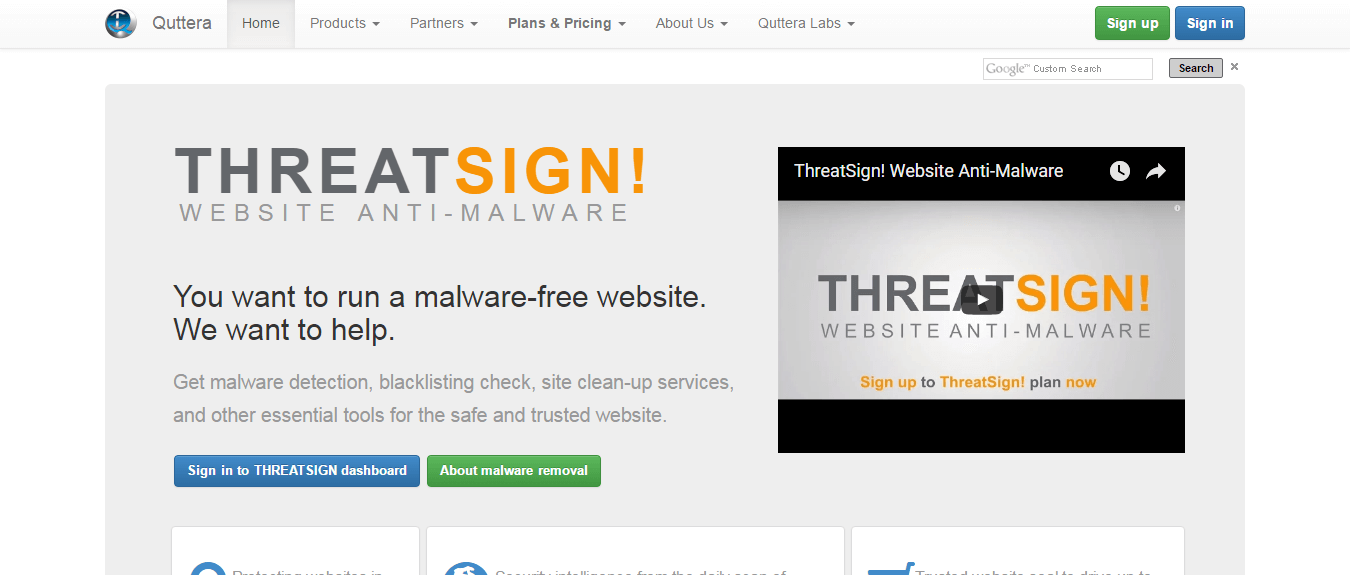 7. Anti-Malware and Brute-Force Security by ELI
Anti-Malware is another popular WordPress security Plugin which scans your WordPress website for malware, adware and various types of security threats and vulnerabilities in your website. Some of its important features include quick scan, customized scan, complete scan, removal of unknown threats automatically and many more.
This Plugin is also capable of removing specific threats like SoakSoak exploiting the vulnerability of Revolution Slider. You can register the plugin for free at gotmls. And you can run a quick scan right from the dashboard.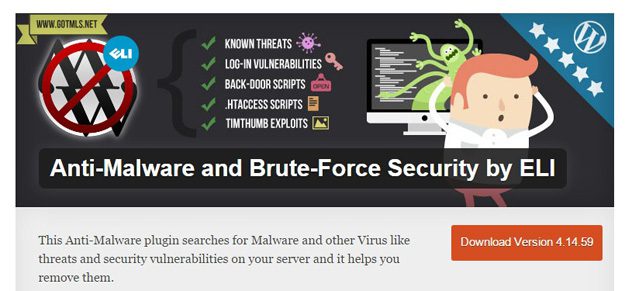 8. Wemahu
Wemahu is a new scanning Plugin for WordPress. It is a crowd-powered malware scanning WordPress plugin used to find malicious code in the files and themes of your WordPress website. The files in your site could be scanned by using cronjobs, regular express database, and the detailed reports will be emailed to your inbox.
Also, this plugin will retrieve information from the central whitelist and signature database to avoid false detection. If you are running a large website with lots of files, use the handy timeout prevention to bypass the script timeouts.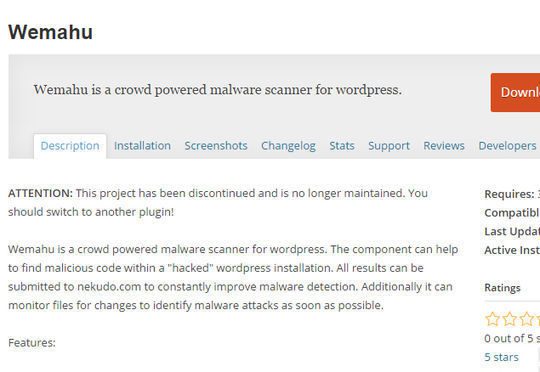 9. Antivirus for WordPress
Antivirus is a very useful and easy to use protection Plugin for scanning WordPress themes used in your WordPress website for malicious injections and suspicious codes. If it picks up anything suspicious, it will notify you by email.
Additionally, the plugin also displays an alert in the admin bar if it finds any unusual activity. It can also whitelist your site and there's plenty of other features too.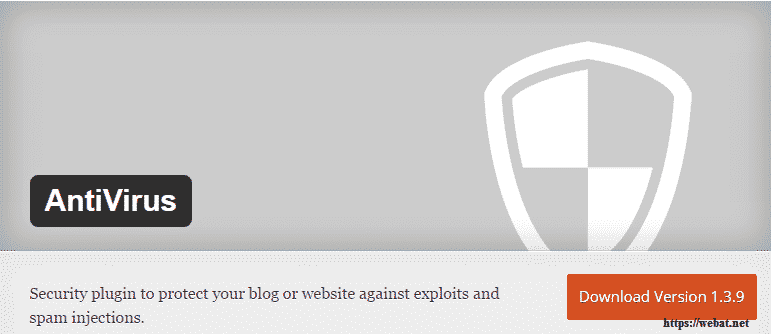 10. Bulletproof Security
Bulletproof Security Plugin in another very popular WordPress security Plugin that protects your sites against 100,000 attacks. Also, it offers security against all CSRF, Base64, XSS, RFI, SQL Injection, and Code Injection hacking trials.
Bulletproof Security includes another useful maintenance feature that allows developers to put up a "503 under maintenance" page while the site-owner works on their website.
It uses .htaccess files for security which makes it impossible for any suspicious script to malfunction the system, even before they get a chance to reach the PHP code in WordPress. This plugin ensures effective optimization of the performance of your website and protects it from any potential threats.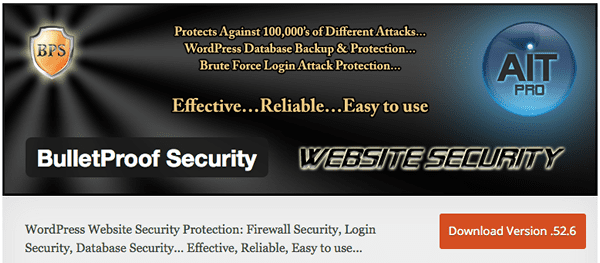 Conclusion
The above Plugins are the best WordPress plugins to detect malicious code on any WordPress site. The plugins in this list are widely used. They have their own success story and track record as far as the WordPress security is concerned.
If you have any hurdle, let me know in the comments section below!
We hope that the above article will help you to choose the right WordPress Security Plugin to protect your WordPress website from malicious codes.You can also take help from our WordPress techincal Support Number. Please Dial +1-855-945-3219 (Toll-Free).