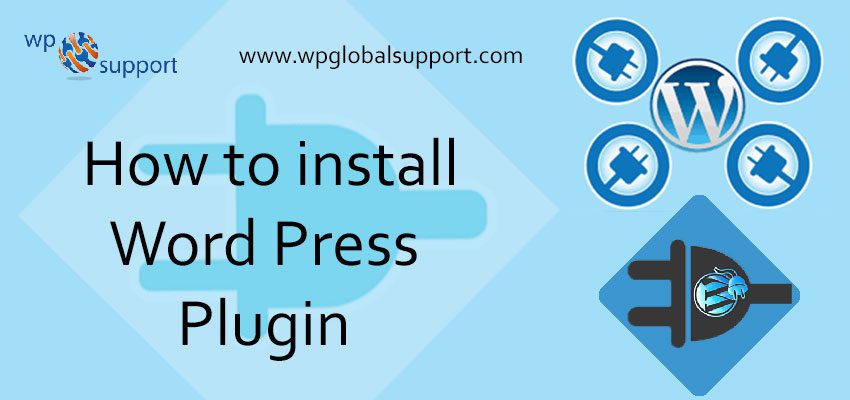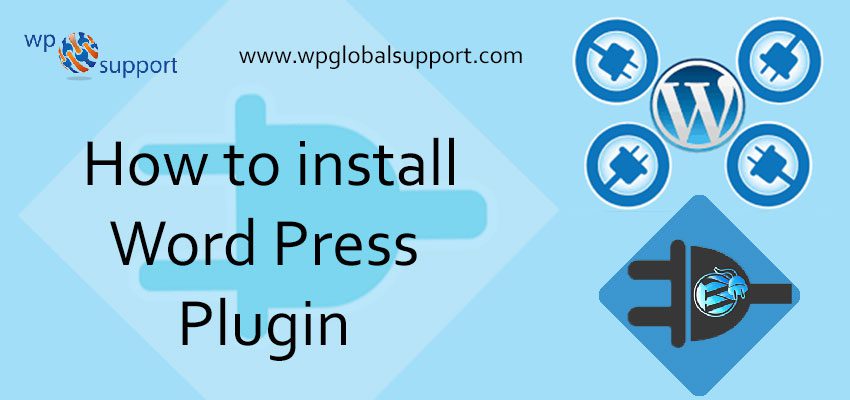 A plugin is defined as a type of software that contains a group of functions that can be added to a WordPress website. They are used to provide additional functionality to your application. We have shown the two ways to install plugin in WordPress which is free and paid.
Read More: Top 8 WordPress Plugin for SEO
HOW TO INSTALL PLUGIN THAT'S FREE
How to install plugin in WordPress that's free works differently than installing a premium plugin. We will tell you both and first Starting with free plugins:
First of all go to the admin panel –

http://your-domain.com/wp-admin/

and click on "Plugins" in the sidebar menu:
As sidebar is a theme feature, which is basically a vertical column provided by a theme for displaying information other than the main content of the web page.
Here, theme is a group of stylesheets (stylesheet refers to a CSS file in a theme) and templates that are used to describe the appearance and display of a WordPress site. Also, Templates are those files which control how your WordPress site will be displayed on the Web.
As, CSS is known as Cascading Style Sheet which are the documents containing the styling rules that can be applied to HTML or XML. Where the word cascading expresses the process of filtering down from general rules until the most specific rule is encountered.

Then, click on the "Add New" button at the top

You'll see next is a page showing you a short list of recommended plugins and a search field on the right – this is the one we're going to use. Just Input the name of the plugin that you want to install in that search field.
Here, pages are like posts. Pages can be managed in a hierarchical structure in WordPress and the articles posted by the admin of a WordPress site are called posts.
Select the plugin and click the "Install Now" button. When you will do this WordPress is going to fetch the plugin and have it installed on my site. It works much like installing a new app from the App Store.

When the installation is complete, you'll see this: 

click the "Activate Plugin" link that has just appeared. The plugin has been activated, and WordPress will let you know about this fact over a small note at the top of the page:
HOW TO INSTALL A  PREMIUM / PAID  WORDPRESS PLUGIN
The whole process of how to install a WordPress plugin that's premium different. premium plugins are not available in the official plugin directory – the one you can access using the search option in your wp-admin panel.
Firstly obtain the plugin itself. This step you need to handle on your own. It involves going to a marketplace or a plugin store, and buying a copy of the plugin from there.

As a result of your purchase you should have the installable plugin file saved as a ZIP archive. Like so:

Once you have your ZIP file, go back to your WordPress

wp-admin

panel, click on "Plugins" in the sidebar menu, and then on the "Add New" button:

Here, admin panel is also known as the administration area in WordPress website where only an authenticated user can make changes.
With the admin panel, it allows you to create and manage posts, pages, menus, media, change styling in the form of themes, add functionality in the form of plugins and much more.

Next, click on the "Upload Plugin" button visible at the top:

On the next screen, you will be able to upload your plugin's ZIP file straight to your WordPress. Select the ZIP from your desktop and confirm the upload by clicking on "Install Now."

When WordPress finishes doing its magic, you'll only need to activate the plugin. After doing so, the plugin is online and you can start using it.
We hope that the above article helped you to install plugin in WordPress. You can also take help from our WordPress technical Support Number. Please Dial +1-855-945-3219 (Toll-Free). We  have a team of good professional who can resolve all your issues related to WordPress.
Read More Blogs: