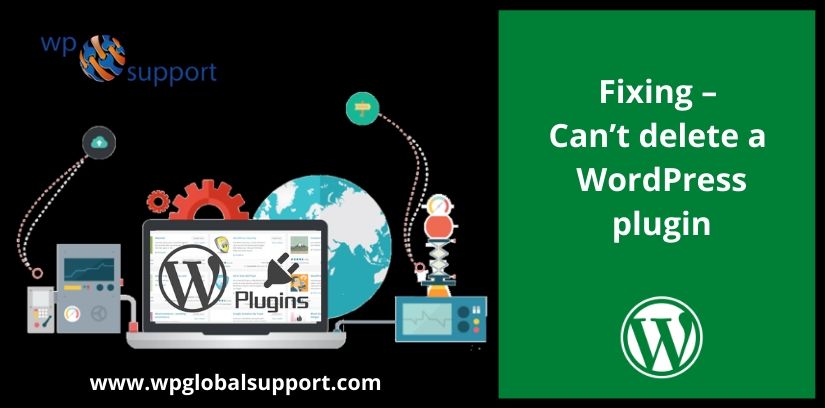 Every blogger is familiar that plugins are the main cause for the success of their WordPress Site. plugin is a series of functions that gives additional functionalities to your WordPress website. When you are unable to uninstall any plugin, then this Can't delete a WordPress plugin error will arise. Just look at this article thoroughly to resolve this Can't delete a plugin Error in WordPress.
If you are feeling difficult to delete a plugin in WordPress, you can take help from our WordPress technical support team. We will be pleased to help you. To get instant support service, Dial: +1-855-945-3219.
Let' see two methods for learning how to delete a WordPress plugin.
For these firstly, you have to check the blog error log to find out which plugin caused the error. You can do this through the WordPress file manager if you still have access to the blog. Under root directory you will find the file error_log. Once you've found the buggy plugin in the next step delete the plugin. Some of the plugins are stored in hidden directories under the WordPress so for this we need an external file manager to access the plugin's directory.
1- Using ftp File Manager for deleting a WordPress plugin:
First of all download the Filezilla and then after install it on your system.

Run Filezilla and then connect to your blog's ftp server. Use your ftp login and password of the blog.

You'll have access to all the blog's server files once you have logged in.

Next navigate to the directory /public_html/wp-content/plugin

Delete the directory of the buggy plugin.

And now you should be able to access your blog's interface once you've deleted the plugin.
2- Delete plugin using Secure Shell (SSH)
You can also use programs like putty to get access to the internal file system of the blog if you're good with command line interfaces. To connect to the WordPress Server these programs use SSH protocol.
Firstly download and install a SSH client for example: putty.

Next run the program and you shall have an interface similar to this.

Enter the server's IP in the Host Name and click on open.

A shell window will appear. Navigate to the "../wp-content/plugins/" directory using SSH commands.

Use the command ls –al to see a full list of folders.
Still unable to delete a plugin Talk to our WordPress support team to get instant service. We will be pleased to help you. Dial +1-855-945-3219 now.
Some of our other blog which you might find useful: