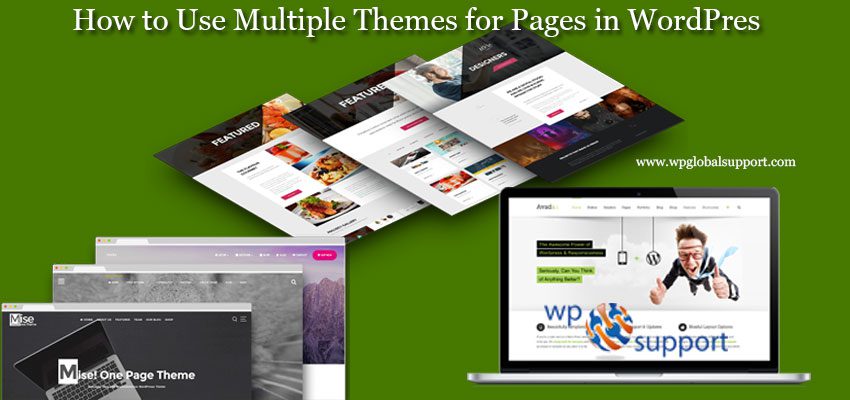 Well, WordPress Plugin is the most popular content management system for its flexibility and customization. Being the best, it allows the users to create , edit and modify many themes, templates, sidebars, styles, and more. It is fine to create themes, templates, etc. but what will you do if you wish to use WordPress multiple themes for different pages.
Hence, With this ultimate guide we are going to discuss on how to use multiple theme WordPress for different pages to increase the appearance of your website. But remember, that you need to be more careful to perform this task. Now let us understand on.
What You Should Do Before Using WordPress Multiple Themes?
Before starting the process, the very first thing you have to do is to create a backup of your entire site to avoid any loss of data because sometimes the corrupt file can lead to the loss of data during the process. Furthermore, you also have to turn off your all WordPress caching plugins like W3 Total Cache and WP Super Cache because these tools can display older version of pages.
Now, Install the themes you would like to be installed on your website. After the installation process, activate the theme one-by-one but not all at a time as by this you can install as many themes as you may like. Follow this for more – How to install a theme in WordPress?
How To Use WordPress Multiple Themes For Different Pages
Listed below are the steps that you have to follow in order to use multiple themes in WordPress;
Using themes in WordPress

:

You can also use multiple themes through a WordPress plugin called jonradio Multiple Themes. To understand the installation process with more details then please visit our guide on How to install a plugin in WordPress?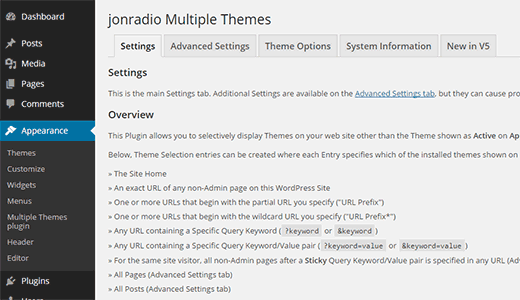 Furthermore, the plugin also has some limitation, elaborated are as follows:
The cons of this WordPress plugin is that all premium themes do not work with this plugin. With some themes, there are so many struggles to solve easily.
Along with this, the very best thing is that the plugin comes with additional information like how to use the plugin and all. On the setting page of the plugin, each section is explained in full detail. Let's summarize these settings for you;
There are three methods we have mentioned here and plugin author mentioned on the setting page of the plugin to set multiple themes, they are;
Method 1:
The first option lets you set a different theme for the homepage of your site. You just have to choose the theme from the dropdown menu and save the theme.
Select the theme you like and then click to Save All Changes button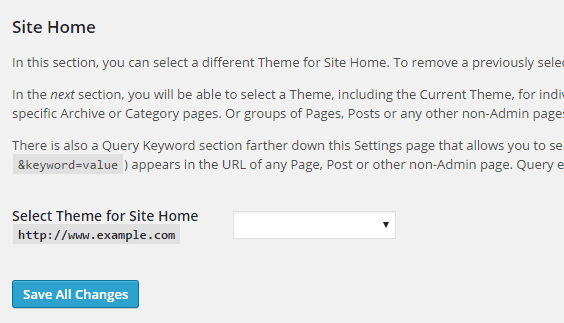 [Image source file: www.wpbeginner.com]
Method 2:
Through this method, you will get a full URL, use a URL prefix, or an Asterisk in URL. But note that if the URL matches with any page, then it will use the same theme you define here.
Select from URL, URL Prefix and URL Prefix with Asterisk("*"), use the drop down menu to select the themes and add the URL by using cut and paste method from the web browser.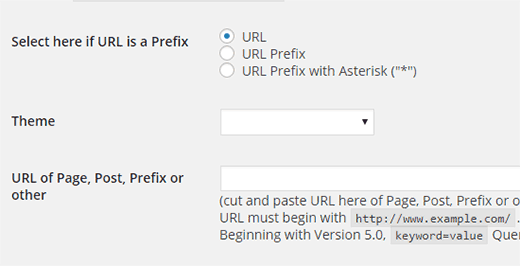 Method 3:
The third method says, that you can apply the theme by using a query keyword. But note that any URL you define contains the keyword which will use the theme defined in this setting. use the drop down menu to select the themes or use Query keyword where all the keywords to be entered must be case-sensitive lower-case.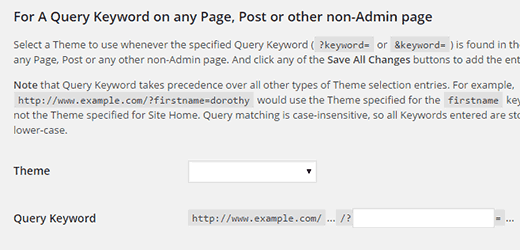 That's it! Now, let's discuss changing the theme options;
How To Change Theme Options?
Remember that, your currently active theme will not change when you apply a theme to a section, page, or query. You need to temporarily activate the theme in order to configure it. For example, we say that you are using Twenty Fifteen theme at present on your website and you have applied Twenty Sixteen on a specific page in your site.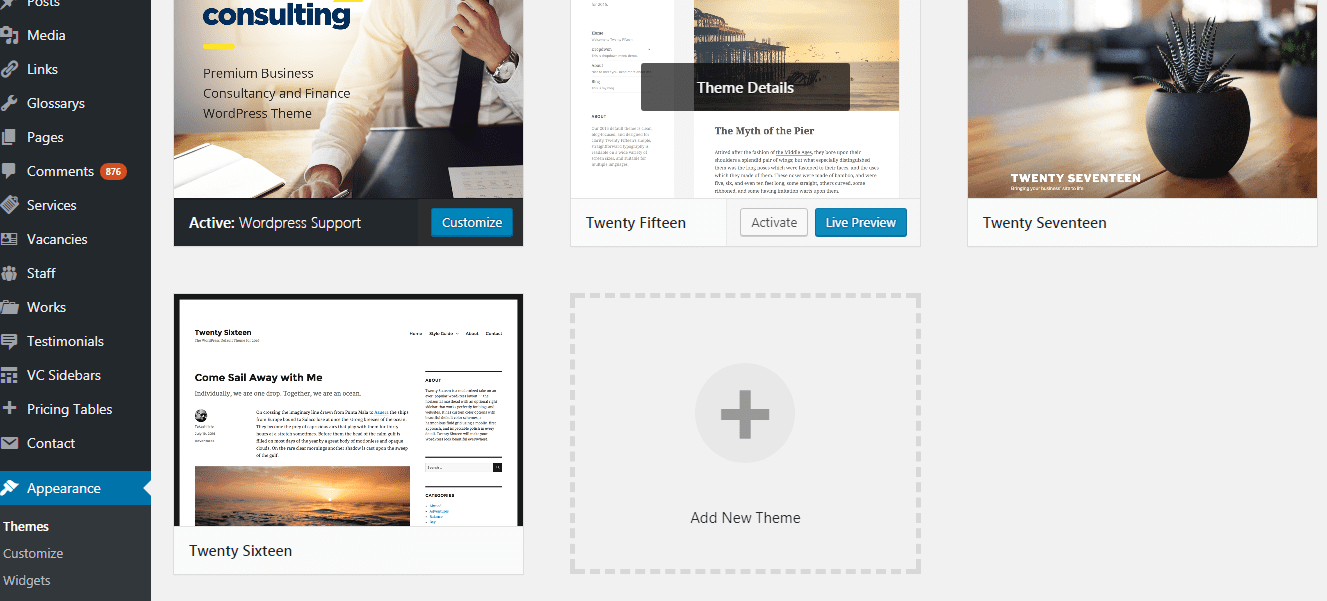 Now, in this stage, if you want to configure the WordPress theme option for the same theme means Twenty sixteen, so all you have to do is to go to Appearance>>Themes and activate the theme. Once you have activated, you can make changes to the theme by going to Appearance>>Customize.
Once you have done the process, save your changes by clicking on the save changes button and go back to the Appearance>>Themes. Thereafter, reactivate your old Twenty Fifteen theme.
You can go throughout the Theme Options Tab on the Plugin's settings page for more advanced theme options. You can see the screenshot shown below: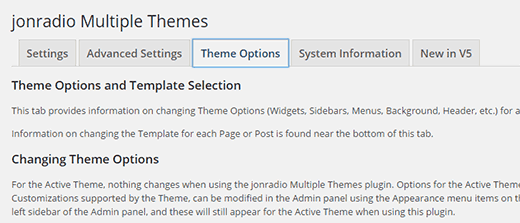 Different Options To Use Multiple Themes
Well, If you like to see some of your website pages or posts in a different style or theme which includes responsive themes and want to customize the look and feel of them? Therefore you must aware of the Elementor plugin. Because it is a far more easiest and yet effective way to do so. In addition, the Elementor plugin tool is full of various kinds of possibilities and features.
All these features and options will let you customize every area of the website. As because, this plugin provides you a large number of pre-defined templates. Therefore with the help of these templates it allows altering or creating of your own ideas which can be much easier for you.
However, using the Elementor plugin for adding multiple themes to your WordPress website can also be more precise and convenient in terms of user-friendly. As you are well aware about this, it is a recently developed plugin. So there is no need to be worried with its update versions. As it is up to date, you do not need to have to worry about the compatibility issues that you might would consider with those which are currently out of date.
Well, from plenty of plugins there is one more option that you will find useful for your website which is called SiteOrigin's Page Builder. Since this plugin is as same as Elementor plugin in context to layout and styles. With addition, this plugin also has some pre-defined templates as well. These templates will let you use the widgets normally for the sidebar which can be directly used into the pages or post of your website.
However, the above listed two Plugins are probably made things such as Multiple Themes more convenient, instead of making them harder to use by outdated plugins. Because these are much more flexible and gives you a lot more options to customizing each individual post or page.
Besides that, the biggest advantage is that you do not need to install a different variety of themes. In addition, you are able to customize as many layouts as you want. Even without uploading or installing more than one on your WordPress website.
Make Your Website More Attractive
Well, when you are uploading more than one theme on your WordPress website. Then, this theme provides you more possibilities to add more style and eye-catching designs with just by changing the layouts of few posts and pages. Here, your visitors will experience an entirely different style on each corner instead of the same layout visible everywhere in the site.
This provides a clever technique for you to try something unique that still falls within your website's niche. Also, you can discover many customizations by exploring more on WordPress. With this you will be more accurate with your design and layout which will make you stand out from other sites.
That's all for now!
Final Thoughts
You can use WordPress multiple themes for your different pages easily with the help of this guide we have mentioned above. Adding multipurpose WordPress themes help you to build different businesses with a single site as you want. You don't need to build a different site for different business.
We hope this article will help to use multiple themes on your page. In case of any assistance contact to our WordPress Help professional. They will be pleased to help you.
Related blogs: