Best WordPress Portfolio Plugins – [Best Collection Of 2019]
Last Updated:

May 20th, 2019

Posted by:

Editorial team

Category:

Wordpress Plugin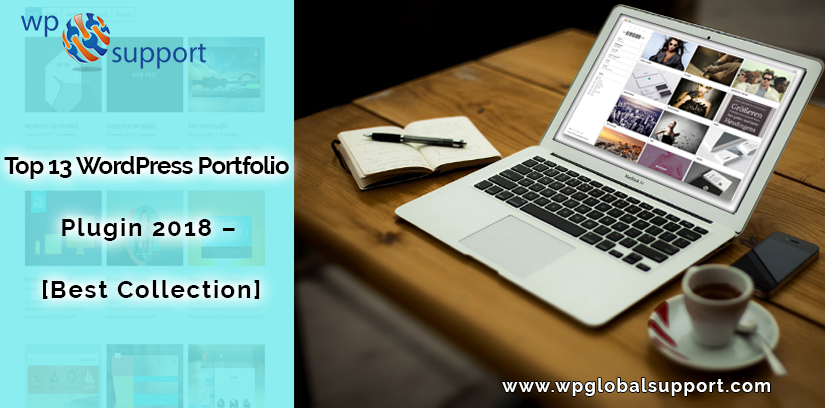 Many WordPress themes come with built-in functionality to create a portfolio website. But themes supports only visual appearance. In other words, the WordPress Portfolio plugins allow you to create, manage and publish a fully responsive & filterable portfolio.
Portfolio plugins have several features with animation, image hovers effects, portfolio categories, easy customization, etc. which gives add-ons in the visual appearance of a website.
What is WordPress Portfolio plugin?
A portfolio is basically an amazing way to showcase your images and videos. Where the WordPress portfolio plugin is a platform which supports images, YouTube, Vimeo, mp4 and WebM videos.
By using a WordPress portfolio plugin, you can display your pieces in a user-friendly way so that your work gets more attention according to its worth.
There exists plenty of free portfolio themes and plugins where it serves as an advantage that you can integrate it into an existing theme or site.
In this article, we are listing the best free & premium WordPress portfolio themes plugins. Let's have a look-
Best WordPress Portfolio plugin – 2019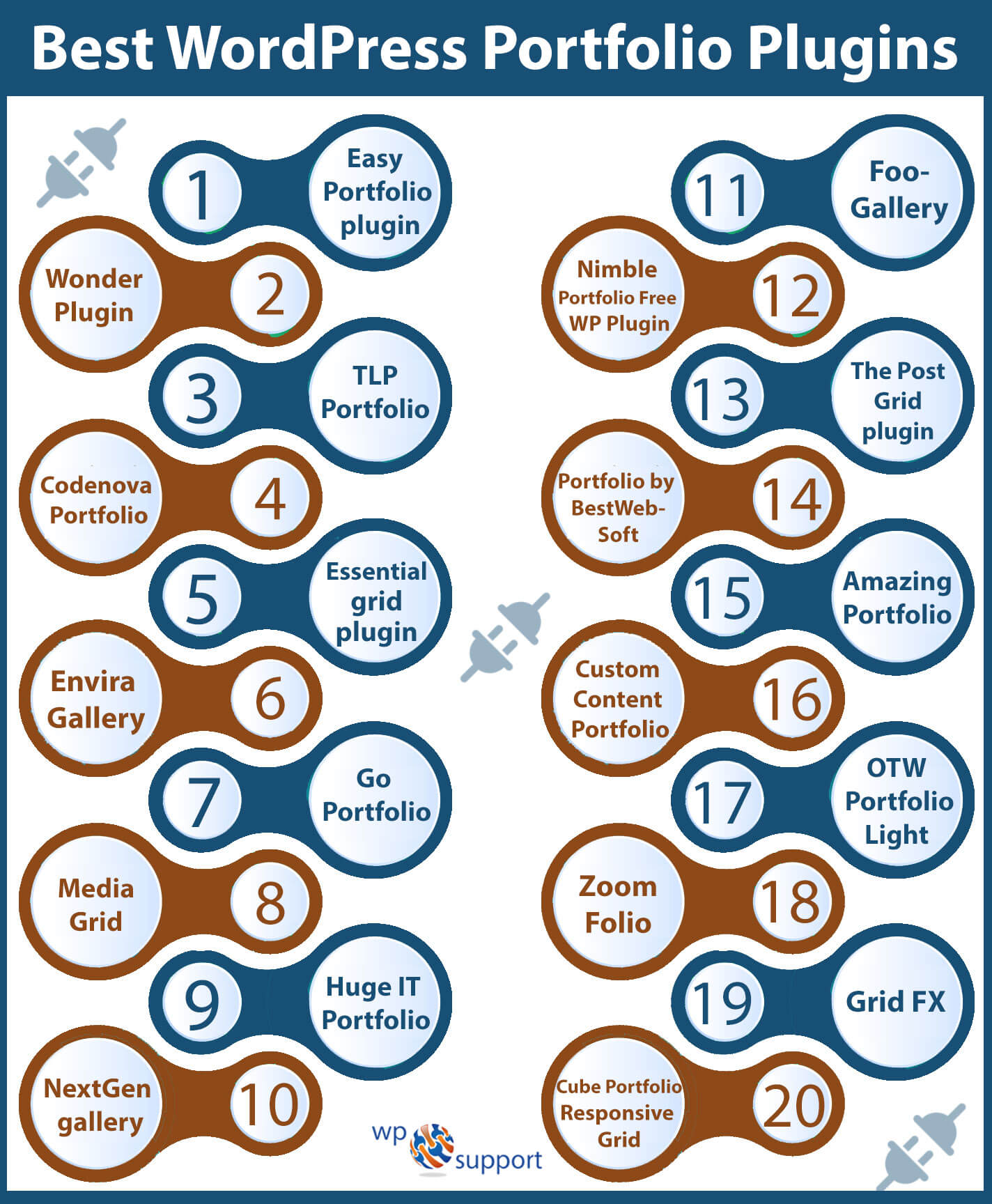 Let's get cracking in detail;
1. Easy Portfolio plugin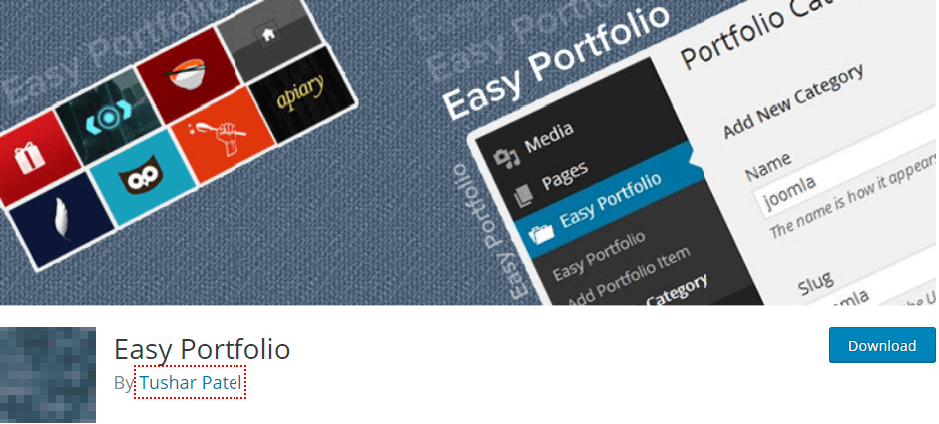 Easy portfolio plugin provides an interactive experience with users. However, it is used to design a portfolio with filterable functionality.
Moreover, if you are not too comfortable working on WordPress, this portfolio is best for you. The easy portfolio has features like easy use, customization portfolio plugin, portfolio details page customization, latest items show in orders & also in a column.
In addition, the portfolio plugin offers you so many categories like Climbing, Skydiving, Diving, Surfing, Children, nature, Joomla, Hotels, Technologies, etc.
2. WonderPlugin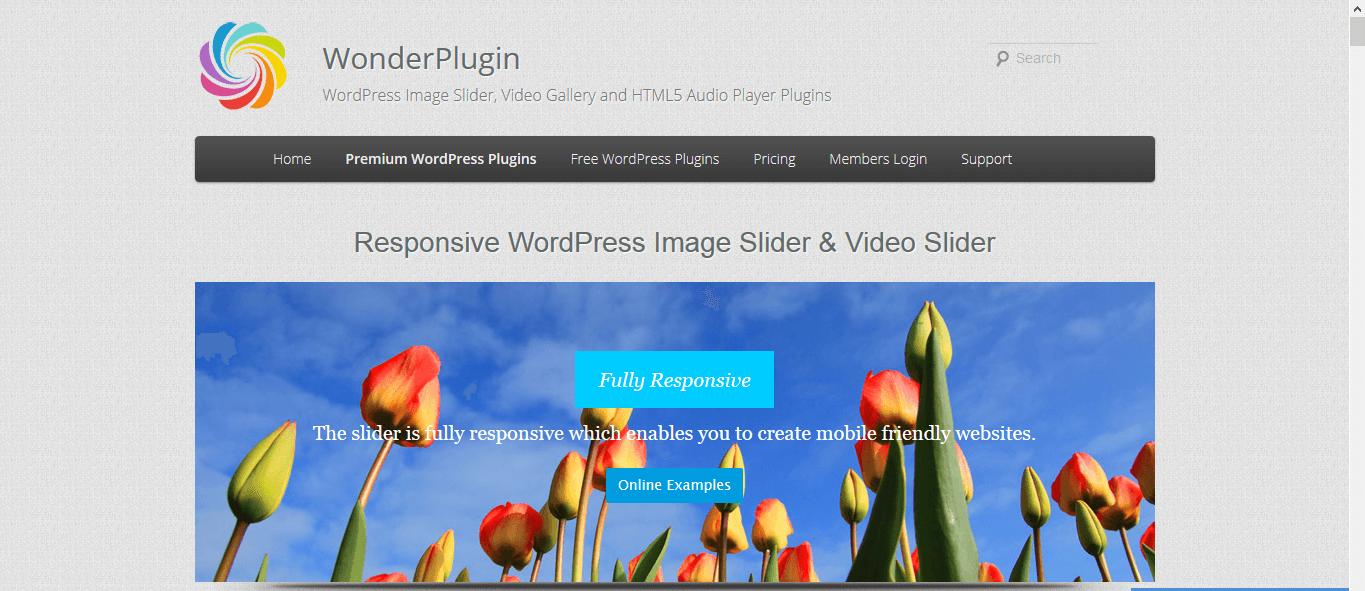 WonderPlugin is one of the most flexible portfolios. This plugin supports images, Self-hosted Mp4 & WebM videos, YouTube, Vimeo.
WonderPlugin Categories :>> Wilderness, Waves, WordPress hosting carousel plugin, Sunrise, Portfolio Grid gallery, Island, Elephant dreams,  Green, Big buck bunny, Forest, Evening, Desert, Dark beach.
Features of Wonder plugin
Supports all major web browsers and devices iPhone, iPad, Android.

Flexible grid layout & fully responsive. Open built-in Lightbox gallery or link to URL.

Multiple galleries on a single page.
3. TLP Portfolio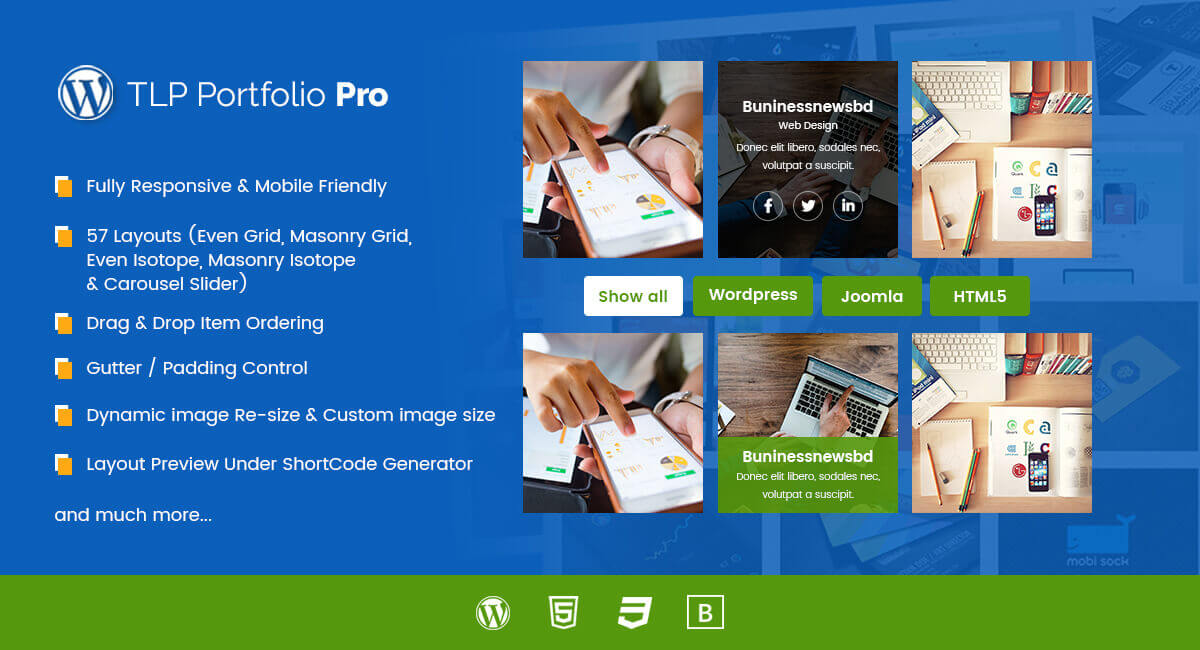 TLP portfolio offers a full set of a feature with fully responsive and mobile friendly. It also has 57 different layouts (20 grid, 19 Isotope, 18 carousels)
Some other features are –
Grid, isotope & carousel.

Even and masonry grid.

Drag & drop ordering.

Font size, color & alignment control.

Detail page field control.

Button color control.
4. Codenova Portfolio

Codenova portfolio is the best way to showcase your projects/works/portfolio in an attractive way. It manages in a nice gallery using jquery filters. This plugin is comfortable to use & navigate.
Codenova portfolio offers a unique widget and other features 
 Easy customization.

 Smooth filtration with jQuery.

A option to categorized portfolio in multiple categories.

Shortcode for pages/posts editor.

The PHP code for WordPress template files.
5. Essential grid plugin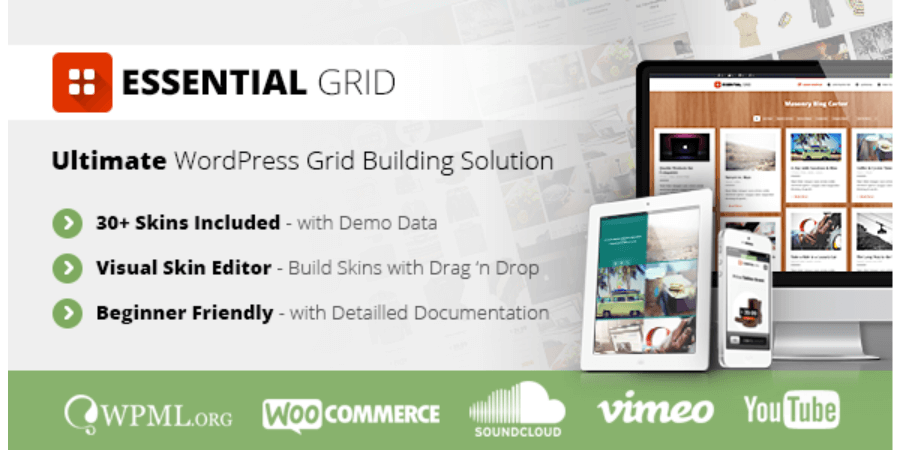 Another great Portfolio plugin for WordPress. The essential grid has full of features that serves all the functions. This provides you an impressive 30 visual skin builder & high standard documentation. It provides masonry grids layout for blogs, portfolios, galleries, stores and more, hence acting as a versatile WordPress plugin.
Serves as an all-purpose grid building solution having unlimited possibilities for creating new things. It's easy to display your content using the essential grid. You can customize the grid style as well as the order of the images as per your need.
You can add images, videos, Woocommerce products, blog posts, client logs and carousels to your grid.
  Features of essential grid plugin
  Easy customization with visual skin editor.

  Import & Export developers tools

  Support media from Vimeo, YouTube, SoundCloud,

  Woocommerce and SEO friendly.
6. Envira Gallery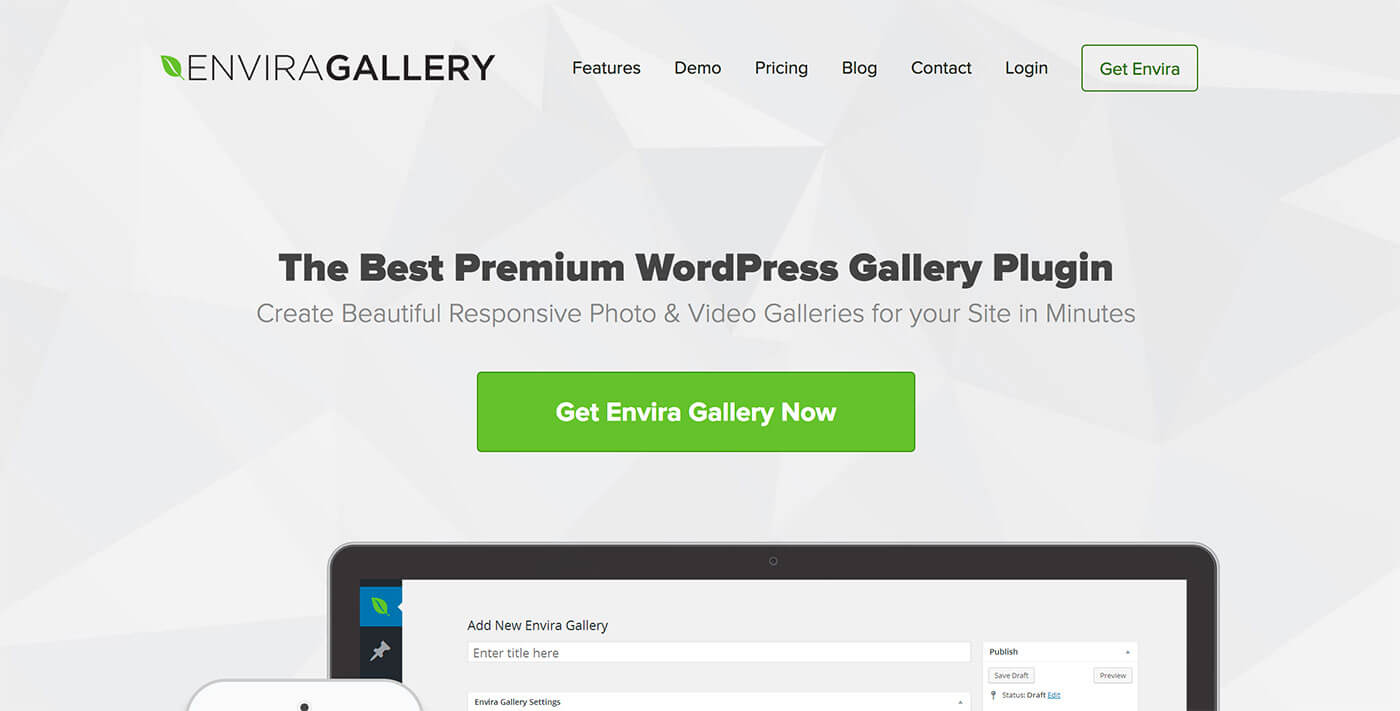 Envira is a drag & drop photo gallery portfolio with easy to customize features. Moreover, it is one of the best portfolio plugins to showcase your work in a responsive and filtered manner.
  Features of the envira gallery
 Quick loading response

 Retina ready & responsive design layout.

 Pre-built templates.

 Woocommerce integrated & Social sharing

Image protection

Adobe Lightroom
7. Go Portfolio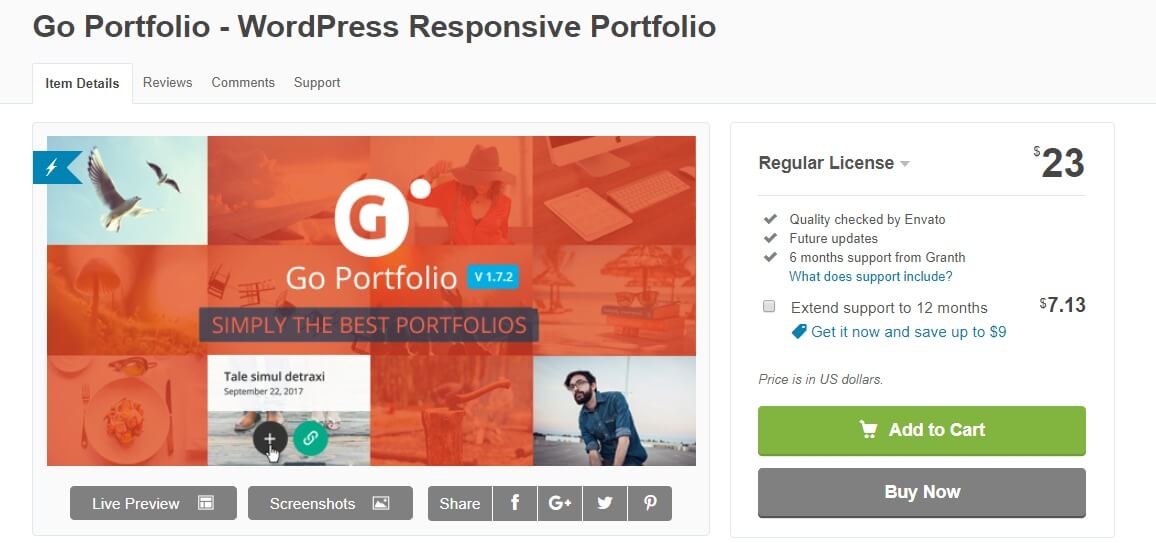 Go portfolio is the perfect plugin for contemporary creatives with a full set of features. Admin panel allows you all the functionality you could ask for. You can create more attractive showcase or teasers.
Features of Go Portfolio
  Visual editor compatibility.

  Classic isotope filter & opacity change filter.

  Advance Admin panel with tons of features.

  Built-in Templates & Style editor.
8. Media Grid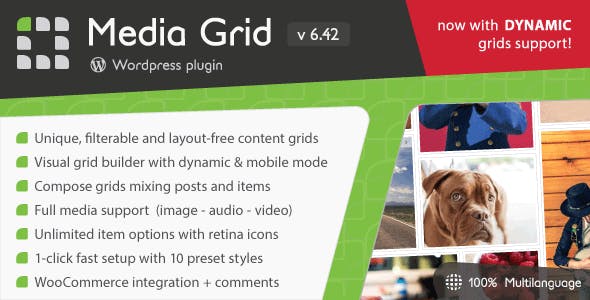 Media Grid plugin comes with unique filterable & pagination features. Based on advanced techniques it allows you to create own layouts, Dynamically or manually.
Media Grid offers you these features 
 Freely shape up to build your own grids.

 Dynamic grids & one click grid closing system.

 6 pagination system to choose from.

 Full media support.

 675 icons to beautify filters & customize items.

 Animated GIF support.
9. Huge IT Portfolio
Another WordPress portfolio plugin to present your work in a better way is Huge IT portfolio plugin. You can create unlimited portfolios with advanced import and export facility. Its free version LITE has fully responsive, 9 Advanced View, store view functionality, Categories & Sorting features.
However, in the Pro version, some other features added like 9 Animation type, 11 social sharing options, 6 beautiful lightbox views, watermarks, Advanced categories, search Add-on.
Features of huge IT portfolio
Unlimited options to create portfolio galleries.

Auto-generated short-code.

Fully responsive.

8 different viewing options.

7 different layouts.
10. NextGen gallery
The NextGen gallery is a simple portfolio but very powerful to all gallery management. It has the ability to batch upload photos, import metadata, add, delete, sort photos, edit thumbnail, group galleries into albums.
However, NextGen has a basic thumbnail gallery which is compatible with most of the themes. Its premium packages allow you to sell photos online, digital downloads, display price lists & offer coupons.
11. FooGallery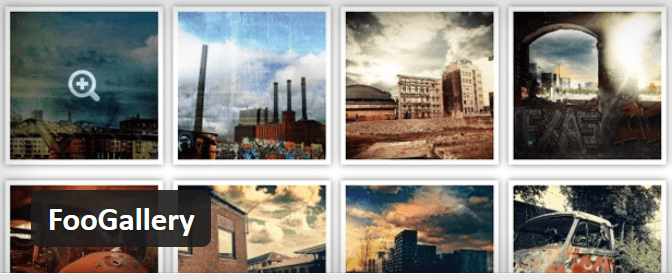 FooGallery is comfortable for those, are familiar with creating a post in WordPress. A button is added to the post editor, you just click on it to create a gallery. Meanwhile, you can manage images or videos with the help of a built-in media library. In this, an extension functionality makes it quick and developer friendly.
It is highly configurable and extensible for developers or freelancers. To create a gallery, first of all, you need to add a button to the post editor to create a gallery by clicking. It has proper image management because of its built-in media. Here you can drag and drop images and arrange them in any order.
Features of FooGallery
While working with the shortcodes, you can display a gallery anywhere on your site.
Within minutes, crisp thumbnails along with responsive galleries will be loaded fast.
A built-in gallery is an option of WordPress templates, but you can also choose to style galleries and albums with CSS.
A decent lightbox is in the list of features of the free plugin.
The good thing about the plugin is that it depends on an extension framework.
12. Nimble Portfolio Free WordPress Plugin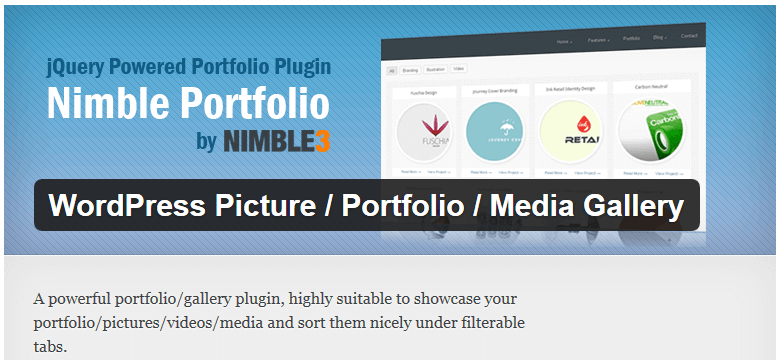 The nimble portfolio is one of the most popular portfolio or gallery plugin. Over 90,000+ downloads. However, it provides you built-in photo gallery. Moreover, in this plugin, you can enable widget & lightbox.
Furthermore, the features of the plugin
Super simple to set-up & use.

Powerful page options & jQuery sort filter.

Advanced options & shortcode support.

Multiple template design.

Easy categorization & short/ filter feature.
13. The Post Grid

The post grid provides masonry grids layout for blogs, portfolios, galleries, stores and more, hence acting as a versatile WordPress plugin. Serves as an all-purpose grid building solution having unlimited possibilities for creating new things.
It's easy to display your content using the essential grid. However, you can customize the grid style as well as the order of the images as per your need.
Features of Post Grid
Take control of the blog post archive pages as well as other parts of the site displaying a list of your content.
You may use the shortcode that's generated for each grid to insert a layout into a post or page.
 Can add multiple rules to your filters, and define which content is sourced for your grids.
Compatible with WooCommerce and SEO friendly
To access more features, you may upgrade to an affordable pro version.
14. Portfolio by BestWebSoft

Portfolio by BestWebSoft for WordPress Portfolio Plugin is another popular plugin option. However, it can work for any type of portfolio, but it is particularly designed to focus on web development agencies. There is custom taxonomy for executioners and technologies. Therefore, you can mention the users who worked on a project and worked as a technology used in that project as well.
Features of Portfolio by BestWebSoft
You can modify different elements, such as the size and label of the image.
The result is a dynamic portfolio that displays your work well.
It is hassle-free and user-friendly.
The paid version ($ 25) provides additional functionality, including classification and extended support.
The free version is a great way to start building your professional portfolio.
15. Amazing Portfolio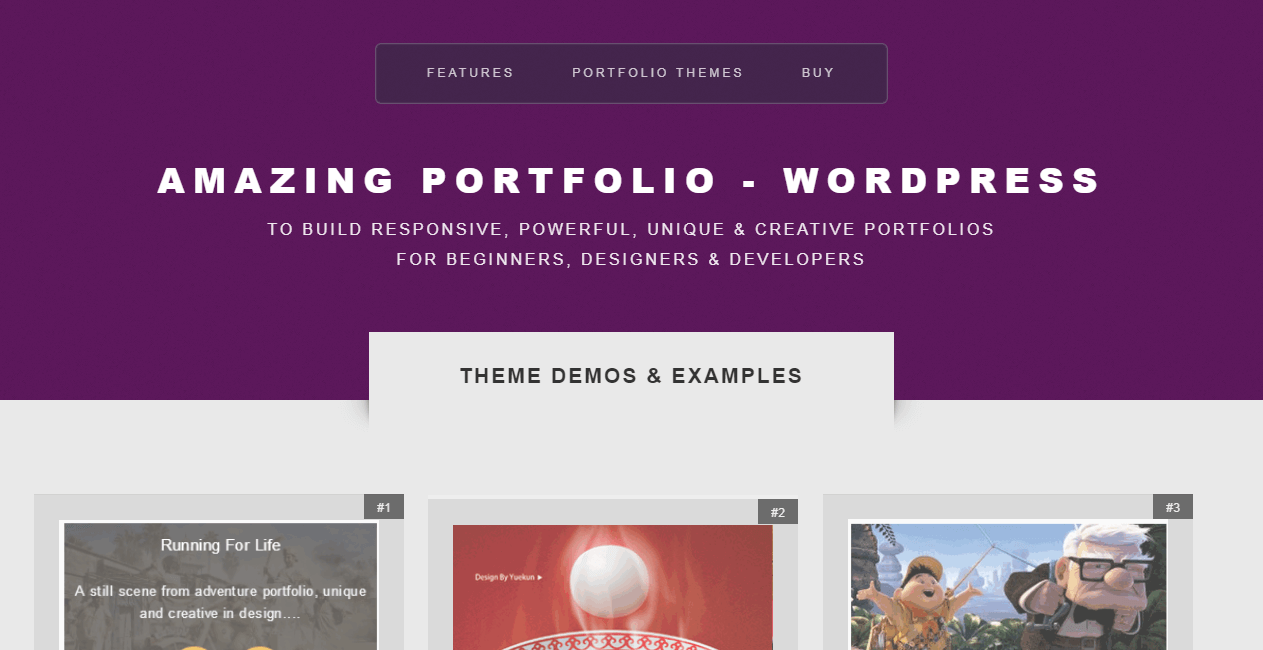 Amazing Portfolio is another feature-rich portfolio plugin for your WordPress site. This plugin is extremely flexible providing 25 stunning designs for your portfolio section, moreover, using it you can create great looking portfolios with numerous columns with fully responsive, filterable design. this plugin gives you full control almost over all the elements of the portfolio section.
Features of Amazing Portfolio
Offer CSS editor that helps to style the portfolio section as well as customize it without any code.
Plugin evolves all the time and new themes are getting added regularly.
It is a 6 columns grid and 100% responsive.
It has a super easy installation, providing unlimited portfolios.
16. Custom Content Platform
The custom content platform helps you create a basic portfolio where you can add your project to the categories and tags. Its design gives users the option of switching the theme without losing any content. Working with this plugin can be as easy as creating new posts or pages.
Here are the simple steps and features:
After creating an individual project, tagging and categorizing them, add project details.
Project details include images, URL, and description as well as customize portfolio permalinks.
On combining the plugin with a Role Management plugin, you can allow others also to manage your website's portfolio.
On the basis of your theme, you can even have audio and video formats as well.
17. OTW Portfolio WordPress Plugin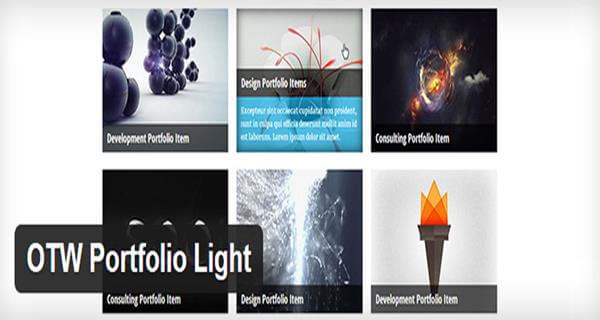 OTW Portfolio is a free WordPress plugin that comes with a beautiful three column template that helps you showcase your work in a style you want. Where both the templates can be called in the page using their shortcodes. Then copy and paste the same shortcode to the new page in order to display the page that will display your portfolio items.
Features of OTW Portfolio WordPress Plugin
You can classify portfolio items according to your requirement and can show them good and easy to use filters, which will make it user-friendly.
You have the following setting, that is title, content, client website, short testimonial, featured image for the archive as well as portfolio images for the single portfolio item page that is to be displayed in a slider.
18. WordPress Zoomfolio Plugin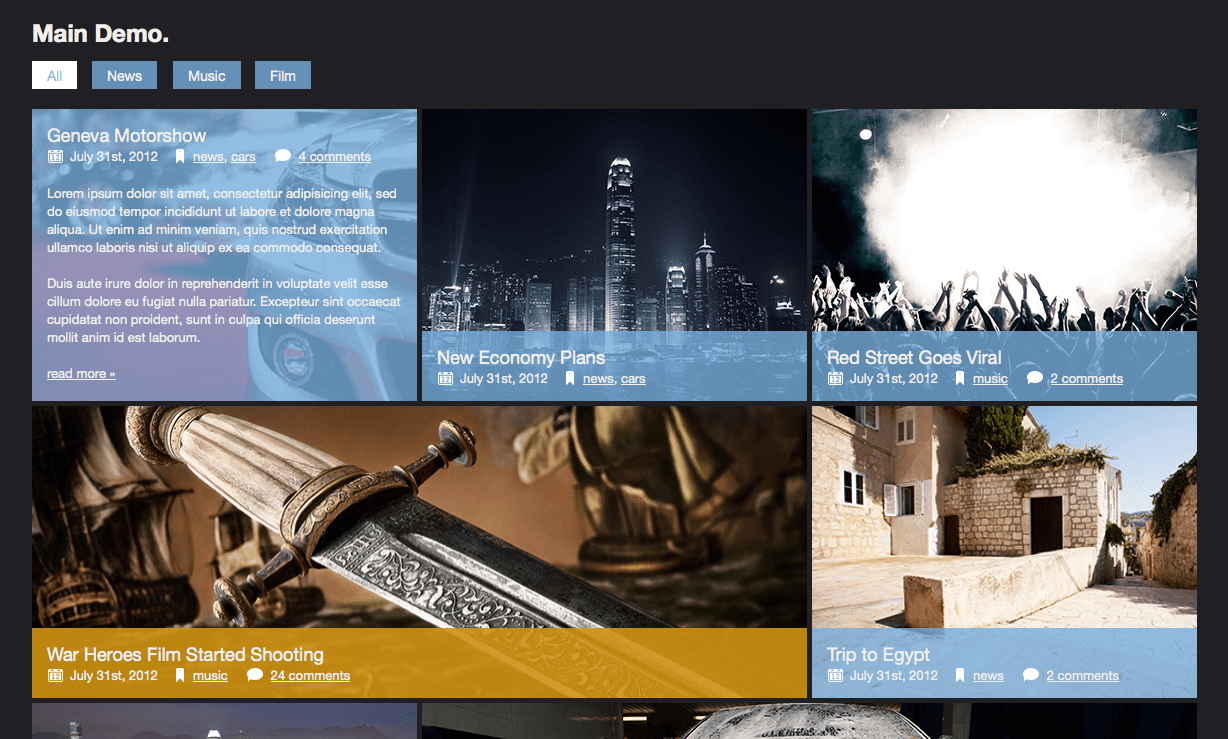 Zoomfolio uses the custom post type option which makes it a completely modern and responsive portfolio WordPress plugin that creates a stunning portfolio on your site. It comes with a shortcode generator which is very easy to customize the portfolio section design.
Features of Zoomfolio Plugin
Easily install – install and prepare this plugin in less than one minute.
Responsive – From mobile to HD, it always gives an awesome response.
Flexible – Recent posts can be used to work as a showcase.
RTL support – use left-to-right layout without any problems.
CSS3 Technology – This gallery uses state-of-the-art css3 definitions to present awesome 3D effects in the latest browser.
19. Grid FX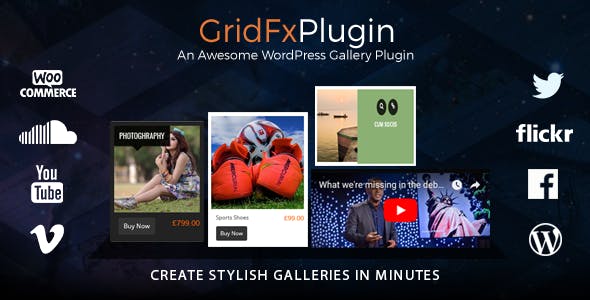 Grid FX is a highly customizable portfolio gallery plugin for WordPress that makes you create unlimited grid and masonry style galleries in a few minutes. To create a grid layout for a blog post, custom post type, custom taxonomy/category, WooCommerce product, custom product, image gallery and attachment, video, product features, client showcase, portfolio, team members, screenshots, etc. can be used. Moreover, it is perfectly suited for various content formats such as video files, images, audio, WordPress posts, etc.
Features of Gid FX plugin
Mixed grid – Create your gallery by creating a grid of images, videos, posts, etc. in a grid to all the galleries.
Social integrity – Grid the images and videos from your favorite social media sites like Facebook, Twitter, Flickr, and Youtube directly to create a stunning gallery.
Comprehensive grid dashboard as well as multiple grids per page.
Directly play videos on grid gallery.
20. Cube Portfolio Responsive grid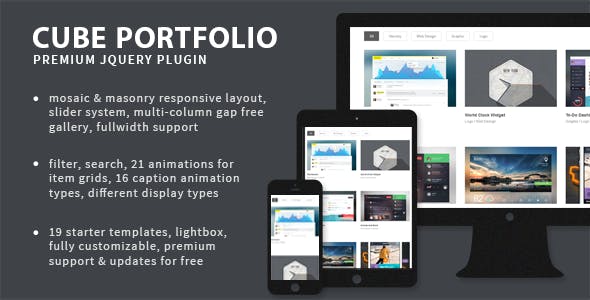 A WordPress grid plugin that lets you organize every aspect of your website into a stylish grid, which makes navigating easier.
This Powerful portfolio system comes up with the beautiful animated filtering, custom captions as well as it is perfect for portfolio projects, team members, image gallery, blog post or any other ordered grid content.
Features of the Grid
Cube Portfolio lets you add post/page, image gallery, portfolio, team members, video, project and even WooCommerce products into a beautiful, responsive grid.
The plugin comes with six templates: There are three for expert content types and three visual design templates.
Each template looks amazing and comes with beautiful, smooth CSS3 animations – 10 grid animations and 11 caption animations.
Add an unlimited number of items to each grid and preview it in real time later using the live builder.
That's all!
We hope the article helped you to select and add a perfect portfolio plugin on your WordPress website. Please like and share the content with your friends also. Give your valuable suggestions in the comment section.
For any kind of help and query regarding WordPress, you can talk to our WordPress support team on our Toll-free number +1-844-275-0975.