A Complete Guide On How to Start your own Podcast?
Last Updated:

Sep 15th, 2018

Posted by:

Editor

Category:

WordPress Knowledge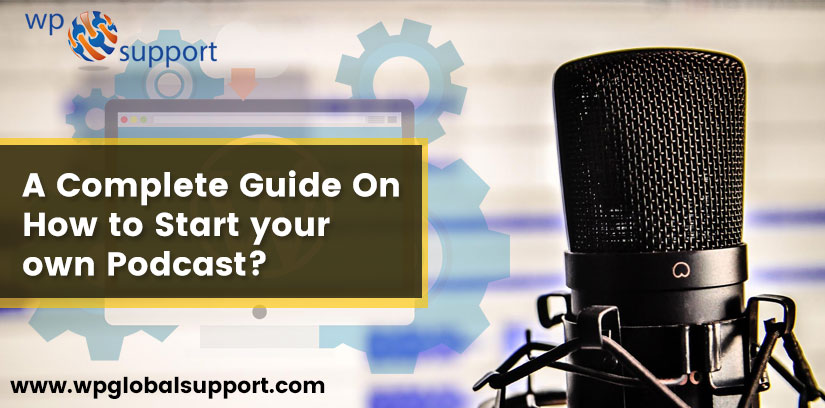 Are you facing problem to Start your own Podcast? And do you want to know how does a perfect podcasting setup look like? Podcasting is very fun and exciting, but there is one thing you should do before you start podcasting: Commit. You should commit internally to podcasting, as you should do anything that is potentially profitable but some time and effort to do.
It is easy to believe that podcasts are easy to produce because they are only audio.
Here, in this post, we will illustrate you how to start your own podcast with WordPress– (step by step). Also, you will learn how podcasts work, the best podcast tool, the podcast WordPress plugin you need, and more.
You can easily start your own podcast by following the step-by-step process described in this post.
Here's an outline of all the things we'll cover in this post:
What is podcasting & how podcasts work?
Things you need to set up your podcast
Choosing the best web hosting and domain name
Recording your first podcast
Publishing your podcast with WordPress
Uploading your media files to Blubrry
Setting up Smart Podcast Player Plugin
Adding your first podcast in WordPress
Previewing your podcast with iTunes
Submitting your podcast to iTunes
Let's get started!
What is Podcasting & How Podcasts Work?
The podcast is a relevant series of audio files, which users can subscribe to download and listen.
In order for your podcast to work, you require having an audio file and an RSS feed, which users can subscribe to stay updated and download new episodes when they released.
Because WordPress comes with a built-in RSS feed system for blogs. A lot of podcasts prefer to use WordPress as their podcast website platform.
You can connect your podcast site with podcasting app such as iTunes to make it easy to listen and subscribe to millions of users. We will cover it later in the post.
Now, times to know how to set a podcast.
What are things you need to Setup your own Podcast?
There are some things you need to get started for a professional podcasting setup.
The first thing is a blog or site where people can get more information about you and your podcast. And the second thing is the equipment to record your podcast.
The last thing, you require having the right tools to publish your podcast on the internet. So that you can get maximum subscribers and access.
We will walk you through the entire process step-by-step.
Step 1: Website Setup: WordPress Hosting and Domain Name
The big decision to building a site is to choose the right platform. Thankfully you are here, so you will not make any rookie mistakes.
We suggest using WordPress.org, which is also known as self-hosted WordPress for setting up your podcasting site.
Because WordPress is free and easy to use, you can customize your website design, you can install plugins and the most important thing you can earn money from your site without any restrictions.
It's free because you have to do setup and host it yourself. In other words, you need a domain name and web hosting.
A domain name is the address of your website on the Internet. This is what people type to come to your site. For example google.com or wpglobalsupport.com.
Web Hosting is the house of your website on the Internet. This is where all your files and images are stored. Every site requires web hosting.
The typical cost of web hosting is $7.99/month, and a domain name typically costs about $14.99/year.
This is a lot for anyone to start out. Thankfully, Bluehost has agreed to give our users a free domain name and over 60% discount on web hosting.
In real numbers, this means that you can start your podcasting site for $2.95/ month.
We suggest you use Bluehost because they are one of the official WordPress recommended hosting providers and is one of the largest web hosting services all over the world.
For more hosting recommendation, read our guide on How to choose the Best WordPress hosting.
Step 2: Setting up a Media Hosting Service
The next thing you'll need a good media hosting service, your podcasts are large audio files.
Serving these big files from your web host will consume lots of server resources. it will make your site unresponsive and slow.
For the best user experience, we suggest that you, use a podcast specific media hosting platform such as Blubrry.
Most smart podcasters use a different podcast hosting service to serve their podcast files. This is the smartest and most effective way to run a podcast.
Step 3. Choosing Proper Podcasting Equipment
As your podcast grows, you will learn about new tools, so that you can produce high-quality podcasts. However, as a beginner, the most important tool that you required is a good microphone.
Please do not use your computer's built-in microphone to record your podcast. Your users will immediately notice the sound quality.
Other tools that you should buy are Mic arm, shock mount, and a pop filter.
Also, you will need a decent headphone.
Once you have the right podcasting tools, then you will be ready for the next step: recording your podcast.
Step 4: Recording Your First Podcast
To record your podcast, you will need an audio recording software, this software will help you to record and edit your audio files.
Audacity is the best and powerful podcast recording software used by most podcasts. It is a free, open source, and cross-platform software capable of recording studio-quality professional podcasts.
After installing Audacity, you have to open it and create a new project from the File menu.
To record your voice, just click the record button. Now, feel free to record your podcast. Don't worry about unexpected pauses, breaks, coughing, or any glitches you may make while narrating.
You can edit the recording as often as you want.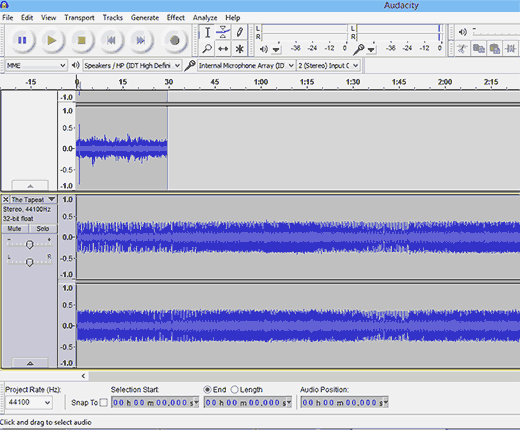 Also, you can import music files from File»Import and set them as background music.
Once you've recorded your podcast, now you have to export it.
Most podcasts export their audio files in MP3 format. Because it creates small file sizes with good quality.
Also, you should be smart about naming your podcast files.
Remember that podcasts are relevant series, so it would be best to use naming practice, which uses episode or serial number in file names.
Some suggestions will be WPG001.mp3 or WPGlo001.mp3. Save the last version of your podcast file to a separate folder on your computer.
Step 5: Publishing Your Podcast with WordPress
After you've created some episodes, and you're satisfied with their quality, it's time to know how to publish your podcasts with WordPress.
You have to log in to the admin area of your WordPress site.
The first thing you have to install the Blueberry plugin and then activate it. For more detail, read the guide How to Install a Plugin in WordPress.
After activation, you will see a PowerPress menu item in the WordPress admin menu. By clicking on it will take you to the settings page of the plugin.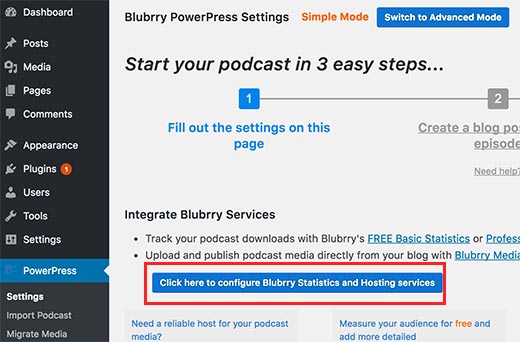 If you are using Blubrry to host your podcasting files, you will have to click the button to configure blubrry hosting services and statics.
By clicking on the button it will take a popup, where you must enter a blubrry hosting account email and password.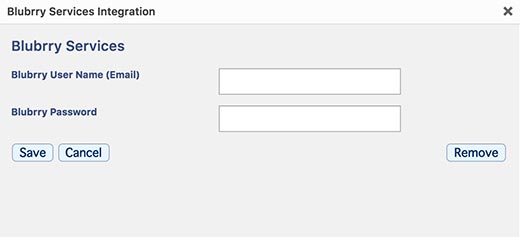 After this, you will have to fill out the rest of the information on the Settings page. Provide a title for your podcast and fill the iTunes fields.
These iTunes fields for category, description, artwork, subtitle, etc will be used in your podcast's RSS feed. And iTunes will use them to keep your podcasts in their directory (more on this later).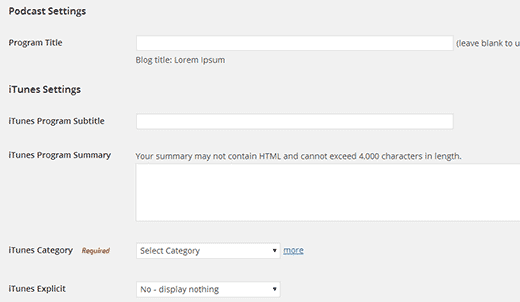 Remember to click the 'Save Changes' button to store your settings.
Now, your WordPress website is ready to publish your podcast.
Step 6: Upload Media Files to Blubrry
Before publishing your podcast with WordPress, you have to upload the podcast file to your Media Hosting service, Blubrry.
Then you have to log in to your Blubrry hosting account and then click the Podcaster dashboard.
After this, you will have to click the 'Upload Media Files' link under the podcast hosting section.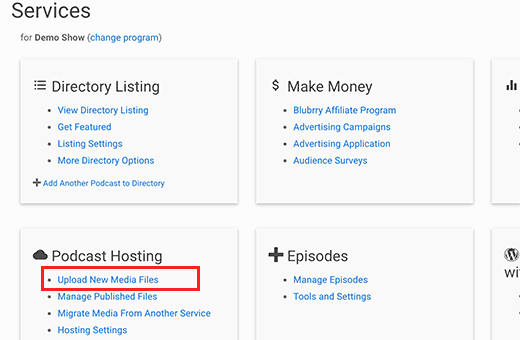 This will take you to another page, where you will have to click the Upload New Media Button and start uploading your podcast file.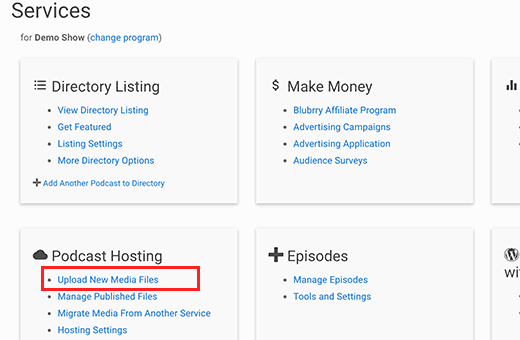 When you uploaded your podcast media files, then you will be able to use them on your WordPress site.
Step 7: Setting Up Smart Podcast Player
Most podcasts use WordPress plugins to display podcast player on their website. This player permits users to listen to a podcast directly from your website.
The problem with most WordPress podcast player plugins is terrible user experience for your listeners and subscribers.
Note: One of the famous podcasters, Patt Flynn, realized the problem and decided to solve it by making a solution for his website.
Smart Podcast Player adds a built podcast player that allows users to play, share, and download podcast episodes from themselves.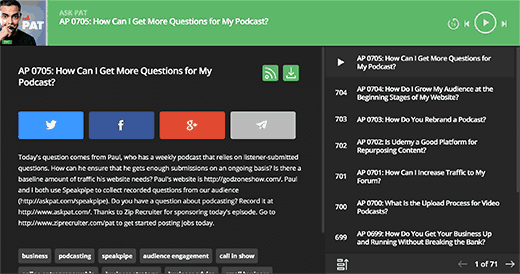 However, this is mobile-ready out of the means that your podcast player looks and works great on all devices.
This is a premium WordPress plugin and pricing starts from $8/month. This price entitles you to premium support and access to videos and tutorials.
The first thing, you have to install the Smart Podcast Player plugin and then activate it. To know more details, click on how to install a plugin in WordPress.
After activation, you have to go to visit Settings » Smart Podcast Player page and then enter your license key.

You can receive this license key on the Smart Podcast Player site from your account.
Thereafter, you have to click the 'Player Defaults' tab for setup plugin settings.

You must provide your podcast feed URL. Since you are using PowerPress, your podcast feed URL will look like this:
http://example.com/feed/podcast/
Also, change example.com with your own domain name.
After this, you have to provide your iTunes subscription link. Since you have not submitted your podcast to iTunes so far. You have to come back here and it will be filled when your podcast is available on iTunes.
Next, you have to enter your show name and artist name.
Moreover, the smart podcast player comes with beautiful design options and allows you to match your WordPress theme with your podcast player.
You can choose the theme and color for your podcast player under the Player Design settings.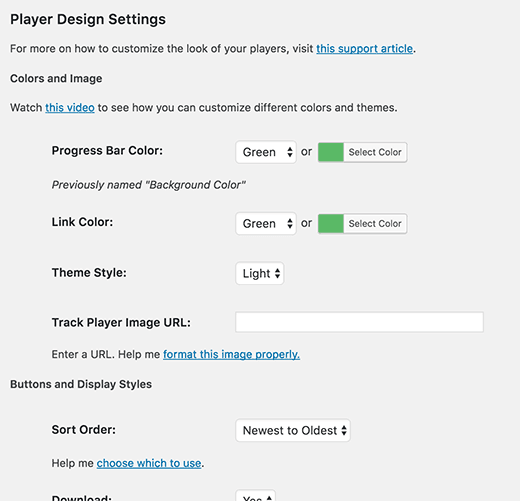 Click the save changes button to save your settings.
Now the smart podcast player is ready, so you need to disable the podcast player that comes with PowerPress.
Since you are using smart podcast player, you do not require a PowerPress for adding a media player to your post.
Furthermore, you need to go to the PowerPress »Settings page and scroll down to the 'Blog Posts and Pages' section. Click 'disabled' under 'Display Media and Links' option.

Now, click the save changes button to save your settings.
Step 8: Adding Your First Podcast in WordPress
Now you are ready to add your first podcast to WordPress.
You have to go to the posts>>Add New page to publish your first podcast.
However, it is highly suggested that you create a different category for your podcast episode. It will allow you to keep your podcast episodes different from the rest of your content. Also, you will be able to easily publicize your podcast feed later.
Next, you have to scroll down to the bottom of the page. And you will see the 'Podcast Episode' box there.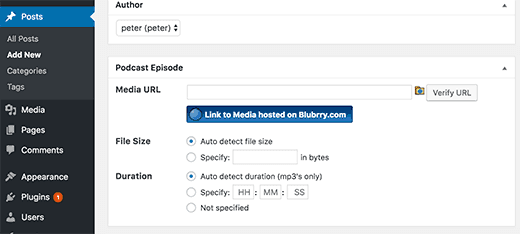 Blubrry hosting users have to click the folder icon and choose the file they uploaded to Blubrry media.
In here other users require pasting their media file URL. Click the Verify button to make sure that you pasted the correct URL.
Now you have to scroll back in the Post Editor section. Give your blog a post a suitable title. And add a description of this podcast episode in the visual editor.
You will see two buttons in the visual editor named SPP and STP. These buttons are added by the smart podcast player plugin.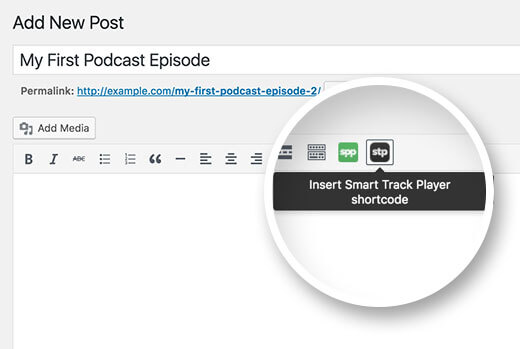 The SPP button allows you to add your smart podcast player, which includes all your podcast episodes. Users can play them one by one.
However, since you are creating a blog post for a specific podcast episode, you have to click the STP or Smart Track Player button.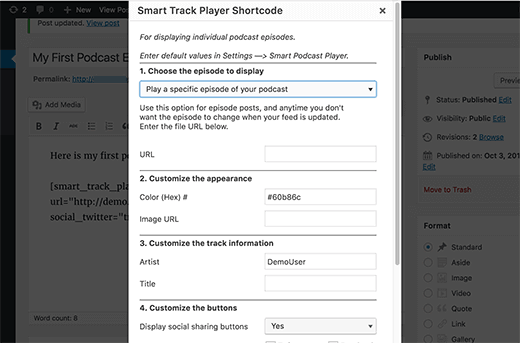 Choose 'Play a specific episode of your podcast'. And then enter the URL of the media file you want to be played.
You can get the URL of the media file from the 'Podcast Episode' meta box where you've added the episode.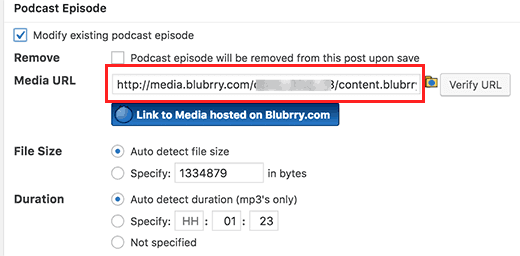 After adding the media file URL, click the build shortcode button.
You will see a shortcode appear in the post editor area.
Now, you can publish and preview your blog post. And you will watch your podcast episode live with a beautiful player.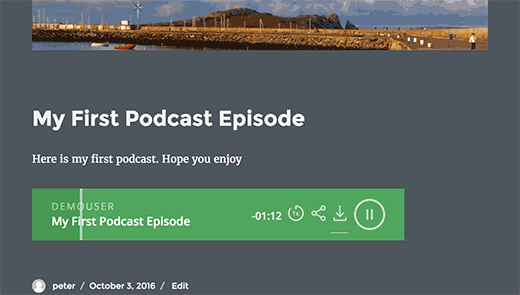 Now, your WordPress Podcasting website is ready to go live.
Step 9: Previewing Your Podcast with iTunes
Now that you have established your podcast site with WordPress. It's time to submit it to iTunes and getting more subscribers.
Before submitting it to iTunes, you will want to check how your podcast will appear in iTunes.
However, to do this, launch the iTunes. And then go to File»Subscribe to Podcast and after that enter your feed URL.
Your feed URL will look like this:
http://www.example.com/feed/podcast
Don't forget to change example.com with your own domain name.
However, when you entered the URL in iTunes, it will fetch the feed and show it. You can see in the screenshot shown below, it fetched artwork, description, subtitles and more.


If everything looks okay, then it means that you are ready to submit your podcast to iTunes.
Step 10: Submitting your Podcast to iTunes
To submit your podcast to iTunes, you must download the latest version of iTunes and then install it on your computer.
After this, launch iTunes and click the iTunes Store button at the top right corner of the screen.
iTunes will now reach the iTunes Store. Click on the podcast menu, and then scroll a bit to find the podcast Quick Link Section. There you will see a link to submit a podcast.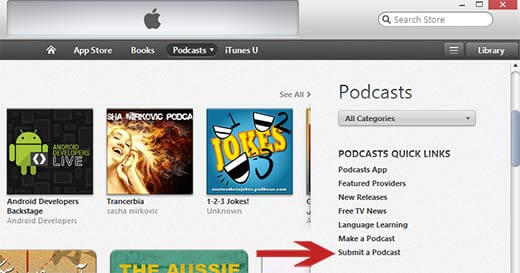 However, it will open the Podcast submit process. You will need an Apple ID to submit your podcast to iTunes directory. iTunes will prompt you to log in if you are not already signed in.
First, you need your podcast feed URL. Your podcast feed URL will look like this:
http://example.com/feed/podcast
Don't forget to change the example.com with your own domain name.
Since you are using PowerPress, your feed will include tags needed by the iTunes Store for podcasts.
After submission, your podcast feed will be submitted to the review queue of iTunes.
That's all!
Summing Up
Here, We have discussed a complete guide on how to start a Podcast?
Often, we concluded its definition, and how it works, and how to setup it? Read the above steps carefully and Start a Podcast.
We hope this post helped you to Start a Podcast. If you have any problem or question to setup it, tell us in the comment section provided below.
Also, share the post with your friends!
If you still need help contact  our WordPress Technical Support Team. Please Dial + 1 888 614 0555 (Toll-Free). We  have a team of good professional who can resolve all your issues related to WordPress.
Some Other Useful Blogs: