The navigation menu is an important part of any WordPress site. It is a WordPress theme feature that was introduced in version 3.0. It allows you to create navigation menu by using WordPress Menu Editor in the WordPress admin panel under Appearance>>Menus.
Furthermore, navigation menus display the complete website structure and also help visitors to easily navigate different section and pages of your site. Next, they allow theme designers and users to compose custom menus of their own. WordPress compose of a simple to use mechanism for fixing up customized navigation menus into a theme. By using drag and drop feature users can add:
Posts

Pages

Categories

Custom links

URLs to the menu.
However, WordPress supports a lot of menus, therefore, a WordPress theme can support more than one navigational menus such as header and footer menus.

More so users can add CSS classes to its own menu and alter their appearance by adding custom styles. Not only this but, they can display custom navigation menus in another area of a site like a sidebar, headers, and footer areas.  
For creating a navigation menu you'll need to register it, and then display the menu in the proper location in your theme. Let's see:
How to create a custom navigation menu?
Go to the

Appearance » Menus in your WordPress admin bar.

It will bring you to the Edit Menus screen. Here the tab is divided into two columns, on the right side column you can edit and add your menu items.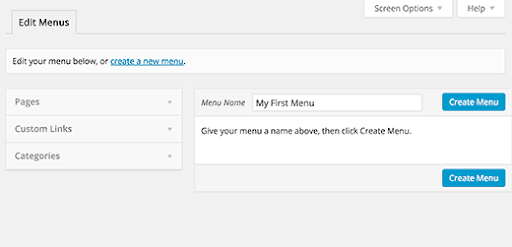 Thereafter, enter your menu for example, 'My First Menu' and click the create menu button.

Now choose the page where you want to add your menu.

Once the page is added, then choose the theme location where you want to show your menu and finally press the 'Save Menu' button.
Read More