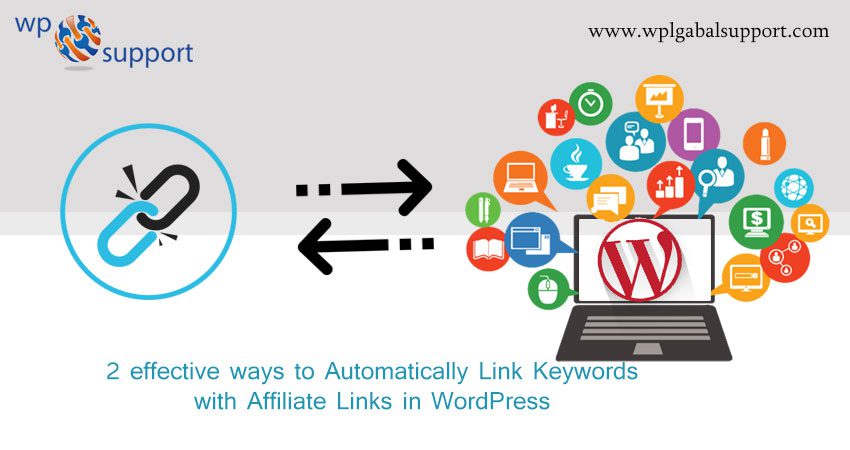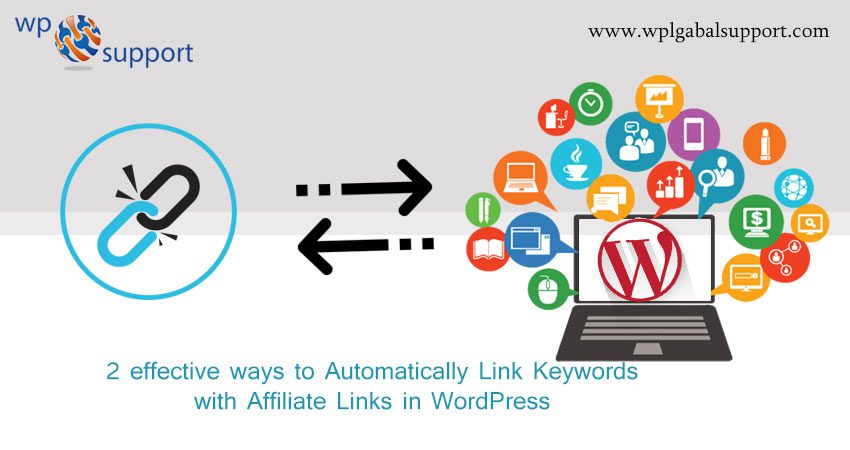 Do you want to know easy ways to Automatically Link Keywords with Affiliate Links in WordPress? Most of the content publishers use affiliate marketing for making money online. The main problem is that sometimes you may not remember to add links in your article. There's a simple solution for recovering the revenue. In this article, we will show you how to Automatically Link Keywords in WordPress.
How does Automatic Affiliate Links work in WordPress?
It allows you to turn particular keywords or brand mentions into affiliate links. Some of the times you will forget to add affiliate links to your articles. In the case of a multi-author blog, problem gets large. Auto affiliate link plugin resolves that problem and help you boost your earning. As plugin is defined as a type of software that contains a group of functions that can be added to a WordPress website. They are used to provide additional functionality to your application.
The other benefit of automatic affiliate linking is that it will add links to your previous articles where a particular keyword is specified. Let's see how to setup automatic affiliate link solution on your WordPress website.
Method 1: Automatically link Keywords with ThirstyAffiliates
Nowadays ThirstyAffiliates is the best affiliate link manager plugin in the market.
First of all, install and activate the ThirstyAffiliates plugin. For more details, see our step by step assistance on how to install a plugin in WordPress.
After activation, visit the ThirstyAffiliates » Addons page and scroll down to Autolinker addon section. To continue to click on the 'Go to add-on page' button. And it will take you to the ThirstyAffiliates website.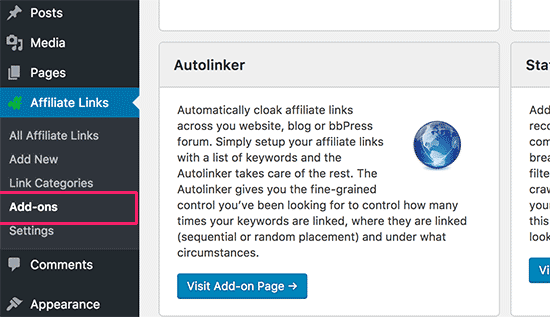 It is a paid addon. If you set it up perfectly you will recover this investment in the first month. After making the purchase you can easily download the addon.
Installing the Autolinker addon
After the activation of Autolinker addon, go to Affiliate Links » Settings page and scroll down to the Autolinker section. For the Autolinker addon provide the license key.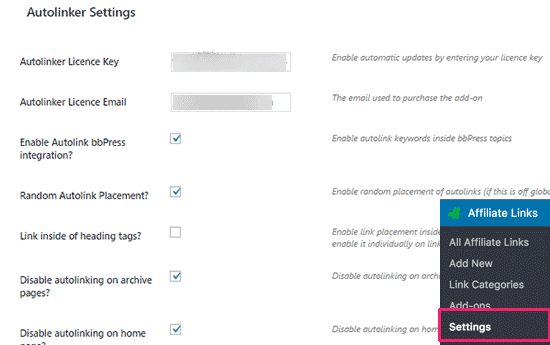 Up Next, enter the email address used to purchase the addon. You will see options to enable or disable autolinking on certain pages like homepage, archives, and heading tags. You can enable auto-linking for custom post types and bbPress forum threads.
Here, a post type is a collection of rules that are used to explain the way of content. Each & every post has its own parameters which define a particular post so that you can understand properly the difference between post, page, archive, revision or a navigation menu.
The navigation menu is an important part of any WordPress site. It allows you to create navigation menu by using WordPress Menu Editor in the WordPress admin panel under Appearance>>Menus.
Admin panel or Admin area is also known as the administration area in WordPress website where only an authenticated user can make changes. it allows you to create and manage posts, pages, menus, media, change styling in the form of themes, add functionality in the form of plugins, and much more.
As theme is a group of stylesheets and templates that are used to describe the appearance and display of a WordPress site. A WordPress theme changes the layout & design of your site.
We suggest enabling the Random Autolink Placement option.
We suggest enabling autolinking in your RSS feeds. You can also fix WordPress RSS feed errors easily. This will help you increase your earnings from readers who only read your website using RSS readers. The other benefit is that it allows you to make money from people who're stealing content from your site.
After you have configured your settings, click on the save settings button to save your changes. Head over to the Affiliate Links » Add New page for adding your first affiliate link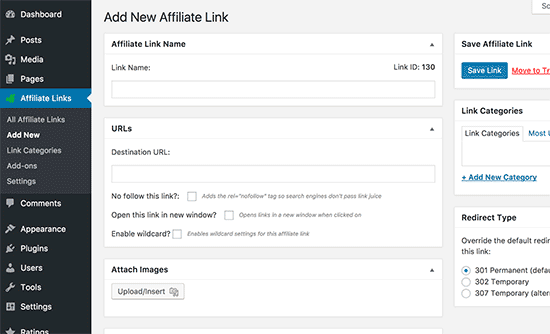 Provide a link name and the destination URL. Next, scroll down to the autolinking section and add keywords that you want to be automatically linked. You can set a limit on how many numbers of times a keyword can be linked in an article.
At last Click on the 'Save link' button to add your affiliate link.
Now every time these keywords show in an article, they will be automatically linked to the affiliate link you added above.
Method 2: Auto Link Keywords with Affiliate Links via Pretty Link Pro
Pretty Link Pro is a powerful plugin with many options for features like URL shortening and affiliate link management. It is great affiliate link manager and URL shortener plugin for WordPress. It grants you to simply manage your links in WordPress and use the auto-linking feature to automatically add affiliate links in your blog posts.
First of all, install and activate the Pretty Link Pro plugin. After activation, just go to Pretty Link » Activate Pro page to enter your license key.
Next, go to the Pretty Link » Add New Link page for adding your affiliate links. Select a redirection type. Use 301 permanent for all affiliate links. Add the target URL, and the URL you want to use as the shortened or cloaked URL.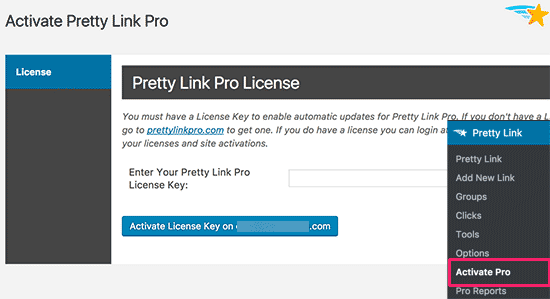 Just Add a name for the link in the title field.
Click on the 'Pro Options' tab to extend it and add the keywords you want to be automatically linked. You can add multiple keywords separated by commas.
Next to save your link click on the create button. After you save the link, these keywords will be automatically linked to all your posts.
You need to command on how you want automatic links to be added to your articles. You can do this by going to the Pretty Link » Options page and click on the 'Replacements' tab.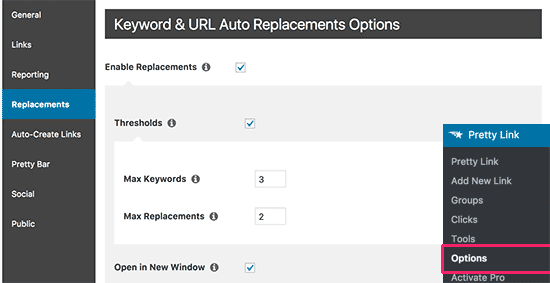 On this screen you can enable the replacements and set an auto-link threshold. Just click on the update button to save all your changes.
WRAPPING UP
We hope that this article helped you to automatically Link Keywords with affiliate link in WordPress. You can easily link keywords with affiliate link in wordpress by following the above two methods.
In case of any error related to WordPress talk to our wordpress technical support team, dial +1-855-945-3219(Toll-Free). We will help you instantly.