A tag in WordPress is one of the default tools one can use to categorize their WordPress posts. Each post can have multiple tags and visitors can click on any tag to find similar posts that have that same thing. Tags are completely optional, that's it depends on you whether you want to add WordPress tags to your post, though you can also publish a post without tags.
With tags, it is possible to get instant traffic for a blog or blog-based site for an empty niche on the internet. So it's important to use them relevantly and effectively. Users can also add tags to their WordPress posts along with categories.
Example: A post documented in the Book Review category can optionally have tags like Fiction, Mystery, Stephen King.
How to add Tags in WordPress?
You can add tags in two easy ways in WordPress :
When you are writing a new blog post or editing an existing blog post, you can always quickly add new tags using the Tag box given on the right side of your screen: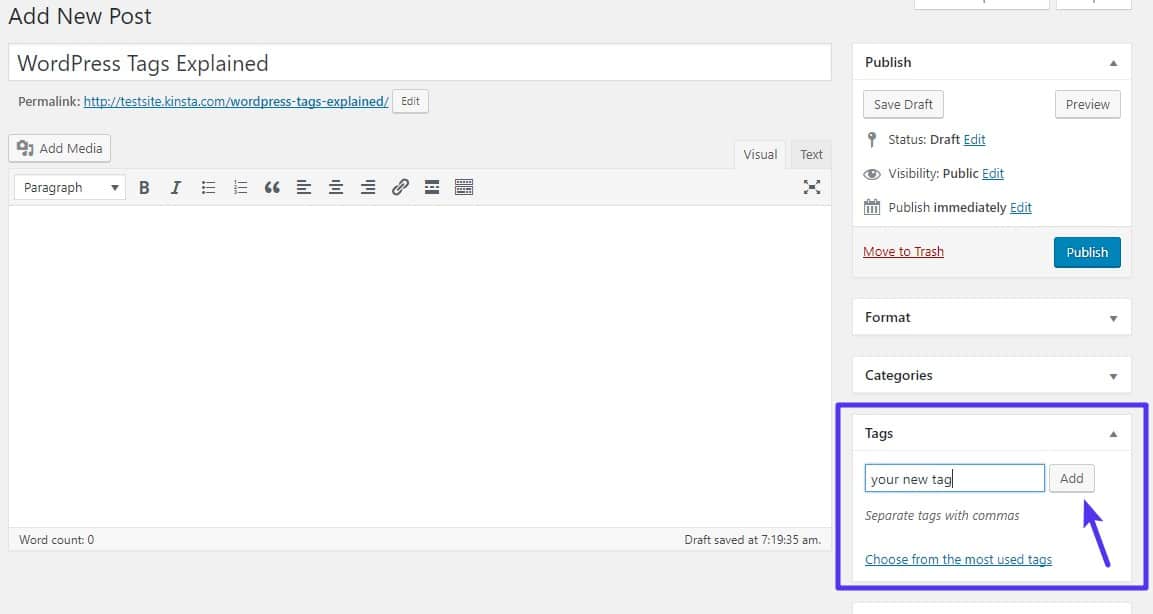 Another way is that you can directly add tags by going to Posts, and then tags. Using this, you can both add new tags and manage the existing tags used on your site.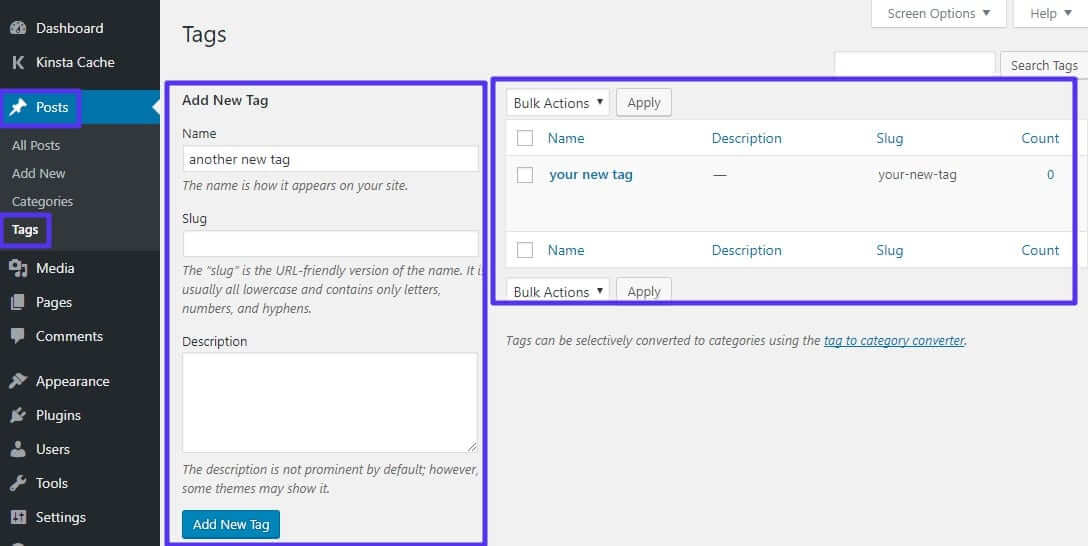 This interface is usually helpful, as in addition to simply adding a new tag, you can also set or edit each tag's URL slug.
How to display Tags on your WordPress Site?
Most of the WordPress themes will automatically display the tags assigned to a post as a part of post's data. Usually, these tags are shown at either the beginning or at the end of the post.
You may also use WordPress widgets to easily display all the tags that you have used on your site as part of something called a tag cloud.
Where tag cloud is basically a big list of the tags used on your site, sometimes can be seen with more frequently used tags marked by larger text.
There is a similar example of a cloud tag shown below –
Just like this tag to add a similar tag cloud on your WordPress site, go through the below steps –
Go to Appearance then Widgets.

Drag to the Tag Cloud widget from the Available Widgets area to the location where you want it to display.

Give it an optional title and choose whether you want to show the actual number count or not.
Conclusion
WordPress 2.4 began incorporating full tag support as a much-anticipated built-in feature. Because of this update, plugins are no longer a necessity to achieve better search engine results.
Keep in mind it doesn't hurt to double up and use the All in One SEO Pack plugin because it updates your titles, too. You can even use it along with filling in the tags field with your article. There are also WordPress plugins and widgets that display tags in either cloud form or pull-down lists. However, those will likely become overwhelmingly long, especially if your site covers a wide array of interests.