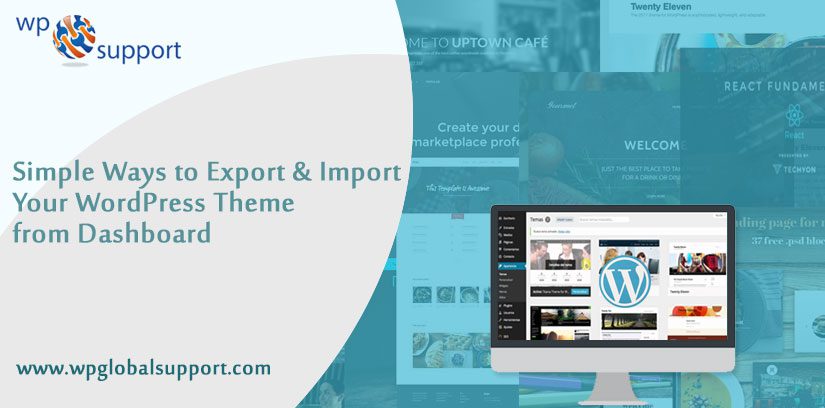 Looking for a way to import & export WordPress theme from the dashboard? You are at the right place, keep reading this guide till end. So basically, exporting your WordPress theme via WordPress dashboard is a simple process than accessing it through cPanel or FTP. With this easiest way, any WordPress user can download their theme without the help of any WordPress developer or designer.
Here in this article, we will show you how to Import & Export WordPress theme from the dashboard. But before jumping to the solutions, we will discuss with you the reasons on why you export the WordPress theme. Let's Discuss: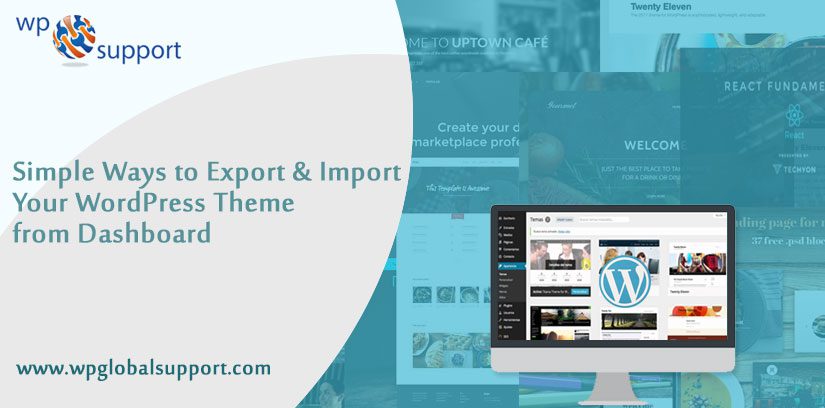 Why do you need to export & import WordPress theme?
There are a lot of reasons that's why you need to export & import WordPress theme, elaborated are as follows;
To backup your theme to your computer or Google drive.

You can use the same theme for many websites.

To switch your WordPress theme to a new domain with a WordPress installation. You can also get help from WordPress support experts in case of any problem.

You can share your theme with other users by creating a .zip file.
Now bending towards the solution, let's see how to import & export them from WordPress theme.
How to export & import WordPress theme from the dashboard
Import & Export WordPress theme with a plugin
You can export your WordPress theme manually and with the help of plugins. WP-clone-template is a plugin that will help you do the same. You just have to install and activate the plugin, the rest of the work is done by yourself.
To install the plugin, open your WordPress dashboard and go to the Plugins>>Add New. For more detail visit our guide on how to install a WordPress plugin.
Once you have installed the plugin, thereafter, select the theme you want to export. The plugin will download it in a .zip file that can be installed and uploaded to a self-hosted WordPress website.
Now let's see how to Export a WordPress theme manually
Open your WordPress dashboard.
Go to the Tools>>Export sub-tab.
Choose things you need to export.
After that, click on the Download Export File button.
That's it, now we will tell you how we can import the WordPress theme from the dashboard. Let's see;
To Import WordPress theme manually follow the listed below steps:
This process is similar to the above (export process);
The very first open your WordPress dashboard.

Thereafter, go to the Tools>>Import tab.
And choose the system that you want to import.
After that, install the WordPress Installer by clicking the WordPress link on the import page.
To install the plugin directly, a pop up box will appear.
Once the WordPress plugin has been activated, thereafter you have to upload your content.
Now, you have to assign imported authors to existing authors in the appeared screen.
Finally, click on the Submit button. Now your content is completely imported into your website.
That's all! Now you can successfully import & export the WordPress theme via the dashboard.
Conclusion
Here, we have discussed "How to import and export the WordPress theme from the dashboard". Exporting or importing a WordPress theme from the Dashboard can also free you from the dependence of a qualified or professional developer. Read the blog carefully for import and export of your WordPress theme.
We hope you will get a proper solution on the related topic. Don't hesitate to express your thoughts in the comments section box provided below.
If you have any problem related to this, let us know in the comment section provided below or contact our WordPress Support team for getting instant help. We provide the best support service to Install WordPress theme.
Related Blogs: