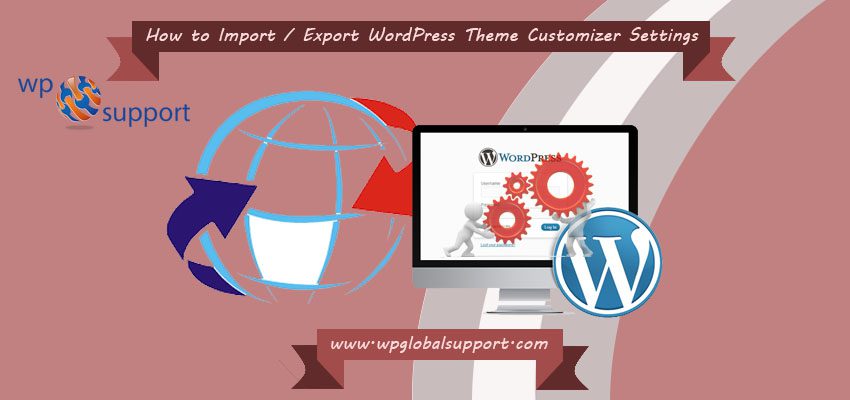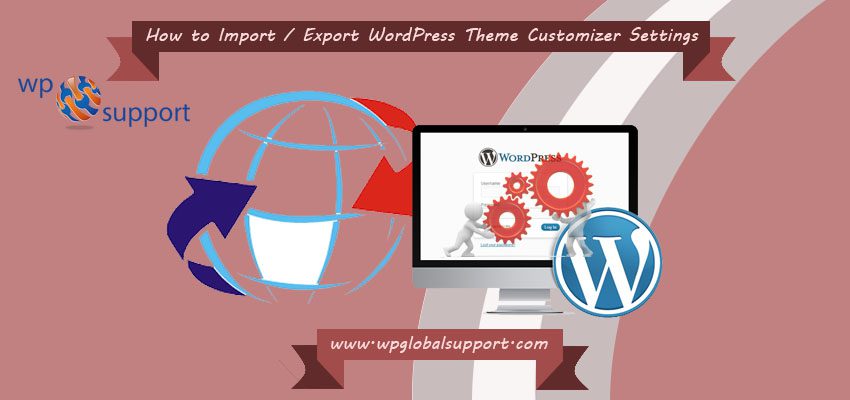 Do you wish to Import Export WordPress Theme Customizer Settings? Export and import theme/plugin customizer settings grant us to use the same configuration in another WordPress site. Most of the Import Export WordPress themes allow us to install our site using theme customizer.
What is a Plugin?
Plugin adds new functionality to your WordPress site or extends existing functionality on your site. It can make a massive change to your site, like from adding smaller features like an Instagram feed to turning a WordPress site into a fully functional eCommerce store, social network, or forum.
Some of the WordPress plugins don't even have front-facing effects like you can install plugins to improve your site's performance or help it rank better in search engines like Google. The Google search console provides you full detail reports on the visibility of your pages on Google.
Google's Webmaster Tools is a set of tools provided by Google, so publishers can see how their website is seen by a search engine, it provides reports and data that can help you understand it. Here's how different pages of your website are showing in search results.
Where , a WordPress theme is a group of stylesheets and templates that are used to describe the appearance and display of a WordPress site. A WordPress theme changes the layout & design of your site.
In this article, we will show you, how to simply Import Export WordPress Theme customizer setting. For this you should know how to install WordPress themes. Just see our guide for How to Install WordPress Premium Theme & Customization. Our WordPress theme make the use of WordPress customizer settings.
Why Import Export WordPress Theme Customizer Settings?
Most of the WordPress themes authorize you to set up your website using theme customizer. It grants you to change colors, background images, select layout settings, and much more.
How to Import Export WordPress Theme Customizer Settings in WordPress
Firstly of all set up and activate the Customize Export/Import theme on both websites where you want to export or import. For more details see our Guide at How to install a Plugin in WordPress?
Some of the Steps to Import/Export Theme Customizer Settings in WordPress:-
To Export Customizer Settings
First of all Export the theme customizer settings.

Go to

Themes » Customize

page on the site where we want to export from.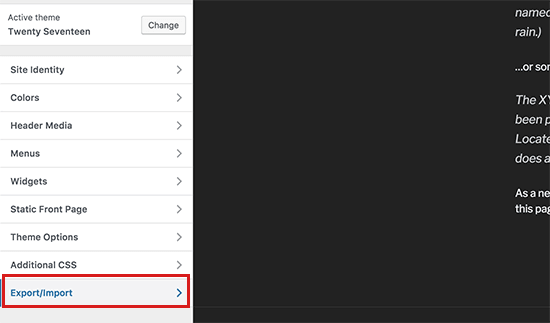 Tap on the Export/Import panel to view its setting and then after tap on the Export button.

Plugin will now export your customizer settings and send all data to our browser in a .dat file.
It may export all themes options those are defined as theme mods or stored as options in WordPress database means your export things like layout, color settings, header media, directions etc.
It will not export your site widget, description, navigation menu and much more.
To Import Customizer Settings
Go to

Appearance » Customize

page and click on the Export/Import panel.

Click on the 'Choose file' button to choose the file you exported before.

Just Check the box next to 'Download and import image files.'

Option to import header and other image files.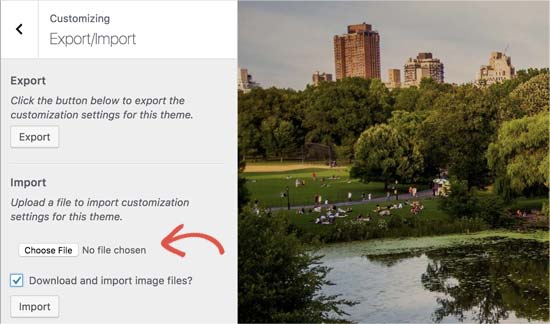 Next Click on the 'Import' button for starting upload.

plugin will import the customizer settings from your export file.
We can inspect our changes in the customizer and tap the 'Save & Publish' button to make those changes live.
Exports the theme settings stored using theme customizer by only in plugin and does not export site data for example:- widgets, menu, images, and much more. We would have to manually install those changes.
How It Works?
When we want to do export our customizer settings is drop-dead is easily. Firstly click the export button under the customizer and a file will start downloading automatically from starting together settings. Export files are titled after our theme and export may only be taken to import settings for the theme they came from. It is easy to export files contain a serialized dump of mods restored using the get theme mods function.
Import our customizer settings is very simple. Select the export file you would like to import, choose those file you would like to download and import images as well and finally, click the import button. Your settings have been imported, the page will refresh and your new design will be ready to displayed.
Theme Support
The only needs to use the plugin is that our theme uses the WordPress customizer for handle its settings. If it does not the plugin will still work, but your exports will be avoid of any settings.
We have approved theme with many famous themes that are use the customizer including Genesis and Make and it works awesome. As It is not possible for us to test everything.
Conclusion
We hope this content helps you to find a simple way for import or export WordPress theme customizer settings in WordPress. Import Export WordPress Theme/plugin customizer settings permits us to use the similar configuration in other WordPress site.
To get more assistance talk to our WordPress Technical Support Team, dial +1-855-945-3219(Toll-Free). We will be pleased to help you.