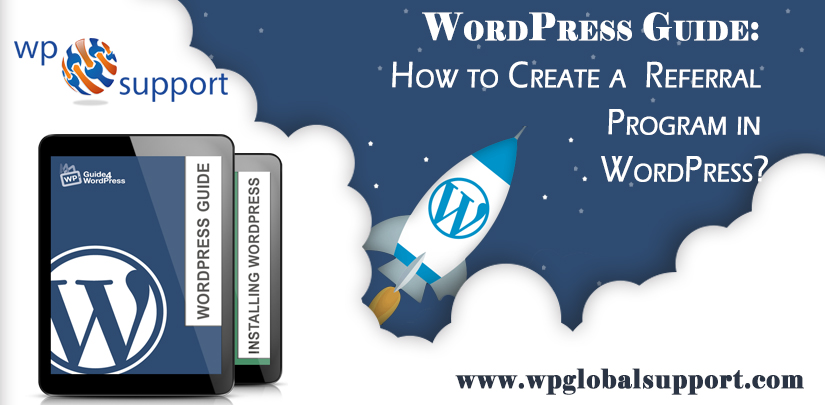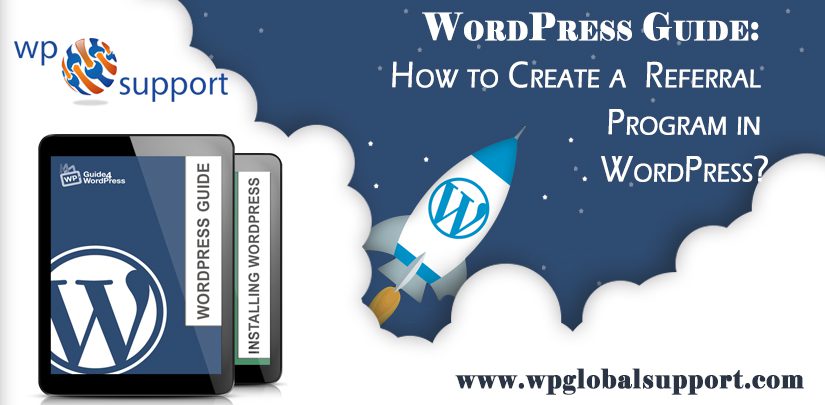 Are you facing problems to create WordPress referral program? Referral programs in WordPress are the best way to get more people to promote your products to a huge audience.
Referral program or affiliate program permits you to get more people to sell your products and services and you will pay them a small commission on each sale they make. Also, you can say that it is like creating your own sales army without paying them a salary.
The affiliate marketers use tools and plugins to build their marketing content. Where plugin is defined as a type of software that contains a group of functions that can be added to a WordPress website. They are used to provide additional functionality to your application.
They earn money online by referring their users to right products and services. If you want to manage a referral program then you will require a tool that can manage your referral program.
It will permit referral marketers to join your referral program. Also, it will help you track sales and traffic sent by each referral partner.
In this post, we will explain to you how to create a referral program in WordPress and get more customers.
Why Use AffiliateWP to Create WordPress Referral Program?
Here we will be using Affiliate plugin to create a referral program. For WordPress, it is the best affiliate management plugin.
Before preceding, let's take a look at affiliateWP pros and cons which you should consider;
Pros of using AffiliateWP
There is Some following advantage of using AffiliateWP to manage your referral program in WordPress:
It is very easy to use and mixing in your WordPress website like a native app.
It is very cost-effective.
Connects with WooCommerce, PayPal and many more.
A large number of free paid or third-party add-ons to extend AffiliateWP.
Real-time affiliate tracking with reports for you and your partners.
Where Paypal is one of the most widely and easily accepted forms of payment that is used for the e-commerce store. Further, it offers a simple way to send & request money online.
Cons of using AffiliateWP
Also, Some disadvantages of using AffiliateWP to manage your referral program in WordPress. They are:
It has limited reach compared to referral network which already has thousands of referral marketers activity looking for products to promote.
It has not advanced fraud detection features which are given by popular referral networks.
There is no automatic payout system. So, you will have to send payments every month manually.
It does not calculate taxes and 1099 forms of payouts. If you are a business owner, then you will have to manage it on your own.
It is less suitable for referral partners. So, They have to create a new account and login to see their reports, compare to referral networks where you can see their earnings.
Here, a good alternative to AffiliateWP would be ShareASale. It is a large referral network with thousands of affiliate marketers who are looking for new products.
Creating a Referral Program in WordPress
To create a referral program in WordPress follow given below steps:
For this, you have to install and activate the AffiliateWP plugin.
After activation, go to the Affiliates > Settings page to enter your license key and activate it. Also, you can get your license under your account on AffiliateWP website.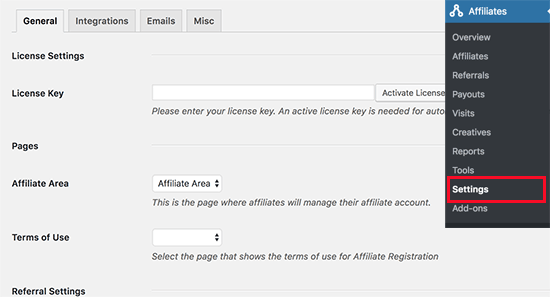 After activation, you have to select a page to be used for the Affiliate area. As pages are like posts. Pages can be managed in a hierarchical structure in WordPress. Although, it creates one page for you automatically. If you want to use a different page then you can choose it here.
Now, you have to choose the term and services page. Also, you can check out affiliate program terms pages on other sites to create one for your site. When you creating the page then select it here.
You have to review other settings on the page and set them up based on your referral program policies.
After that, click on the save changes button to save your settings.
Now, you have to switch to the Integrations tab in the setting tab.
Here, you have to choose the integrations you want to enable. Also, affiliate supports popular e-commerce, membership, contact form and LMS plugin.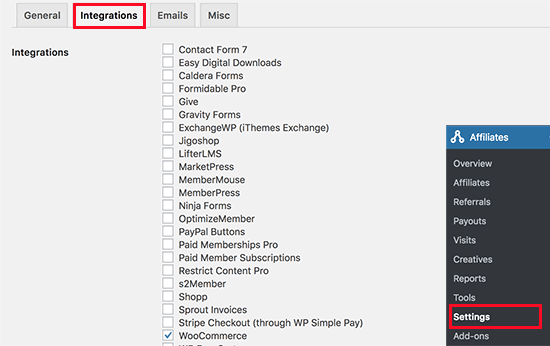 Click on the Save changes button to save your settings. And switch to the Emails tab next to the Integrations tab.
AffiliateWP permits you to edit emails sent out to your affiliates.
Also, you can upload your business logo, create your email templates, and select the email address which you want to use to send out affiliate emails. As templates are those files which control how your WordPress site will be displayed on the Web.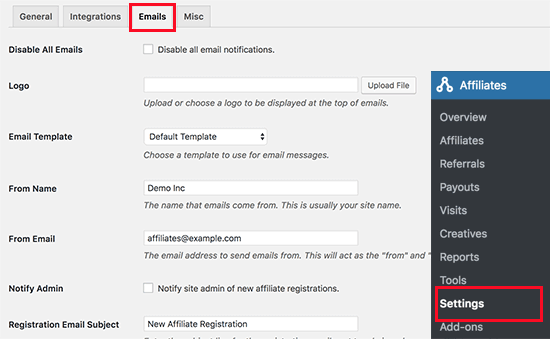 At last, you have to switch to the Misc tab on the settings page to set advanced settings for your affiliate program.
If you want affiliates to be able to sign up for your referral program then you can check the first option on the page. This option is to allow affiliates to register themselves.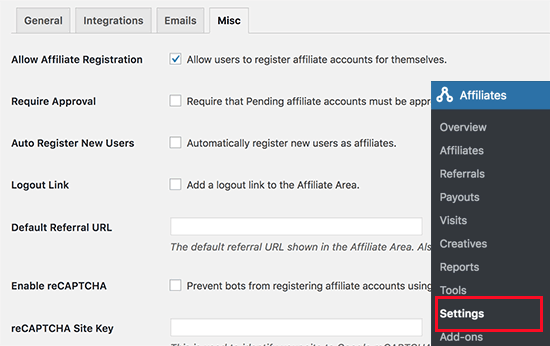 Also, you would want to enable reCAPTCHA to stop bots from registering as affiliates.
By adding reCAPTCHA you increase a difficulty for random commenters. The reCAPTCHA is clear by a human only. So you can easily avoid the comments generated by robotic machines.
Now, you require to review your settings carefully and change them if needed.
Click on the Save changes button to save your setting.
Thus, you can add a referral program in WordPress.
Adding Links to Your Referral Program in WordPress
You have set up your referral program. So, the next step is to add links to it.
To do this follow below given steps: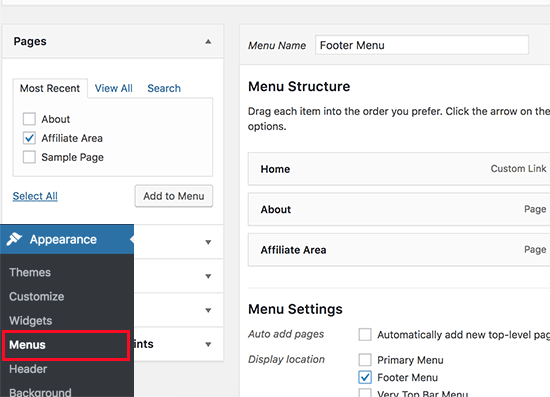 When users click on the link, then they will go to the affiliate area. Here, they can register to join as a new affiliate or log in to there account to view their reports.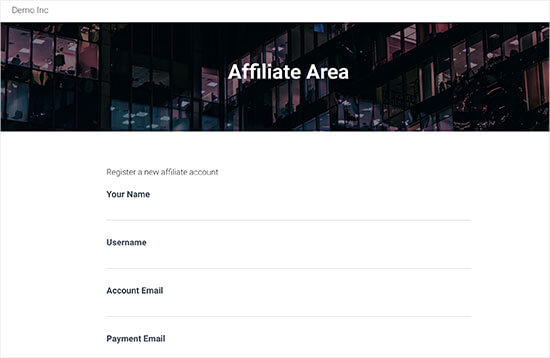 Managing Your Referral program in AffiliateWP
AffiliateWP plugin has powerful tools to manage your referrals, view reports, and run your referral program effectively without leaving WordPress.
To see and manage affiliates that have joined your affiliate program or referral program. Follow these steps:
You need to go to the Affiliates > Affiliates page.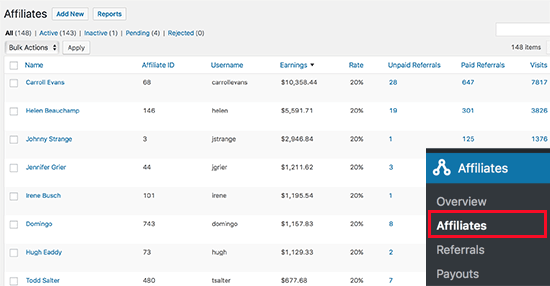 Here, you can see a list of all affiliates partners, their earning, unpaid earning and many more on this page.
Also, you can edit any affiliate account individually.
If you want to see every sale made through a referral partner, then you can go to Affiliates > Referrals page.
Here, you will view all referral sales, affiliate partners and more.
Also, you can click on the Reject link if you suspect a referral to be fraudulent.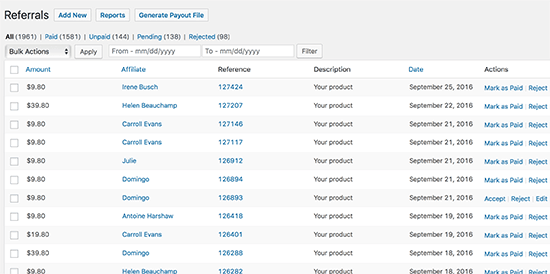 Viewing your Referral Program Reports in AffiliateWP
Reporting is important to run a successful referral program and AffiliateWP has powerful reporting features.
You have to go to the Affiliates > Affiliates page for a full review.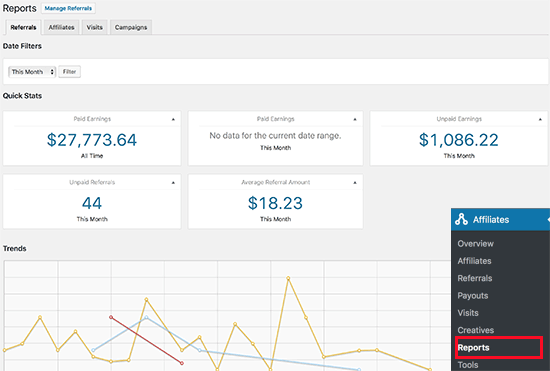 You can filter the reporting period by time and specific referral partner name.
Also, you can see reports for affiliates, referral visits, and campaigns.
Sending Payments to your Affiliates
AffiliateWP has not automatic payouts feature. So, you will have to send the payment manually.
Whereas, AffiliateWP makes it very easy to manage your payouts.
Depending on when and how you want to pay your partners, you can go to the Affiliates > Referrals page and click on the Generate Payout File button.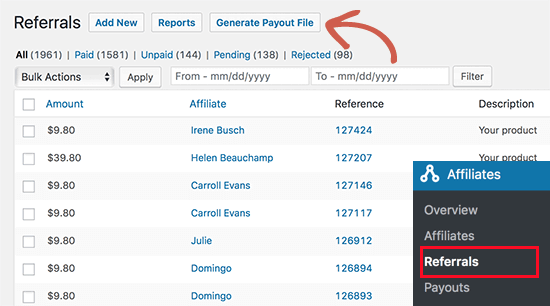 Now, it will generate a payout file. It is compatible with PayPal's mass payment system. Also, This file works with skrill and other payment services which support mass payment feature.
It contains the money and payment email address for all your unpaid referrals.
Conclusion
We have discussed how to create a referral program in WordPress which is a very useful practice to get more customers for your online products and hence make your business profitable.
We hope this post will help you to create a referral program in WordPress.If you have any problem, tell us in the comment section. We are happy to help you. If you liked this post, please share it with your peers.
If you have any WordPress questions feel free to ask us as you can get our expert advice. For the same, our support team is always ready to deliver WordPress Customer service. Just dial our support phone number +1-855-945-3219(Toll-Free) to know how our professionals can help you.

That's all, thanks!
Read More Blogs: