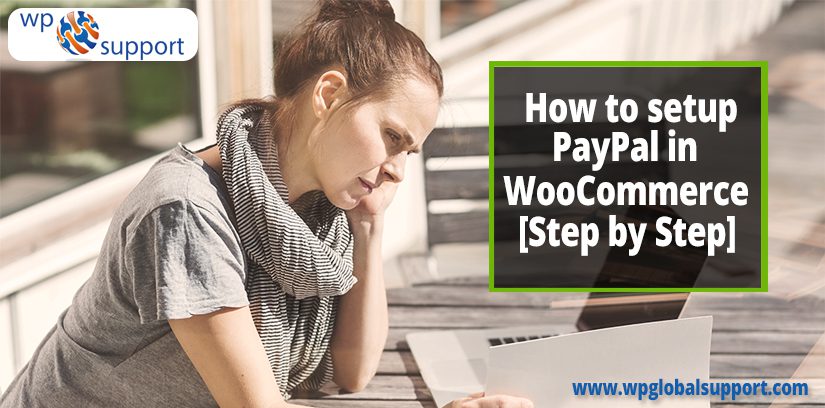 So how do you Setup PayPal in WooCommerce? As Lately, according to a survey, WooCommerce has certified more than 30% of online stores. WooCommerce is the best platform in comparison to others, like as Drupal and Joomla. It powers over 41% of all online stores. It not only the most popular e-commerce platform in the world but the most feasible.
WooCommerce provides a wide variety of themes to choose from. Making it easy to tweak and customize your online store to make it look unique. It is a free and a rigid platform. In fact, there are many rooms to customize and tweak your online store to a level of uniqueness.
Well, if you wish to run a WooCommerce store, then you should Setup PayPal in WooCommerce. Because it is the best payment option for your online business. As it is important to have a security required to setup PayPal in WooCommerce.
Why WordPress website security is important?
Sometimes Google shows a warning that one of the sites from search results may include malware, or it has been hacked. As soon as users see this warning, most of them avoid that site; no one wants to engage with malware.
Because they know very clearly, a hacked site can cause your business revenue and reputation. Further, hackers and spammers can steal your user information, password, install malicious software, etc. and even they distribute malware to your users.
In March 2016, Google warned more than 50 million sites users about a website that they are going to visiting the site may contain malware and theft information.
Not only this but, a hacked site causes a lot of traffic loss. Lately, in accordance with a survey, about 45% of people said that a hacked website lose a bit of traffic. And about 9% of people said that its lose as much as 75% traffic.
If your site is your WordPress business, no matter which type of business you run such as e-commerce business, company site, etc. WordPress security keys is utmost important for all.
It is recommended to Setup PayPal in WooCommerce as PayPal is one of the most secured network in the payment gateway application.
Fortunately, the Paypal has been included in WooCommerce within their default settings. And we all know that – It is a simple process to get up and running with it.
Now the question arises that –
What PayPal Is?
PayPal is one of the most widely and easily accepted forms of payment that is used for the e-commerce store. Further, it offers a simple way to send & request money online. However, with the help of this, you can transfer the money from one account to another such as family account, friends, online shops as well as auction sites like eBay.
But, for the newbie to e-commerce world, setting up properly PayPal with WooCommerce store might seem like a daunting task.
How Does Paypal Work?
As we all know that – first while you sign up for the PayPal, then you have to link your bank account or a debit/credit card by giving all of the necessary information.
Furthermore, if you are using a bank, it means your account and your routing number.
Thereafter, the Paypal will confirm your account by depositing two small amounts that you will also have to confirm (and the company will retract).
After the setup process, you need to login to your PayPal account with an email address and password. Finally, the Paypal manage the payment part entirely.
Some benefits of PayPal:
Faster transactions.
Free transactions with friends and family.
Extra transaction security and protections.
Now keep reading the article carefully as we will tell you step-by-step on creating a working WooCommerce Paypal integration so that you can start accepting payments right away.
We provide quick WooCommerce Setup Services. For any support feel free to contact us by dialing our Toll-Free number + 1 844 897 0441.
Steps For Setup Paypal In WooCommerce
Bending towards the points –
1. The very first thing, you have to go to WooCommerce setting on WordPress.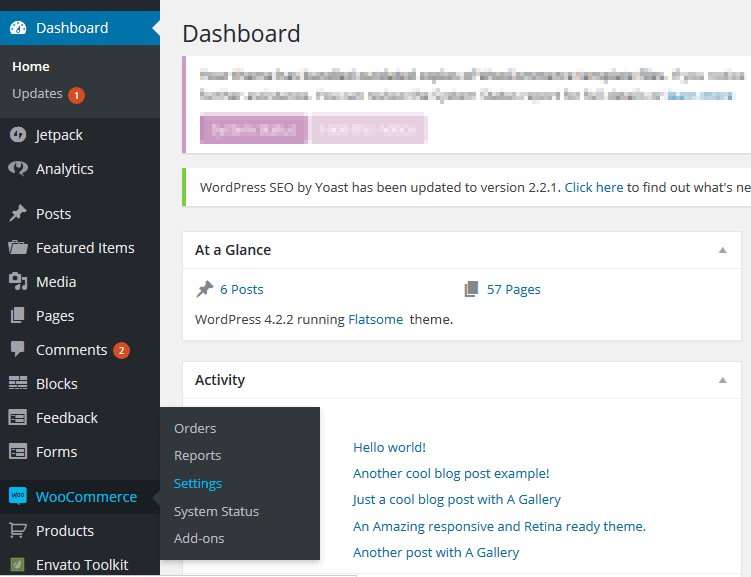 2. Activate the PayPal payment method on the WooCommerce Plugin.
To activate the PayPal payment method, you need to click on the checkout Tab>>PayPal Tab>>PayPal>>Enable PayPal Standard.
After the activation process, fill the required information.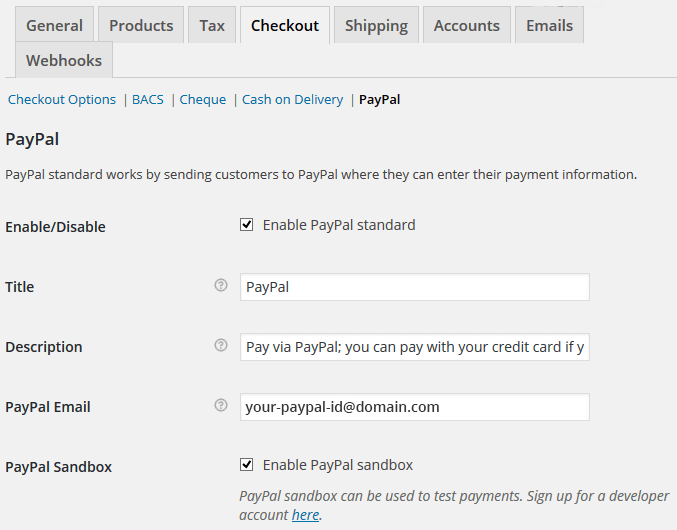 Then activate the PayPal standard and fill the title and description. Thereafter, you have to fill your PayPal Email ID and enable the PayPal sandbox.
3. PayPal Sandbox
PayPal sandbox accounts are virtual accounts. It is used for checking the integration process to see it is working properly or not.
To do this, sign up for a developer account.
After signing up the process, you have to go to dashboard>>Accounts and choose the email ID that you want to use for sandbox testing.
You can select from the list and create a new account by clicking on Create Account button.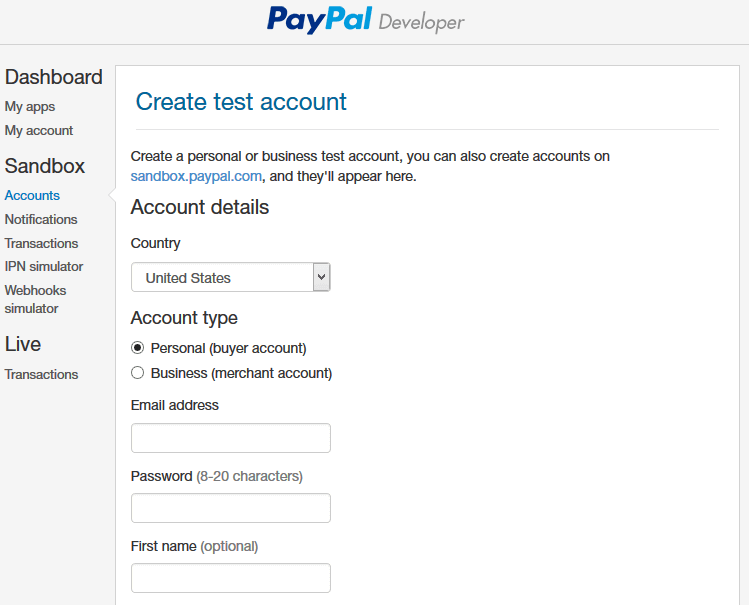 For WooCommerce plugin you will have to choose Business (merchant account) option. And then, fill the required information and create an account.
After creating a sandbox account, you can log in to it by visiting sandbox site. For login into the sandbox site, use the newly created sandbox account and password associated with that account.
The PayPal Sandbox website preview the same as the actual PayPal website.
After that, enable the sandbox by WooCommerce>>Setting>>Checkout>>PayPal>Enable PayPal Sandbox.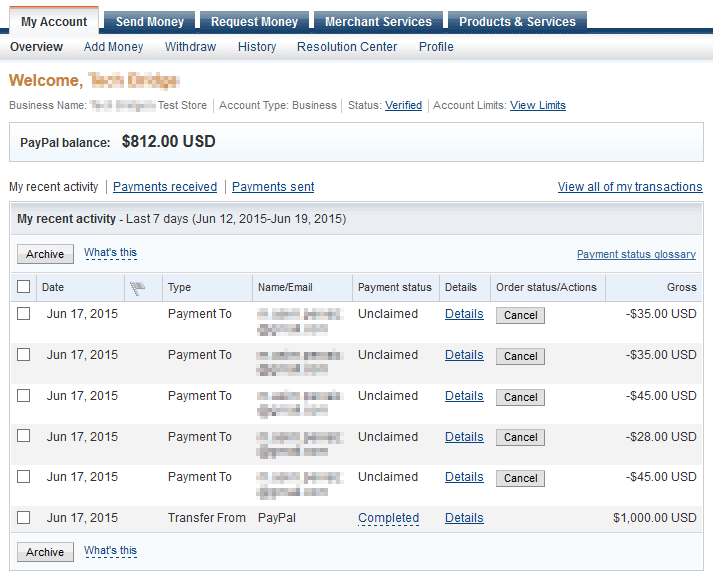 Advanced Options
After creating the sandbox accounts and activating it on WooCommerce. Now, we move towards the advanced options.
The very first information we have to provide is – receiver email. Now the question arises that – what receiver email is? After creating the PayPal accounts, when people add the emails to their close friends to PayPal so that they are can also take the benefit of this service.
However, the friend's email is simply an associated account, that they can use to log in and access the PayPal online store. Further, Receiver email is the one that is used for signing up process on PayPal.
In the receiver email field, you have to enters the email because it will be used for validating IPN request.

PayPal Identity Token
To get PayPal Identity Token, follow the instructions which are as follows:
The very first thing, you have to log in to PayPal>>Profile>>My Selling Tools>>Website Preference>>Update.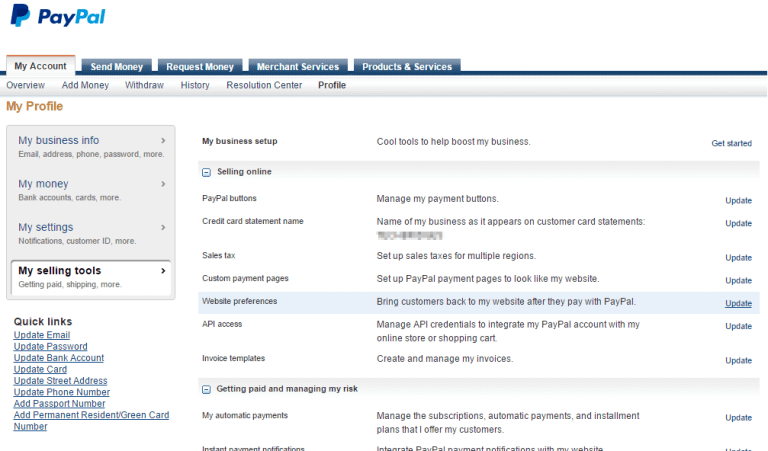 Thereafter, click on the update page and make three changes on next page to get Identity Token.
Now you need to turn on auto return option and enter the return URL. In Payment Data Transfer (PDT), turn on Payment data transfer and save. Now you will get your identity token in PDT section.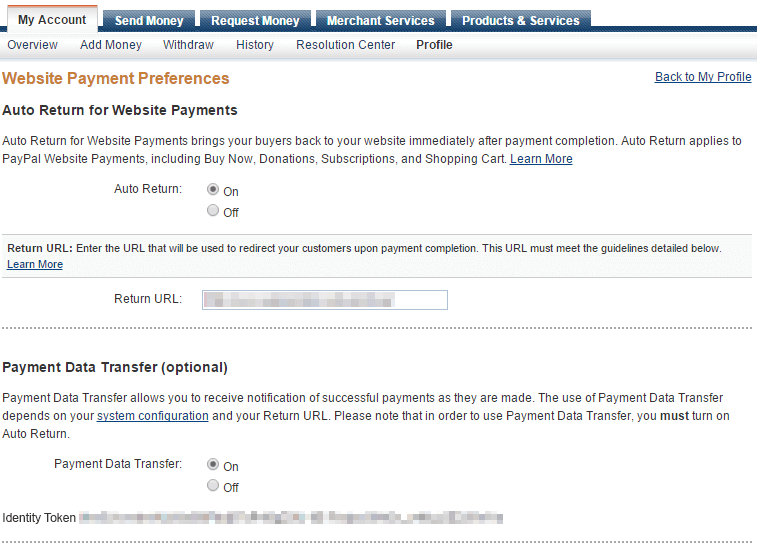 After that, it is used to organize the payment against the prefix to get the best control over the PayPal account at the time of dealing with multistore.

Shipping Address
You will be able to edit your address by enabling this option. By default, your PayPal billing address is considered for shipping. But with this enabled option you can also enter other address.
Address Override
You have to keep this option deactivate because it is not possible that every time the billing address and shipping address have to be same.
Payment Action
Two payment actions are given:
Capture.

Authorize.
But, you have to choose the capture in this field.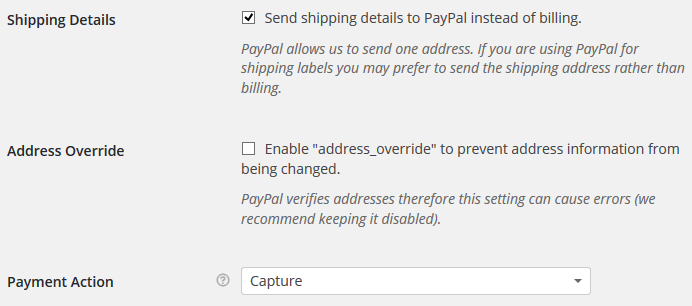 PayPal API Credentials
To gain access to your PayPal API Credentials follows the instructions which are as follows:
You have to log into PayPal Website>>Profile>>My Selling Tools>>API Access>>Update.
And then you need to click on View API Signature button.
After clicking the View API Signature button, you will have this page that you have shown below.
Now, you have to copy the information and paste it in your WooCommerce setting on WordPress.
Conclusion
We hope this detailed article will help you setup PayPal in WooCommerce. When it comes to the e-commerce websites, it is all about functionality, features, and design.
Importance of PapPal – At an age where roving cyber-bandits attack websites, to overcome financial and other information, when accepting online payments, it is important to host this website in an environment tailored to PCI (Payment Card Industry).
PCI has made the website responsible for adhering to the Data Protection Standards (DSS). Any merchant who stores or transmits credit card data must be compatible with PCI DSS.
We hope that this blog helped you to setup PayPal in WooCommerce. In case of any help you can hire a WordPress experts or contact to our WordPress Error Support number +1-855-945-3219(Toll-Free).