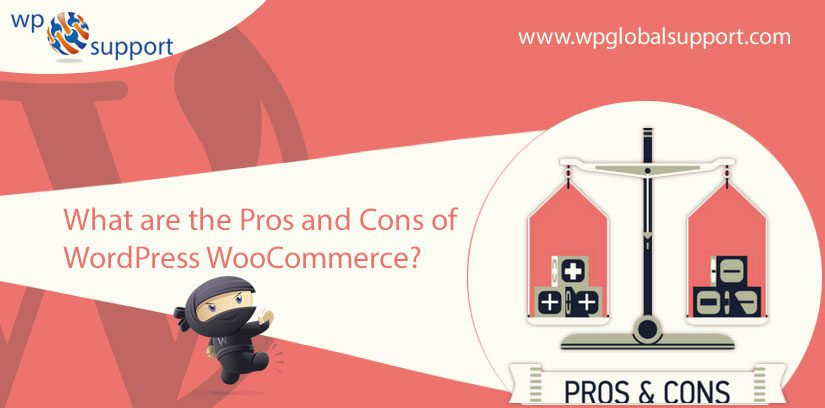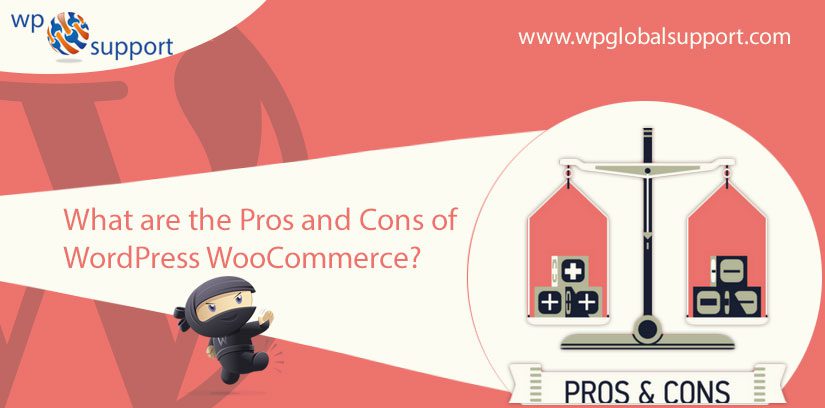 Are you want to know "What are the Pros and Cons of WordPress WooCommerce?". Read this ultimate post carefully and get your answer. Nowadays, WooCommerce becomes more popular in the world of e-commerce business.
This widely popular e-commerce platform is home to nearly 400,000 sites. WooCommerce lets you create an e-commerce business (store), manage inventory, accept payments, and much more. It comes with almost all the functionalities that you require to open an online store.
It has gained infinite popularity because WooCommerce plugin is free and simple to use. Here, plugin is defined as a type of software that contains a group of functions that can be added to a WordPress website. They are used to provide additional functionality to your application.
Hence, WooCommerce is the best e-commerce platform for building your online business. Also, it is helpful for selling various products and services. And it was launched in September 2011.
For any Quick Support services related to WooCommerce Setup dial our Toll-Free number +1-855-945-3219. One of our experts will guide to get rid of any kind of problem.
Why we choose WooCommerce?
Starting out the e-commerce business is a risky endeavor. But WooCommerce continues to grow dramatically. When you click on the entire internet, the data says that about 50% of online stores are running on WooCommerce. Because it is easy, fast, and affordable.
Why we need to choose WooCommerce:
It's easy to use.
For Advanced Ventures.
Customizability and Support.
The Case of Official Support.
Multiple Payment Gateways.
WooCommerce is Affordable.
Read Also: 10 best WooCommerce hosting Provider 2018
Pros and Cons of WordPress WooCommerce
Pros of WooCommerce
Following are the pros (advantages) of the WordPress WooCommerce:-
1. It's Free
WooCommerce is a free WordPress plugin. Therefore, you just need to download it and wait few minutes.
2. Familiar
If you have purchased anything online, then I am sure that you have already experience with this plugin. Also, along with a familiar platform, it is very easy to use with the past users.
3. Professional and customizable
The third advantage of this plugin is that it can be professional and customizable. Thus, this advantage puts the WooCommerce on the different side with other apps and plugins in the cooperative world. Similarly, there are many themes with further modified color for you to customize your website. So that you can easily build your unique website for your e-commerce business.
As, theme is a group of stylesheets and templates that are used to describe the appearance and display of a WordPress site. Templates are those files which control how your WordPress site will be displayed on the Web.
4. Secure
WooCommerce is a very secure platform. Also, it is regularly updated to take away your worry about the security, issues, and bugs. Also, you can see our article on Security Tips for WooCommerce Website.
5. Large community support
The last advantage of this plugin it must be the community support where you can find the advice for all your problems very easily. Further, WooCommerce is mobile friendly/mobile responsive, and it has thousands of paid add-ons, amazing features etc. which are very useful nowadays.
Where, Responsive means portability. Mobile responsive provides function where user can view your site on the mobile devices. This includes all the dynamically re-sizable images, which increases readability of the site.
Cons of WooCommerce
There are also few disadvantages of WordPress WooCommerce plugin. Make sure that, doesn't make any mistake while regret after selecting this plugin.
1. The frequency of WordPress updates
Keep the WordPress plugin up to date with your current browsers. Sometimes the WooCommerce platform does not meet the updates. In case you can run some plugin tags as usually. Here, tag in WordPress is one of the default tools one can use to categorize their WordPress posts
2. Can be costly
Both WordPress and WooCommerce are totally free. And there are many choices of WordPress themes settings. Sometimes these themes don't visit as per your requirement. If you want it can take your time to do on your own or take your money, it can be paid.
Last but not least cons of WooCommerce plugin. It must be the need of knowledge to use it effectively. Sometimes at the time of updating the store, it is difficult for you to do by yourself.
If you don't have the knowledge of both Woocommerce and WordPress. In this case, an expert developer or WooCommerce service providers is needed.
CONCLUSION
However, the pros and cons of WordPress WooCommerce may depend as per your requirements of an e-commerce store. Discussing with your experts about the e-commerce requirements then deciding which plugins must be able to fulfill your needs.
We hope this blog is helped you to fulfill your needs. In addition, keep an eye on this blog. If you are facing any hurdles, tell us in the comment box!

We provide professional WordPress Website Maintenance Service to our Customer. Get the instant Support by talking to our WordPress Experts dial +1-855-945-3219(Toll-Free).