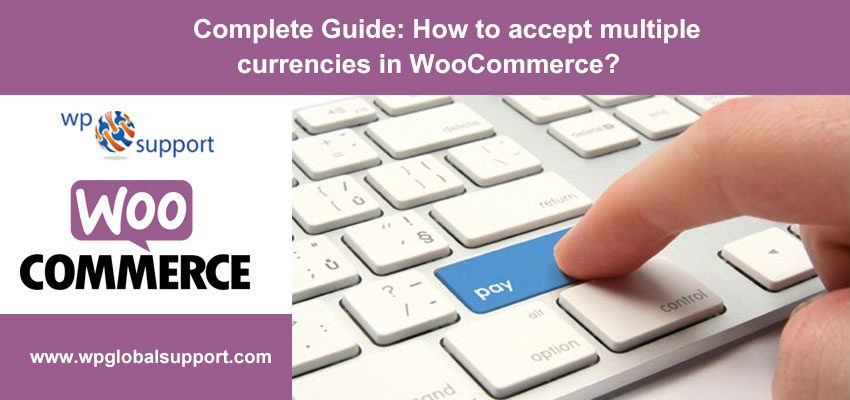 In this blog, we have illustrated the complete guide for How to accept multiple currencies in WooCommerce. WooCommerce allows you to set only a base currency, which means it is single currency by default.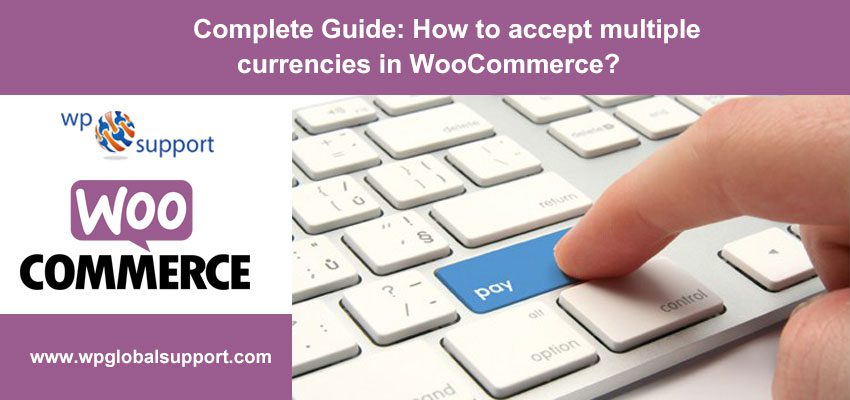 As WooCommerce is a widely popular e-commerce platform. WooComerce setup lets you create an e-commerce business (store), manage inventory, accept payments, and much more. It comes with almost all the functionalities that you require to open an online store. And through its extension system, it also posses many advanced capabilities.
However, few payment processors such as PayPal can accept multiple currencies and exchange automatically your store base currency. There can be few practical benefits of installing WooCommerce multi-currency support. Here are a few of them:
Read More: A Complete Guide on how to increase Your WooCommerce Store Sales?
Accept Multiple Currencies in WooCommerce
Some of the Advantages of WooCommerce Multi-currency vs Auto exchange
a) Avoid currency misunderstandings
It is the excellent practice to write three character currency code when possible. This is true in case you are in a country using dollars other than the US. For example, the case of strawberrynet.com. They provide currency as "$".
For many people, this can be interpreted as USD and I left the website after thinking their products are incredibly expensive.
The problem is: The currency HKD was auto-selected for me and with so much going to the page I didn't notice, thus I interpreted prices as USD.
However, with this multi-currency plugin, you may easily change the currency sign from "$" to the three code letter such as AUD, USD, SGD, CAD etc. Save your customer from possible misunderstanding.
As where a plugin is defined as a type of software that contains a group of functions that can be added to a WordPress website. They are used to provide additional functionality to your application.
b) Control price display of different multiple currencies
When you are using psychological pricing, so you are the best of settings the rate for various multiple currencies manually rather than the payment processor make an automatic exchange.
For example, say that you are based in the UK and have a product worth GBP49. A United States customer would be presented the total amount of USD 70.36.
However, this is a separate product would have been more attractive to US customers. In case priced it at USD 69, manual prices are easy to set with many multi-currency plugins for WooCommerce. More than one dollar difference you can increase the price, resulting eventually in more revenue.
c) Exchange multiple currencies when you choose
Currency exchanges are constantly fluctuating and it can make sense for you to accept and keep a fixed currency and exchange it. In case the condition is in your favor rather than always exchanging multiple currencies on the fly.
If your WooCommerce store is set up for multi-currency, then you may keep all the currencies in PayPal and withdraw them in case the exchange price is most favorable. As where PayPal is one of the most widely and easily accepted forms of payment that is used for the e-commerce store. Further, it offers a simple way to send & request money online.
Best WooCommerce multi-currency plugins
If you are already convinced that WooCommerce multilingual store is the best way to go. Now it's time to select which software to use to accomplish it.
Here are the most popular WooCommerce multi-currency plugins as shown below!
1. WPML multilanguage and multilingual plugin
This is the most popular plugin to make your WooCommerce store multilingual. WPML known as WordPress Multi Language where creating a WordPress multilingual site not only offer more personalized user experience but it also gives a feature to users to search in their preferred language. Also, WMPL enhances your online store by allowing multiple currencies support.
Two major advantages of using multi-currency in your online store:
WPML powers more than four lakh WordPress websites. They have been around for the longest and also you can be sure that you are in good hands.

WPML is not a multi-currency plugin, but it is a whole suite of software which will allow you to increase internationally by adding support for Multilanguage too.
This WPML plugin supports all the features which you would expect from a multi-currency plugin, plus some exclusive ones.
For example, convert the currency depending on the language of the customer. Also, they have a smart rounding option which can automatically make psychological rates.
Pros
Best support

Most popular plugin

Most compatible with other plugins and payment gateways

Exclusive feature: changing multiple currencies based on language

Adds support for multilanguage

Exclusive feature: rounding rules for psychological pricing

Easy to use and configure
Cons
Although it is not a bank breaker, it is in the upper tier of rates. It is charged at $ 79 per year for the license. And then renewal of license cost is $39. The lifetime license cost $195.

Although WPML is listed in wordpress.org free of charge, it requires the premium version of WPML in order to work.
2. WooCommerce Currency Switcher by Realmag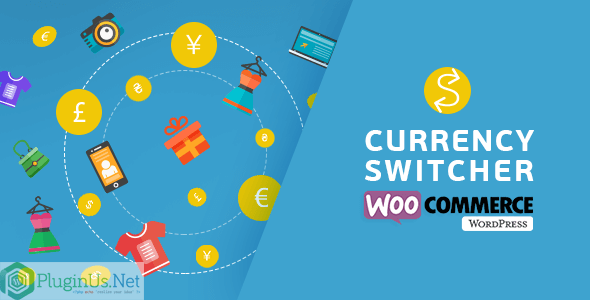 You can get basic WooCommerce multi-currency support with this plugin if you are on a budget. This plugin was released in June 2014. And also this plugin has a good track record of sale and updates.
Although, it is not a feature-rich like other WooCommerce multi-currency plugins. This one offers all the things you need to start accepting payments in different multiple currencies with minimal configuration.
Pros
Basic multi-currency capabilities

Cheapest option
Cons
The lack of filtering of payment processor, that is based on currency, which is often used in multiple currencies websites.
3. WooCommerce Currency Switcher by Aelia
Aelia is one of the first plugins to enable multiple currencies in WooCommerce store. Hence, they have gone through a lot of customization and testing, make sure that the code plugin is robust.
Also, technical support usually answers your problem within a few hours. Thus, you can have peace of mind knowing your purchase will be well supported.
Pros
One of the first plugins to enable WooCommerce multiple currencies support.

Very responsive support.

Good set of features
Cons
It is a great plugin. Although lacking some features that WPML provides.
Read More: Top 10 WooCommerce Shipping Plugins 2018
Final Recap
When you are thinking about multiple currencies in your WooCommerce store, then we always suggest WPML. Because it offers the most features and it has great support. Plus adds multilingual features.
However, the WooCommerce Currency Switcher plugin by Realmag is a good option to start with if you are on a budget.
Consequently, WooCommerce Currency Switcher by Aelia plugin is also a good choice with good features, moderate price, and have great support. If you have any query, don't forget to let me know in the comment section provided below.
You have also another option of getting help by talking to our WooCommerce Experts as they will guide you promptly to fix all kind of issues. Dial +1-855-945-3219(Toll-Free).