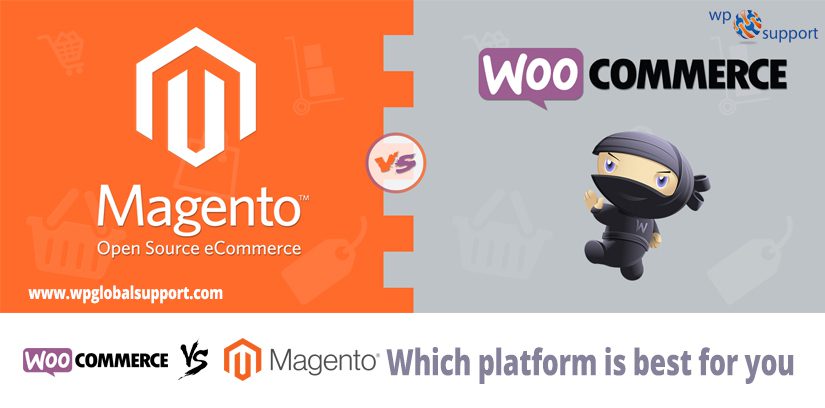 Are you too excited to know which is good WooCommerce or Magento? so here we will discuss WooCommerce vs Magento and know which is better. WooCommerce and Magento are both very popular platforms for e-Commerce websites. Both are giving great features for us but how can we decide which is the best WooCommerce or Magento? Here we present their comparison that helps you to take a decision on what you choose WooCommerce & Magento.
Both have their own similarities, advantages, and disadvantages. They are based on open-source PHP programming language. in addition to WooCommerce and Magento, you can compare their terms like costs offers, features, performance, strengths, weaknesses, etc. Now glance at the given below survey; which is not our personal claim – But, in fact, there is a complete graph provided by the popular stack statistics platform Builtwith that proves my point:
Once you read it completely, you will be able to decide which one matches your requirements.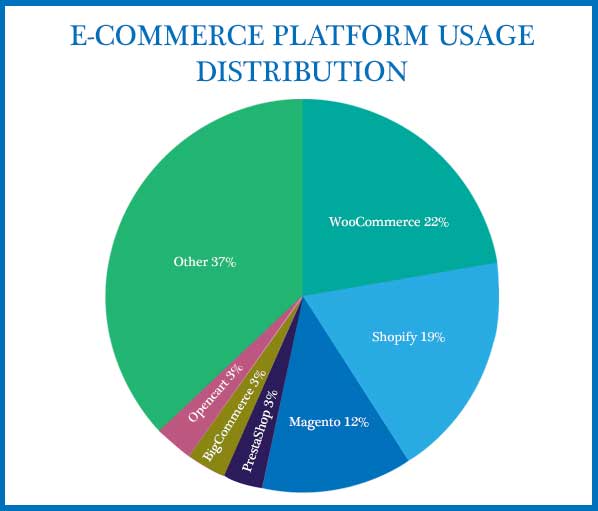 What is WooCommerce?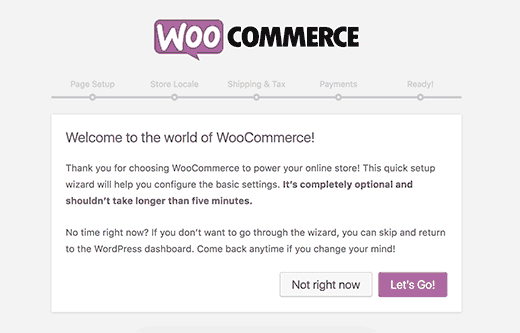 WooCommerce is an e-commerce plugin that is set up to create an e-commerce platform. it manages your online business stores, manages inventories, accepts payments, and much more. over 400,000 sites using WooCommerce for an e-commerce website. it has many customization features to give the best look to your website. WooCommerce is completely free of cost so anyone can download, use and modify it.
It has now become a very popular e-commerce solution across all websites powering around 42% and more of all online stores.
Key Features
It encourages an active community of contributors to the project since it is an open-source

codebase which means that its code is freely available for anyone to view, modify as they want,

and contribute.

It is powered by WordPress and since WordPress powers around 24% of the internet, it also allows all these website owners to sell using a platform they already know and love.

WooCommerce makes the process of setting up your online store as quick

and easy as possible. As it offers an onboarding

wizard to guide you through the setup in just five minutes, thus having an Intuitive and powerful interface

.
WooCommerce consists of a wide range of official extensions like payment gateways and shipping calculators for your specific details such as membership system management, country, advanced tax calculators, subscription management, anti-fraud, and many many more. We call it the

extension library, this library has a large collection of actively-developed community extensions.
What is Magento?

Magento is an open-source PHP-written e-commerce platform owned by Adobe. it has access to hundreds of unique features to use that help to connect with customers to sell products. Magento is more capable for companies. It offers a variety of themes and plugins that enhance the user experience. It has editions ranging from community open source to some really massive large-scale enterprise SaaS-based systems.
It offers an independent community version which is very powerful in itself.
Key Features
It is also an open-source

e-commerce platform that provides an online merchant with a flexible shopping cart system as well as the overall look of the content and the functionality of their online store.
Magento has editions ranging from community open source to massive, large-scale enterprise SaaS-based systems, which offer powerful marketing, SEO, and catalog-management

tools.

It offers a wide variety of plug-ins and themes. You may have to face complex programming in custom functionality.

Magento enables you to add unlimited products and provides a theme-based system with a decent variety of options.

Provides advanced security features, as well as dedicated patches to stop any vulnerabilities that arise. Moreover, it is recommended to those users that have at least some basic level of web development.
Comparison: WooCommerce and Magento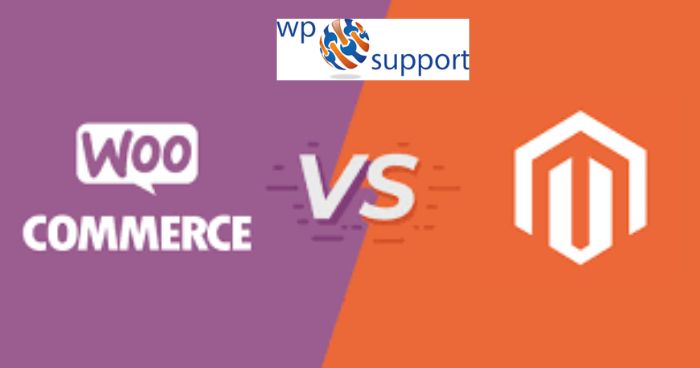 WooCommerce and Magento are both popular open-source e-commerce platforms & free of cost platforms. It comes with a lot of differentiating features, moreover being widely popular. Choosing an overall winner is actually a difficult task, the characteristics of each platform can make you scratch your head in confusion, while your customers are leaving no stone unturned to buy from your site. here we talk about some points to differentiate WooCommerce and magneto.
Let's get started.
Pricing
WooCommerce is a free plugin for WordPress, which means you have to pay only for the web hosting, domain name, SSL Certificate, and any additional features or extensions you need. Their range of themes is usually from $50 to $100 and plugins and extensions are from $25. on other hand, Magento offers both a free Community edition and a paid Enterprise edition with more advanced features. Magento pricing editions are Magento community(a free platform including basic features), Magento Enterprise(a premium paid edition of Magento that provides additional features to serve large-scale and complex business), and Magento Enterprise Cloud(same as Magneto enterprise but in the cloud). It's can be quite expensive, making it a better choice for larger businesses with more complex needs.
Performance
WooCommerce is also a fast and reliable platform but its response time is slow actually. The average page loading time of all the sites is 776 milliseconds, especially the cart pages which take 1.32 seconds to reach. Here's the opposite side, Magento is known for its excellent performance and scalability, making it a great choice for high-traffic online stores. their developers always expect to improve performance.
Extensions and Plugins
WooCommerce has both free and premium hundreds of WooCommerce extensions covering all logistics, technological & marketing needs. same as Magento gives a wide variety of paid or unpaid third-party extensions but Magento has a larger community of developers, freelancers & agencies. According to current data, Magento has 4000 extensions in the marketplace with different sectors such as accounting & finance, marketing, security, content & customization, etc.
Security
WooCommerce is a safe platform as well as no marked security issues in WordPress but sometimes it happens fewer problems to face when they meet with third parties plugins and extensions. opposite here, Magento provides you with stronger security services to online stores. It offers Magento Patches to interact with your website with the most updated technological features. these patches can build security measures to access and help to protect your Magento website online store and their management.
Easy to Use
We need to have some minor coding skills for the technical part of our website but not everyone should be perfect in these skills so eCommerce platforms require easy to use strategy similarly WooCommerce is designed according to beginners friendly and no e-commerce experience users. The best recommendation to beginners users is to start your eCommerce website with WooCommerce. it refers to thousands of plugins, plugins, and features that make easy-to-use websites.
Magento is a standalone e-commerce platform that requires more technical knowledge to set up and use because it is tailored by web development professionals. it requires their users to have little basic technical knowledge to access this. so it's challenging to use beginners and no eCommerce platform users.
Scalability
WooCommerce has no limits to how a company can manage its stocks. it performs with a large number of free extensions with plugins within a low-cost budget. WooCommerce allows more installations at once. as opposed, Magento offers a wide range of extensions and solutions to fulfill the demand to handle thousands of products. it's best for big ambitious companies with great scalability features.
Support and Resources
Both WooCommerce and Magento offer a wide range of resources and support options, including documentation, user forums, and customer support. However, Magento offers more extensive support options, including a dedicated support team, training and certification programs, and a large community of developers and users.
Customization
Both WooCommerce and Magento offer a high level of customization, allowing you to create a unique online store that reflects your brand. However, Magento offers more advanced customization options and features, making it a better choice for larger and more complex online stores. WooCommerce is better suited for smaller businesses or those with less complicated e-commerce needs.
Which one is good for beginners?
WooCommerce or Magento is both the best eCommerce platforms for your online store. They both are fulfilled with thousands of customization features that are easy to use. As a beginner, you can choose a more compatible platform for us with good features. While Woocommerce is user-friendly and offers the best features like low-cost payment methods as openly Magneto is quite expensive it's best for big companies with providing higher security and performance features.
WooCommerce: this is a good option for users with no e-commerce experience but they should have least used WordPress before.
Even for those who have not yet found its excellent documentation, an abundance of online tutorials seems appealing.
Magento: Though, looking from the outside, it doesn't seem to be friendly enough when we look through WooCommerce vs Magento lenses.
However, users can overcome the issue by mentioning a comprehensive document. Moreover, the platform adds up additional benefits for those who touch it.
It is perfect for ambitious users who want to scale their shops fastly. And also, who have the necessary time for mastering the platform.
Showing a table to understand easily: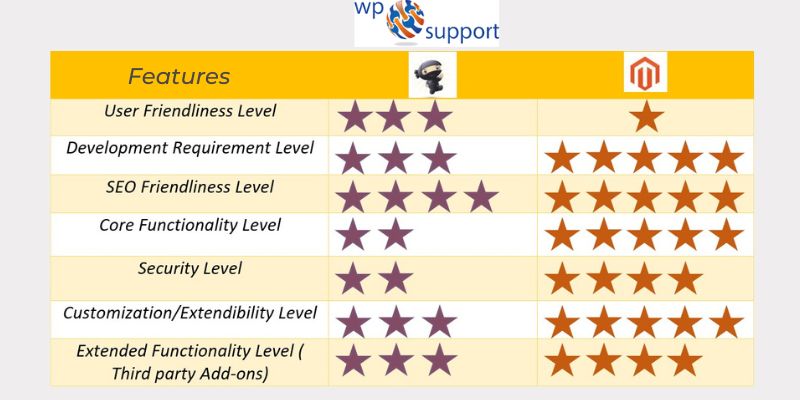 Current Trend and Data
Here we show graphical statistics of WooCommerce vs Magento trends in Google Trends in the past 12 Months. it shows when you start your eCommerce website to with preferred trend so you have to interact with many users/visitors to your website:-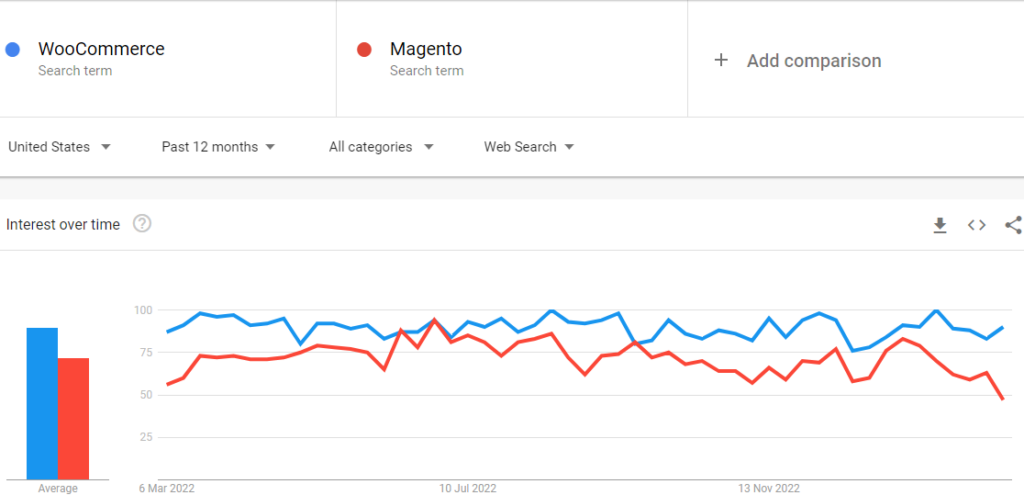 Overall Winner
As far as began, the option is simple – we recommend WooCommerce, easy and cheap to install, making it right for small operations so that the land has to be dropped quickly. you may have a look at How to easily install WordPress WooCommerce Theme.
Using it you can set up any kind of online store, be it the home entrepreneurship or selling tickets for a major event.
However, if we talk about Magento, when it comes to scalability it is good for starters since it shines among them. Thus making it the ideal choice for existing companies running on e-commerce.
It often seems that if you can resist the high price tag of your enterprise edition, then you will definitely be more than happy with the outcome.
After all, this comparison was all about how hard it would be for a new user to jump into any of these platforms. Due to the bottleneck of entry for e-commerce enthusiasts, WooCommerce wins easily in this aspect.
Conclusion
Choosing a winner among them is not easy because any platform will not fully satisfy the needs of every user. Although above is a quick comparison between Magento 2 and WooCommerce. Honestly speaking, each platform comes with its own strengths and weaknesses. In light of this, WooCommerce is a more user-friendly platform, while Magento is well-known for a variety of powerful extensions.
Hence, to decide which e-commerce platform is better, you always have to put the size as well as the needs of your online store into consideration. Instead of looking for the best platform, you should choose the right platform which matches your requirements the most.
While some of you may agree with our decision of choosing WooCommerce. Whereas others may find themselves more at home with Magento. With your own unique needs for your store, you need to include many criteria including performance, safety, product management, and the overall budget you have.
If you want to start up a small business with enough performance and ease to use, nothing can be more suitable than WooCommerce. In contrast, if you plan to scale your business up to be a global brand, Magento 2 is the rightest choice for you.
Finally, our decision in both platform title fights is based on the following reasons:
WooCommerce is simple to choose new users – especially if they are familiar with WordPress.

The platform consists of a wide library of great extensions. To know more see our Guide on

7 Free WordPress WooCommerce Extensions

It is cheaper to set up, though your benefit may vary according to the realm of your shop, of course.
We hope that this blog helped you. Also, with this guide, you can choose the most suitable e-commerce platform for your business.
Talk to our WordPress Technical Support team if you require any help as they will resolve all your issues. Dial +1-855-945-3219 (Toll-Free).