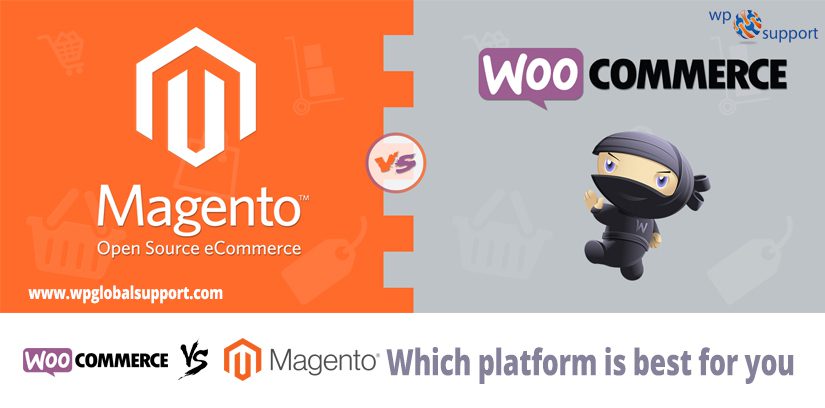 Are you confusing between choosing WooCommerce and Magento to start your online business? Because selecting the right e-commerce platform is superior to your store's success. So we're here to help you out with our WooCommerce vs Magento comparison. Though there are a good number of e-commerce systems, two among them are the most popular: Magento and WooCommerce. Between both of them, it's not easy to choose an overall winner.
Both platforms have some similarities like – They are based on the PHP programming language and have open-source free versions. Further, they require hosting packages to run the software.
Both have their own advantages and disadvantages that make them different from each other. Now, the question arises: How do they compare each other and how can you decide which one to choose for your purpose?
In addition to WooCommerce and Magento, you can compare the convenience of their strengths and weaknesses, their terms and costs which they offer. In this blog, we will compare their main features, performance, pricing, etc. Once you read it completely, you will be able to decide which one matches your requirements.
Now glance at given below survey; which is not our personal claim – But, in fact, there is a complete graph provided by the popular stack statistics platform Builtwith that proving my point:
E-commerce usage platform usage distribution in the top 1 million sites;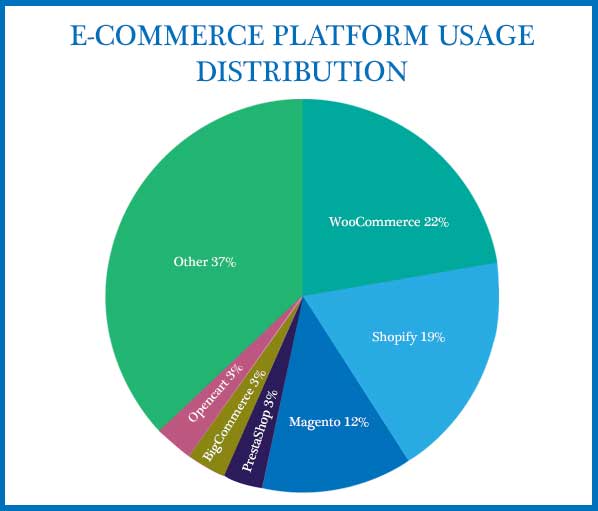 This article consists of numerous topics, thus to make it convenient for you to search the relevant topic of your interest, list of contents is given below:
Let's first have a quick glance over the definition and key features of wooCommerce and Magento separately. Before dive into the details let's see what to look in a platform to start an e-commerce store;
What you should look in an e-commerce platform
There are some basic factors that are important to keep in mind when you are going to choose an e-commerce solution, elaborated are as follows:
Reliability: The first concern for any store owner is Trust – Every e-commerce business owner think – Will their data secure on the platform? In e-commerce management case, most users lose their data because they forget to upgrade or re-subscribe the package. That's why the very first consideration while choosing an e-commerce platform should be that – your store's data will remain intact and protected.
Performance: After the Google Florida update or we can say in 2019, anyone serious e-commerce owner can neglect the level performance of their e-commerce store. Note that if your online store does not load within 5 seconds, it means your store performance is slow.
Scalability: Your e-commerce solution should be able to scale with the requirements of your growing business.
Ease of Use: Can you run all the things in your site dashboard, are all your site's buttons self-explanatory, can you drive more sales yourself? No, there are also many more things in your store that you cannot run yourself. That's why your store should be easy to use.
Customizations: Your e-commerce platform should be customizable components supported. Because after sometimes of launching your online store, you have to customize it.
Payment Methods: One of the easiest factor for choosing the best platform. The very first thing your platform should support multiple payment gateways. Additionally, if it does not support, so look which payment methods users more prefer and choose the platform that supports all of them.
Cost: The pricing is an important aspect of choosing an e-commerce platform. Therefore, when you start out an e-commerce business, make a list of your desired features and choose the platform that provides all the features at a very best price.
Security: Security should be the priority of an e-commerce store. Note that the solution you have selected should not have any known vulnerabilities. However, there are some AA simple indications for the security of the platform i.e; PCI-DSS compliance, SSL certificates and two-factor authentication for all logins.
WooCommerce vs Magento: Comparison views in short
WooCommerce and Magento both platforms have the great capacity to facilitate smooth selling as well as the expansion of the online store; each platform cannot be the winner in every situation.
Thus, we created the below table to give you a side-by-side comparison of both platforms so you can choose the right platform for your store.
| | |
| --- | --- |
| WooCommerce | Magento |
| Completely free for non-tech | Provide free community version and also some premium services |
| You need to find your own web hosts | Community version is self-hosted and it's premium versions come with hosting. |
| Unlimited product supported | Enable you to add a number of products |
| Provides multi options of customization and supports most WordPress theme | provide theme-based option and best option variety |
| Comes with a number of extensions & add-ons and hundred of options | supports extensions & add-ons and also offer a lot of variety |
| Offers basic security features to protect your store | provides advanced security features and also dedicated patches to remove any vulnerabilities |
| Fully customizable. Comes with page builder option to make customization simpler | Also fully customizable. It provides a page builder in Magento 2 version but the manager still requires code knowledge to customize |
| The platform is remarkable and easy to use | It is for users who have a bit knowledge of web development |
Now coming back to the point, have a look on WooCommerce;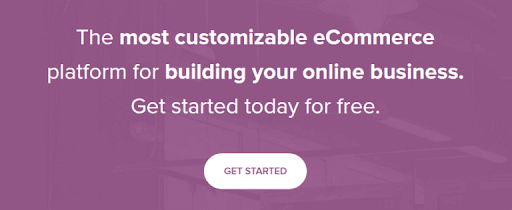 A WordPress Plugin – WooCommerce, is a familiar name for most WordPress users. This widely popular e-commerce platform is home to nearly 400,000 sites.
WooComerce setup lets you create an e-commerce business (store), manage inventory, accept payments, and much more. It comes with almost all the functionalities that you require to open an online store. And through its extension system, it also posses many advanced capabilities. It helps you sell products or services online from your WordPress site at a very affordable and accessible manner.
It has now become a very popular e-commerce solution across all the websites with powering around 42% and more of all the online stores.
Key Features
It encourages an active community of contributors to the project since it is an open source codebase which means that its code is freely available for anyone to view, modify as they want and contributes.

It is powered by WordPress and since WordPress powers at around 24% of the internet, it also allows all these website owners to sell using a platform they already know and love.

WooCommerce makes the process of setting up your online store as quickly and easily as possible. As it offers an on-boarding wizard to guide you through the setup in just five minutes, thus having an Intuitive and powerful interface

.
WooCommerce consists of a wide range of official extensions like payment gateways and shipping calculators for your specific details such as membership system management, country, advanced tax calculators, subscription management, anti-fraud and many many more. We call its extension library, this library has a large collection of actively-developed community extensions.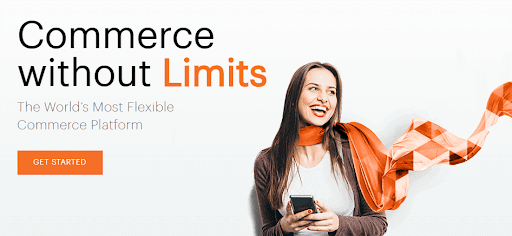 Magento is more capable of companies. That doesn't end up here saying small businesses cannot benefit from its functionality too but its the opposite of it.
It offers an independent community version – which is very powerful in itself – and an enterprise version for big companies. For this comparison, we will focus on the characteristics of the community edition.
It offers a variety of themes and plugins that enhance the user experience. It has editions ranging from community open source to some really massive large scale enterprise SaaS-based systems.
Key Features
It is also an open-source

e-commerce platform that provides an online merchant with a flexible shopping cart system as well as the overall look of the content and the functionality of their online store.
Magento has editions ranging from community open source to massive, large-scale enterprise SaaS-based systems, which offers powerful marketing, SEO, and catalog-management

tools.

It offers a wide variety of plug-ins and themes. You may have to face complex programming in custom functionality.

Magento enables you to add unlimited products and provides a theme-based system and with a decent variety of options.

Provides advanced security features, as well as dedicated patches to stop any vulnerabilities that arise. Moreover, it is recommended to those users that have at least some basic level of web development.
Comparison: WooCommerce and Magento
It comes with a lot of differentiating features, moreover being widely popular, both of them pack a punch. Choosing an overall winner is actually a difficult task, and the weight of the characteristics of each platform can make you scratch your head in confusion, while your customers are leaving no stone unturned to buy from your site.
Let's get started.
What's unique about Magento?
It is an e-commerce platform for web development professionals, and the medium online store offers one of the strongest feature sets in the area, which makes it ideal for high-end stores.
Features Comparison
SEO Capabilities: Magento is known for its SEO capabilities with SEO extension. Magento can go head to head in this department. Thanks to the power of SEO friendly, your store will raise the rank in the search engines and attract more and more traffic.
Themes and Templates: Both platforms have many themes and Templates. You could find some of the themes are free and if you want more than what free themes have to offer, you have to pay.
Inventory management: Both platforms allow you to add as many products as possible. You can add an unlimited number of products in your website
Multi-Languages Support: Magento gets the edge here with support for several languages that come built-in. In Woocommerce, you have to buy WPML which allows you to run Woocommerce sites in multiple languages and multiple currencies.
Discounts and Coupon Codes: You can create discount and import coupon codes in Magento out-of-the-box, Woocommerce has this feature but the very basic feature of it which doesn't solve this purpose.
Pros and Cons of Magento
Pros
It has a free community feature-rich version that boasts features that are not commonly available in other solutions. Such as the ability to manage multiple storefronts, multi-language and multi-currency support as well as which is mobile and search engine friendly.

It has a very user-friendly administration area which is a simple back-end with intuitive navigation and has well-organized store management features.

Magento consist of a wide community of users who keep on developing many extensions and plugins. Which also helps in giving WordPress support as well.

It has a flexible templating architecture. That allows you to do proper customizations to your site. It does exactly the way you want since its software is open so you can manage and develop the functionality you need by coding.

As mentioned before, it is a scalable e-commerce platform so whether you're selling 20 products or 20,000, it can easily handle
Cons
Finding good Magneto developers is not a cake walk. Magento is an extremely large and advance system (over 20,000 files and 200 database tables), thus it requires a fairly cluey developer having a good understanding of object-oriented development and experience with the core software to really understand the challenges they have to face while developing.
Though the cost of the community version is free if you want to support. At the time of writing the initial cost of the enterprise version starts at US$14,420/year while for large businesses the premium enterprise version starts at US$49,990/year.

Since the Magento platform is too large. It should only be hosted on dedicated servers that you can configure or can be done by the providers who specialize in its hosting. It is recommended not to run this platform on normal shared hosting as it may turn out to be a slow and frustrating user experience.

The flexible architecture of Magento also makes it complex. It requires a lot of time to develop the same customizations as in other solutions. Thus it utilizes more time of the developers to get up the learning curve other than the solutions.
What's unique about WooCommerce?
WooCommerce is a powerful WordPress plugin fulfills all your needs with an e-commerce solution while retaining the easy-to-use of its parent platform.
Pros and cons of WooCommerce
Pros
It is an open-source platform, where the code is already available. Thus we can say that its customization possibilities are inexhaustible. This platform gives a real personality to your store.

It also offers specific stylish mobile-responsive WordPress themes. It consists of never-ending design options as WordPress themes work with WooCommerce setup, where you have a huge selection to choose from.

This e-commerce store gives you everything you need to harness the power of search engine optimization and dominate the Google rankings. Since it has access to the blogging infrastructure of WordPress and also possesses an ability to dig deep and edit your store's metadata as well.

WooCommerce is a very secure platform. Also, it is regularly updated to take away your worry about

security issues

, and bugs.
Cons
You have to purchase an SSL certificate separately to ensure that your website is secure.

You require to start from scratch, for that initially, you have to sign up for hosting separately, then install it and set it up.

WooCommerce doesn't provide customer support, you need to ask on forums or submit tickets when you have an issue.

It updates the WordPress plugin at regular interval of time with your current browsers. At certain times you may find a WooCommerce platform failing to meet the updates. In case you can run some plugin

tags

as usual.
If you have already set up the WordPress platform, its good for you. Otherwise, install WordPress as it is the best platform in comparison to others. As long as you are familiar with WordPress, it should not be a problem.
Ease of use – WooCommerce Vs Magento
All the peoples start an e-commerce business are not web developers or programmers. They want a platform that is easy to use, they could do basic things yourself without paying someone to help.
However, most experienced users prefer a platform that is easy to use. Because it helps to grow your business instead of wrestle with software. Now have a look at which is easier to use among them.
Both Magento and WooCommerce are open-source platforms that give them the advantage of attracting a large user base and community. Both platforms have a huge community from around the world that supports the users and if you run into any problem.
One of the most crucial consideration when selecting your e-commerce platform is the ease of use. Most online store owners are not enough technical and coding knowledge, so they prefer ecommerce platforms which are easy and convenient to use.
WooCommerce: if seen, WooCommerce is a bit easy to use in comparison to Magento. You don't need to install it. Many WooCommerce hosting providers are available in the market that will install it automatically for you along with WordPress.
For WooCommerce, first, you will have to install WordPress – because WooCommerce is a WordPress plugin. Even, in case your hosting provider does not install WordPress automatically, don't worry, it is an auto-installer that you can install it yourself within a few clicks.
Fast forward, Woocommerce comes with setup wizard options that allow you easily creating pages, choose the currency, set up payments, tax option, and set shipping.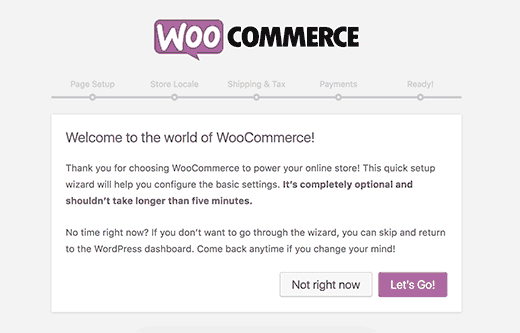 Once you have setup, you will get plenty of help to do almost anything. Now if things come to themes and plugins – so WooCommerce themes and plugins are very easy to install and use and also come with their own setting.
Being a WordPress plugin, WooCommerce comes with a simple installation process in comparison with Magento. Even a non-technical person who does not know much about the e-commerce platform can set up and run your online store without too much effort.
Furthermore, WooCommerce offers a setup wizard that makes the installation process more comfortable. You only need to take step by step and configure everything correctly.
Magento: Magento is also a powerful platform comes with a lot of inbuilt features. Further, it has an advanced setup process that may bit difficult for newers.
Its installer language is developer-centric which cannot give a little information about various important settings, that's why its installation is not easy. And also most hosting providers do not offer a pre-configured installer for Magento.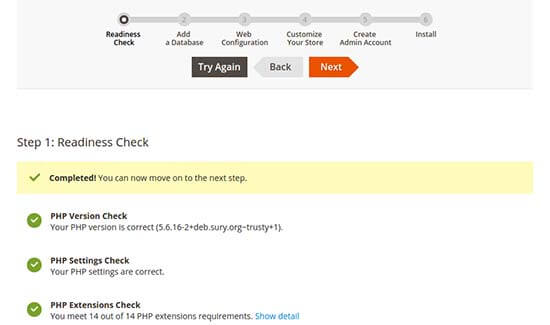 Once you have setup, thereafter, you will need to learn its some basics. Customizing themes and installing extensions are not always easy, you may need to hire the developers to set them up. However, you can get a lot of tutorials and documentation online, but most over them are for developers not for DIY (Do It Yourself) users.
Once you are getting started with Magento, its steep learning curve may make you feel complicated. To make the most use of the platform's potential, you have to learn at least some code and technical terms. There is a ton of useful features and functions available in Magento, but it requires professional users to make necessary configurations.
Finally, no doubt, Magento is a quite powerful platform but it is not easy to use in comparison to WooCommerce.
Needless to say, WooCommerce is the overall winner! Because it takes less resource and offers more accessibility for users.
Payment Methods: WooCommerce vs Magento
Without a good payment gateway, you can't get multiple orders. However, there are a lot of payment options but you need a one that is available for both you and your users.
Here let's see which payment gateways are available for both WooCommerce and Magento stores.
WooCommerce: By default, WooCommerce comes with two payment options – PayPal and Stripe. Apart from this, it also supports all major, regional, and lesser-known payment gateway via add-ons and extensions.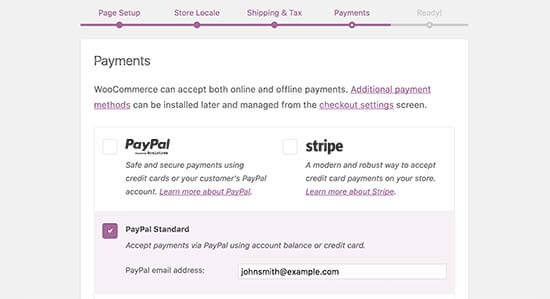 However, any payment company can make a plugin or extension and provide support for it – thus WooCommerce is quite easy to extend.
Magento: By default, it comes with multiple options like Authorize.net, PayPal, bank transfer, cash on delivery, and purchase order payment methods. Alternatively, it also has extensions available for such popular payment gateways containing Braintree, Stripe, 2Checkout, WePay, Google Checkout, Skrill, and more.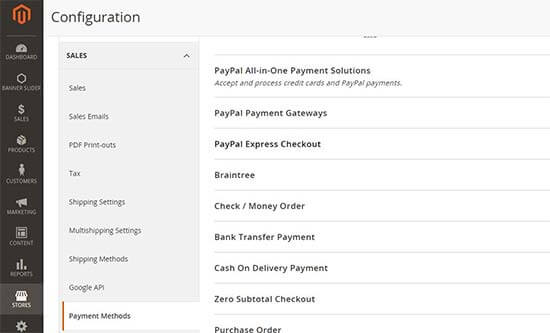 The best thing is Magento's API permits developers to integrate payment options easily. In case the payment gateway that you want is not available yet, so you can hire a developer or expert to create a custom extension for that.
Winner: Tie – As per us, in order of payment options both WooCommerce and Magento do an equal job. Means to say, Both support multiple payment options.
Price: WooCommerce Vs Magento
WooCommerce: This is a complete open source platform – anyone can download it and set it on any server.
It is being said that, it's premium extensions are expensive, and some require the annual membership, besides, your web hosting cost depends entirely on the size of your enterprise and the package offered by your provider.
There are only a handful of quality web hosts that work well with WooCommerce. But we always recommend the top ones to our customers that are SiteGround and InMotion.
You can get either for around $8/month (try not to opt for any of the cheaper plans, as they might not be optimized to run e-commerce setups). You may refer to 7 Free WordPress WooCommerce Extensions.
Magento: This Community is a free and an open source edition for anyone to use. Thus your current cost is basically based on your current hosting provider.
On the other hand, users who are interested in Enterprise Edition, they have to spend a lot of money.
Performance and Speed
The critical factors that decide which platform people choose for their online stores are speed and performance. Although most of the site visitor will quickly leave your site, if your website is slow-loading or sluggish, or even the customer will not come back to make further purchases. It is a substantial loss of your business.
Besides that of the platform, the speed and performance of the website depend on many factors, such as your Magento web hosting provider and whether your posted images are optimized or not. Additionally, the number of modules and extensions you use also affect significantly to the speed and performance of the e-commerce site.
Overall, this round is a tie because you and your hosting provider are critical factors that decide the store performance. Therefore, there is no clear winner in this situation.
Scalability – Scaling of your business
As your site traffic and sales grow, so to keep it up and achieve the business goals you need more server resources. However, both e-commerce platform; WooCommerce and Magento can run larger e-commerce stores with great spikes in traffic. These both platforms can affect their scalability and infrastructure needs.
Let's see how they handle scalability;
WooCommerce: WooCommerce comes with a lot of options allow you to continue growing your online store by keeping costs low.
Fast forward, you will have some caching options to improve performance that are very easy to use, which beginners can easily apply. This will allow you to continue growing by keeping your server resources low.
Alternatively, you may go with managed WordPress hosting providers such as Liquid Web or WPEngine. However, these hosting companies let you scale your site easily to meet your growing business. More so looking for WordPress experts to scale your store is not as costly as Magento. Even at the enterprise level, your e-commerce store performs better at much lower costs.
Magento: Magento is designed as a robust e-commerce platform. If things come to scaling, so costs and technical challenges are very high.
And in case you use its community edition, so you will have to do it yourself. As Magento is a resource intensive software, means you are on a VPS hosting and if you are on a VPS hosting, you will have to upgrade to a dedicated server and cloud hosting services such as Amazon Web Services.
Thereafter, you will require to optimize your store to manage backups, caching, protect against DDOS attacks using site firewall and much more. You will also need to hire a Magento expert in case you can't manage large websites.
There is also a good and easy option if you can afford the growing costs is that – Migrate to paid business and enterprise plans of Magento.
Customizations
Most store owners want to customize the front-end of their stores. Every owner has a different choice, they may want to remove a category field, add a slider, or easily change the layout. However, bot WooCommerce and Magento offer this feature but we have to see what best offers. Let's see:
WooCommerce: If you want to customize the theme format from 'Editor tab', so WooCommerce comes with a simple way to change it. The very first, go to your site "dashboard" and press the Advanced>>Editor.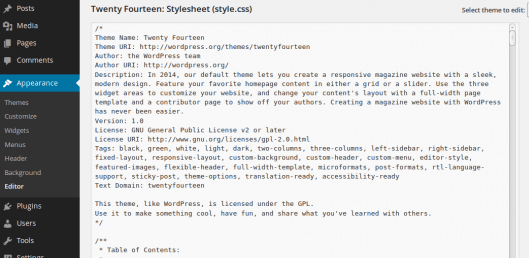 Likewise, store owners who have a bit of coding knowledge can easily edit the front layout of the site on your own. Alternatively, there is one more best feature is – WooCommerce users can create their own store as per their liking by using the page builder feature.
Magento: Like WooCommerce, Magento is not as simple. To customize the theme very first you need to declare your theme in Magento folder. Here you require technical knowledge.
After the setup process, do to Content>>Design>>Theme and enable it.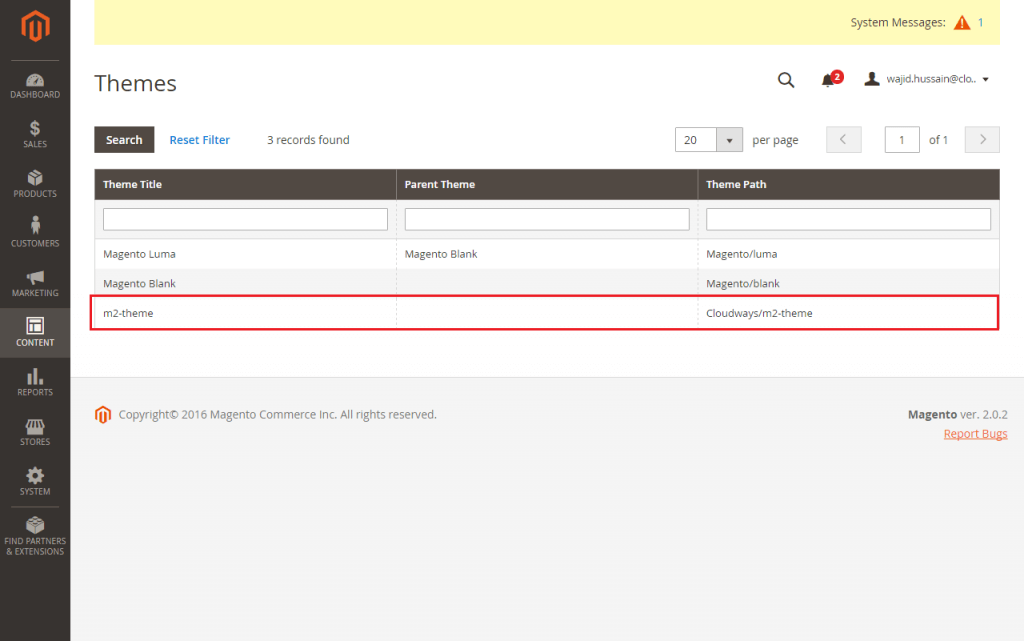 Finally, in terms of customizations, it is not a good platform for newers. In case Magento store owner can hire a developer for such types of task, so you can run it but not smoothly.
Server Specifications
While launching an e-commerce store it's can be a bit difficult to decide what specifications we use. Hence, to avoid this confusion, we have mentioned below some point, elaborated as follows;
If you get only a couple of users on a daily basis, so a 1GB Digital ocean server is sufficient for you. But it is better for always to launch a server at least with 2GBs.
According to the cloudways.com survey following are the server specification they have tested with WooCommerce;
Server: WooCommerce with WordPress 5.0.3
Server Type: DigitalOcean
RAM: 4GB
Location: San Francisco, USA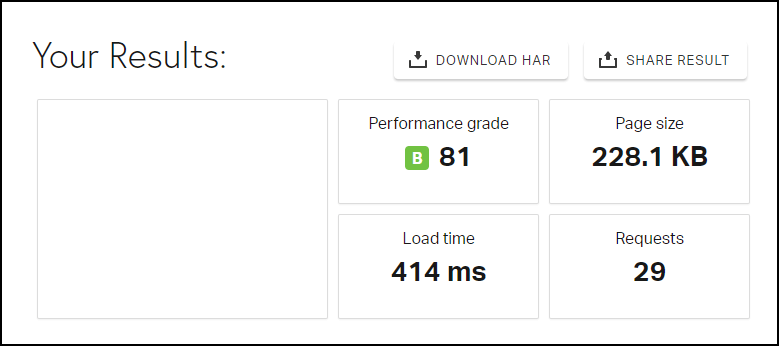 Here you can see the result, the page size was only 228kbs and the loading speed is 414ms. If your store is loaded with products, it may take more time to load.
Magento: Here, for this, you require atleast 2GB server. And in case if you receive 100 or more users, so you may have to expand your storage space.
According to the cloudways.com survey following are the specifications we have tested with Magento;
Server: Magento 2.2.6
Server Type: DigitalOcean
RAM: 4GB
Location: San Francisco, USA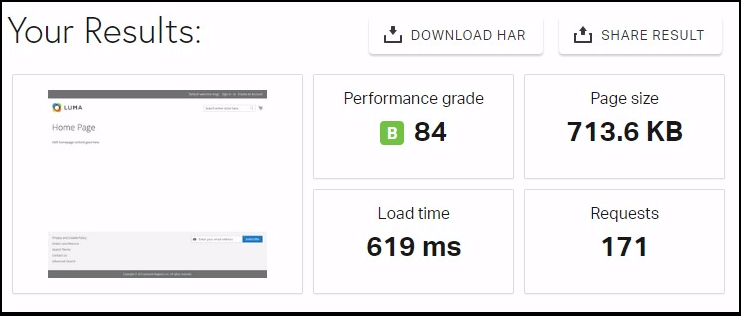 Here you can see Magento result. Page loading speed is 600ms and page size is 713kbs.
Content Management
WooCommerce: Whereas, WordPress was originally developed and famous for providing content, presenting portfolios, creating corporate websites and news sites.
Though you can find basically everything within both systems in one way or the other. The differences may vary on what settings you use, and the way or the extensions you use to build up your system.
Magento: It performs way better than WooCommerce if a number of complex needs have to be satisfied as it is a system for e-commerce purposes.
Like for an instance, sending out newsletters through this platform is not a good choice. Although it has now all the basic functions programmed into it. Although there are some extensions for segmentation available, it is always better to use world-class-e-mail marketing software such as GetResponse or MailChimp.
Security – WooCommerce and Magento
According to a study recently, there are more than 30,000 sites hacked every day, so keeping your site secure is a challenging and vital task for any online store owners. Because your e-commerce website contains a lot of customer information as well as payment details, optimum security must be a top priority. Both WooCommerce and Magento let you implement several security measures, but mostly through extensions and manual processes.
WooCommerce: Lots of stories regarding the vulnerability of WordPress(WooCommerce) sites are heard. Your WordPress website needs special care only then you will be able to protect it from getting hacked.
The attacks can be either by racking admin accesses, by brute-force attacks, whereby a robot is systematically checking a ton of possible usernames and passwords. Or it can be via free or a very cheap third-party plugin and templates which the hackers use.
They can only be secured by using sophisticated passwords, high-security hosting and you need to keep updating your WordPress version and plugins usually by applying security plugins like Wordfence Security
WooCommerce is a great option for a beginner level store and after a short time you will realize that it is limited in its capabilities. You may end up paying more of that cost if you opt for WooCommerce to give more features for your store.
Magento: On the other hand, it is less likely to be hacked as it has more dedicated built-in features which have fewer risks of installing additional extensions. We recommend to install all security patches and change the admin URL to a custom URL at the beginning in Magento. However, as compared to WooCommerce, Magento provide stronger security for online store with Magento Patches released frequently.
It is the latest Free security scan tool that helps you monitor your site, update malware patches, and find out unauthorized access. Furthermore, you can easily add Magento 2 security extensions to protect your online store better, that's all.
What about the performance?
Site loading time is a great deal for any website, but it is double for e-commerce. If your website takes a lot of time to load or seems sluggish, then some people will leave. They will take your money – and in the end your income as well with them.
But when we talk about the performance, it is actually complex to find out the overall winner through the solution. Each online store behaves differently despite what the platform is due to its functionality and size.
Apart from this, there are many factors to play here, like your choice of the web hosting provider, whether you're using Content Delivery Networks (CDNs) or even optimizing your images.
To keep it simple, the performance of your online store will mainly depend on you, and your hosting provider has a round of this goal.
WooCommerce vs Magento – Plugins and Extensions
Well, this is the fact that No e-commerce platform is perfect. That is why the development team of e-commerce platforms allows third-party developers to create extensions and plugins for them. Magento and Woocommerce are well-known for a large number of add-ons that enhance the functionality and the appearance of the website.
WooCommerce Plugins
Both WooCommerce and WordPress consists of a vast number of extensions and plugins that enhance the functionality and appearance of the website. Though its basic plugin only might be enough for some online stores, most of them prefer installing additional plugins to unlock its full potential.
After comparing both, we feel that going with this option can turn out to be a good choice as there are a huge number of WordPress developers out there constantly developing new plugins and you can hire them as well to solve your problems and achieve your goals.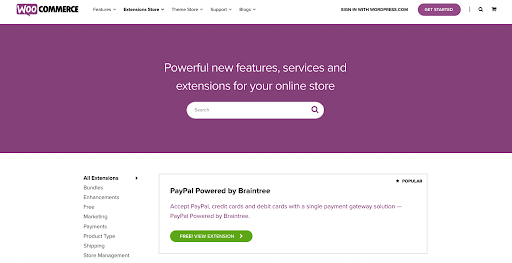 Similar to Magento, WooCommerce also allows store owners to easily install a wide range of plugins to personalize or customize their website depending on the business requirement. It is far cheaper to buy some simple plugins for your WooCommerce store when compared with Magento 2. However, by costing more with Magento extensions, your Magento store will become more powerful than a WooCommerce store.
Magento Extensions
Magento usually requires a lot of customization to achieve the desired level of functionality. Though the initial installation is easy enough since you have the online documentation and videos to help you out. While Magento comes with a lot of interesting features and extensions that are out of the box. And which you will very likely prefer installing them.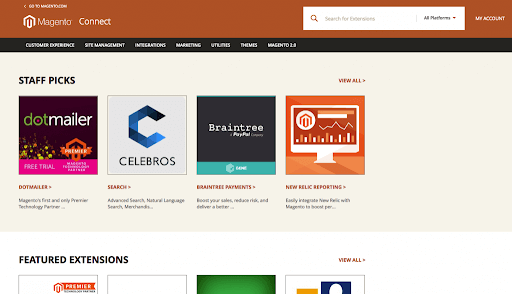 Magento Connect and Magento Marketplace are a recommended source for finding extensions. Adding new extensions is almost always a necessity. Since, as you grow your store in order to provide your customers with a superior shopping experience. You will have to pay an enormous amount of money in return for extensions.
Moreover, you will require a Magento developer as well in order to install the extensions properly. However, customizing the store with extensions might sound difficult for some people having no prior experience in coding due to the complexity of the platform.
Magento offers a mix of free and paid extensions for customer support; payments and security; marketing; accounting and finance; shipping and fulfillment; and even site optimization. Magento extensions are rich in features, so you can use them to discover new and customized functionality, in essential business categories, to accelerate your business. However, the minus point of Magento extensions is that you will need the help of Magento developers in installing the extension properly and making it work in case that you can not do it yourself.
Which one is good for beginners?
WooCommerce: is a good option for users with no e-commerce experience but they should have at least used WordPress before.
Even those who have not yet found its excellent documentation, an abundance of online tutorials seems appealing.
Magento: Though, looking from outside, it doesn't seem to be friendly enough when we look through WooCommerce vs Magento lenses.
However, users can overcome the issue by mentioning a comprehensive document. Moreover, the platform adds up additional benefits for those who touch it.
It is perfect for ambitious users who want to scale their shops fastly. And also, who have the necessary time for mastering the platform.
Here's we have mentioned a short summary comparison table for your ease of understanding;
| | | |
| --- | --- | --- |
| | WooCommerce | Magento |
| Price | Free | Freemium |
| Requires hosting | | |
| Beginner -Friendly | | |
| Supports unlimited items | | |
| Customization | | |
| Do they offer analytics? | (extension) | (out of the box) |
| Do they offer extensions or plugins | | |
| Do they offer extensive documentation | | |
Overall Winner
As far as began, the option is simple – we recommend WooCommerce, easy and cheap to install, making it right for small operations so that the land has to be dropped quickly. you may have a look at How to easily install WordPress WooCommerce Theme.
Using it you can set up any kind of online store, be it the home entrepreneurship or selling tickets for a major event.
However, if we talk about Magento, when it comes to scalability it is good for starters since it shines among them. Thus making it the ideal choice for the existing companies running on e-commerce.
It often seems like that if you can resist the high price tag of your enterprise edition, then you will definitely be more than happy with the outcome.
After all, this comparison was all about how hard it would be for a new user to jump into any of these platforms. Due to the bottleneck of entry for e-commerce enthusiasts, WooCommerce wins easily in this aspect.
Conclusion
Choosing a winner among them is not easy because any platform will not fully satisfy the needs of every user. Although above is a quick comparison between Magento 2 and WooCommerce. Honestly speaking, each platform comes with its own strengths and weaknesses. In light of this, WooCommerce is a more user-friendly platform, while Magento is well-known for a variety of powerful extensions.
Hence, to decide which e-commerce platform is better, you always have to put the size as well as the needs of your online store into consideration. Instead of looking for the best platform, you should choose the right platform which matches your requirements the most.
While some of you may agree with our decision of choosing WooCommerce. Whereas others may find themselves more home with Magento. With your own unique needs for your store, you need to include many criteria including performance, safety, product management, and the overall budget you have.
If you want to start up a small business with enough performance and easy to use, nothing can be more suitable than WooCommerce. In contrast, if you plan to scale your business up to be a global brand, Magento 2 is the rightest choice for you.
Finally, our decision in both platform title fight is based on the following reasons:
WooCommerce is simple to choose new users – especially if they are familiar with WordPress.

The platform consists of a wide library of great extensions. To know more see our Guide on

7 Free WordPress WooCommerce Extensions

It is cheaper to set up, though your benefit may vary according to the realm of your shop, of course.
We hope that this blog helped you. Also, with this guide, you can choose the most suitable e-commerce platform for your business.
Talk to our WordPress Technical Support team if you require any help as they will resolve all your issues. Dial +1-855-945-3219 (Toll-Free).
Recommended Blogs: