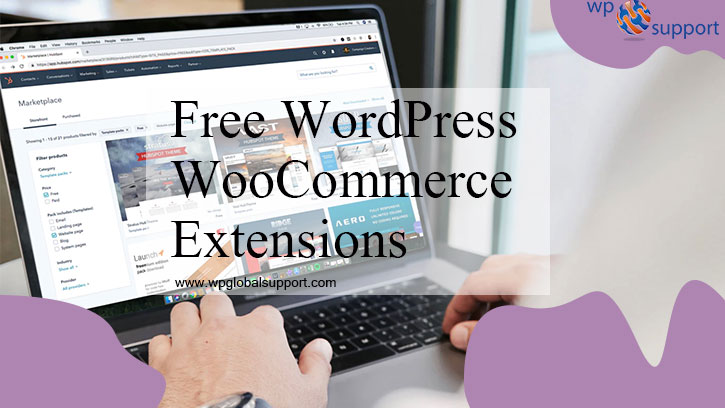 WooCommerce is one of the most popular e-commerce WordPress plugins. It is a free e-commerce solution, easy to use, including support for many product formats, offering the ability to integrate multiple shipping methods, has built-in support for a check, and bank transfer and cash on delivery. Today we're sharing best WooCommerce extensions for WordPress. They have been installed and tested, and work with the most recent version of WooCommerce.
The great benefits of using a WordPress WooCommerce Extensions is the best ecosystem and community around the plugin. The availability of paid add-ons to meet many of your needs a plus point. There are also a lot of excellent free plugins that developers give that you can use to improve your Online store.
For any quick support related to WooCommerce Setup talk to our WordPress Experts they will guide you promptly to fix your issues. Dial +1-855-945-3219(Toll-Free)
Some of our free WooCommerce extensions are:-
1. Coupon Generator
Coupon Generator is the WooCommerce extension. It is a really handy extension of Shop extension that lets you generate coupon codes in bulk for your online store. The coupon generator is really easy to use, and it can let you generate from 1 to hundreds of thousands of coupon codes. All you have to do is create the coupon codes rules, then it does the heavy lifting for you.
My test run of 10 coupons takes only 0.50 seconds. It is useful for shops that want to give out one-time use codes via email, Groupon, or other mediums.
Easy steps that help you to setup your desired coupons and start generating the coupons:
Introduction 'hpe to'.
Choose coupon code settings.
Choose generation settings.
Coupons are being generated.
2. Export Customer Email
Exporting customer email and adds on extra links to the customer tab into a single file.
This lets you Import your customer list to the other apps or programs, such as MailChimp, to keep the tab on your customers. It permits you to download the file to a CSV format.
Features:
Downloadable CSV file.
All customer email (new or existing).
Compatible with WooCommerce.
Filename with store name and download time.
Usage:
The extension requires WooCommerce to be activated in order to work. To download the CSV file, you must installed and activated WooCommerce first.
After successfully installed, you will find the option from WooCommerce > Reports > Customers > Export customer email into the admin panel.
3. Product Fees

It is built by the ninjas at WooTheme and it gives you an easy way to add per product fee to WooCommerce. You can simply add the printing, insurance and handling fees. Whenever editing a product, you can add an amount or percentage-based fee, and multiply the fee by-product quantity. This extension also supports variable products so the fee amount can change by variation.
There will be a new product data tab called 'Product Fees' where you can see:
Enter the cost of the fee as either a flat rate number or as a percentage.
Give the fee a custom name that is displayed to the customer at checkout describing fee.
Select whether or not the fee should be multiplied based on the quantity of the product.
4. Receiptful

The core offering and the connector plugin both are free for WooCommerce, if it offers some paid plans. Take a look at how to install WordPress WooCommerce Plugin. You can send the customized email receipts to your customers that include one-time product recommendation, customs tax, and discount codes.
We did write a detailed Receiptful review when it launched, and since then it is added tons of cool stuff, such as the ability to get feedback, show recent blog posts, and permit customers to refer a friend.
Read Also: 10 Best WooCommerce hosting provider
5. Grow Reports
Grow reports give you a way to grow your online store's towards traffic and revenue goals from within your WooCommerce dashboard. When you install the plugin, you can verify it with Google Analytics so that your online store's traffic data can be considered. After that, you can enter your average order value and conversion rate.
You can set a growth target for each month or customize your targets for growth as per category. Once you have designed the plugin, it will show you a dashboard with your current metrics and how they compare to your targets:
Consequently, analyze with Google Analytics and WooCommerce. For comparing your targets across live data. A simple way to use it with complete tools for setting up and tracking the progress.
Compare Against:
Annual Comparison.
Monthly Comparison.
Custom Targets Comparison.
Daily Status – Quickly shows if you are on target.
Email Reports Weekly.
Simple drag and drop Target settings.
Historical View – Shows your targets and actual data for all previous months.
Tracks and compares:
Sessions.
Orders.
Average Order Value.
Revenue.
Conversion Rate.
6. Prevent Purchase
Prevent Purchase is another simple Extension. This extension stops customers from purchasing the products. You may want to list a product that can be purchased from in-store only. In any case, you don't want to let customers order immediately. Instead, you can see the product, but lock purchasing down completely for it with one click.
Also, you can set up a message (accepts HTML) to tell your customers why the product is unavailable.
7. Multiple Free Gift

Multiple Free Gift lets you create a condition for which you did like to offer a gift, After that, you may choose the product that customers can select from for the gift.
This description is misleading a little bit, as it is more similar to a"lite" version. That lets you add one condition/one gift "offer" to your Website. Here, the user's experience is a bit awkward. But it's a useful plugin.
Firstly, you can create a condition for the free gift (cart total). And then you have to determine which of the product should be offered to the customer. And how many the customer will get for free from that all.
Once Customer reaches this standard and gets to the cart page, the gifts are offered and the customer can choose up to the number of gifts you have permitted.
Conclusion
With any of the seven free WordPress WooCommerce Extensions we have mentioned above, you won't just be able to save money- you will be able to open your store with the knowledge that you have got a great sales solution on hand. Which of these seven free extensions is your favourite? If you have got the time, we did love to hear your thoughts or question in the comments below. We hope this blog helps you to learn the Free WordPress WooCommerce Extensions.
If you ever need help related to WordPress Website Maintenance just feel free to avail our Support Services, dial +1-855-945-3219(Toll-Free).