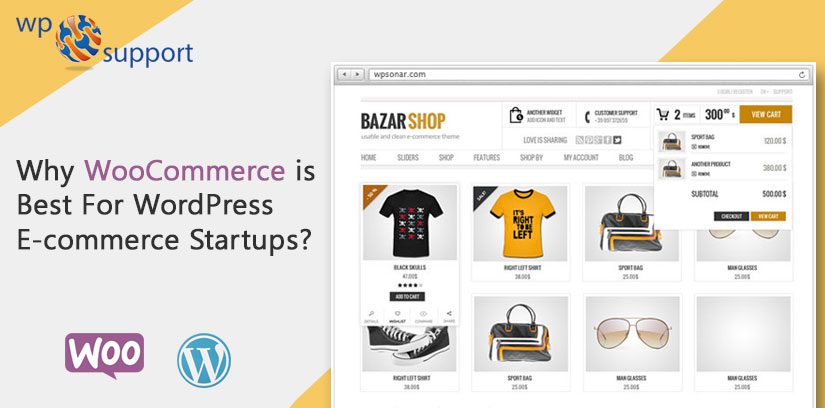 You are here to know the Reasons Why WooCommerce is perfect for WordPress e-commerce Site? As a startup e-commerce company, the biggest thing you will have to make is deciding what platform to use. Choosing a platform can be difficult considering all the available options.
WooCommerce is the best platform in comparison to others, like as Drupal and Joomla. It powers over 41% of all online stores. It not only the most popular e-commerce platform in the world but the most feasible.
Now, the time arrives to know the Main Reasons. So, let's take a look at just how WooCommerce is perfect for budding online merchants.
In case of any help related to WooCommerce Setup talk to our WooCommerce Setup Team dial +1-855-945-3219(Toll-Free).
1. It's Free
The first reason is that the WooCommerce is free. There is no shortage of high-quality e-commerce CMS(Content Management System) currently on offer. Try to help merchants sell online easily and innovatively. Mostly, the only drawback is that all the platform come at a price except WooCommerce.
WooCommerce is entirely free to download, right now. It is free and also open-source. It offers extensive features out of the box. Although, free and extremely flexible both by nature and through the addition of extensions, which I will mention later.
2. Huge Flexibility
E-commerce can be a complicated business as it is dynamic in nature. The products can be categories, given sale prices, independent attributes, and more. WooCommerce plugin makes this simple and enables not just online selling. But physical, downloadable, virtual and affiliates/external products selling too.
The great profit to e-commerce new customer is that the merchants through this platform can exercise a totally lot of flexibility with their products. Without having to know too much about the technical side of things.
3. More Than E-commerce
The Third reason is, WooCommerce does not force users to go behind their comfort area. At the time of building their online store, yet at the same time, it opens the door for more than just e-commerce. It comes loaded with all key features that are critical to running an eCommerce business. They include order tracking, monitoring delivery, inventory management, taxes, etc.
The users of WooCommerce can build a fully functioning store within a professional site. Totally dimensions of a business online presence are harnessed in a place and presented together seamlessly. And it's all thanks to WooCommerce being a WordPress based platform.
4. Vast Customization Options
WooCommerce provides a wide variety of themes to choose from. Making it easy to tweak and customize your online store to make it look unique. It is a free and a rigid platform. In fact, there are many rooms to customize and tweak your online store to a level of uniqueness.
Now, users can select in between different WooCommerce enabled themes. Most themes are free, through the WooThemes Store. A WordPress theme has been chosen once, then you can get to work on changing color themes. And pre-set CSS styles, tweaking the code and experiment with the unique features which each theme offers.
5. Familiar Friendliness
According to WordPress, the great popular CMS(content management system) supports over 51% of top million sites currently in existence. It would be good to say that a lot of e-commerce startups will have the pleasure of using WordPress, for same as, or unrelated online project.
WooCommerce is a WordPress plugin for past users. You must know how to install WordPress WooCommerce Plugin. The platform will profit from being able to recognize the user-friendly WordPress interface. That type of familiarity at the time of building an online store could easily save time and confusion. Although, support creativity.
6. Analytics Made Easy
As a business owner, you must know that where the majority of your sale comes from. The second thing you must know what time of day customer prefer to buy the product. You can keep the way of these valuable data and optimize them to improve your website's performance with WooCommerce.
A core tool is used by the website owner, that is their analytics tool. Many e-commerce startups may not know how to implement an analytics system to their site. And not know what statistics are required to focus analysis. Thankfully, the WooCommerce setup has such merchants covered.
The built-in analytics system offers a wide array of statistics crystal clear like as total sales. Average order totals sales by date, individual customer statistics and much more are all neatly presented by graphs, without the user ever having to leave their admin panel.
7. Professional Yet Simple
The Third reason is, WooCommerce does not force users to go behind their comfort area. At the time of building their online store, yet at the same time, it opens the door for more than just e-commerce. It comes loaded with all key features that are critical to running an eCommerce business. They include order tracking, monitoring delivery, inventory management, etc. They also include features oriented towards taxes so whether you need to keep up with sales tax, or maybe just need a compilation of invoices to submit to your account, you have yet another free tax tool at your disposal.
Read Also: 10 Top WooCommerce Competitors 2018
8. Room For Growth
As simple, WooCommerce is an e-commerce platform. It permits you to exercise some growth and expansion in terms of how you arrange your store, product, and customers.
It has some APIs ready to be used for building extensions, along with an extensive documentation library. So the users can get to know how WooCommerce works, inside and outside.
Modifying templates is made easy whether users want to do so directly through the theme files, or whether you use the many hooks & filters.
9. Apps Galore
WooCommerce has the ability to help any aspiring online merchants set up, and run his business easily and professionally. Right now, for those looking for extra WordPress functionality, WooCommerce once again does not disappoint.
There are many of WooCommerce extension available, some of which are free and some are paid. From these extensions, ones can find applications relating to accounting, marketing, reporting, payment gateways and more.
10. Because WooThemes
In this main reason to make the WooCommerce's best. Finally, one of the best reason for WooCommerce being perfect for startup of e-commerce is because of WooThemes themselves.
WooTheme has been around for a while, producing stellar WordPress theme, extensions, and plugin, including WooCommerce. They have a wonderful track record of being reliable and professional with both the support system and their product. WooTheme users can take the profit from our guide wpglobalsupport.com.
11. Loaded Features
It is a free source open tool. It comes loaded with all key feature that is critical to running an e-commerce business. In case you would like your website to have various features like blogs. It is easy to integrate it along with the eCommerce functionality, as the entire website is based on the WordPress platform. They include monitoring delivery, order tracking, inventory management, taxes, etc…
12. Security
In this time of online fraud and scams, your customers will want to know their personal information is safe or not. Such as their credit cards details and home address. These types of detail should not be accessible by third parties. WooCommerce guards against this by offering a highly-secure trading platform for its users. Automattic works with top experts in the web security industry.
They watch and test for weaknesses in the system, giving them the pre-emptive advantage to proper solutions. They also fix bugs quickly and offer users one-click update feature. This makes WooCommerce not just secure but user-friendly.
FINAL THOUGHTS
WooCommerce is the better choice for e-commerce startup. It is one of the most famous WordPress plugins due to its compatibility, flexibility, and usability.
So there you have it, twelve very good reasons for you should strongly consider using WooCommerce to proper your first e-commerce project to success.
We hope this blog helped you in learning Why WooCommerce is Best For WordPress E-commerce Startups?
You can talk to our WordPress Technical Support for any help related to WordPress. Our WordPress team will guide you for resolving any of your issue related to WordPress, dial +1-855-945-3219(Toll-Free).