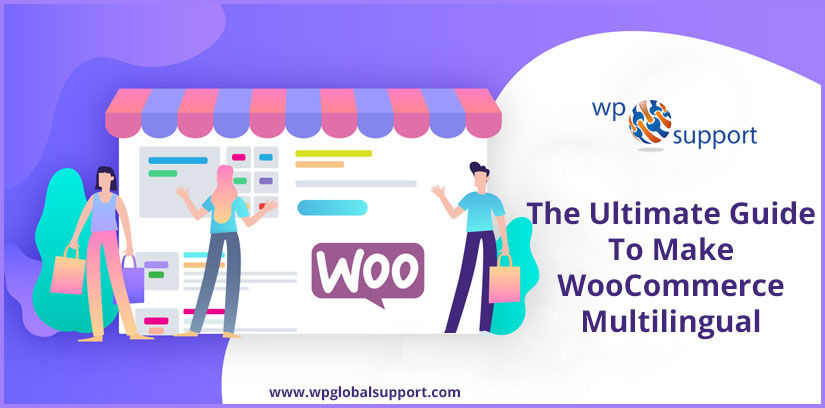 People around the world speak different languages. As people cannot speak the same language, it is important to have a multilingual feature for your e-store where non-regional vendors can shop & sell their products on the international market level through WooCommerce plugin.
Reasons to consider a multi-language e-commerce store
There are lot of benefits in multilingual WooCommerce plugin store, Such as:
You might get not only the traffic from a specific country but from all over the world with many people feeling comfortable with their languages.
Lastly, it is a signal to inform worldwide that we are looking to reach wide audiences and make them participate with our products across all borders and cultures.
The concern is how to create a WooCommerce support website multi-lingual store. It is a simple process where we will guide you at every step. So just keep reading the guide.
As there are numerous E-commerce platforms available which allows you to create an E-commerce business where WooCommerce plugin is the most popular platform. A WooCommerce is a WordPress plugin known for it's ease of use, functionality, and customization that allows to build professional level online business market. You can create e-store by following this link, But if you are looking to market your products to multi-lingual audience then you are at the right place.
Issues you must not forget while translating your store
Translating a site is easy, but to set it up is not easy, it can be a tricky task. You may face some problems when you set up your site. Hence, we have elaborated below some facts that you need to consider during setting up of your multilingual store through WooCommerce plugin;
Don't forget to set up your URL structure properly
Top-level Domains
Subdomains
Subdirectories
Necessary to use sitemap or href lang tags
hreflang tags targeting language
hreflang tags targeting languages and regions
Choosing the best platform for your multilingual store
There are lot of E-commerce platforms available in the market that allows you to make your WooCommerce store multilingual, where WordPress WooCommerce plugin is one of the leading CMS. As WordPress does not provide multilingual by default, but we can still make a store multilingual easily.
Multi-lingualism in WordPress
No doubt, WordPress is one of the best CMS (Content Management System), but it is not multilingual by default, that's why WooCommerce plugin allows you to easily create multi-language manually with the help of external plugins.
Let Us See, How;
Manually create a new multilingual WooCommerce platform
With this method, you will create an individual site for each language. We can say, it allows you to add only one language per site. Therefore, we don't recommend this method as we are exploring here for your knowledge. Let's see;
To add another language to a new WordPress with complete WooCommerce plugin installation, Here, you have to create a Sub Folder of Root Folder or a completely new Domain Name.
For example, if you want to add another language such as Dutch to your default English language, you have to create a new Sub Folder "nl" in the Root Folder which will be seen like (../public_html/nl/). Once created, yoursite.com/nl/ will access the new installation. That's it! you have added another language to your store.
This method also comes with pros and cons – Few prefer this method to make their WooCommerce store multilingual but not all. It depends on their choices of what they are looking from the market and where they really like to target, but we suggest it's not a good method. We recommend use of the plugin method which we have mentioned below where you can make your WooCommerce plugin available in many different languages at a time just by installing a plugin through WordPress.
Pros and cons
Pros
No plugins required: You don't need to have additional plugins.
Total flexibility:

You can customize every aspect of the translated site. Even though you can add/remove posts, pages and products.
Cons
Difficult to link translations: To set a language switcher menu on the front-end, it is not possible and it needs to be done manually since these translations are not linked.
Complex to manage content: Suppose you wish to make changes for several languages, so you have to perform installation for every single language. Further more, It can be unsuccessful to find updates for the installation.
Tricky reporting: You need to export data from every installation to get a complete overview of sales.
High maintenance: You need to update every installation and test it independently.
Plugin licenses: You may face problems during activation of the plugin in every installation, in case you are using the paid plugins that come with limited time.
Inventory sync: Inventory does not sync in installation. If you will try to sync it so you can make your setup complicated.
Now comes to the recommended method;
Making WooCommerce multilingual using plugins
There are many WordPress multilingual plugins available in the market. Each & every plugin comes with distinct features and functionality that makes it easy to create your store multi-language. Now Let Us Discuss How;
#1. Weglot – Easiest content translator
Weglot is a website translation solution which allows you to create your store multi-lingual translations within minutes and manage all translations effortlessly. This comes with all CMS compatibility such as WordPress, Squarespace, Shopify, etc. and other Web Technology Products.
The best feature of this plugin is it can detect and translate text contents automatically. It comes with over 100+ languages. Further, it is completely SEO optimized which can automatically index all your translated page on google following the best practices in multi-lingual SEO (ahreflang, title, metadata, etc.).
Next, you can get all your key conversions steps in your users' language – from the landing page to email confirmation. Apart from that, it comes with lot of features, elaborated are as follows;
Features
Easy to use
Quick install
Content detection
Amazing support
Automatic & human translation
SEO optimized
Visitors auto redirection
Now, Lets move towards important part
How to install it in WordPress site?
Weglot comes with the easy setup process, you don't need to have a coding knowledge;
Similar to all WordPress plugins installation, you just have to open your dashboard and go to the Plugins>>Add New.
Once you have installed and activated the plugin, it will ask you to add weglot API key. You will need to create an account on weglot official website to get your API key.
Once you have received an API key, validate it and thereafter choose your languages – original and translation (in which you want to translate).
Finally, press the weglot button from the settings bar and choose weglot translate button. That's it! you have completed the process.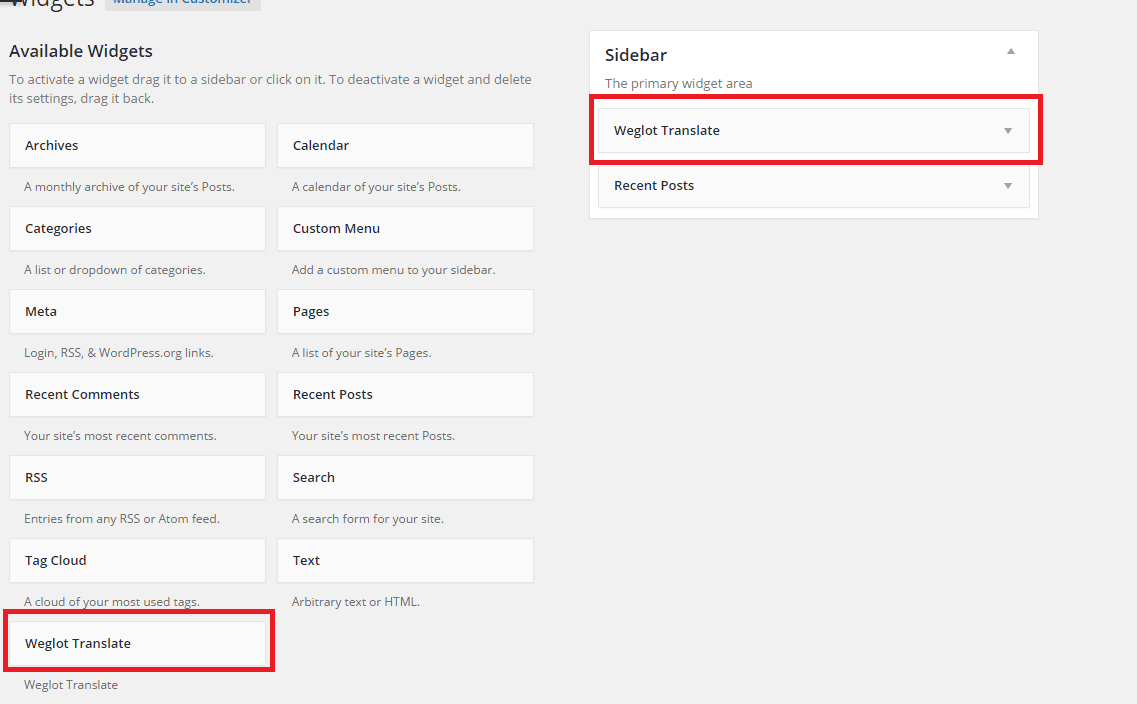 You have installed the plugin, but there are some important questions to ask –
Is weglot compatible with WooCommerce plugin?
yes, this plugin comes with the WooCommerce plugin compatibility which includes;
Homepage
Product pages
Metadata and SEO items
Checkout page & many more
#2. Shoptranslate.com
As the name suggests, Shoptranslate.com is an automated tool to make your store multilingual. It is not easy to build your online business in other countries, but this tool makes it easy. With this tool, you can extend your business worldwide. With this platform, you can translate and update your products within minutes. This means to say, you can start your sales at your convenient time.
Further on, Shoptranslate.com is a SEO optimized and has a lot of experience in online marketing. It is compatible with multiple e-commerce platforms like WooCommerce, Magento, Shopify, and many more. The best thing it allows you is to translate your content both manually and automatically. Mind it, as it does not use Google translate.
Moreover, when it comes to pricing, This tool is available for free and also contains paid version starting from $59 only. With this automated tool You really have a benefit that you can download as a free version and once you feel like moving forward with this tool then you can upgrade it for high level market platform.
Features
Automated professional translation tool
SEO optimized
You can go with free its version, upgrade when you satisfied
Low maintenance
Low costs
Fast & flexible
Stock synchronization
Easy to use
How to configure Shoptranslate.com?
Go to its official website, then choose the plan and download it. You can also use its free version when you satisfied then upgrade it. Once you downloaded, it starts working with you.
#3. WPML – WordPress Multi-Lingual Plugin
WPML is one of the best WordPress plugin to create a site with multiple-languages. It comes with more than 60 languages that you can add to your e-store according to your choice. By using its language editor, the plugin also allows you to translate anything virtually like posts, pages, taxonomies, custom fields, custom post types, and every element of your plugin, theme, URLs, and WordPress admin, etc.
Further on, you can create a separate post for every language to keep the post manageable properly. However, you can accept different currencies to run your WooCommerce store Globally.
Additionally, it is a paid plugin starting from $29 for blogs and $79 for CMS. The price of this plugin is worth because you cannot get such features with any of the multilingual plugins.
Pros
It allows you to use its license for multiple websites.
All major WordPress theme supported like Genesis, Elegant themes, etc.
It supports SEO plugins like Yoast WordPress SEO & many more.
Multiple currencies or payment processors supported.
It allows you to do SEO on all languages individually so that you can make your website more SEO responsive.
It comes with comprehensive documentation so that you can easily set up your WooCommerce multilingual store.
Cons
Its advanced features come with the paid version.
It runs some process slow
It does not translate the entire website simultaneously, you have to open every attribute, category, post individually and translate.
To return the matches language content, you will have to hook to numerous WordPress functions and filter them.
Installation
To install the plugin you just have to go to WPML plugin official website, then choose the plan and install it. Once installed, you need to configure – let's see how?
How to configure WPML?
WPML comes with four components;
WPML Multilingual CMS (the core plugin)
String translation
Translation management
Media translation
During the activation of the plugin, you will see a setup wizard that helps to specify you some important things like to;
Set the default language.
Add the additional language.
Specify where to show language switcher
Register WPML.
Once you setup this, your WooCommerce store is ready to translate – with WPML plugin you can translate it in two methods are as follows;
Method 1: Translate your content using a translation management
As you know, quality matters, hence you should consider it during translation of your site. Using the plugin translation management add-on manage your complete translation. Follow the listed below steps;
First of all, go to the translation dashboard.
Thereafter, choose the content that you want to translate.
Choose the translation option
The last step is, press the "add selected content to the translation basket" button.
Now you have successfully translated your content.
You can see the given below screenshot: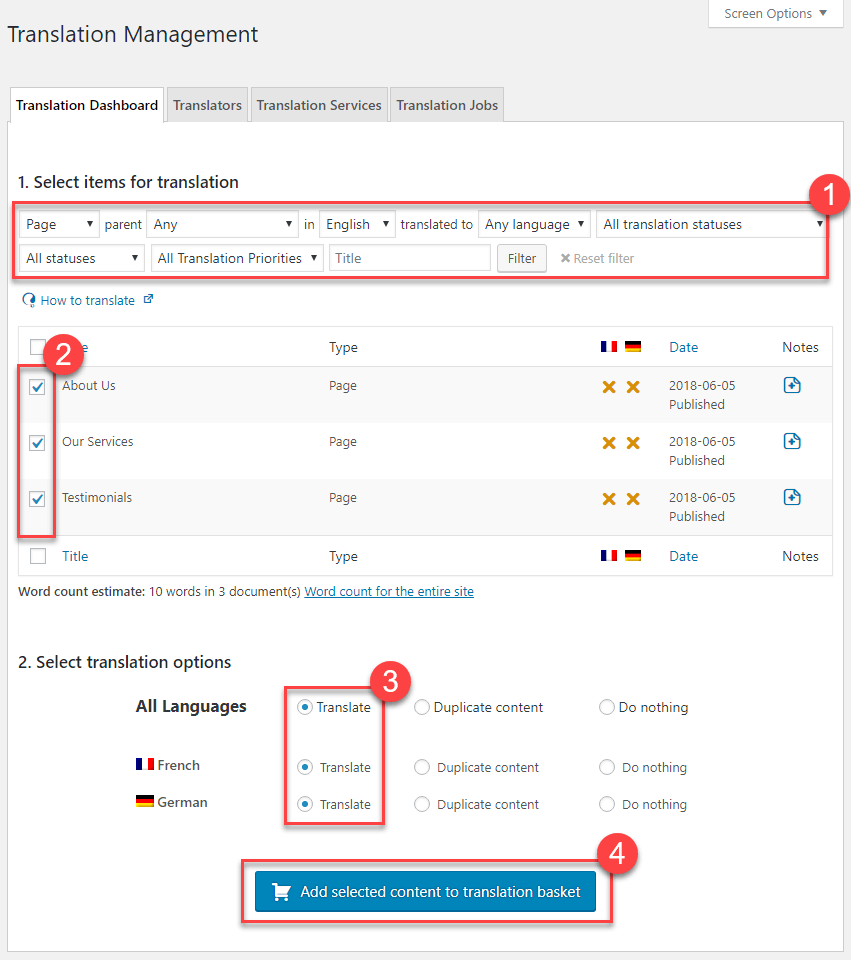 [Image source file: www.wedevs.com]
Method 2: Translate content itself
With this method, you can translate your content itself without the need for translation management add-on.
Just open your dashboard and use the plus and plugins icons to translate and update your content. See the given below screenshot;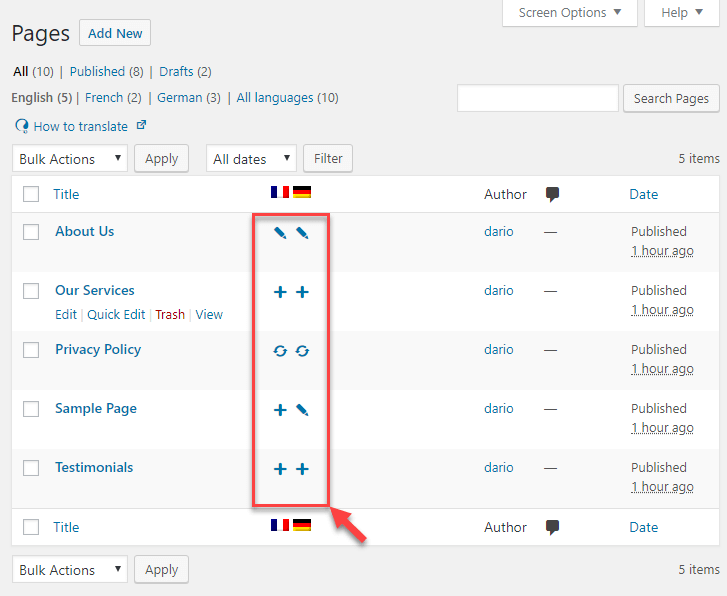 The pencil icon illustrates you the content is already translated. While the Plus icon means the content is not translated yet, it is on the waiting list. To learn more check WPML documentation. See the below screenshot: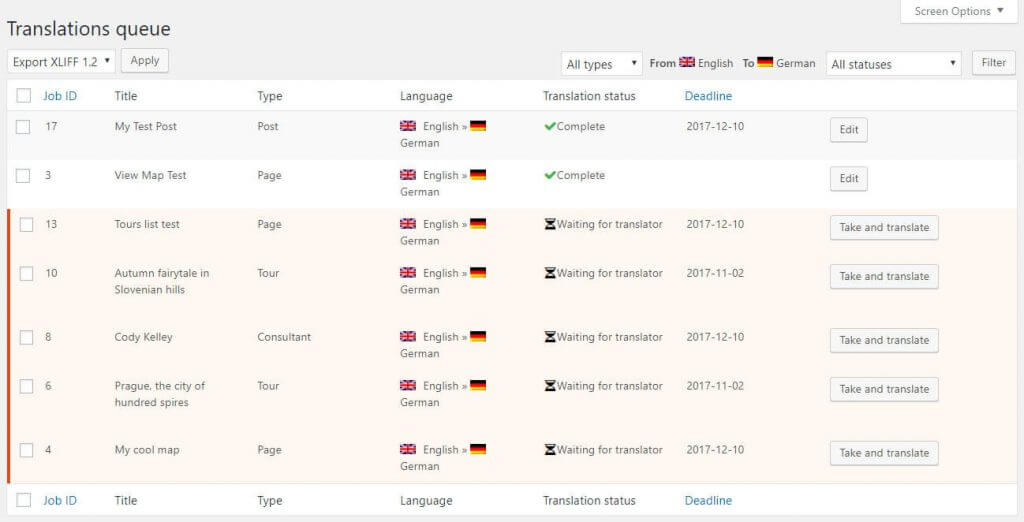 Finally, we can say that WPML is the best translation tools help you to develop and manage a multilingual store.
Benefits of adding WooCommerce multilingual plugin to WPML?
There are a lot of benefits to adding WooCommerce multilingual plugin to WPML. It is a WordPress plugin to translate WooCommerce products that are developed by WPML developers.
After installing it, it provides you full support for your WooCommerce multilanguage store. Further, it allows you to easily handle various product-related information which includes;
Single product information
Product category translations
Translating product tag
Product attributes (for ex, bag or weight, etc.)
#4. MultilingualPress
MultilingualPress is also a good solution to create a store in multi-language. It has a lot of advanced features that provides you the best way to make an e-commerce platform to multilingualism. To enable multiple languages to your site, it uses Multisite – a core WordPress feature.
Basically, multilingualpress uses "multisite" feature to integrates various linked websites to one WordPress installation. It also translates all posts, pages, and products on one language site to the corresponding post and pages on another language site.
The multisite method has numerous benefits, have a look:
Great performance
Endless flexibility
Better SEO
Core feature
Great usability
No lock-in effect
State of the art code
Now,
How to create a multilingual shop with this?
Listed below the six steps you need to create a successful multilingual store with this plugin;
Install WordPress
Create multisite
Install WooCommerce plugin
Install multilingualpress
Within the multisite network, you need to create the language site
Add WooCommerce plugin setting and individual language page
While following these steps, you will face only a problem on the second step – how to create WordPress multisite? Let's see we discuss;
How to create a multisite on existing WordPress installation?
For the same process, you will have to add the following code to the wp-config.php file.
define( 'WP_ALLOW_MULTISITE', true );
See the below screenshot;

Note that add this code before the line – "/* that's all, stop editing! Happy blogging */"
Once you have added, go to the Tools tab and select Network Setup option.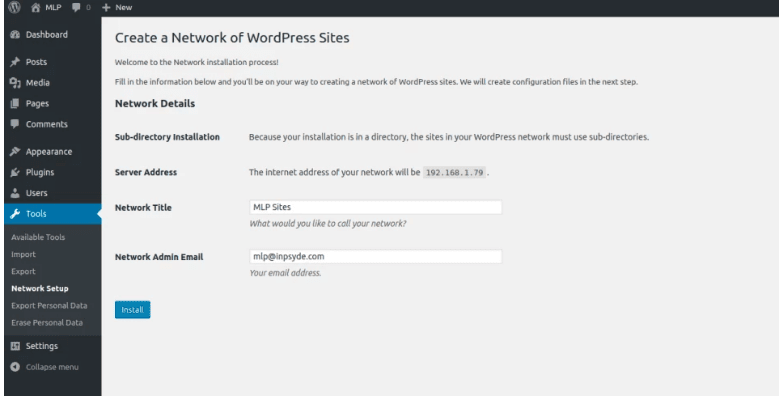 After setting up the network, see the WordPress multisite. You will have all Super Admin roles in the multisite network. A Super Admin role has the entire site manages authority. They can manage networks, and create new sites, assign users to sites. They can also decide which themes and plugins enable each site network.
You can see how Super Admin dashboard looks;

In the above screenshot, you can see five tabs in the left column; Sites, Users, Themes, Plugins, and Settings. A super admin role can edit all these five tabs. Apart from that, they can add new sites from the Sites tab, enable themes, configure settings, and assign users for an individual site.
Now you can create a site as per your desired language. For example, you can see the below screenshot;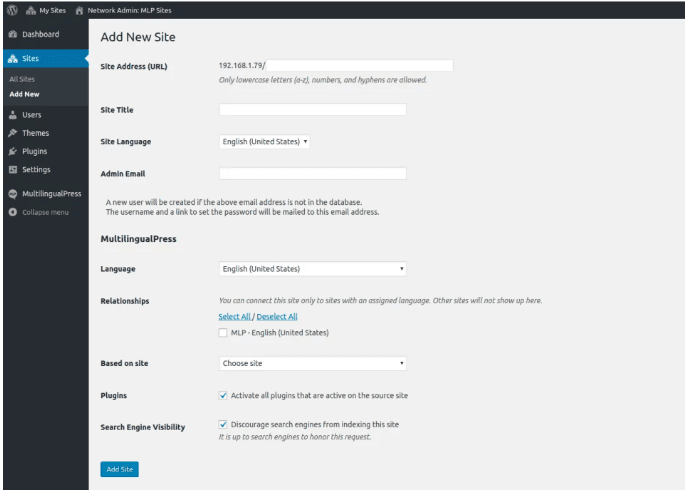 Now, Let us see;
How to set up multi-lingual-press (MLP) in a WordPress?
Installing process is same as all WordPress plugins. After the installation and activation process, the item of your sites' menu will look like this;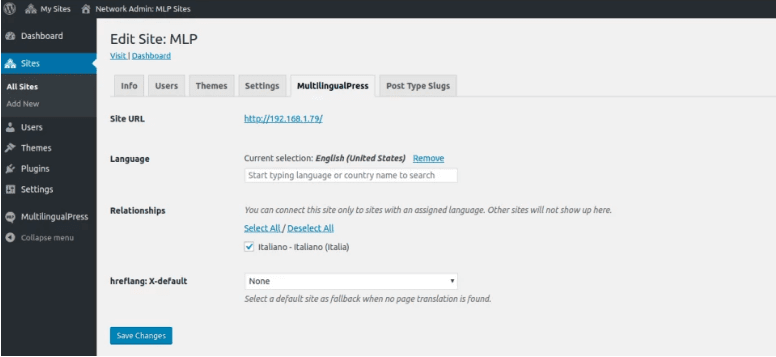 This is the main point – Here you can set the desired language of your site.
Now the most important step on how to link different sites to each other through your multi-site network.
As, this is to give you a clear knowledge on how we explore here. First of all, you will need to configure the automatic language redirection in multi-lingual-press to enable automatic redirection.
In your WordPress dashboard Go to My Sites>>Network Admin>>Setting. Here in the Module tab enable the Redirect checkbox.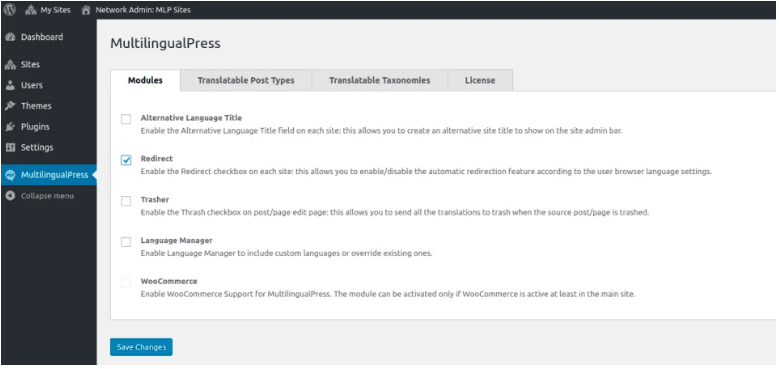 Now, enable the Redirect checkbox on every site.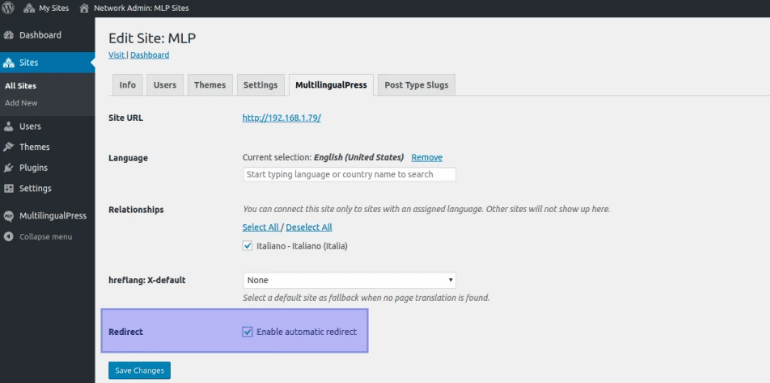 Here you will have confusion on how your visitors changed their desired languages in your connected site.
To avoid your users from this confusion you have to list the languages in a separate header menu? Display all your available language options on the sidebar of your website.
Create a separate language menu as a part of the navigation menu of your site.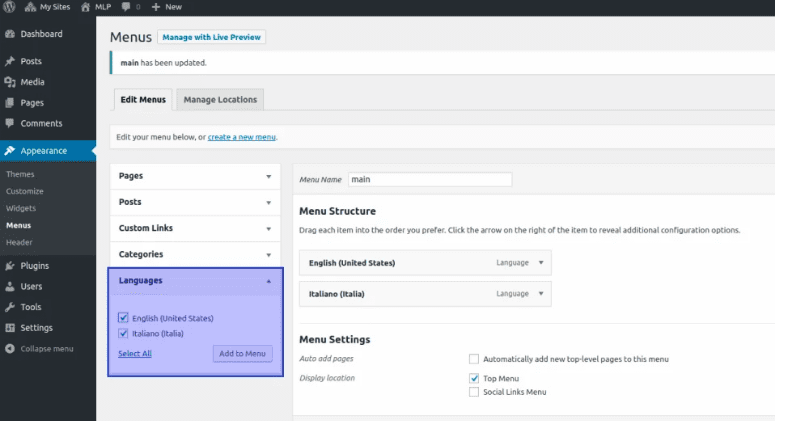 To do this: go to the Screen Options at the top-right corner of your dashboard and enable the language meta box. Here you will also need to check the relevant box.
Alternatively, add the language menu to a sidebar using the WordPress navigation menu widget. See the below screenshot;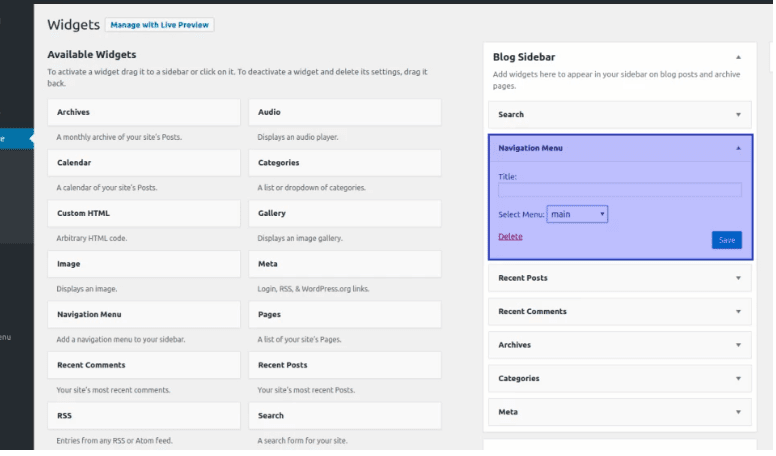 In this step, you will link pages and posts to each other so that visitors can change their desired language easily.
For this, go to the back-end of the page or post and scroll down. Here you will get additional editors or at least one editor because each language has its own editor in your multi-site network.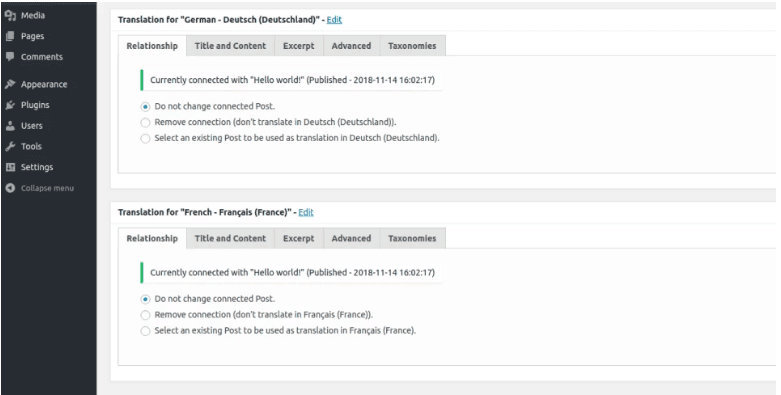 Here in this example or screenshot, we have used the German and French editors. Each & every editor comes with multiple tabs.
You will also see the Relationship tab in the above screenshot. In this tab, you can relate all post to each other. You can also apply the same process for pages.
Some other tabs that are in the editor give you some other opportunities to link content on sites in a better way. As an example, copy the post title and content to the remote post. Thereafter, you can edit the content in another language's site.
That's it!
#5. Polylang plugin
The Polylang is also one of the best plugins that let's you convert your WooCommerce store into a multilingual store. The plugin does not integrate automatic or professional translation. You will have to manually set the language either by the language code in the URL or by the content.
Further, it also allows you to use one different domain or subdomain as per language. Apart from that, you can also add a post description according to the language.
Not only this much, along with pages, posts, categories, media, tags, you can also translate custom taxonomies, custom post types, widgets, navigation menus, and even URLs. It comes with all major SEO plugins compatibility. Now the question is –
Is Polylang compatible with WooCommerce plugin?
Yes, it is compatible with WooCommerce plugin but you will need a separate addon which is called as Polylang for WooCommerce. However, it is a paid addon for which you will have to pay $99 for a single site. Its free version cannot create multi-language store.
Further on, Polylang for WooCommerce has been created with the power of two WordPress plugins named WooCommerce and Polylang to make a shop multi-lingual. With this, you can translate all the necessary fields directly with the WooCommerce plugin interface.
Pros and Cons of Polylang
Pros
Translate anything like posts, pages, media, categories, menus, widgets, post tags, etc.

Free WooCommerce multilanguage plugin.

All the packs of WordPress are automatically integrated and downloaded.
Cons
WooCommerce plugin compatibility is buggy.

Not multi-currency supported.
You have to translate all language manually.
A non-technical person cannot learn to add different languages in each post and page.
Bending towards the main points, the thing comes to how to use it and make your store multilingual, let's see;
How to make WooCommerce multilingual using polylang
With this polylang plugin, you have to manually set the language for all existing pages, post, categories, and tags. If you don't set, so you can't get them on the frontend.
First of all, open your dashboard and go to the Plugin>>Add New. Install & activate it. Once you activated the plugin, let's see how this plugin work;
As an example here we will create a page in four languages;
First of all, open your dashboard and go to Pages>>Add New.
Thereafter, select your default language in the dropdown list.
Now choose an already existing page as translation and changed the plus (+) icon into a pencil icon.
As you click on the (+) icon, you can create a new translation.
Lastly, you can also edit your translation by clicking on the pencil icon. You can see the process in below screenshot;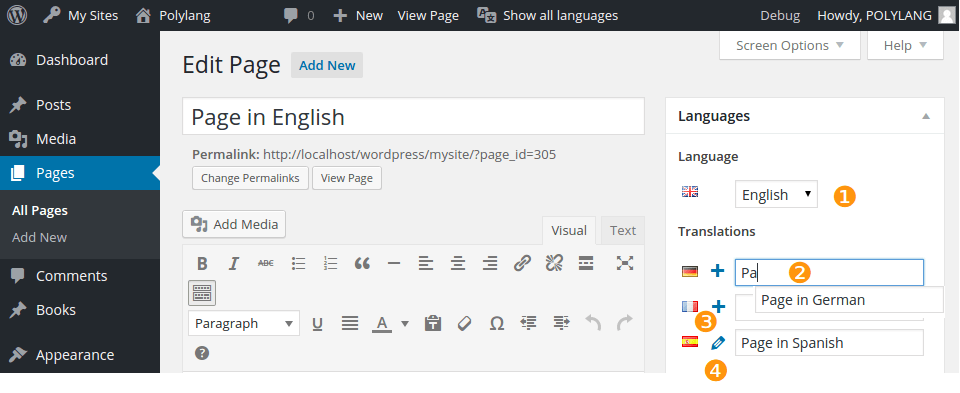 The process we have discussed above is the same for some other fields like custom post types, post, categories, and tags.
Now let's see how to use these icons properly;
The check icon illustrates that this page already has a language. But if you want to edit, click on the icon and edit it.
Now the plus (+) icon lets you add a new translation.
And, the pencil icon tells that a translation exists. However, by clicking on it, you can also edit the translation.
Further, with this plugin, it is not compulsory to translate the entire site, you can translate the content according to language. Go to the below screenshot to see how your pages are shown in the table;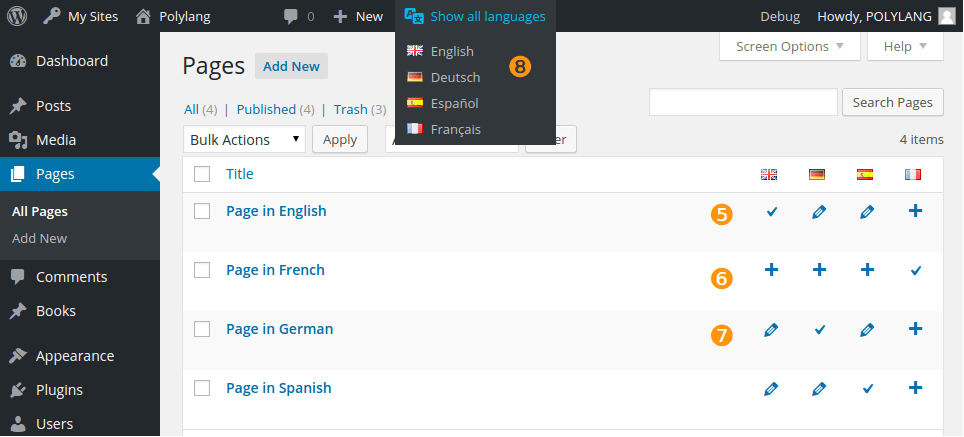 Now install your all WooCommerce pages carefully. For this, open your WordPress dashboard and go to WooCommerce>>System>>Tools. Thereafter, press the "install pages" button to install all your WooCommerce pages.
Moreover, the plugin also comes with the complete setup process, so you can go throughout the Polylang official documentation to learn it.
Additional things with polylang
Install and activate the Lingotek Translation plugin, in case you use automatic or professional services. If we come to comparison it depends on your choice.
That's All!
Some other plugins help you to translate your site
GTranslate
TranslatePress
WooCommerce Multilingual – (WPML + WooCommerce)
Final words
Having a multisite to setup or to manage different translations is not suggested because of many complications. But if you want a full translation of your store with less problem, we suggest use the WPML plugin. It is a paid plugin allow you to translate your site easily.
However, you can also use the Polylang plugin, (that is free). Though not as feature-rich and reported buggy on the latest WooCommerce updates. It might get the job done if you are willing to go through the trouble. We hope that after reading this blog you feel satisfied. Use the comment box provided below for any suggestion.
In case you are facing any issues contact to our WordPress help experts. We will be glad to help you.