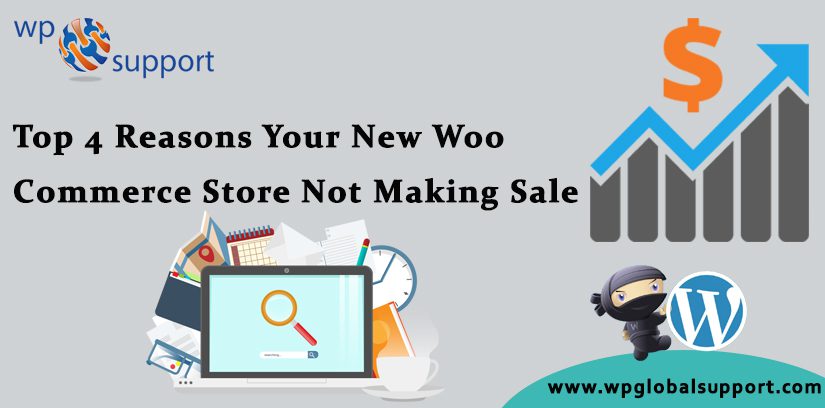 Have you create a new WooCommerce store and Your New WooCommerce Store Not Making Sale. This is a very common problem with WooCommerce store. You spend a lot of time to design it, a lot of time to drive traffic– and nobody buys anything from it. Modern design and good traffic are not enough, you need to sell!
When the sales are recorded the first time, it may feel that it did not think about your success. Simply put, once you start seeing your conversion rates, it takes time to take action.
Instead of a simple opportunity, there is a possibility of certain reasons for the sale of your products. This is probably because your initial marketing strategies are closed, or there is a lack of access to the design of your website.
Whatever the case may be, the fact is that nobody is buying from your new WooCommerce site, and it should be resolved – soon!
Therefore, there are some possible reasons why people do not buy from your website. Are you probably doing wrong?

Reasons Your New WooCommerce Store Not Making Sale
Let's get started!
1. You're Targeting the Wrong Market
If your people are not seeing your products then your fledgling shop is paying the sale. It may be that your copy, marketing techniques, promotions, or these three are not simulating with visitors who have started land on your site.
Simply put, you cannot attack an online store, some products, and expect a sale from the bat. Remember that you cannot sell to everyone, recognizing and understanding your target market.
To improve this, you will want to work your marketing strategies again and develop a plan that will answer your target market and be related to it. Online marketers, who do not have targeted marketing campaigns, usually end up with a generic selling pitch that does not convert.
To get started your own site. You have to ask yourself two simple questions:
What are you selling?

Who is going to buy your product?
After answering the initial questions, find some people who fit in your target market, and look at them to evaluate your site's design and user experience.
You can surprise to find yourself to make some initial design modifications. And to make a copy of your initial sale.
2. You're Not Marketing Your Products Correctly
It is a complete delusion that a good product markets itself. You need some marketing efforts to sell your product, how well your product is, or how big a social media you have.
As the owner of a new store, you are also going to create attractive marketing campaigns to build brand awareness and deal with elements like sales pitches.
The first way to know about this is to make it easier to understand: To understand your target market, to keep it in your behavior, make some example users who are related to your potential customers, and understand that they Why should buy start asking questions about their personalities.
For example:-
How will it improve their lifestyle?
How can this product or service make them happy?
What do they need from you in order to purchase it?
Also, you will need to make a sales pitch. That is personalized for your target market.
To understand what kind of sale your customers are, and try different campaign messages to see who converts most, A/B tests your sales, using strong calls to take action. Performing and implementing landing pages are all the best ways to take the first step in the right direction.
3. Your Sales Copy Is Too Direct
The copy of the sale is directly matched, and it is not the best way for potential customers to market their product. Instead, it is a bright way to ensure that it provides value to your customers.
One reason for buying your product through a more diversified approach to your target market will definitely help boost your sales.
He said, there are times when a more direct approach is not only advisable but is necessary.
For example, if you are recommending customers bouncing your website, then they are on your site for two reasons.
A pushwick sale pitch will be more effective in retrieving – both of them are concise and direct.
One way to get the ball rolling is to develop a content plan for your WooCommerce store. Instead of filling your site's web page with promotional offers and attractive selling pitches, write a blog post relevant to your industry that provides value to the reader. Then, when it's time to roll out a new product, you can change your standard direct marketing approach back.
4. Your Products Aren't Accessible
Sometimes the biggest problem is that your new WooCommerce store is not facing a marketing issue but rather a technical one. Because your site has a poor design that compromises the user experience of the customer or lacks feedback.
This is particularly reasonable if you have quickly left the block to take advantage of the market.
A big signal to this problem is a high bounce rate. This figure is trying to tell you that you have managed to get people to your site. But for one reason or another reason, they are hitting the back button.
In essence, if your products are hidden and inaccessible, you cannot sell a lot. To improve it you will need to think again about undertaking a complete redesign of your website. This time ensuring your products are at the forefront.
This is where the heat map can be a casual wealth. They allow the online store owners to follow user behavior on their website. And recognize what happens because they bounce without purchasing.
In addition, you can also divide your site's navigation and layout testing. And you can check the user flow mapping to start the re-design of your site. Keep in mind that you are designing the first and most importantly for conversions.
Conclusion
If your new WooCommerce store is lacking in sales, the mistake cannot be in your products but the way you are presenting them.
Eventually, the way you sell your products in the market for potential customers, that's exactly it's important. If you want to get out of the gate of your site, it's time to work.
In this blog, we have discussed "Top 4 Reasons Your New WooCommerce Store Not Making Sale"?
And also, we concluded step by step.
We hope this blog helped you. If you have any query feel free and use the comment section provided below. Also, share the blog with your peers. You are on your way to getting more exposure.
If you are looking for the best WooCommerce Support Services then get our instant help by dialling Toll-Free number +1-855-945-3219. We will be glad to help you.