Best Ways to Block Spam Comments in WordPress?
Last Updated:

Sep 15th, 2018

Posted by:

Editor

Category:

WordPress Knowledge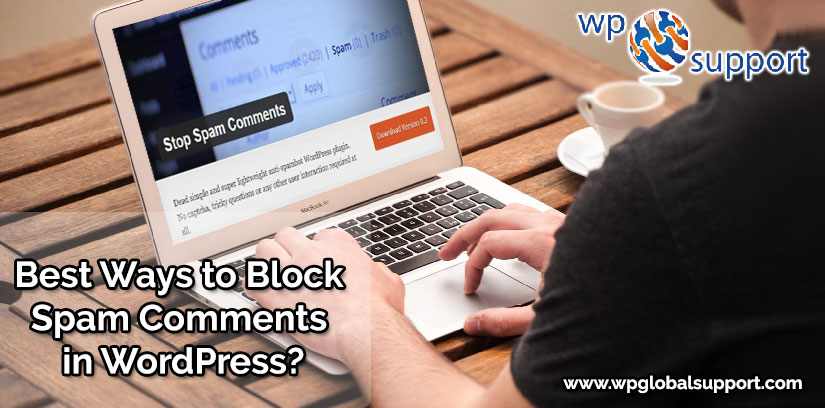 The comments section is the area that is targeted for spam, that's why it's become necessary to block spam comments. In this article, we will give you the best tools and tricks that are used to Block Spam Comments in WordPress.
Here, we will show you some plugins:
1. Akismet Plugin
Akismet is a WordPress plugin which helps you to block spam comments and messages from your WordPress website.
This plugin analysis the website to learn the latest method of comment and message spamming and filter the spam content. After filtering the data it blocks all the spam comments and messages.
Setup Akismet in WordPress
The first step is to install and activate the Akismet plugin. This will add a new option in the menu that is Akismet configuration.
Click on Akismet configuration and this will take you to the configuration screen. Here, you will be asked for an Akismet API key.
How to Generate API key for Akismet?
To generate API key go to Akismet website and click on get a WordPress key. Here, you will see plans and pricing page. select the plan which is suitable for you and click on sign up button to proceed.
Here, you need to signup with wordpress.com account. If you have a WordPress.com account, then you can click on the link that already has a WordPress.com account. If you don't have a WordPress.com account, then simply fill out the details and create one.
Once the authentication with WordPress.com is done. There you will be asked to provide some user details along with the payment information on Akismet website.
Here you continue to reach the screen showing your API key and will also receive an email containing your API key.
Now, visit your WordPress website admin area and add the API key. Now, click on update option. Akismet will now verify your key and show you a success message.
Now click on Akismet stats. This will show you the number of spam result detected by Akismet and how many are in the queue.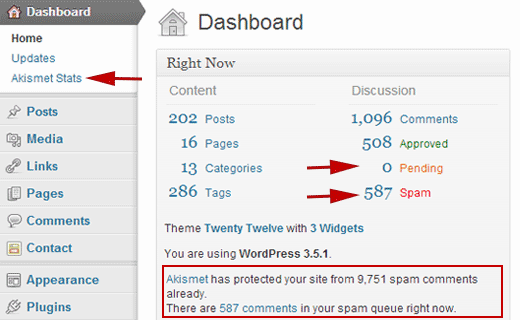 I advise you to take a look at your spam queue once in a while so that you don't miss a legitimate comment getting deleted by mistake.
Note: An API key is like a password. Do not share it with anyone.
2. Antispam Bee Plugin
This also filters the spam comments before they show on your blog post or website.
Setup Antispam Bee plugin
The first step is to install and activate the  Antispam bee plugin. This will give you an organized order of setting with different executions. Here, are the settings and their benefits

Trust approved commenters
This will give you an advantage to automatically approve comments from your regular and trustworthy commenters. These commenters may post a relevant comment and helps to builds the trust of the viewer on your website or blog post.
Trust commenters with a Gravatar
Gravatars are globally recognized avatar. This is setting will allow you to approve only those comments which post by a user with a specific gravatar image.
BBCode is spam
Some comments are in the form of  BBcode (bulletin board codes) link. These types of comment format are widely used by spammers to highlight words and links. This setting is used to check the BBcode and mark them as spam.
Validate the IP address of commenters
This setting will allow you to validate IP addresses used by the Commenters. This helps you to find out the online background of the commenter to decide the whether the comments are useful or not.
Use regular expressions
This allows you to detect the unwanted comments that have a group of predefined patterns that are observed as spam.
Look in the local spam database
If you enable this option then it detects the spam data in your database and treats it as you outline more settings for the spam.
Block comments from specific countries
As the title states that this option uses to block list of specific countries to filter spam. The Blacklist and Whitelist ISO codes are given with this setting. So you can easily declare the country codes in the respective sections.

Allow comments only in certain language
This will allow you to specify the language for commenters. In result, the comments in all others language will be blocked.
Here you reached on advanced tools this set of tool help you to block delete and manage unwanted comments. The settings of the Advanced tool are as follows:

Mark as spam, do not delete
This will keep the spam comments and won't delete them until you enable the settings.
Spam-Notification by email
If you select this setting then, you will receive an email notification of each spam comments.
Limit approval to Comments/Pings
This setting option will define whether you want to approve comments or trackbacks. If your limit approval to comments, then trackbacks will be automatically deleted. And if your limit approval to trackbacks, then the spam comments will be automatically deleted from your blog or website.
After this, you will get a More options tab for settings This is a reporting option used to display your daily spam report on WordPress admin dashboard. This will help you to analyze comment data for your website.

Generate statistics as a dashboard widget
Opt this setting if you want the spam report in an interactive widget for your WordPress admin dashboard. This report will give an overview of spam comment on your website.
Spam counter on the dashboard
This will display the number of total comment marked as spam and also show the no of spam comments you are deleting.
Comment form used outside of posts
This option will show comment on your archive page.
Conclusion
It always exciting to receive lots of comments on your website but, all the comments are not beneficial. Irrelevant and inappropriate comments increase spamming and it leads to loose genuine commentators. Now this becomes necessary to block spam comments
We hope this article helped you to block spam from your comments and messages
If you like the article please like and share and if have any query please leave a comment in the comment box.
If you need help related to WordPress, please dial + 1 888 614 0555 (Toll Free) number to contact our Customer Suppport Service. Our support team always ready to help you.
Read more blogs: