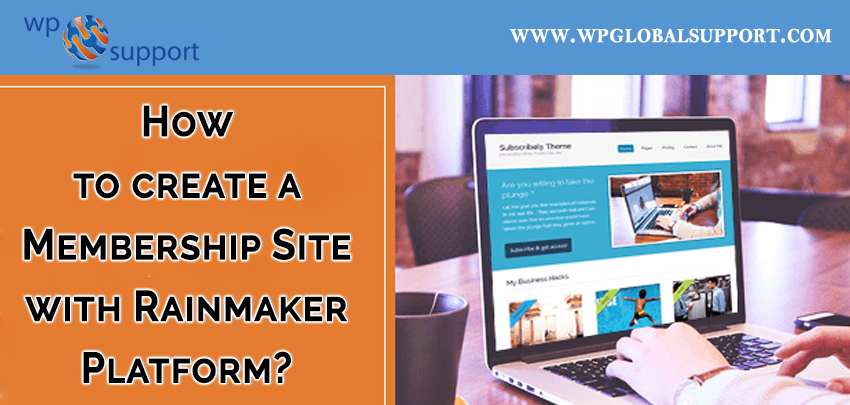 Have you any queries about how to create a membership site with rainmaker platform? You can sell products or premium content without having knowledge about hosting, design, development, plugins etc.
Here, we will explain to you how to create a membership site with Rainmaker platform.
What is the New Rainmaker Platform?
It is a website builder help to create a membership site without any technical knowledge.
Their all-in-one site platform replaces services which you otherwise require to create a successful membership website.
They are:
Managed WordPress hosting,
Website creation software,
landing page creation software,
podcast hosting and distribution tools,
responsive WordPress theme,
SEO software, A/B testing tools,
shopping cart software,
Affiliate management software, and
membership site software and a forum software.
Rainmaker's plans start from $95 and also, it has the 14 days free trial.
So, if you are an entrepreneur and you want to create a membership website without spending too much time then Rainmaker is the best option for you.
Pros and Cons of the Rainmaker Platform
There are some pros and cons of Rainmaker platform. They are:
Pros
The user interface of this platform is very good and user-friendly. Since Rainmaker uses WordPress but it does not look like WordPress.
It is money saving. If you want to combine the cost of all software then you notice that this platform saves you huge money.
It is very easy to use. Whether if you want to create a landing page, sales page, or create the whole design of the website.
If you have set up a membership website then you know, it can take few days to set something properly with the help of the developer. But, in the Rainmaker you can do it in a few hours without a developer.
It uses the Synthesis managed hosting platform. So, you don't have any problem with website uptime and speed. The partner of this is Sucuri. So, your websites are secure.
To help to outrank the competitors in search, it uses Scribe Content's keyword feature
Cons
You can not install other plugins because it has everything you want to create a website and sell digital goods. To get some features which do not exist, you will have to wait for that.
You must use AWeber, MailChimp, or Infusionsoft for email marketing service. These are solid solutions.
create a Membership Site with Rainmaker Platform
First, you have to sign up for the Rainmaker Platform. Since it has a 14-days trial. So, you can cancel it anytime.
When you are logged in then it will produce a preview website for you.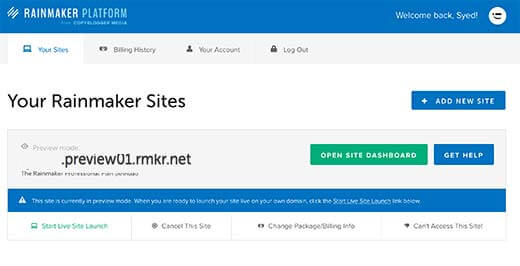 The website preview is not publicly visible. You can add content and customization. When you have done then click on the launch button.
Rainmaker dashboard is separated into clear sections such as design, content, traffic etc as compared to usual WordPress interface.
Select a design for the website by clicking on the design section. You can browse through the available design and select which you want.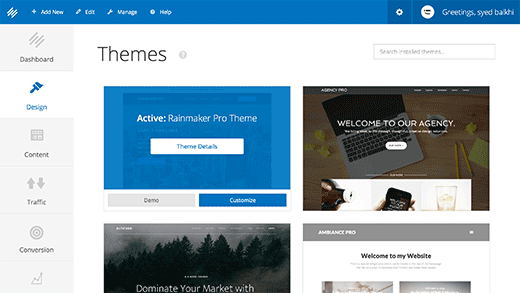 There are 29 themes available to select. Also, if you want complete custom then you can submit your own Genesis child theme and reviewed and included on your website.
All themes are highly customizable. So, you can build your own combinations.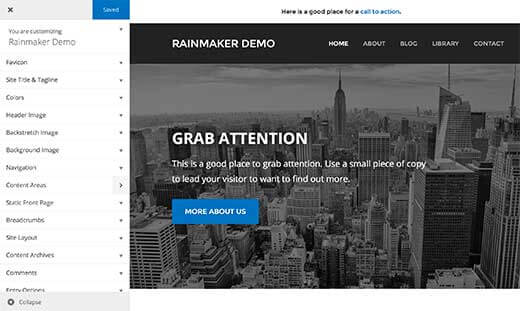 Creating Content in Rainmaker
Its content interface makes it easy to build content.
Click on the content button, and it will take you to the content dashboard. Here, you can select the several types of content you can write.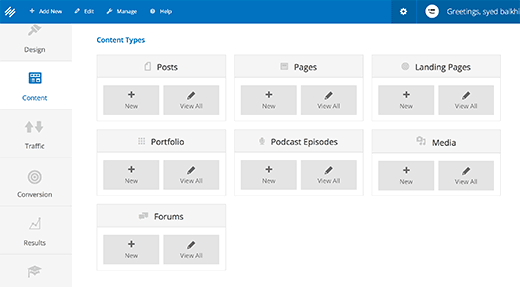 Here, you can build landing pages, posts, pages, portfolio pages, podcast episodes, etc.
Creating Products and Member Groups in Rainmaker
It designed to create membership websites and sell goods easily. So, it has focused on the conversion. By clicking on the Conversion tab from the dashboard, you can see this.
You have to set the payment method and email list before you create the products and member groups.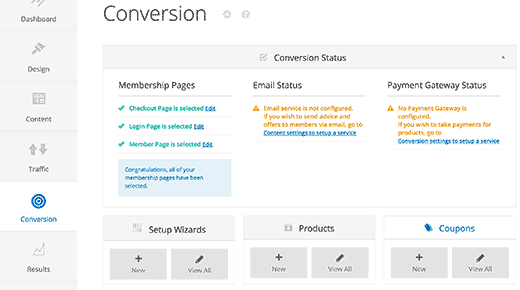 On this page, also, you can search the options to build products, add coupons, manage orders and manage download, add member groups, and create A/B split-test.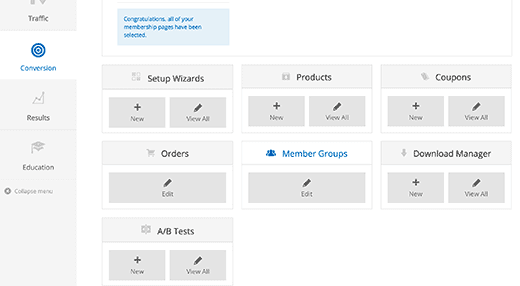 To add the first products, click on the New button. However, this first product will be a set of course or premium content which you want to sell and limit access to members only.
You have to give a title, add a description, enter a price, etc. Also, you can add a member group.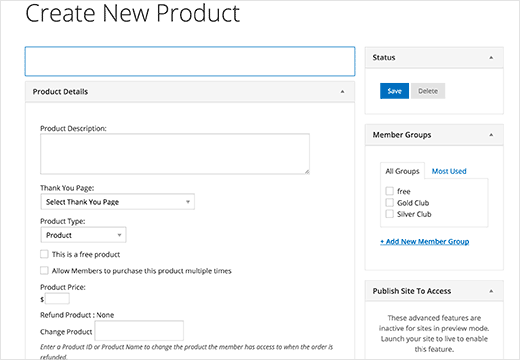 When you have done this, click on the Save button.
To add more products, repeat the process.
Restricting Access in Rainmaker
When you have created the products, you have to go to the content that you add.
Now, edit the content and scroll down. Here, you will see the membership Groups meta boxes.in this, you can select which membership groups a user needs to see the content.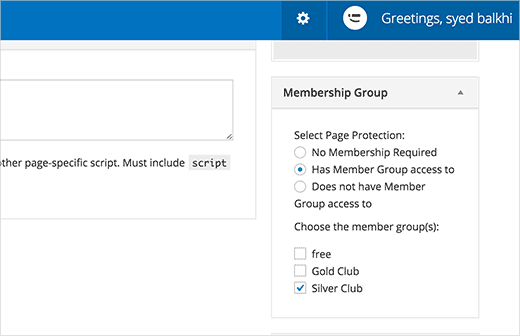 For all paid content and digital downloads, repeat this process.
Creating Landing Pages for Membership Site in Rainmaker
Rainmaker has another section to build landing pages or sales pages.
You have to go to Content >> Landing Pages. Here, you have two choices, either use Rainmaker's template builder to build a landing page or you can select from pre-designed templates.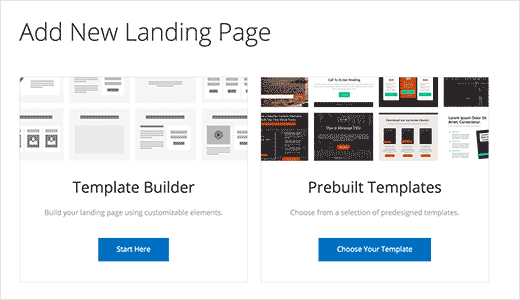 If you select the first choice i.e. you choose the template builder then it will display you a selection of landing page to select.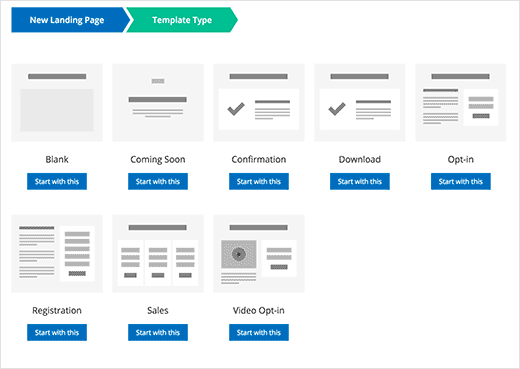 Select one which you want. On the other screen, you will see an editor. It lets you customize your page in a step by step process.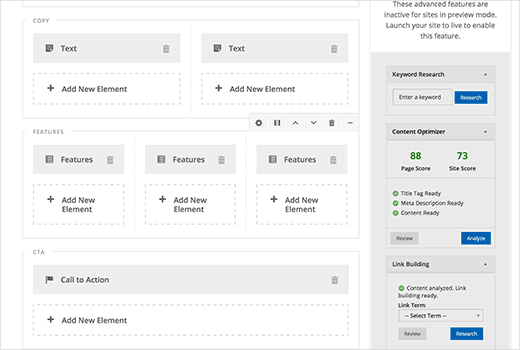 When you are done then click on the Publish button.
On the other hand, if you select the pre-designed templates then you will ready to use templates.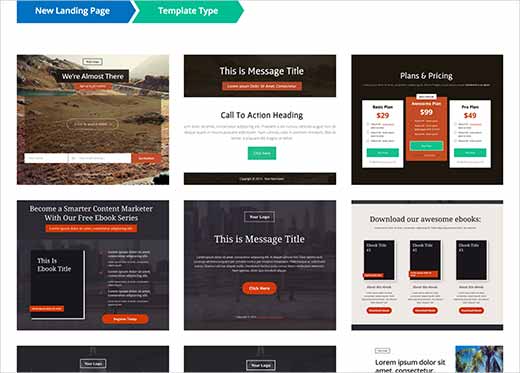 Choose one which you want and edit the text.
Monitoring Traffic and Sales
In the traffic section, you will run your website's outreach analysis. Or you can say that enter your keywords and Rainmaker will grade your content for the keyword with some practical suggestions to improve your search engine ranking.
Rainmaker has its affiliate management solution. It permits you to add and manage affiliates from central locations.
Also, it permits your users to become the affiliate without having to build two different accounts.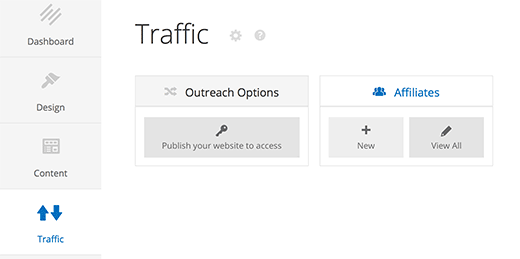 Getting Results in Rainmaker
When you have done your work then in the next part, you will see your work pay off.
Rainmaker Results just shows you.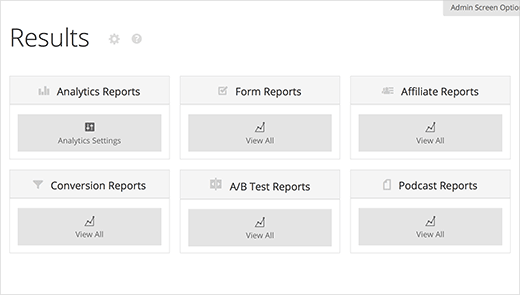 Since there is no need to switch back and forward between email marketing services, google analytics, affiliate marketing program, and countless other accounts. Because you can get all results into your Rainmaker dashboard.
Thus, you can create a membership site with Rainmaker platform easily.
Conclusion
Here, we have discussed how to create a membership site with Rainmaker platform. We hope this post will help you to create this. If you have any problem, please tell us in the comment section. We are always ready to help you. If you liked this post, share it with your peers.
If you have any WordPress questions feel free to ask us as you can get our expert advice. For the same, our support team is always ready to deliver WordPress Customer service. Just dial our support phone number +1-855-945-3219 (Toll-Free) to know how our professionals can help you.

That's all, thanks!
Read More Blogs: