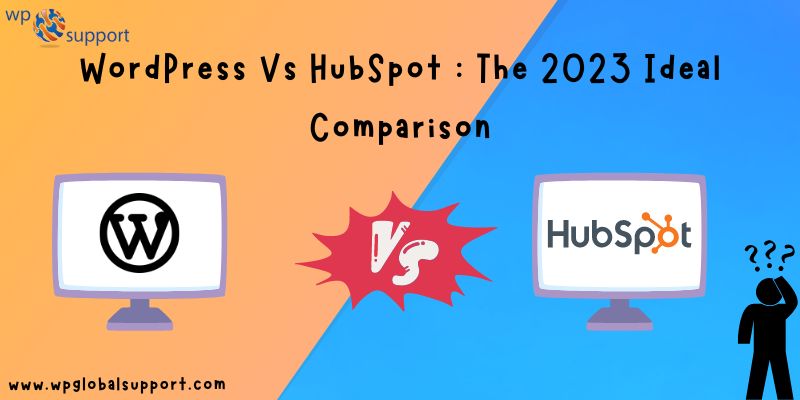 We are living in the digital era where online presence is very important for marketing strategy. In this article, we will brief you on HubSpot vs WordPress differences. In this, you will learn the key features of HubSpot and WordPress. As we all know that WordPress is open-source software and on the other hand HubSpot is not an open-source platform. They both are Content Management systems that offer the user to customize the theme's appearance and functionality. If you want to launch your site then you must hear about these two HubSpot CMS and WordPress.
Before we start just keep in mind that we are going to talk about"Wordpress.org", not about "wordpress.com".at present more than 43.3% of websites on the internet are created by WordPress. The WordPress content management system provides a tool that makes it easy to manage important aspects of a website without knowing anything about programming.
Most small businesses prefer WordPress because of their budget as per the GoDaddy data observatory 2023, 83% of Indian small businesses started online selling in the last 5 years and due to their budget issue, they prefer WordPress. When we talk about HubSpot, It is basically preferred by businesses that don't have any issues with the budget. They get all the tools that are required for expanding business on a larger scale.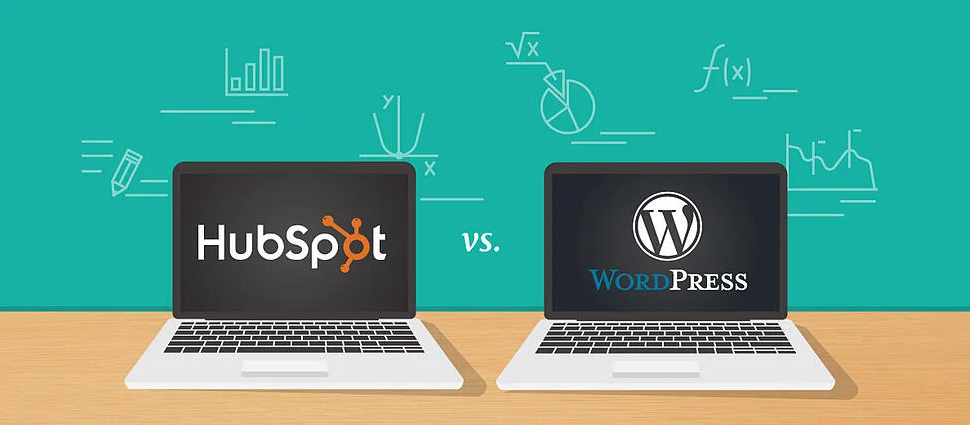 What is WordPress Content Management System(CMS)?
WordPress was founded in 2003 and it is a website creator and content management system. If you want to create your own website and you don't have prior knowledge of the programming languages, you can use it. WordPress has a vast library of free templates which help us to design attractive websites. But before this, you should know some things like domain, and web hosting because without this your website will not be uploaded on the internet for access.
A domain name is a unique address that is used to access a website and web hosting is the place where we store all the files so that others can easily access your content through the internet. Easy WordPress installation is one of the best WordPress feature.
What is Hubspot?
Hubspot is founded in 2006 and it came into existence after a few years of WordPress.It is all in one sale and inbound marketing platform. Hubspot offers marketers to use their content management system to enhance their customer base. Hubspot is also user-friendly and provides drag-and-drop functionality to users so that they can easily manage their data. Compared to WordPress it provides less customisation facility but it provides high-level security and database protection.
Hubspot do not provide free templates to users. The main functional area of HubSpot is CMS, CRM, Service, sales, marketing and operations.
Features on which we will compare::
Customization
Easy to use
Themes and Templates
Security
Cost
Analytics and Reporting
HubSpot vs WordPress: Customization
As we compare WordPress and HubSpot we find that WordPress provides more customisation functionality; on the other side, HubSpot has limited customization features.WordPress is known for its customization ability and at present more than 43.3% of websites on the internet are created by WordPress.
HubSpot vs WordPress: Easy to use
WordPress works like magic you just need a creative mind and a selection of theme layouts.No coding knowledge is required for this but marketing tools require extra plugins. Plugins allow users to fulfil their required functions with just a click of a button. It has an easy-to-understand interface which makes it a more popular tool.
Hubspot has a limited range of customization features but if you want advanced customization of your site then you need a developer who has knowledge of HubL. Hubspot every single interface provides you helpful instructions which will help you in customization. HubL is the language of the HubSpot Content management system. Hubspot is quite tough compared to WordPress.
HubSpot vs WordPress: Themes and Templates
WordPress has a vast library of free themes and templates that allow users to create an attractive and stylish design for their website without any knowledge of programming. If you don't know what are templates then don't worry I will tell you. Templates are a collection of inbuilt files already designed, you just need to change some information as per your requirement.
Hubspot has a variety of themes and templates but for the advanced feature, you should have knowledge of the Hubspot coding language HubL otherwise you have to hire a developer for it.
HubSpot vs WordPress: Security
If we talk about security then WordPress is reliable on the third-party hosting site which makes it quite less secure. When we use WordPress for content management systems then we use WordPress Hosting Providers like GoDaddy, Hostinger, DreamHost etc. They are the domain name and hosting service providers. HubSpot is a highly secure content management system for users, it provides inbuilt constant monitoring, updation and security features/certificates.
HubSpot vs WordPress: Cost
When we talk about the cost of WordPress and HubSpot, WordPress software is free but if you want some additional features like SEO analytics then you have to buy extra plugins for it in the HubSpot CMS the plans start from $25/month but the advantage you get is you don't need to buy any extra features for it because it has all the inbuilt tools like SEO analytics, Blog editor, Email marketing, Landing page builder and content analytics dashboard.
HubSpot vs WordPress: Analytics and Reporting
WordPress mainly focus on the Content management system. It provides some analytics about page views and visitors but if you want a deep analysis of it then you have to take third-party plugins like Semrush,exactMetrics, MonsterInsights, Analytify etc.
Hubspot is one stop shop that contains all the analytics tools inside, you have no need to buy any other plugin for it. It gives all the insights of your site like page performance, Traffic analytics and user behaviour. For analytics and reporting Hubspot is far better than WordPress.
Conclusion:
So friends, In this post we have seen the difference between WordPress and Hubspot but when we talk about which one is better then it basically depends on your requirement, goal and budget. If you want to design and customise a free website that steals your heart with plugins themes then go for WordPress.
As we know that India is a country where a large number of small businesses are there and they have less amount of budget for website designing so they prefer WordPress if you are a large-scale business and want a one-stop shop that provides you CMS and marketing both for boosting your marketing strategy then Hubspot is a much-preferred platform for you. Finally, The right platform is one that fulfils your goal as per your requirement.